What is the best app for saving money?
How do you use the Acorns app?
Is it profitable to save money on this app?
There are several passive income platforms or apps that come with the demand of different types of investors. These platforms allow individuals to profit from trading financial assets by only paying management fees without any human intervention.
Acorns app is one of the best robo advisor apps that is popular among different levels of investors.
However, it requires some research on any passive income app or robo advisors to learn the features and check if it suits your expectations or not.
Let's learn every desirable information you should know before choosing a passive income app, such as pricing, features, advantages, security, etc.
What is the Acorns saving app?
It is a robo advisor that automatically invests users' money into profitable assets. You link your checking account or credit card; this app will do the rest. For example, you may purchase $1.20 gas using your credit card; this app will cut $.70 for savings.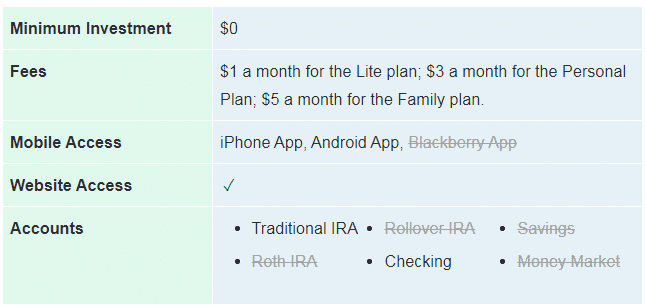 Micro saving is the driver of this app that targets comparatively young users or the tech-savvy generation. So the creation and management of the retirement investment experience through smartphones.
This app offers three different types of account plans such as lite, personal, and family. It provides several robo-related products, such as Later, Spend, Found money, Invest, Early. 
Acorns security
This platform has multiple layers of security measures to protect user information. The website and app use 256-bit encryption, which means user information is accessible to only the user and the Acorns. If any unusual activity occurs, then Acorns informs its users to prevent fraud.
Although so many spammers and hackers are roaming on the internet, nothing is a hundred percent infallible; Acorn provides the best possible standard security features. Acorns security is a member of both SIPC and FINRA, which is also an SEC-registered broker-dealer.
Acorns pricing
Pricing is an essential factor for any investor before deciding to make any investment. Acorns offer three different types of membership: lite, personal, and family and each category has different types of charges and functionality. It involves no deposit or withdrawal charges; it only charges a flat fee for various members.

Acorns lite ($1/m)
This type of account holder's investments spare change through the "Round up" feature, provides access to financial literacy, and allows to earn bonus investments. The charge is $1 per month.
Acorns personal ($3/m)
This type of member includes everything that is on Acorns lite. Additionally, this type of account holder has Later for the taxable investments, retirement investments such as IRA and checking accounts or Acorns spend. This service by Acorns acts like a bank that allows you to free withdrawal from over 55,000 nationwide ATMs and enables options for getting up to a 10% investment bonus. The charge is $3 per month.
Acorns family ($5/mo)
This type of membership includes everything Acorns personnel have such as Later, Invest, Spend beside a plus Acorns Early. Acorns early enable options to open a custodial account for children. The charge is $5 per month.
Acorns features
The Acorns app has various attractive features:
Real-time round up
The app rounds up your purchases nearest to the dollar that you spend. You can multiply your savings and investments with a Multiplier. For example, you select to triple your round-ups. So a $0.60 round-up will be $1.80. The app allows users to link up multiple accounts and cards to ensure the advantage of round-ups for different spending accounts.
One-time investment and recurring investment
Users can make a one-time investment or regular transfer to their account by linking up a primary checking account.
Money basics
It is the knowledge base of the app that includes 80+ articles on each investment asset. By reading all that, you will be a more knowledgeable investor. You can gather knowledge about fractional shares, expense ratios, index funds, etc.
Acorns mobile app
The app has a mobile version for both Android and IOS. You can use it if your device uses IOS version 11.0 or above and the Android version is 5.0 or above.
Smart deposit
This feature of the Acorn app allows users to have automatic fund transfers to different Acorns accounts with regular payroll deposits.
Acorns ratings
We rate this app from various angles, such as ease of use, customer service, saving options, compounding, commission/fees, etc.
For ease of use, it gets 9.5 out of 10
For customer service, it gets a rating of 7.5/10
For the saving option, it gets 8.5 out of 10
For education support, this app gets 8/10
Meanwhile, for compounding, the Acorns app gets 8/10, and for commissions and fees, it has a 9/10 rating.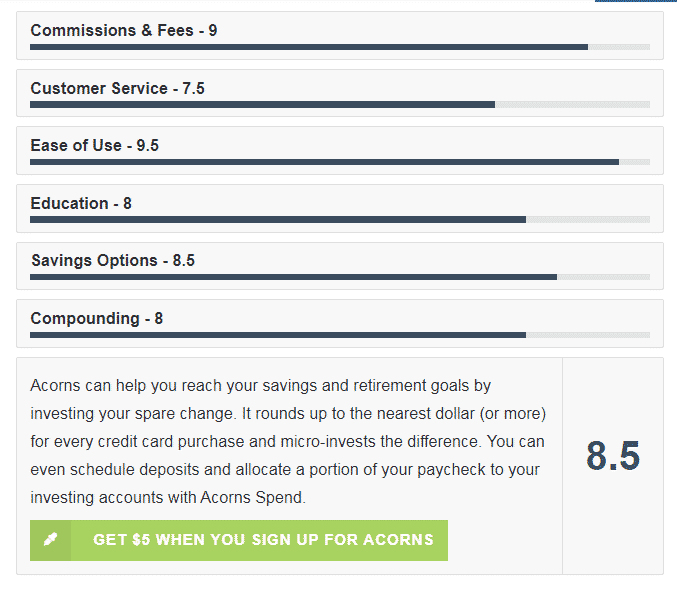 So we rate this app 8.5/10 by observing all possible angels and comparing it with other similar apps and platforms.
Acorns advantages
It has many advantages that are attractive for different states of investors and users:
It allows you a painless way of saving as it cuts only a tiny amount that you may overlook, but after a certain period, you can withdraw a handful of money.
You don't need to understand the investment portfolio or gather any extra knowledge for making money. This app will automatically invest your fund to potential investments as its methodology suggests.
There is no minimum deposit for the Acorn app, so you can start earring without even investing.
You can easily set up a custodial account for your children to secure their futures.
You can enjoy investing, bank, and retirement funds within one app.
Acorns alternatives
Many other similar types of apps have competitive features with the Acorns app. The top ones are Shopkick, Albert, YNAB, Wally, PocketGuard, Ibotta, etc. 
Does the Acorns app really work?
This has plenty of potentials to get the occasional retailer kick back and make the most of your spare change. The automatic round-up feature of this app makes savings and investing easier for the users. Many investors can get surprised to see how those pennies accumulate and return as quite a good amount.
Final thoughts
Finally, now you know all the essential info about the Acorn app if you read this article from top to bottom. We hope you find this article helpful and suggest checking other similar alternative app info to know which one is the best before selecting.