Many apps in the world offer rewards for purchasing something through it, but for Shopkick, the thing is different. Here you can earn gift cards even if you did not buy anything.
Shopkish allows earning points by walking through stores and scanning items without any obligation to buy them. So if you buy, you will get more points, but if you don't buy, you will get some points as well.
There are many ways to get benefited through the Shopkick app, including spending and non-spending money. In today's Shopkick review, we will show the nuts and bolts of the Shopkick app, including how it might help you get free benefits even if you did not buy anything.
What is the Shopkick saving app?
Shopkick is an app for mass people that allows them to earn credits as gift cards if they visit any store, scan barcodes, watch videos, and many other activities. Since its formation, Shopkick has faced 30 million downloads, with millions of users interacting daily.
Recently another company, Trax, bought Shopkick claiming that it will be the world's leading computer and analytical solution provider to retailers. According to a Shopkick spokesperson, the partnership will increase people's engagement in this innovation in the future.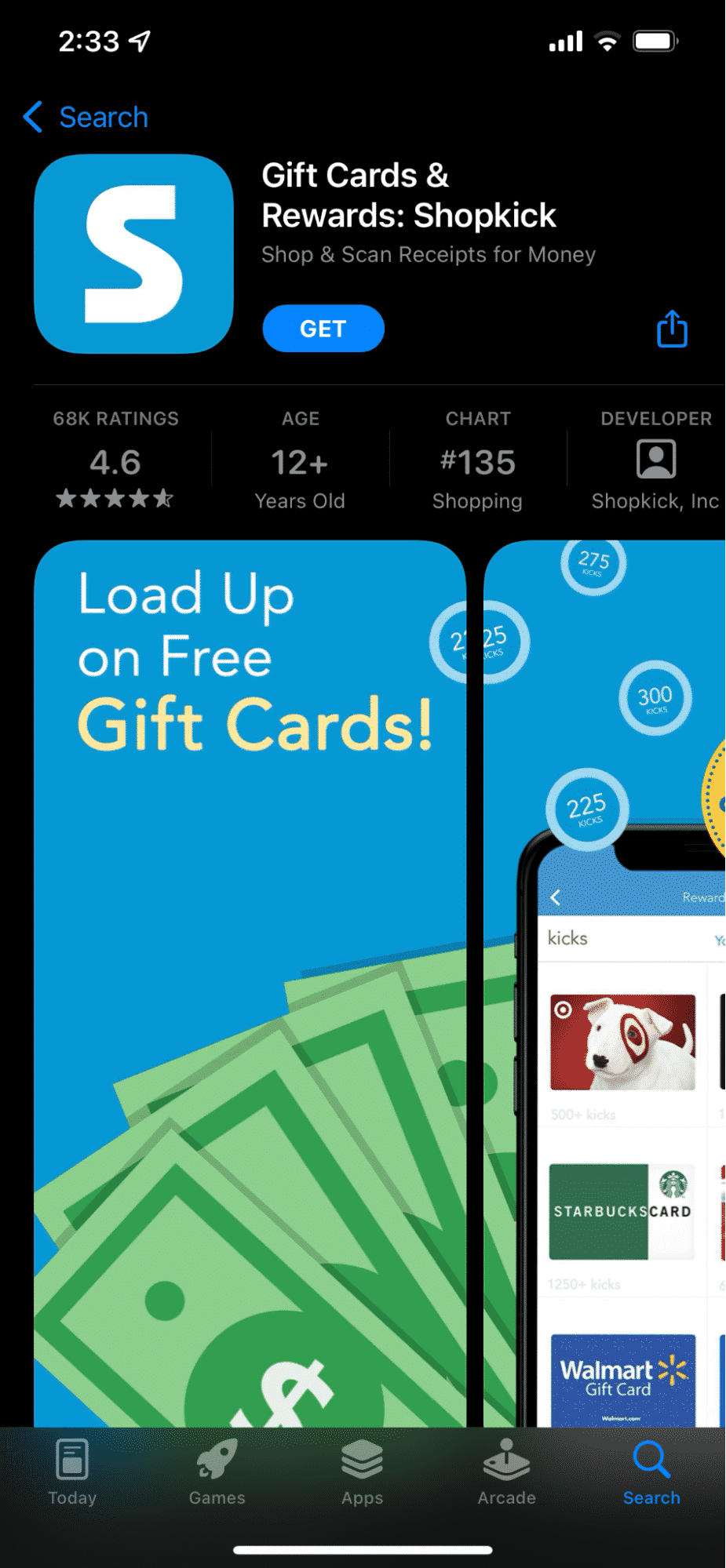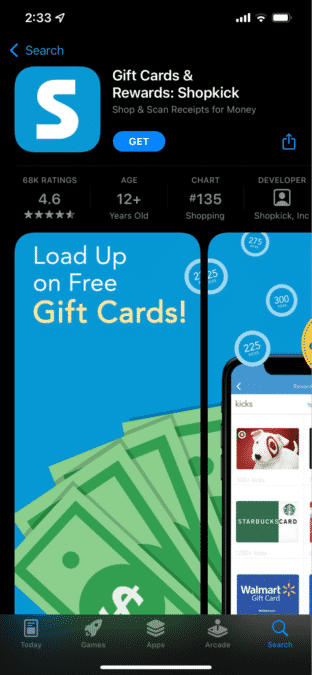 However, there is less publicly available information for Shopkick, but in September 2015, it had app users that allowed the company to value at $60 billion. Moreover, it partners with prominent brands like Best Buy, Kellogg's, eBay, Procter & Gamble, and many more.
Shopkick security
Using apps like Shopkick requires additional attention as people might use a service with a loss, which is not sweet to hear. However, we did not find such security threats or claims for the Shopkick app during our review.
Besides, several prominent sites like Fox Business, Yahoo, and Rachel Ray featured this platform with positive feedback.
Shopkick pricing
Shopkick is available for free in the Google Play Store and Apple App Store, but users might have to purchase goods and products through the app to get the maximum benefit. The ultimate goal here is to open an account and fill some jobs like daily walking, purchasing something, watching videos, etc. By doing this, people will earn kicks they can exchange for future benefits.
Shopkick features
Shopkick app is available for free to iPhone and Android users. To get the full feature of this app, you have to open an account using your email, name, and password. After that, you will be able to earn money by following six methods:
Move to the store as shown in the Shopkick app. It will guide you regarding stores where the Shopkick feature is available.
You can achieve free kicks by scanning barcodes of some selected products within the store.
Purchase any item with the app and scan the receipt to verify the purchase. It is the most effective way to earn kicks, but it involves a problem. If the app can't recognize the purchase, it will not allow you any benefit.
You can link your MasterCard or Visa Cards in case of buying something. Earnings reward is available for both debit and credit cards.
Buy from the online partner store through the app and get benefits.
Get kicks by watching videos.
Shopkick ratings
Since 2010, the Shopkick app has had more than 1 million downloads in Google Play Store with almost 224k reviews. In the Apple App Store, it has 4.6 ratings based on 67,786 reviews.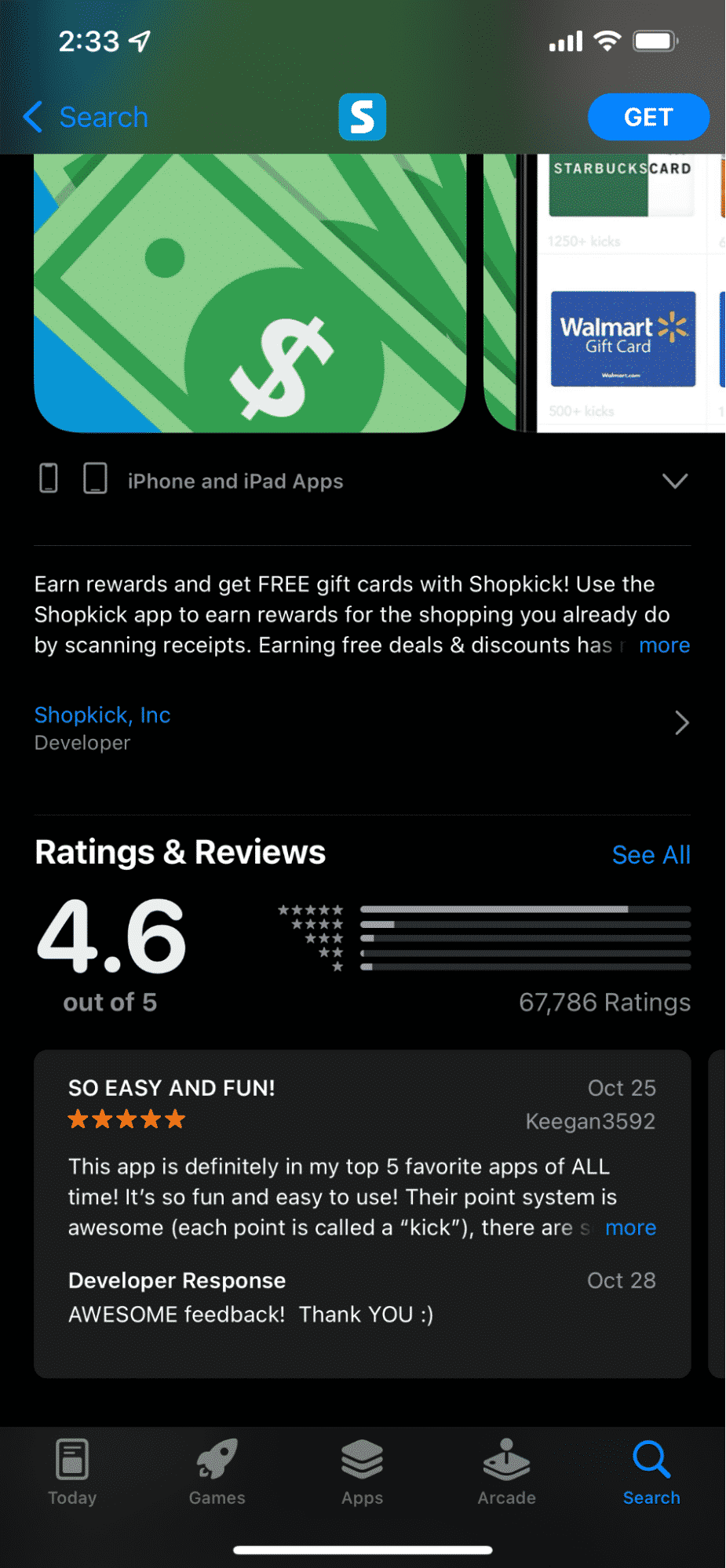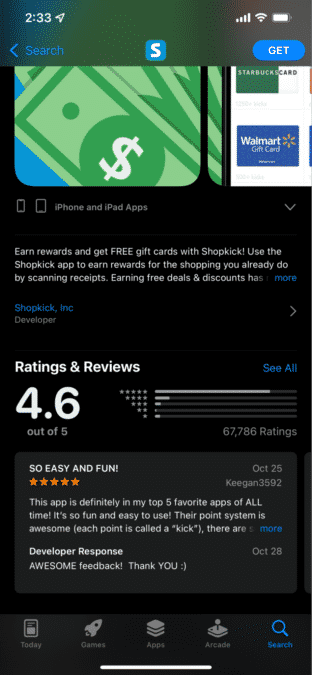 Shopkick advantages
The best benefit of the Shopkick app is that it does not have any earning limit. Earn reward is associated with some kicks that usually convert with money. Every 250 kicks have a value of $1 with the following guidelines.
250 kicks: $1
500 kicks: $2
1000 kicks: $4
2000 kicks: $8
4000 kicks: $16
5000 kicks: $20
Earning $5 is very easy with this app. You can easily do it by going to a store, recording your entrance, buying something, and scanning it.
Shopkick alternatives
It is hard to find apps like Shopkick that allow investors to earn a considerable profit by implementing a small involvement. Among Shopkick alternatives, Wally, Albert, YNAB, PocketGuard would be solid options for investment.
Does the Shopkick app work?
Although you can earn a decent profit by using the Shopkick app, you cannot consider it an alternative to your job. However, earning some money as a passive income is always good for everyone.
Don't quit your day job
It is not wise to leave a job or regular work to earn money through apps like Shopkick. The best approach is to follow a primary job that can cover your daily needs and invest your leisure time in other works like the Shopkick app.
There are trade-offs
While using apps like Shopkick, you have to set a maximum tolerable level for your time and movement. Your personal life has a lot of privacy, so maintaining some pause is often important. Besides, you can earn cash-back or other promotional income that might be one time but does not involve regular tasks.
Final thought
In the above section, we have seen how the Shopkick app can be your source of making money. It is not harmful to earn extra money by doing easy tasks like going to a shop or buying some product.
However, apps like Shopkick need some attention from users. If you want to make such apps your primary income source, you might get bad news. Passive income provides a temporary benefit as they give enough orders initially but do not keep providing the advantage in the long term.
Once they create a customer base, they start limiting the benefit. Therefore, diversifying the effort in multiple apps might be the best option for you.