How safe is the app?
Does it make money?
Is it the best money manager app?
Being able to track your expenses should be a practice everyone follows. Unfortunately, it is not the most fun activity for most people.
There is a fun solution in the form of budgeting and savings apps. However, an app should offer more than just tracking expenses since you can do this yourself.
In today's world of automation, you need an application that can update your accounts automatically and alert you if you exceed your income. It should offer more than the standard budgeting spreadsheet.
For individuals who prefer to track their budgets manually, this app can be a solution. On the other hand, it also provides automated functions for busy but tech-savvy individuals.
Read further about the Wally app and what it has to offer.
Three things to know about this app before starting:
It tracks your incoming and outgoing transactions via one platform.
It is compatible with iOS and is downloadable from the App store.
It uses bank-level encryption technology.
What is the Wally saving app?
Wally 3.0 is an app that centralizes all your accounts to help you manage and improve your spending. The app is only compatible with iOS devices and is downloadable on smartphones.
The app allows linking to bank accounts. However, customers can use it without linking. Furthermore, the app is accessible in 70 different countries and is linkable to over 15,000 banks.
Wally security
When linking your bank accounts to the app, you will require high levels of security. The app uses encrypted end-to-end security features which banks use. Furthermore, Wally is PCI compliant, ISO 27001 certified, and GDPR compliant.
Wally pricing
It is available as a free and paid version. Both subscriptions will give you access to the same features, except for linking bank accounts. When you sign up for free, you will not be able to connect your accounts to the app.
If you opt not to link your bank accounts, you will have to enter the data manually. However, the app will still track your expenses.
The paid version is known as Wally Gold, and it offers it for $3.99 per month or $32.99 for a one-year subscription.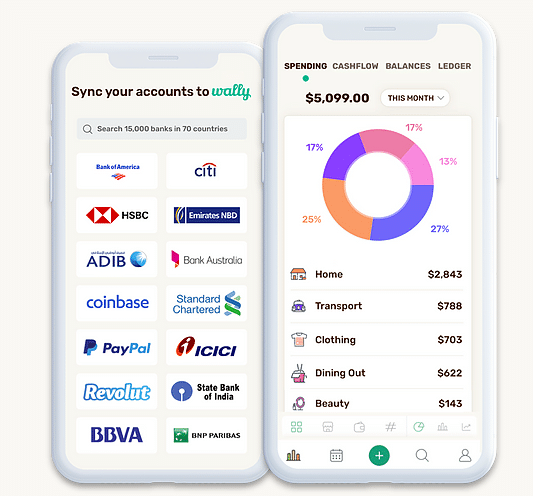 Wally features
The Wally app offers features like budgeting, saving, and tracking your accounts. You can sync your savings, personal, credit card, and loan accounts to the application's platform. The app updates your account balances and categorizes data automatically.
The budget tracking feature also gives you insights into your spending habits and upcoming bills and instantly provides a clear picture of your finances.
The app has various tools which allow you to organize your finances. The financial calendar contains past and upcoming transactions, sorted in chronological order. Another great feature is the uploading of bills and receipts.
Often you might need a receipt; therefore, the app allows you to scan the documents into the platform, giving you access to it should the need arise. The Wally app will enable you to create payment reminders and lists to plan your shopping.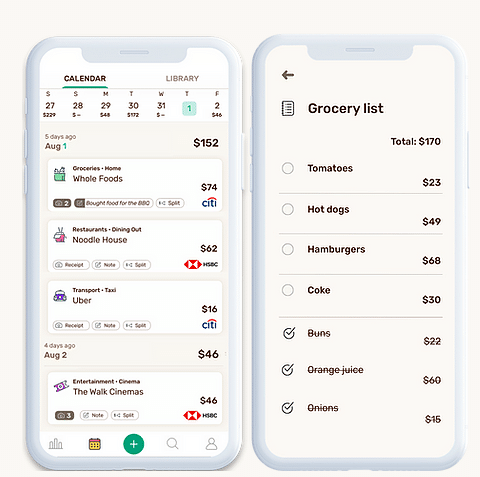 A unique offering from Wally is the joint account tracking feature. This is for individuals who wish to share a joint account with family, colleagues, flatmates, or friends.
This feature enables syncing of group accounts so that everyone can view the state of your joint accounts' spending and savings. You can upload lease agreements, plan spending with lists, and schedule bill reminders.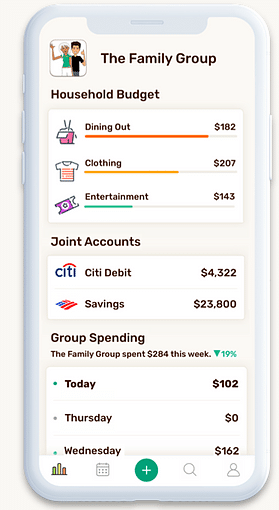 Wally ratings
The app has been recommended over 150 times by sites like The Guardian, HuffPost, and many more. As we mentioned, the app is only available via the App store.
The latest ratings from the App Store:
Rating in App Store at time of writing: 3.9 out of 5 (over 1,500 ratings).

Wally advantages
The app provides many positive features which can be to your advantage:
Financial calendar to view past and upcoming transactions.
Free membership with access to all features.
Option to link bank accounts or input information manually.
Joint account tracking.
Uploading of documents like receipts and bills.
Bank-level security technology.
It is available in 70 countries and supports 200+ foreign currencies.
Wally alternatives
You Need A Budget creators built the app around the philosophy of forecasting how you will spend every dollar. The app syncs your transactions by linking to your bank accounts. It also tracks your cash flow and allows categorization of transactions to enable you to trend your expenditures.
The app links to your bank accounts; however, it is entirely free to use. It tracks your budget and expenditure; users can also transfer money between accounts via the Monday dashboard app.
The Albert app has been in existence since 2015, and it is a multifaceted financial app that allows users to save money and collect all their accounts in one place. It helps users bank, save, and invest.
Does the Wally app really work?
The app's current rating is below four stars; however, the total number of reviews is low compared to similar apps. On the plus side, 150 popular online sites recommend this app. The interface is very modern, and customers have praised the fact that it is easy to use.
A distinct difference between the Wally app and its competitors is the joint account tracking. This is an excellent offering for groups of families or friends who wish to track their savings goals accurately.
Another good point for the app is that you can choose not to link your bank accounts since not everyone is comfortable with this feature.
Users have complained about glitches and that updates to the app are not satisfactory. However, the app is on its third version, and it seems its developers are actively updating it to satisfy customer's needs.
Final thoughts
As a finance planning app, Wally is sufficient to help track your budget, saving goals, and manage your accounts. It offers several good tools, and it is user-friendly. The app has robust security technology, which gives customers peace of mind.