Is the Albert app safe?
Does Albert actually work?
Does the Albert app give you money?
Planning your finances can be an overwhelming task, especially if you have accounts with different banks. Financial planning is not the most exciting thing to do for most individuals.
Nowadays we prefer convenience and speed but we also need to know our money is safe and not at risk. Since numerous online applications offer budgeting and savings apps, plowing through all of these to find the best one.
Furthermore, you will find that most of these apps offer the same mundane features for which you have to pay enormous monthly fees.
Wouldn't it be refreshing to use an app that offers features such as stock investing, budgeting, saving, and cashback rewards? The Albert app provides all these features from one platform, and they also give you expert advice on optimizing your finances. Read further about the Albert app and its incredible offerings.
Three things to know about this app before starting:
Albert app offers more than just saving and budgeting.
You can trade and invest in stocks via the Albert app for as little as $1
Albert app gives users cashback rewards on their savings after one year.
What is the Albert saving app?
This app has many features to help you collate all your accounts in one platform while saving money simultaneously.
The app can create a budget with goals as determined by the user. Furthermore, the app can also guide users on investing since Albert Investments LLC has been an SEC-registered investment advisor since 2015.
The Albert Genius feature suggests what assets you can invest in building your portfolio. The Albert app does more than just creating a budget; it also prompts you to save by monitoring your budget.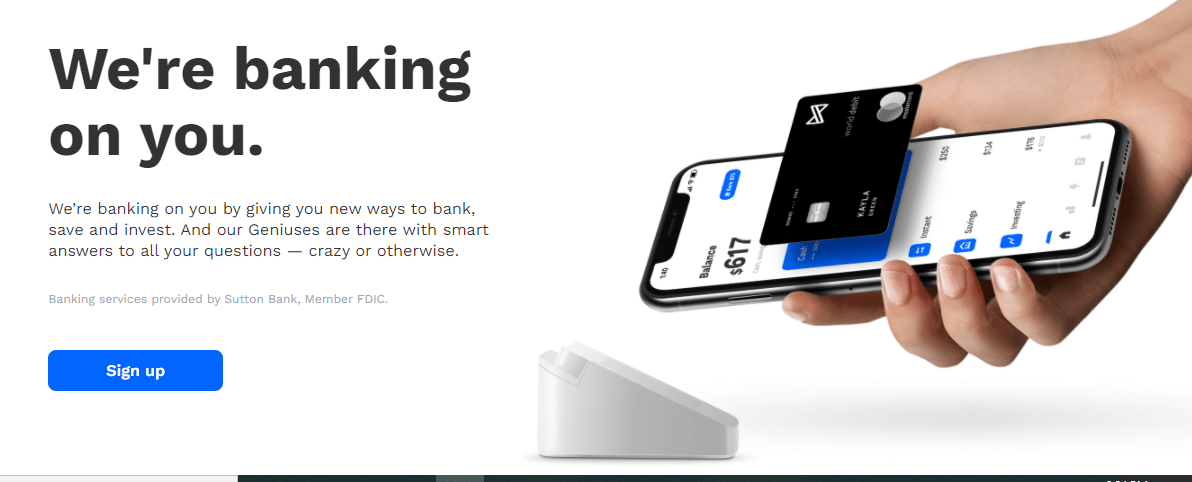 Albert security
Albert app deploys robust security measures to protect users' accounts. Albert app prompts users for a unique username and password. They also add further security layers like enabling Face ID, Touch ID, or a PIN code to access your accounts. The app does not save users' banking details in their system, and their security is at the same level used by banks.
Albert app offers SIPC insurance on investments of up to $500,000 in cash and securities. It also includes $250,000 in cash. The SIP insurance ensures losses due to the broker failure and does not cover losses due to trading or market conditions.
Albert pricing
Signing up with the Albert app is straightforward, and all you need is to provide your legal names, email, and password. The Albert app offers a membership plan which comes with a free 30-day trial. You can take Albert Genius membership on a monthly or annual subscription plan.
Furthermore, the app pays a thank you bonus to clients who opt for the annual plan. They pay the bonus into your Albert Savings account.
The Albert app fee is structured differently from other similar apps. Users can pay a minimum of $4 to cover operational expenses. However, clients can pay what they feel comfortable with if it is not less than $4. The Albert app philosophy is that users who find value might pay more for the subscription fee.
Albert features
This app offers diverse and unique features like investment, budget tracking, and savings. We will review a few of their top features in detail.
The Albert app automatically updates your budget by linking to your existing bank accounts. The budget feature allows you to track your net worth. The app also forecasts your income and recurring bills for the month, which gives you an idea of how much spending money you will have left.
Furthermore, the app categorizes and trends your spending, allowing you to know if you are overspending more than you earn. You also receive real-time alerts that notify you about suspicious transactions, overdrafts, and hidden fees.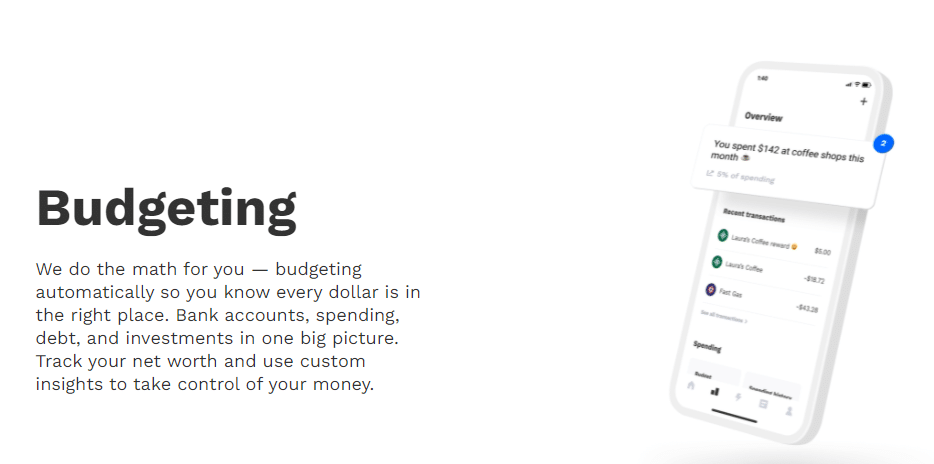 Under the investment option, the app can suggest stocks that you can purchase and grow your portfolio. The minimum required investment is $1. The app also has an auto-invest function which allows you to invest on a recurring schedule once activated.
Another excellent add-on is Genius's custom Portfolio, a tailor-made portfolio according to your goals and needs. The portfolio has investment options like aggressive, moderate, and conservative.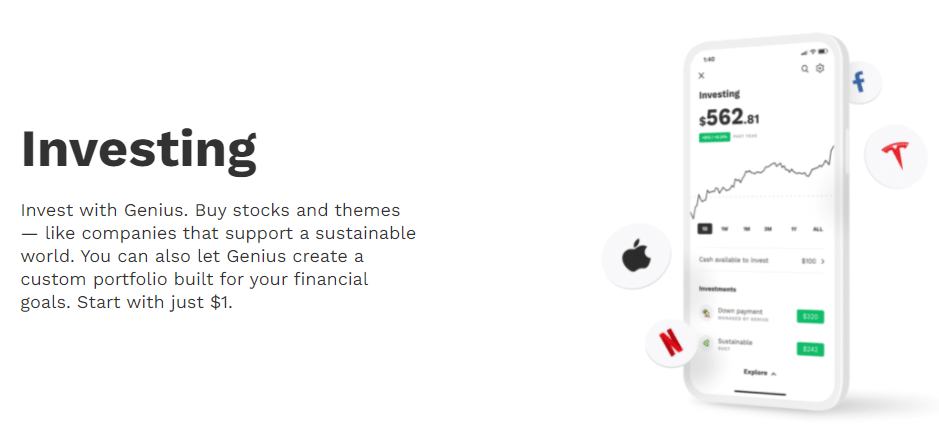 The Albert app saving feature monitors your spending and determines if you have excess money to save, it then saves it automatically. You can also decide on your own savings goals, which the app will integrate into your budget. Furthermore, the app offers cash bonuses annually, which you can withdraw at any time.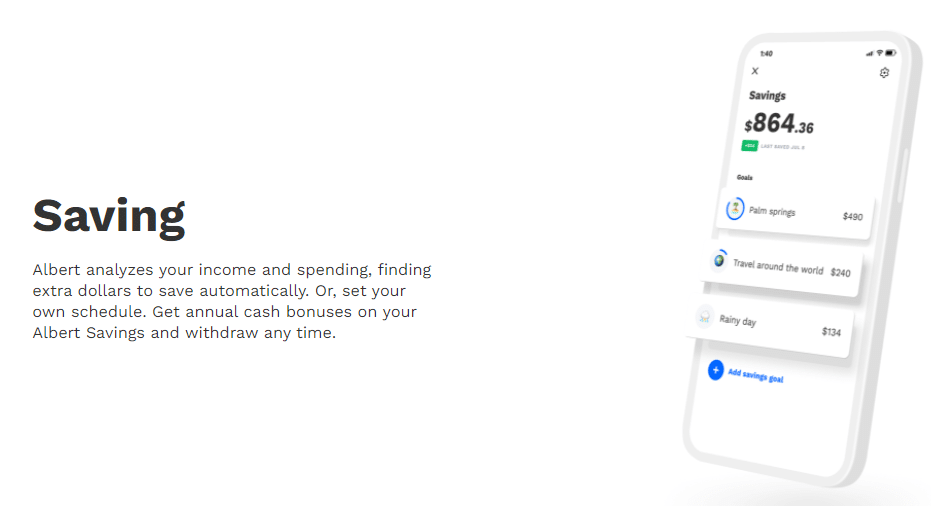 Albert ratings
The Albert app reviews are featured on popular sites like CNBC.com. Unfortunately, Albert has not made it to Forbes's Best Best Budgeting Apps list for 2021.
The app has received over 110,000 combined ratings on the App and Google Play stores.
The latest ratings from the App Store and Google Play:
Rating in App Store at time of writing: 4.7 out of 5 (over 86,000 ratings).
Rating on Google Play at time of writing: 4.0 out of 5 (over 29,900 ratings).

Albert advantages
The Albert app has numerous advantages that users will find beneficial.
Low monthly subscription of $4 only.
Opportunity to invest in stocks with $1 only.
Cashback bonuses annually.
Tracking of fees to find hidden savings.
Albert referral program.
Expert advice from the Albert Genius team.
Commission-free investing.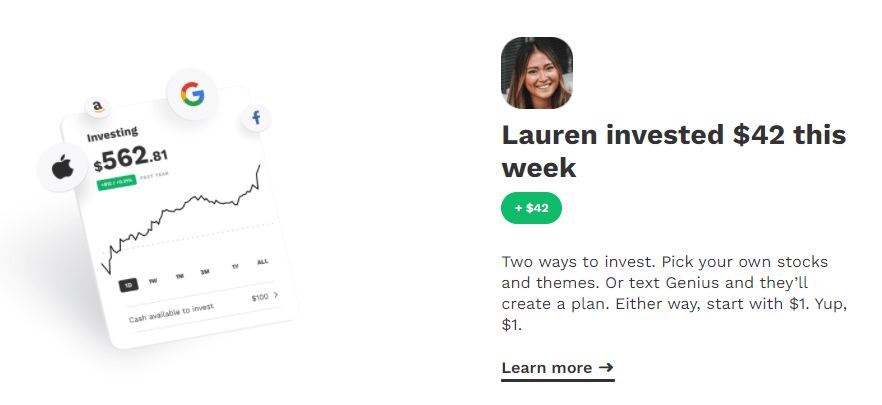 Albert alternatives
You Need A Budget (YNAB) is one of the oldest personal finance apps and has been around since 2004. The philosophy behind YNAB is to forecast how you will spend every dollar before even receiving it. The creators built the app around this philosophy, and it has been successful since its inception. The app offers users high-level security and features like linking bank accounts, tracking cash flow, and categorizing transactions.
Money Dashboard features are free to use; the app does not charge any additional fees. The app allows users to link bank accounts and track their budget and expenditure by automatically updating transactions. In addition, the app also allows users to transfer money between bank accounts via the app platform.
PocketGuard is a savings and budgeting application. The app links users' bank accounts and updates transactions automatically. PocketGuard offers two membership plans: a free and paid plan. The free plan gives users access to all features; however, it has certain limitations. The paid version gives you access to all features and unlimited saving goals, reports exporting, and transactions customizing.
Does the Albert app really work?
Based on the number of reviews the Albert app received, we assume a large customer base. The ratings overall are above four stars which shows that the app is pretty popular.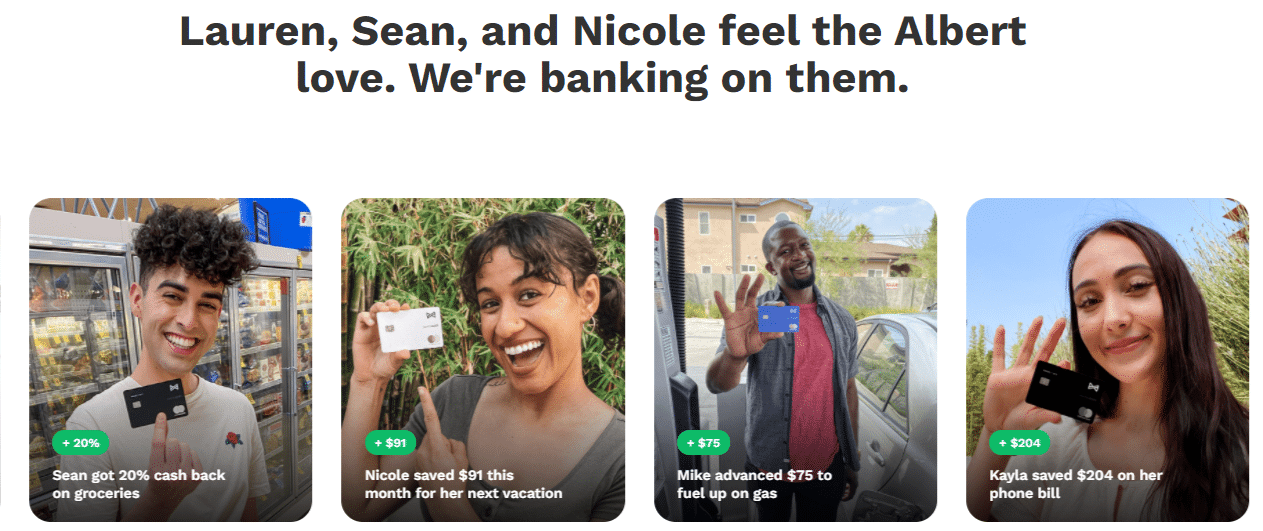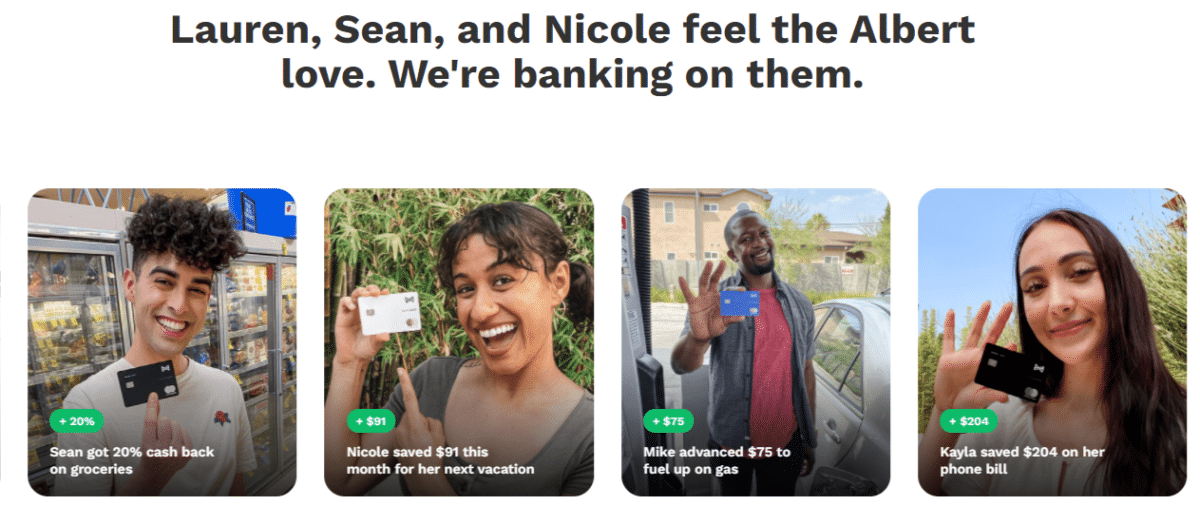 There have been complaints of unforeseen fees deducted and support delaying their response to queries.
However, the support staff seems to respond quickly to bad reviews and complaints, which shows the platform is committed to addressing customer's needs.
Most of the reviews are positive, with customers claiming to save money by using the app and receiving the cash rewards as promised.
Final thoughts
Unlike its competitors, the Albert app has various features since it offers a budget and savings tool plus investment options.
Albert app's support staff is professional, and their team gives expert advice on investing and the best way to plan your financial future. The app is ideal for users looking for an all-in-one platform where banking, saving, and investment come together. Furthermore, the app is quite affordable when compared to peers.