How safe is the PocketGuard app?
Does this app make money?
Which is the best money manager app?
Budgeting and saving go hand in hand. You cannot save money without having a proper budget. Most of us would like to save extra cash. Meanwhile, we struggle because we either do not have a budget or fail to maintain it.
To start, you require a budget, and this is where it becomes a tedious process. We don't have the time to go through all our expenses one by one and track our cash flow.
There are many tools available to draw up a budget. However, they still require manual input of transactions. Imagine having an application that you can access via your smartphone at any time to track your budget and savings for you.
This is the PocketGuard application which we will review in this article.
Three things to know about this app before starting:
It is downloadable on your smartphone.
It can link your bank accounts to track your expenditures.
It allows you to customize your transactions to keep better track of your money.
What is the PocketGuard saving app?
It is a savings and budgeting app, which offers algorithms and tools to allow users to manage their budgets. The basis of the app is to link users' bank accounts to the application interface to allow for updating of transactions.
The application is ideal for individuals looking for a fast and efficient way to manage their budget and track savings goals without the hassle of manual transactions.
PocketGuard security
The app uses advanced security technology to safeguard users' accounts. The application uses 256-bit SSL data encryption, also used by major banks. The app also built-in extra layers of security by prompting you to use a PIN and biometrics when you log in on your phone. This feature is to protect your account should your phone be lost or stolen.

PocketGuard pricing
This app offers two pricing plans: free and paid membership. The free plan is accessible to everybody. Thus, you can use most of the app's features. However, certain of them come with limitations. For example, as a free member, you cannot export reports, and you can only set a limited number of savings goals.
Those who opt to have more benefits, they can join the paid membership, which has three pricing plans:
Monthly at $7.99
Annually $79.99
Lifetime $99.99
PocketGuard Plus membership enjoys unlimited savings goals, exporting of reports, customization of transactions, and adding multiple categories for one transaction.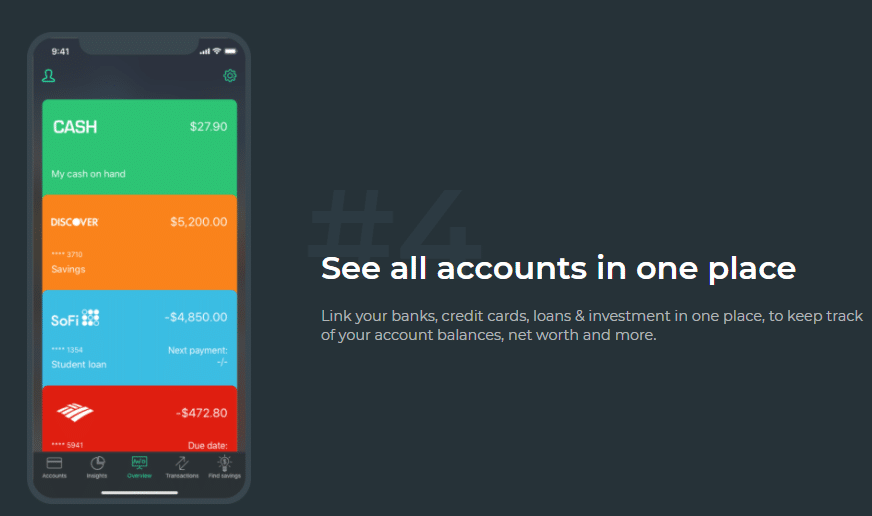 PocketGuard features
The PocketGuard app has a budgeting tool that allows you to stay up to date with your spending. The main feature of the app is the linking of bank accounts. When you register your account, the first step is to link your banking accounts to the app.
PocketGuard can link your account to multiple banking and lending entities. Users can connect bank accounts of personal loans, mortgages, credit cards, and savings accounts.
Once your bank accounts sync with the app, PocketGuard will automatically update the transaction data directly into your budget.
Another feature of the app is the 'In My Pocket' tool, which gives you an overview of your spending at a glance. Therefore, the app always updates you on how much money is left to spend. It calculates an estimated value from your income and expenses. It will assess your income, bills, and savings and evaluate your spending money left for the remainder of the term.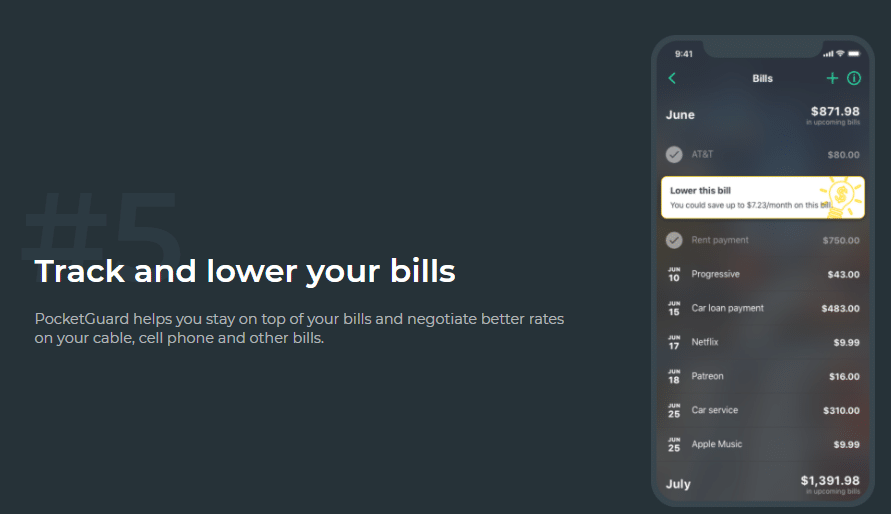 The app also gives you a reporting feature in pie charts, which shows each category of your expenses and how much they contributed to your total budget. You are also able to see the type with the highest costs.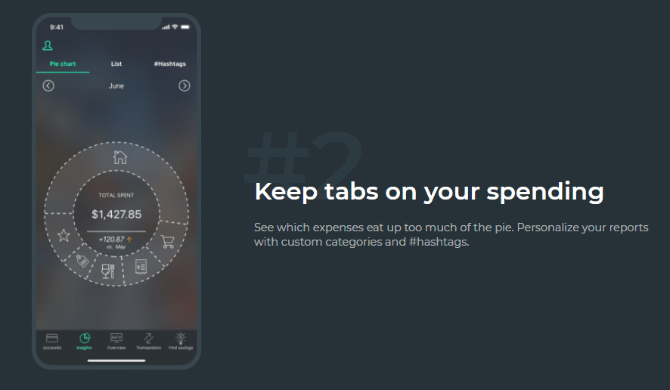 PocketGuard ratings
The PocketGuard app has been reviewed and rated by multiple reputable sources like Forbes, Time, and NBC News. There are over 8,000 ratings of the app on the Google Play and iPhone App stores.
Rating in App Store at time of writing: 4.7 out of 5 (nearly 6,000 ratings).
Rating on Google Play at time of writing: 4.3 out of 5 (nearly 1,500 ratings).
Furthermore, Forbes Advisors has rated the app as one of the Best Budgeting Apps of 2021.

PocketGuard advantages
It has numerous advantages that you might want to consider:
Syncing transactions by linking to your bank account.
Overview of spending at a glance with the In My Pocket tool.
High customer reviews and ratings.
Advanced security protocols and technology which major banks use.
Tracking of high expenditures via the pie charts.
PocketGuard alternatives
It is not the only budgeting and saving application, and there are a few other alternatives worth mentioning.
YNAB app
You Need A Budget (YNAB) is a personal finance app that helps you manage your budget. It was launched in 2004 and is, therefore, a veteran in the industry of budgeting apps. YNAB works on the premise of assigning your money to a category before spending it. The app is compatible with iPhone and Android devices.
Albert app
It has been in existence since 2015, and it is a multifaceted financial app that allows users to save money and collect all their accounts in one place. Albert helps users bank, save, and invest.
Wally app
Wally is an app that helps users track their expenses. The app offers a paid membership plan for those who prefer to link their bank accounts and automatically update their budget. However, Wally does not sync your bank accounts, and information must be input manually.
Does the PocketGuard app really work?
This app has been highly rated and therefore presents itself as a reliable app. The features work well, and most would be concerned about the security of linking bank accounts. However, PocketGuard uses the best security technology on the market.
But while PocketGuard is convenient, there have been reports of the app miscategorizing transactions from time to time. Users should therefore go over their transactions and make sure everything is correct.
The cost for the premium version is not quite as high as its competitors. However, you can opt for the free plan if you cannot afford the PocketGuard Plus option.
Final thoughts
To summarize, PocketGuard is a solid money management application. The app is suitable for individuals who are not good at budgeting and struggle to keep track of their spending.
Furthermore, it offers the convenience of linking your bank accounts and automatically syncing your transactions. It is, therefore, the ideal personal finance app for busy and budget-conscious individuals.