What is the most reliable money-saving app?
How do you use the Ibotta app?
Is it profitable to save money on this app?
Many apps allow making passive money without investing anything, and Ibotta App is one of them. It is inspiring for everyone to earn money by using an app by following a store or buying something through it.
It is very challenging to find a passive income source due to the possibility of getting scammed. Many online platforms will attract you with a lucrative offer, but you will end up with nothing. You might think the Ibotta App is one of them, but it is not true.
Today's review will explain everything about the Ibotta App, including its use, safety measurement, and security features. After completing the whole section, you will claim yourself expert about this app to help you get the maximum benefit.
What is the Ibotta saving app?
Before going to the features of the Ibotta App, we will see how the concept of earning money through this app came and who the people behind this project are.
Therefore, these platform builders focused on catching attention to people from every class — including PC and laptop users. Ibotta is an App where people can buy something and earn cashback every day. It is effortless to access as this app is available on the Apple App Store, Google Play Store, and browser extensions.
Ibotta Apps allow purchasing products from more than 300 offline and more than 55 online stores. As per the latest news, this app has provided more than $1 billion in cash to the users, ranking at #41 shopping apps in the App Store with a good rating.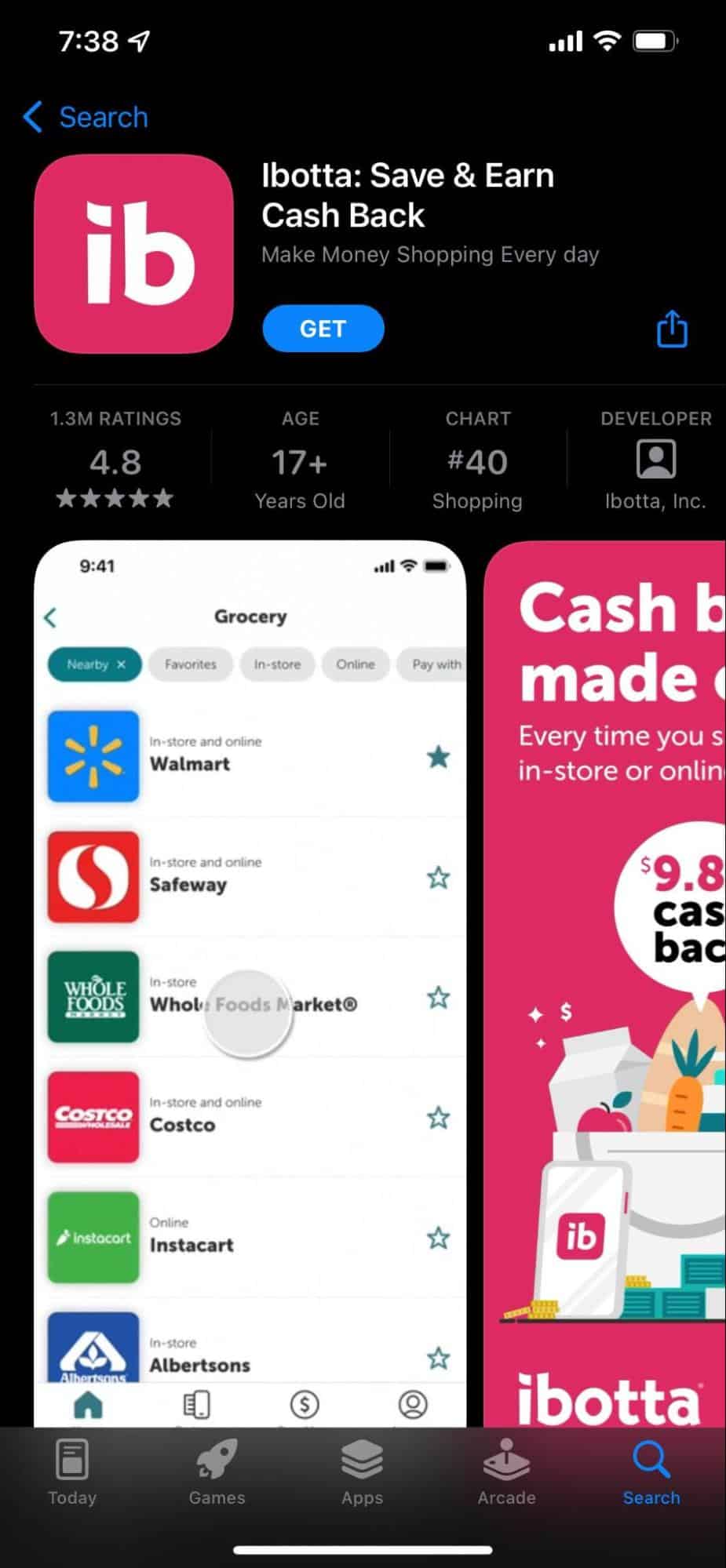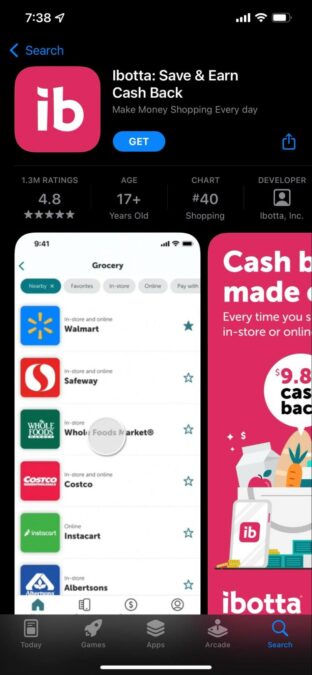 Ibotta app was founded by Bryan Leach in 2012. This company is headquartered in Denver and consists of more than 800 people. After launching, Ibotta raised $76 million, and its current value is around $1 billion with more than 30 million download numbers.
Ibotta security
As per our findings, Ibotta is a safe app for use. This is because Ibotta has got a lot of experts in IT and their main aim is to protect your information. Moreover, Ibotta App uses top-tiered security protocols like 256-bit data encryption. As a result, your information in the app is almost safe.
However, using apps like Ibotta always has some risks. Therefore, if you are concerned about your data privacy, you should know that Ibotta makes money by selling your data to another company. Unfortunately, there is no way to know which information they will sell, but your data safety depends on how the third party utilizes it.
Ibotta pricing
Ibotta App is available for free. You don't have to spend money to use this app, but you have to create your account there and make purchases through the app after downloading it.
During our review, we have found that the rates in the Ibotta App are almost the same in the retail store. Moreover, Ibotta provides promotions so that people can earn money without buying anything through it.
Ibotta features
You can use Ibotta to get cash backs from retail locations while you shop online. Several features might encourage you to consider this app as your high priority:
It is the most effective way to earn money through this app. First, you have to open the aff and tap on the Find Offers button.
After that, you will see a list of offers, and once you start shopping there, you will get a reward by participating in a small survey. After shopping, you have to upload the receipt using your phone's camera to validate the purchase.
Connecting loyalty accounts
You can add loyalty accounts to the app and select retailers you want to visit. Then, later on, click Link account to enable the loyalty feature.
After completing the process, the app will automatically return the cashback for your activity on that store. In that case, you don't have to upload the receipt that will ultimately save your time.
It is not bad to use the Ibotta app and get discounts on more than 140 retail shops. You can save your money from shopping in stores like Nike, Casper, Auto Parts, and many more. Once you purchase anything, the app will automatically provide the reward in your account.
Pay with Ibotta gift cards
You will get a decent outcome from the Ibotta gift cards in more than 120 nationwide stores and restaurants. Moreover, while you purchase anything, you can choose to pay with an Ibotta gift card to make a payment with your cashback. The retailer will scan the code, and the payment will be processed.
Ibotta ratings
In the Apple App Store, Ibotta has got a 4.8 rating out of 5.0, based on 1.3 million reviews. Moreover, it has got 41st position as a shopping app in the Apple App Store. On the other hand, in the Google Play Store, it also has a good rating of 4.5 from nearly 540,000 reviews.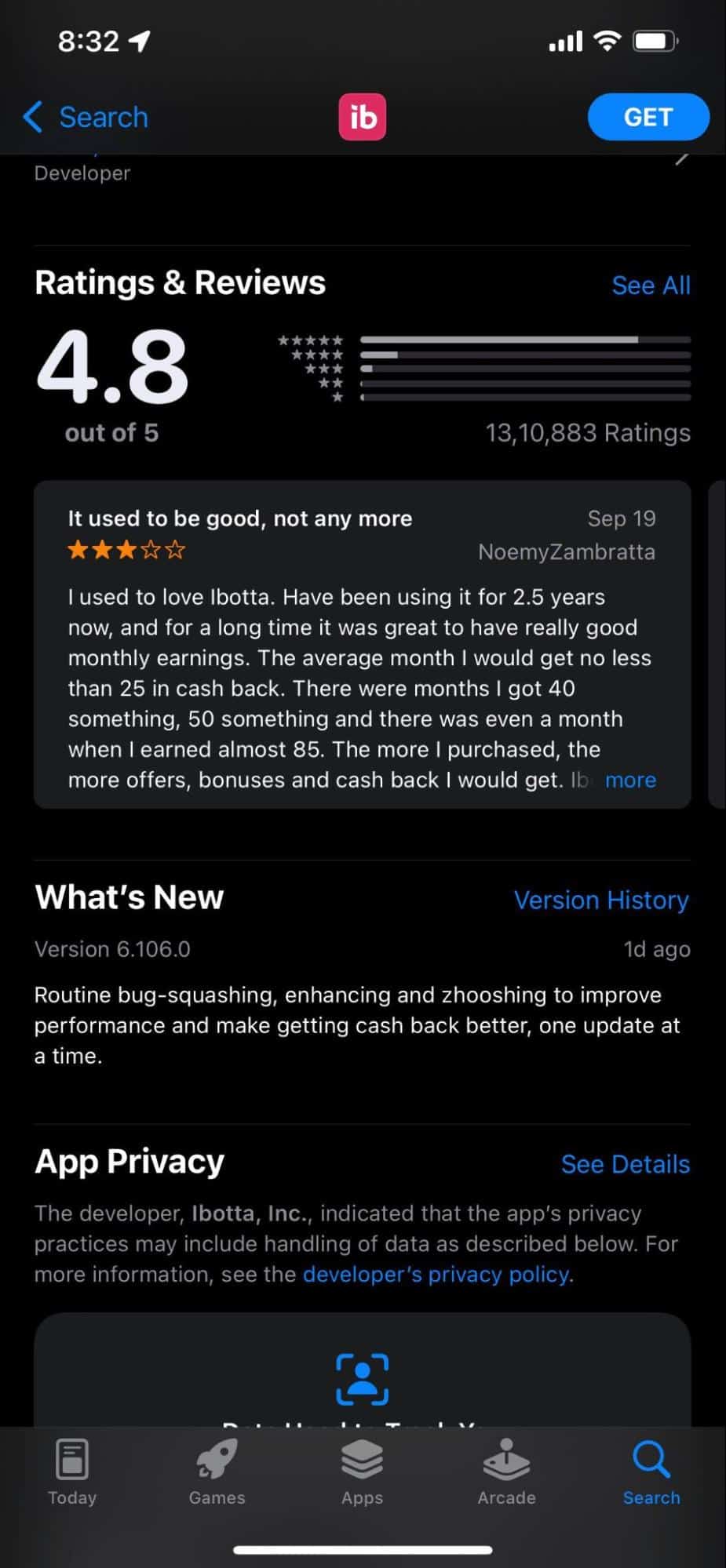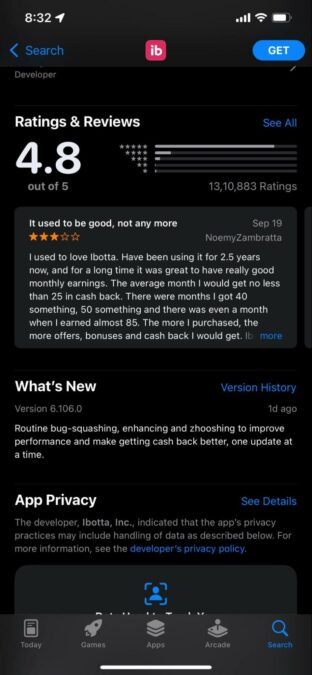 Ibotta advantages
The first benefit of this app is that it does not require investing any money. You can easily download it from the platform and start using it. Moreover, this app focused on providing benefits from multiple sectors- earning from in-store, referral, gift card, etc. makes this platform unique.
Ibotta alternatives
It is hard to find apps like Ibotta that allow investors to earn a considerable profit by implementing a small involvement. Among alternatives, Shopkick, Albert, Wally app, PocketGuard, etc., would be solid options for investment.
Does the Ibotta app really work?
Ibotta app collects user information and shares it with third parties. Let's have a look at what Ibotta and its partner might do with your data:
They might track your location and determine which shop you visit most so that they can send you notifications when you arrive there.
The final part is to send you notifications regarding advertisements and services, emails, texts, or other methods of communication.
Final thought
This app would be an excellent option for you as a passive income source. However, it is not wise to use these apps for long-term earnings. Apps like Ibotta might not provide the same benefit over time. Once they reach their business target, they may reduce the benefit gradually.