What do we like?
A wide range of coins supported
User-friendly interface
No upfront and recurring fees involved
What do we don't like?
Multi-factor authentication not supported
Less secure than hardware wallets
Sending and receiving coins may fail if using an outdated app version
How does the Trust Wallet work?
Trust Wallet is a mobile app that works in the manner outlined below:
Trust Wallet connects different blockchain networks. While your crypto assets are stored in a blockchain, you can access them through your Trust Wallet app.
This wallet will not store your crypto holdings. It only provides easy access to your crypto assets somewhere.
Trust Wallet is free to use by all users, and it does not generate profits in doing so. Processing costs that accrue when users perform transactions go directly to the miners and validators.
You can manage your public keys being used for receiving and sending crypto through this app. Apart from this, you can perform other transactions such as staking and trading. You can trade crypto by swapping between crypto-assets. See the image below.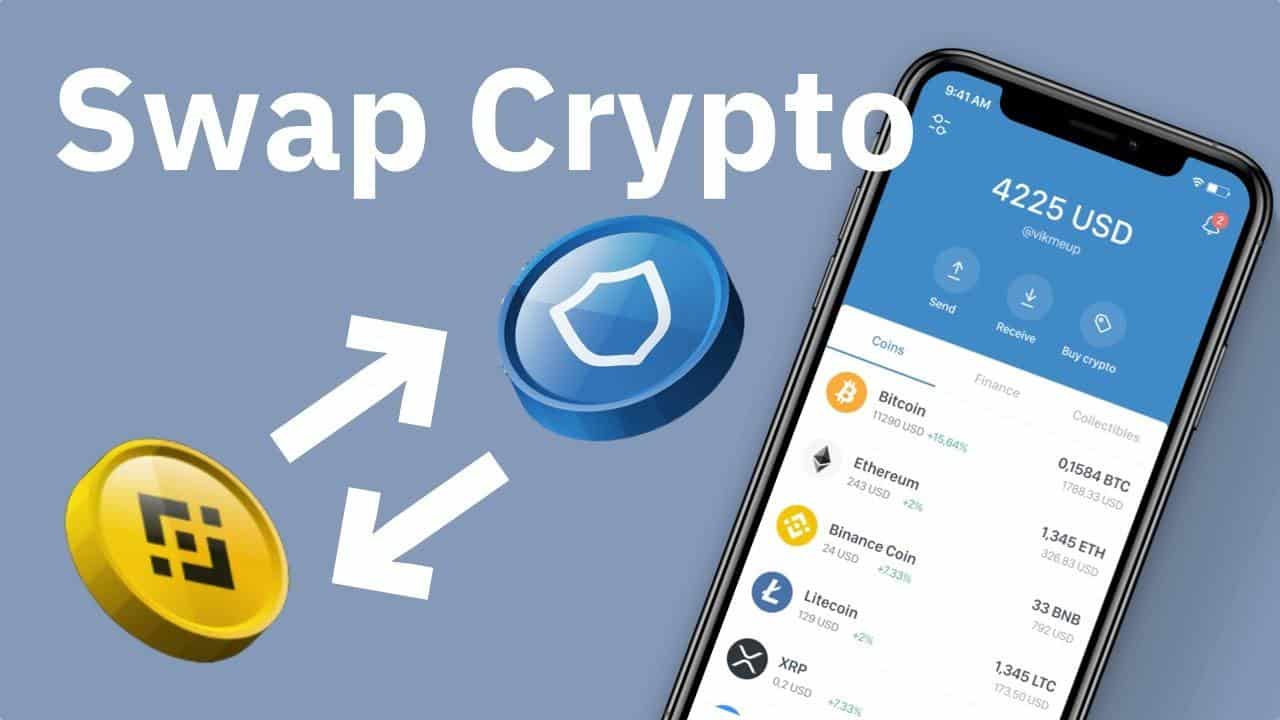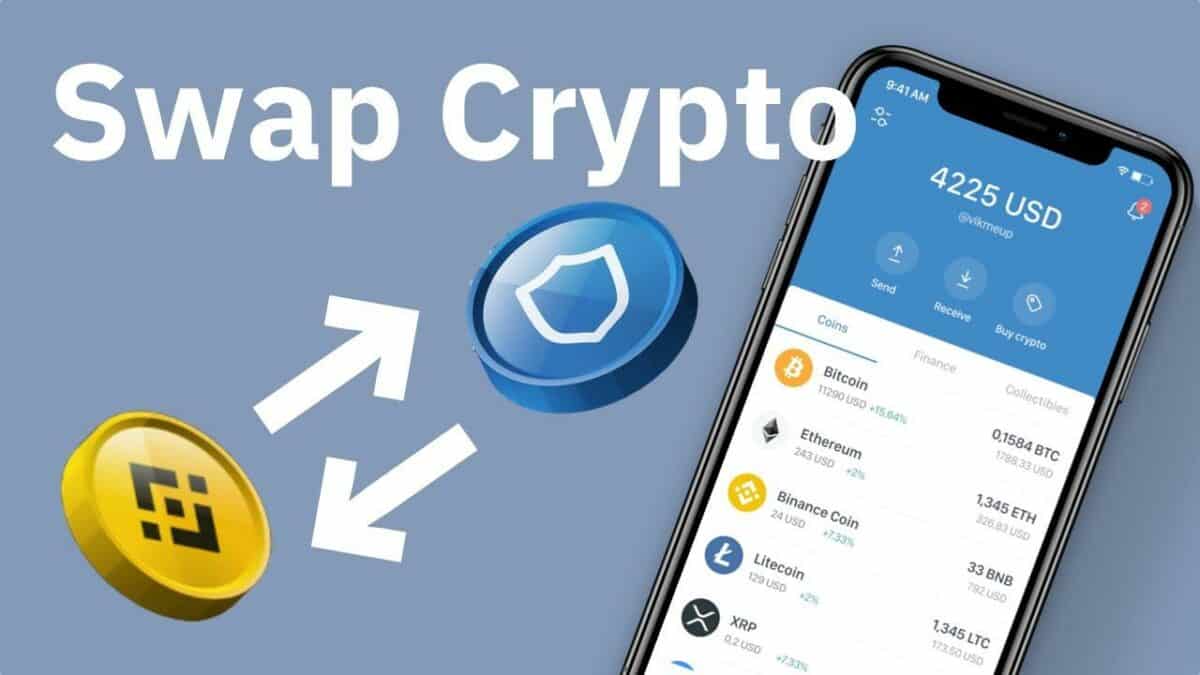 How to use the Trust wallet?
You can use the Trust Wallet for various purposes. The two basic uses are receiving and sending coins. Refer to the image below to see these two options.
Receiving coins
To receive coins, you must follow the steps below:
Login to the Trust Wallet mobile app.
Hit the receive button and then key in the wallet address. Alternatively, you may scan the provided QR code.
Send the code or wallet address to the person whom you expect to send you coins.
Go to transactions to view incoming coins and hit "Confirm" once you have received the coins.
Sending coins
To send coins, follow the process outlined below:
Login to the Trust Wallet mobile app.
Hit the "Send" button.
Key in the wallet address of your recipient or scan a QR code.
Type the amount of coin to send and hit "Next."
Check the details of the transaction.
Hit "Send."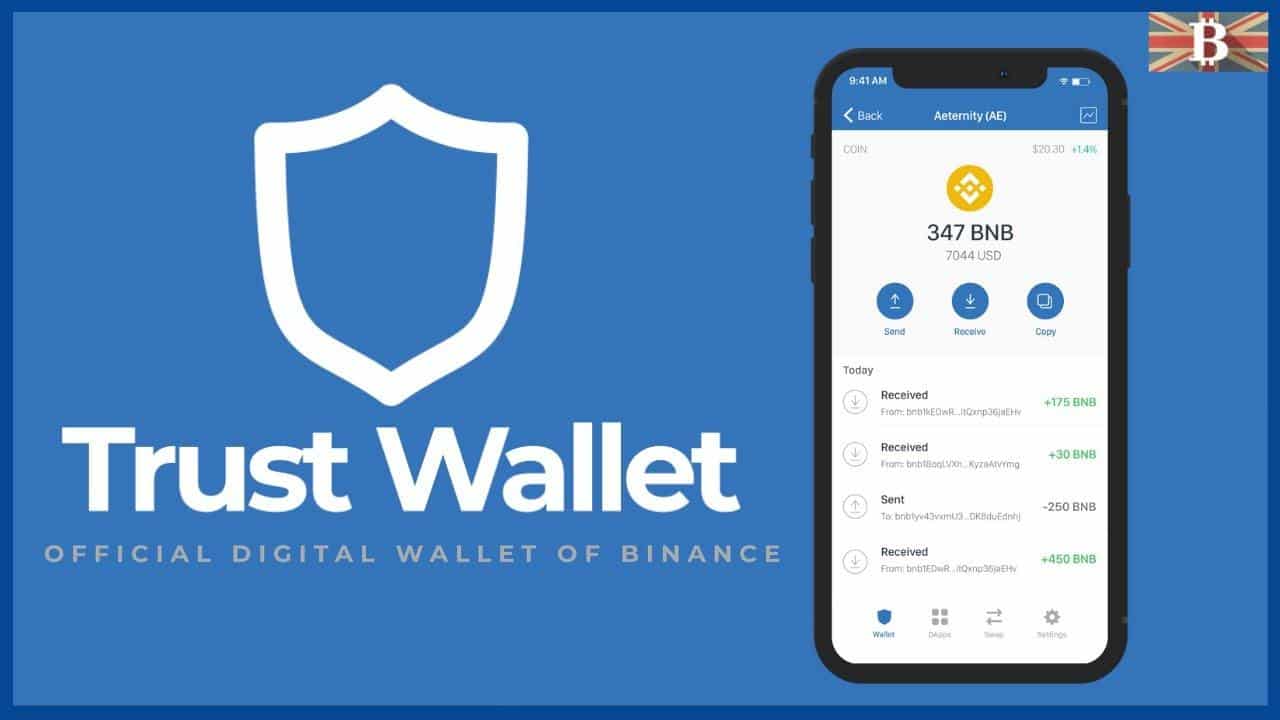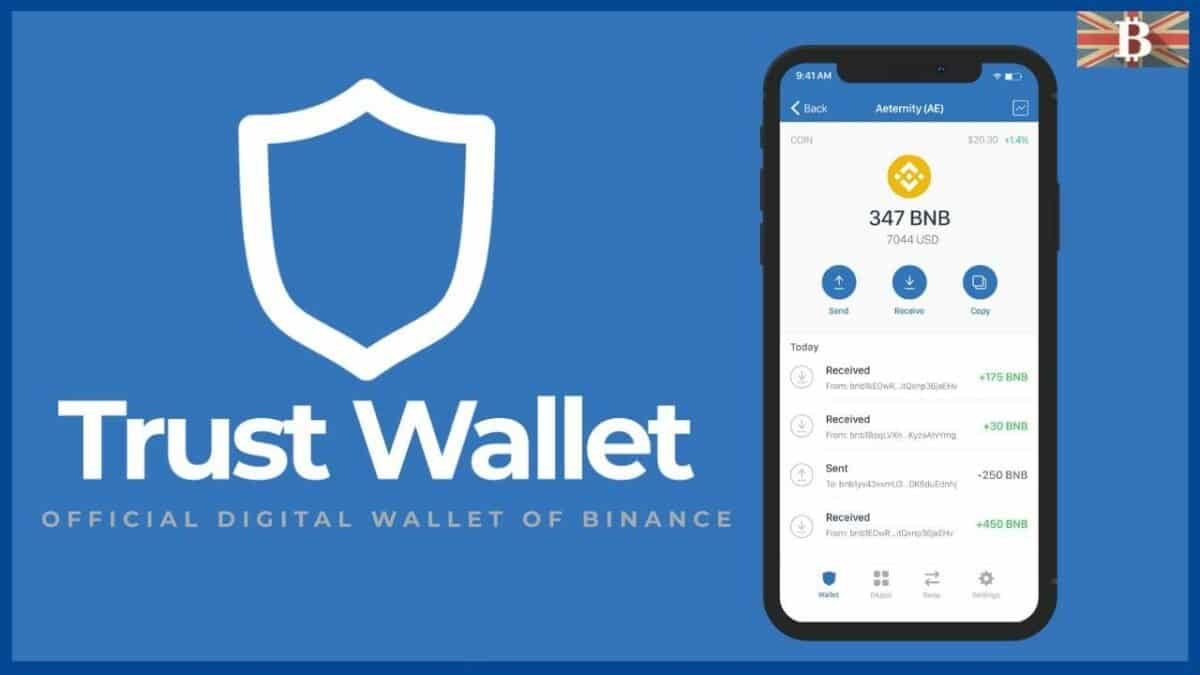 How to start?
Setting up a Trust Wallet is easy.
The first step is to download the app from the Apple Store or Google Play Store.
Second, install the downloaded app and wait for the process to finish.
Third, open the app and choose one of two options: import an existing wallet or generate a new wallet. Once this is done, you are ready to use the wallet.
Trust Wallet fees
This app is available for free download either from Apple Store or Google Play Store. Using the application does not involve any fees as well.
The only cost involved in using Trust Wallet is the network fee. This applies when you move coins into another wallet or a crypto exchange. The network fee can be fast, regular, or cheap. Take note that the network fee varies by the blockchain in use. Trust Wallet has no control or influence over this fee.
Trust Wallet support
A strong and responsive customer service team supports users of the Trust Wallet. If you are experiencing issues in using the app, you can contact the team via a ticketing system. Shortly after you create a ticket, a member of the team will be in touch with you.
Before you send any ticket, it is helpful to check the Help Center first or the FAQ section for answers. Other users might have experienced your issue, and solutions or answers might have been provided.
Trust Wallet staking
Staking coins involves taking a few steps.
Step 1: Select a coin to stake.
Let us use Tron in this example.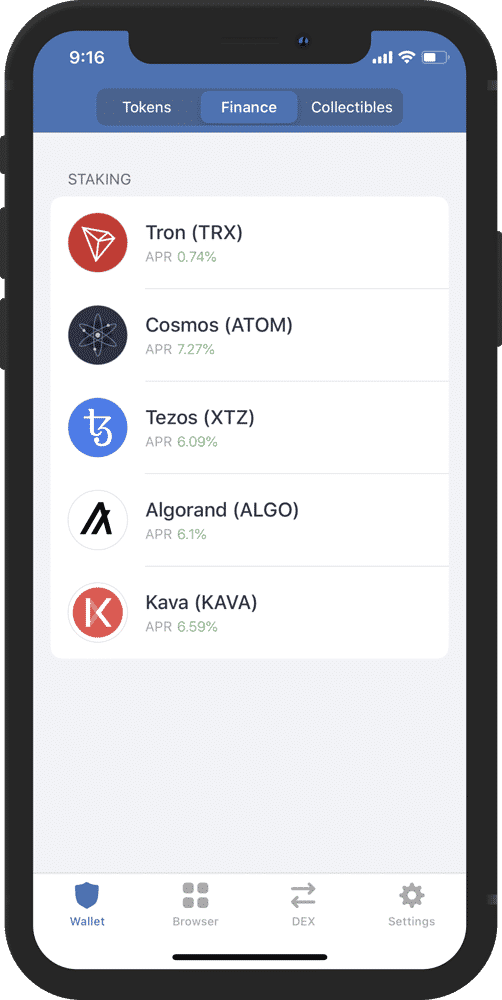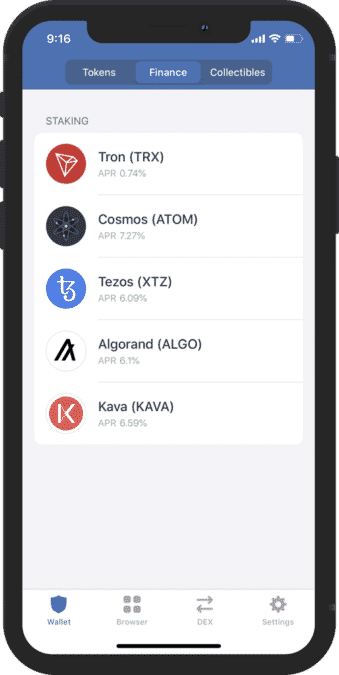 Step 2: Go to the Staking menu.
Touch the More button to go to the Staking menu. In this menu, you can see the options below:
Stake details – get more details about TRX staking here and see the existing staking status.
Stake – choosing this option will direct you to the preliminary staking window.
Unstake – choose this option if looking to un-stake TRX, assuming it was staked already.
Claim rewards – select this option if you want to claim any rewards generated as a result of staking TRX.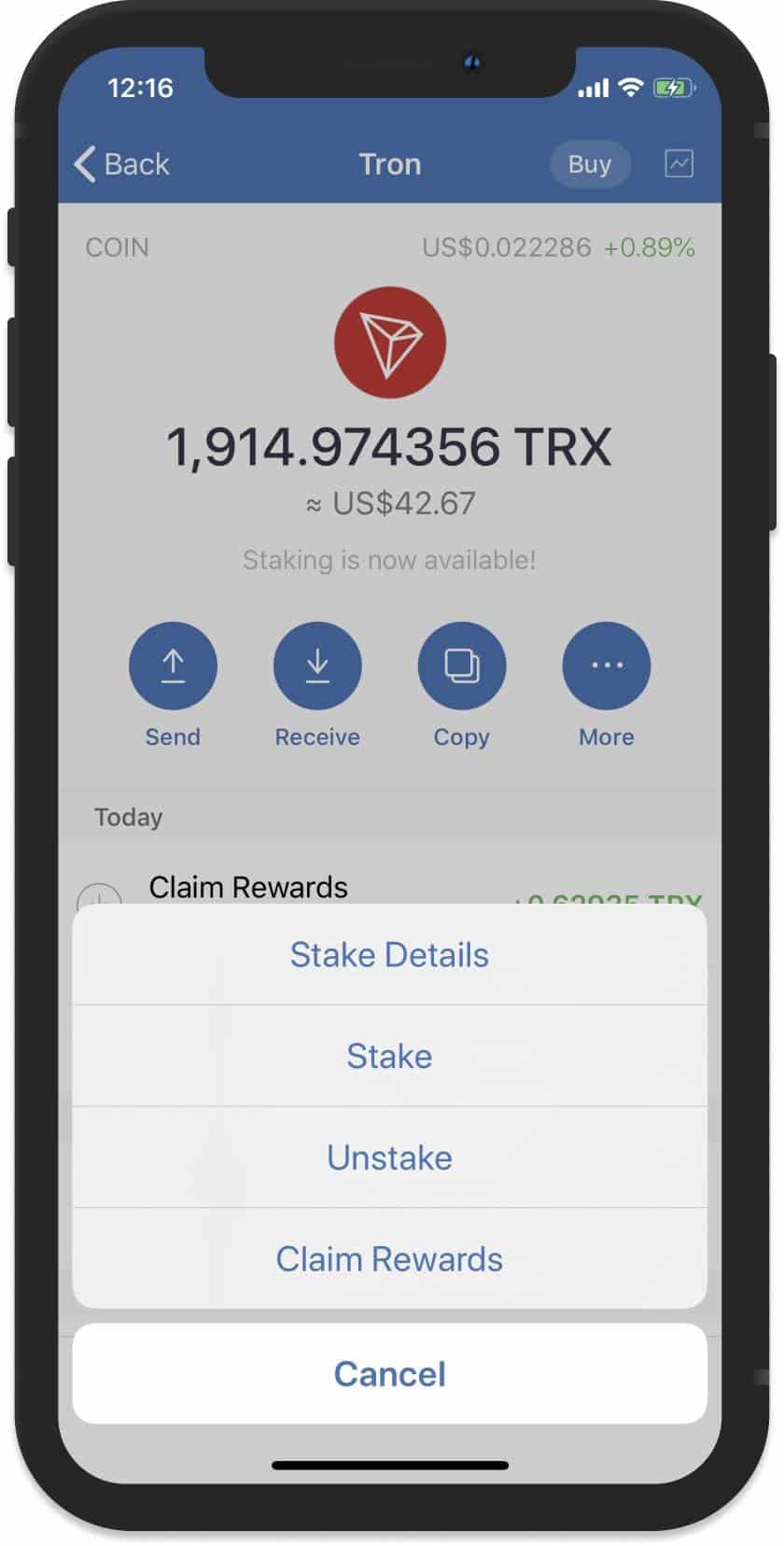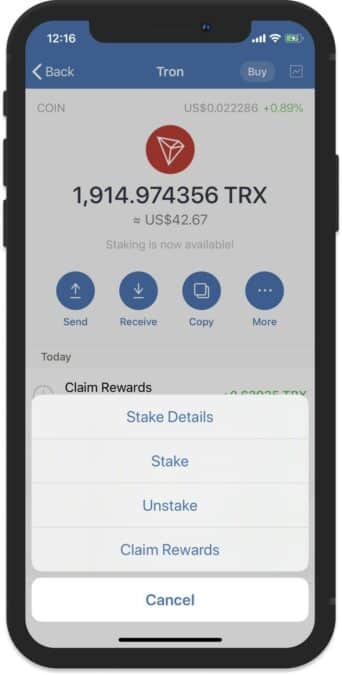 Step 3: Set the amount and select a validator.
Set the amount of TRX you want to stake. Alternatively, you can hit "Max" to use all available TRX tokens. The minimum token amount is 1 TRX. Make sure you have extra tokens available to cover the staking cost. Select a validator from a list, then hit "Next."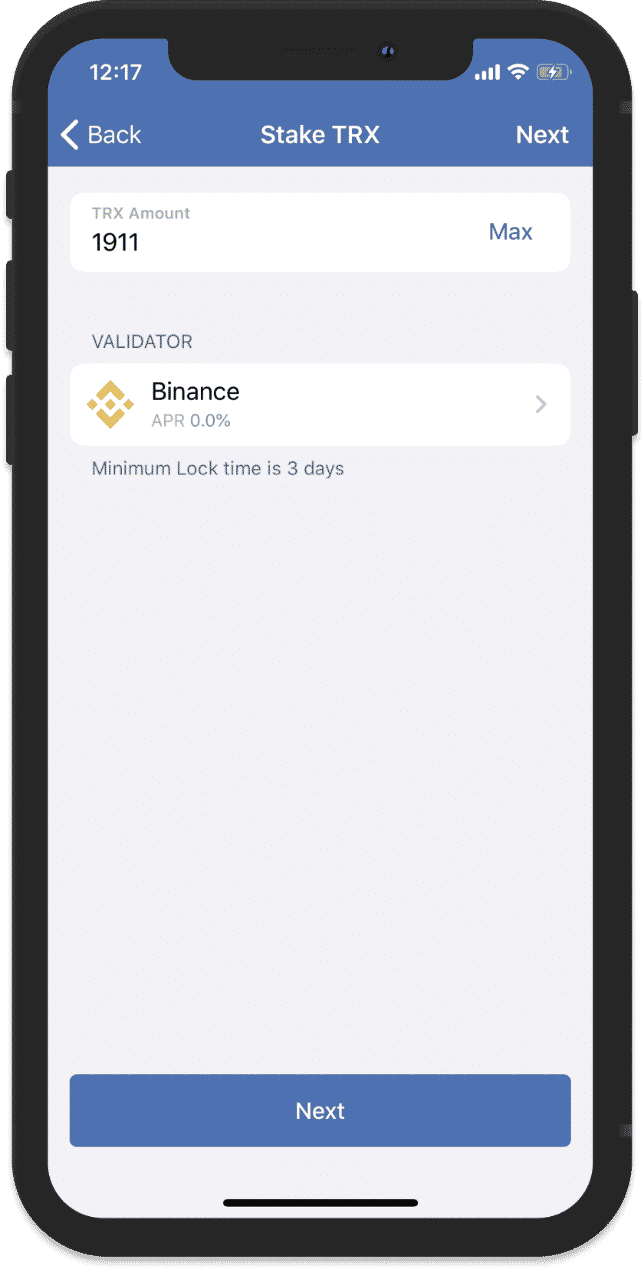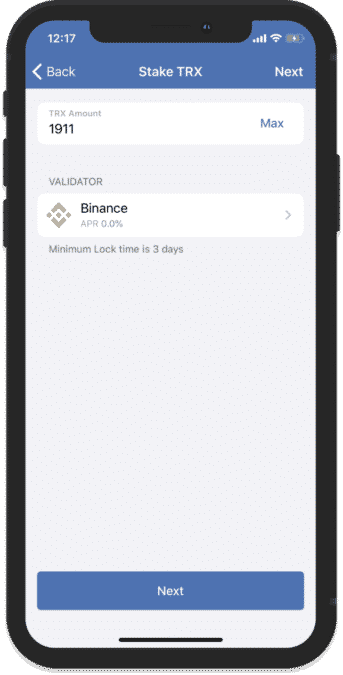 Step 4: Send the transaction.
Review the details of the staking transaction before proceeding. Once ready, hit "Send." Once done, the app will redirect you to the TRX wallet. You will see a pending message while the network is validating the transaction.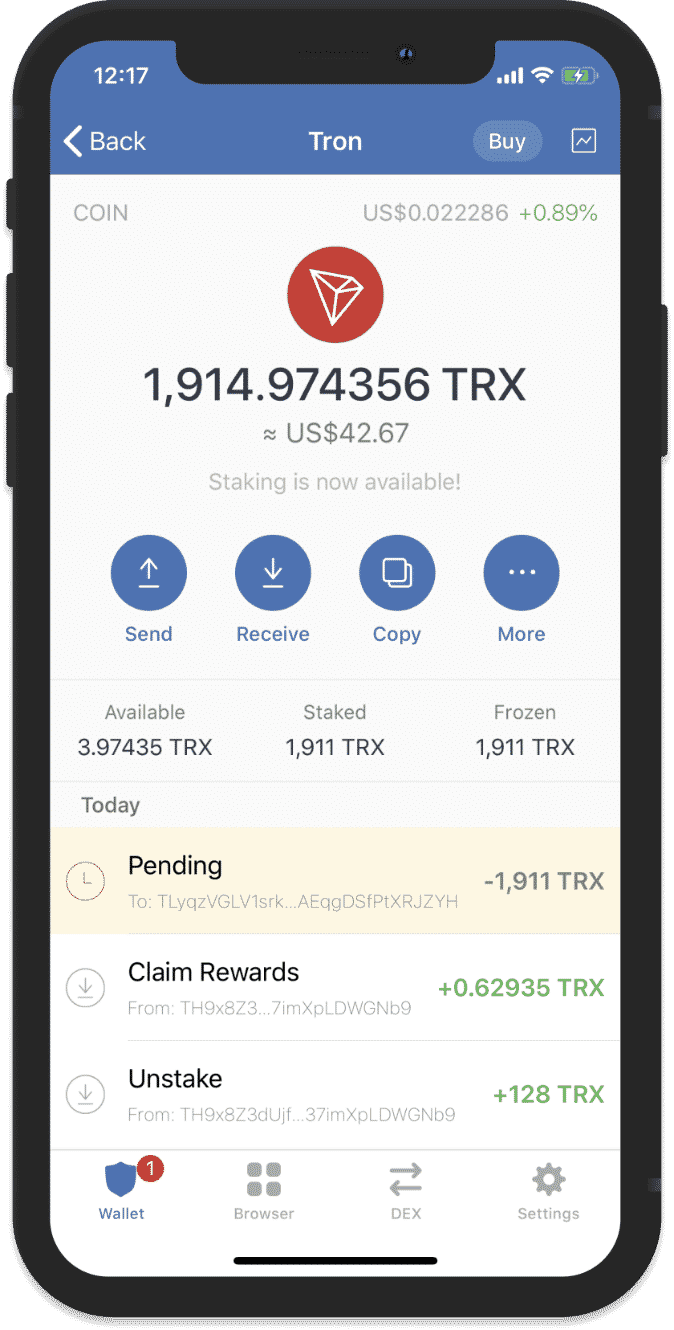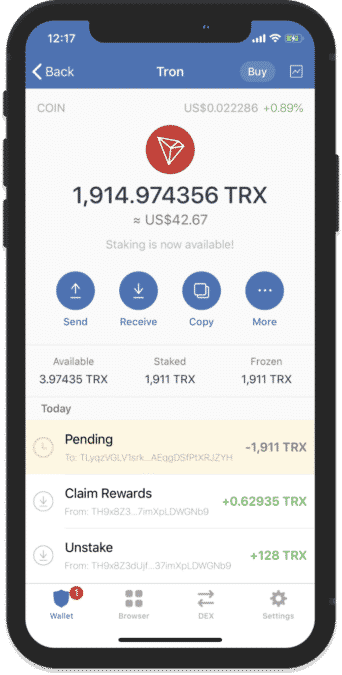 Can you trust the Trust Wallet?
No other users besides you can access the keys on your Trust Wallet. Your keys will never get outside of your device. Another safety feature is the backup function. In the event that your Trust Wallet fails for some reason, you can still recover your assets.
The people behind this app respect your needs and are suitable for privacy. You can rest assured that your privacy is protected every step of the way, from downloading to creating a wallet to using it. The app does not ask for your personal information for verification purposes at any point. Also, the app does not save your data. Since the app uses open-source code, any developer can take a peek at it. Security experts can audit the code at any time.
Trust Wallet got 4.5 out of 5 points from Google Play Store and 4.8 points from Apple Store in terms of user feedback. Therefore, users highly regard the Trust Wallet. The team behind the development of this app has gone the extra mile of responding to comments left by android and Apple users.
Top five Trust Wallet alternatives
If you are canvassing for a crypto wallet to store, stake, and trade coins, you have plenty of options available. Other than Trust Wallet, the following wallets are good alternatives:
Binance wallet
Leger wallet
Trezor wallet
Shapeshift wallet
The verdict
Trust Wallet is a good choice if you want a simple but secure crypto wallet. With the wide range of features, you can get a lot of value from using this app. Binance, one of the top-rated crypto exchanges in existence, names Trust Wallet as the most secure in the crypto sphere. That is why Binance elected Trust Wallet as its native wallet.