What is Bitcoin short selling?
How can you short trade BTC?
How can you apply the BTC short selling strategy?
You're mistaken if you assume that you can only make a living in crypto while the market rises. Despite Bitcoin's spectacular price climb in 2020 and 2021, some traders consider shorting the world's largest crypto.
Shorting is a strategy for capitalizing on a crypto's decline in value. Volatile assets, such as BTC can offer plenty of opportunities for this kind of trading.
There's a lot more coming your way, so let's get started.
What is Bitcoin short selling?
Shorting is buying BTC or another crypto at a high price and selling it at a lower price. Most market participants prefer to buy crypto at a lower price and sell it at a higher price. When it comes to short, though, you must do the opposite. To enter a short position, you need to open the trade when the market is declining.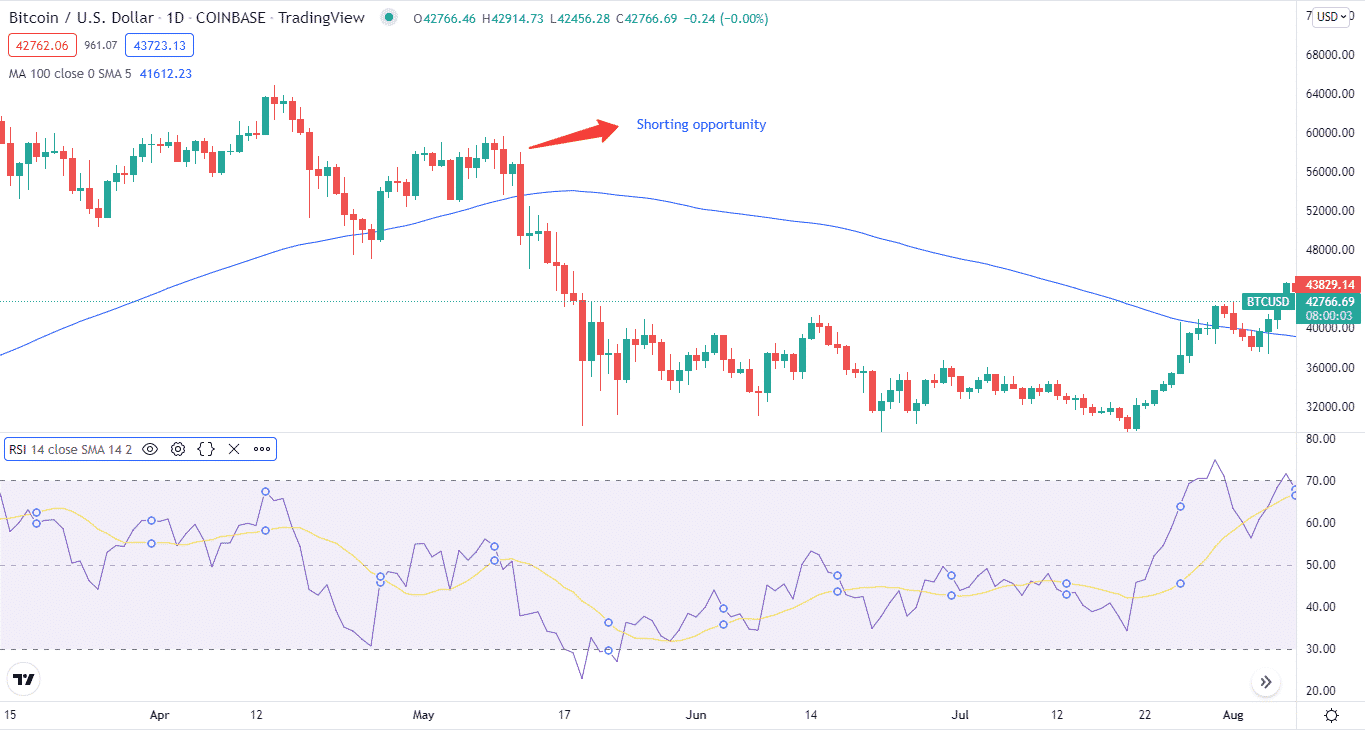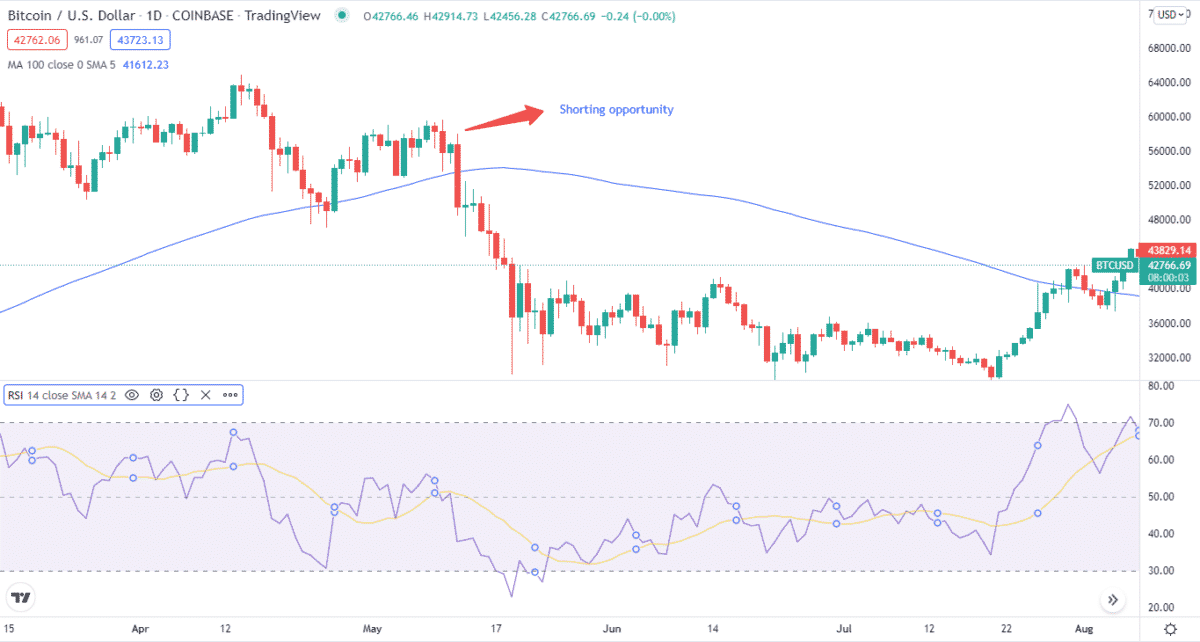 Let's illustrate this with a short example. You short sell one BTC when the price is $40,000. If the price goes below $40,000, you'll make a profit of $35000. This is an example of margin trading, which we'll explain.
How to short trade Bitcoin?
It would help if you first spotted a trend before using any approach to short sell crypto because the market is so volatile that various variables might cause it to swing. Politics, hype culture, and the clout of well-known figures, for example, may all wreak havoc on the crypto market.
If you want to learn how to short sell Bitcoin, keep an eye on the market's patterns, such as unexpected news. Following that, you must create a margin trading account.
There are a few ways to short trade BTC:
Short selling is when you sell something quickly. For example, margin trading in Bitcoin borrows the crypto against deposited capital and then sells it at market value. If the price of Bitcoin falls, you may buy it back at a lesser cost and return it to the broker. If the price rises, you'll have to repurchase the BTC and give it to the loan at that higher price, whatever it is.
Owners of options contracts have the choice, but not the duty, to purchase or sell a particular asset at a given price during a specified period — a "put" option contract wagers on an asset's price decline.
Bitcoin put options might be used to short the crypto. You have to stake the premium for buying the option contract at the date of acquisition, which is usually a small sum.
A futures contract is an agreement between two parties to purchase or sell BTC or any other asset at a certain price on a specific date. Bitcoin futures have been available since the CME Group began issuing them in 2017. You can short Bitcoin by purchasing a futures contract with a lower Bitcoin price later.
Selling the actual BTC
Shorting the actual BTC involves selling the real asset on a fiat-to-crypto exchange and changing BTC into conventional currency. In this scenario, you have complete control over the price of Bitcoin, allowing you to sell it for cash and then repurchase it at a reduced price to grow their BTC holdings.
A person may, for example, sell BTC for $40k and then purchase it again for $35k, resulting in a little rise in Bitcoin.
Characteristics of a short-selling Bitcoin
Here are some of the characteristics of short selling BTC:
Keep up with the news
Yes, we mentioned news since political and economic events can push the BTC in any direction. Government rules have the potential to cause market flash crashes.
Use technical analysis
The technical analysis predicts how the BTC will act in the future using real-world data. Therefore, it necessitates an examination of the bitcoin's previous performance, such as its fluctuation and volume.
Short BTC during rallies
Is it possible to short crypto amid abrupt rallies? Yes. This is one of the most advantageous occasions to sell a coin short. Due to the fear of missing out during these rallies, assets are overbought (FOMO). Following the buzz, the currency returns to its previous value or drops, allowing you to benefit.
Sample of the short sell trading strategy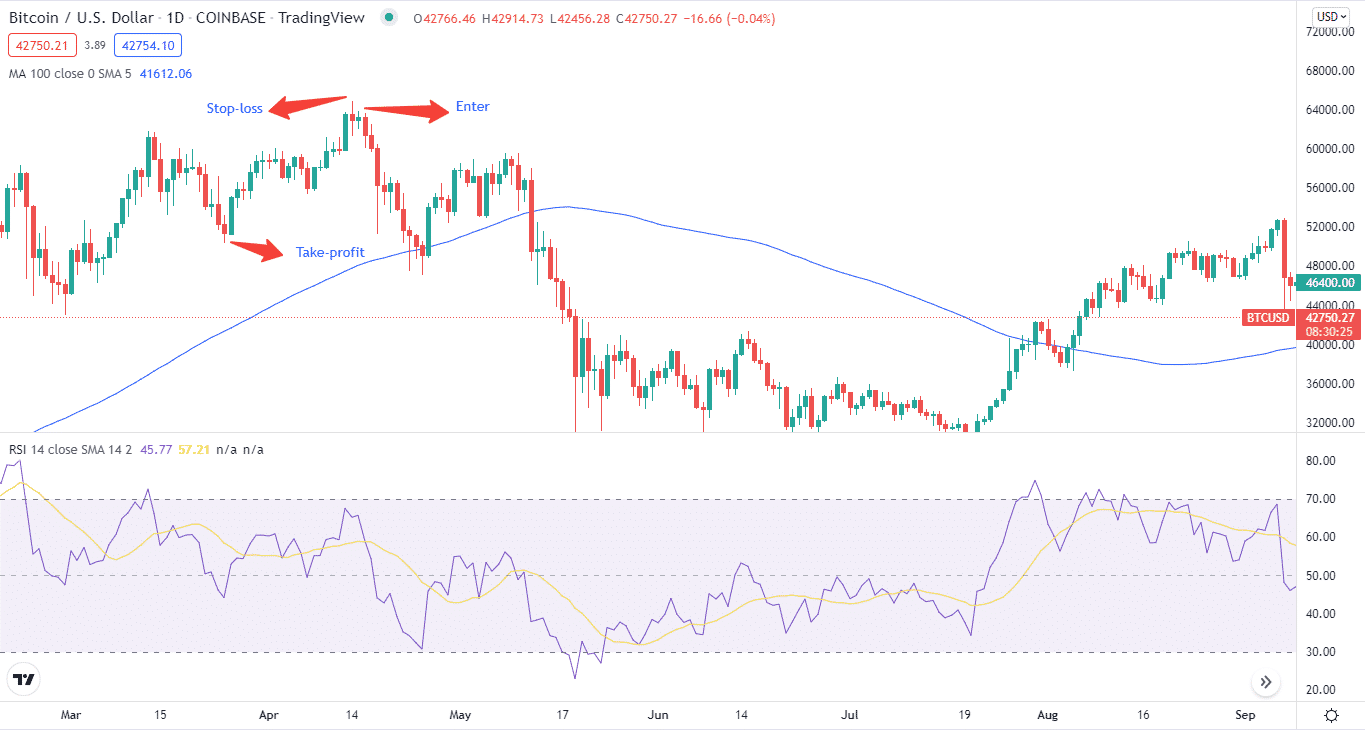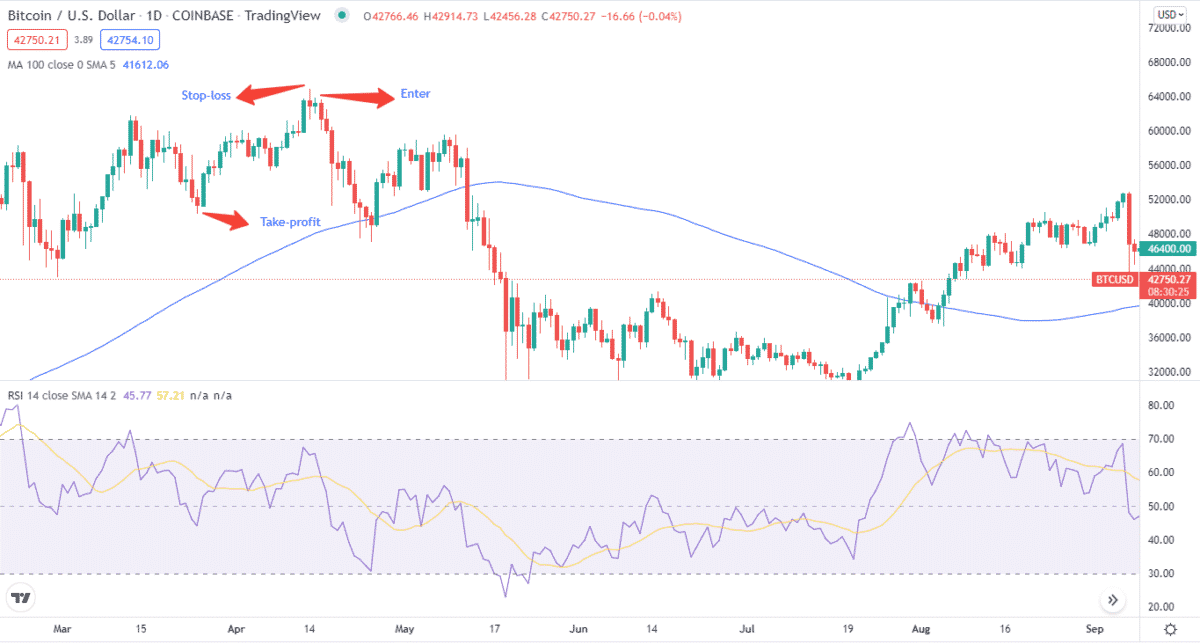 Now that you know everything about short-selling BTC let's illustrate how BTC short-selling works. We're shorting, so we'll only apply the strategy using bearish trade setups.
Bearish trade setup
The first thing you need to do is add indicators to the chart. In this strategy, we are going to use MA and RSI. You can use other indicators also according to your preference.
The time frame we are using is the daily chart because it'll give us the results for the whole day. Before applying the strategy, ensure that the price is below the MA and the RSI is near the 70-level.
Entry
As you can see on the chart, we entered the short trade when the price was below the MA and the RSI was near 70. It presented us with a good short opportunity.
Stop-loss
Placing a stop-loss is important for shorting BTC. It's because the crypto price can make wild swings in minutes. So, it's good to have an SL in place. In this strategy, applied the stop-loss near the recent high.
Take-profit
We set our TP at the recent low with the 1:2 risk/reward ratio.
Final thoughts
Yes, you can short sell BTC. First, however, you need to consider all the factors we mentioned above. A key point to remember is that the price of BTC can make wild moves, so it's better to have a trading plan in place.