Is crypto investing suitable at this time?
What are some of the best cryptocurrencies to invest in now?
How many crypto assets are currently existing?
At the time of writing, there are already 9,550 cryptocurrencies in the crypto market. With this number of options, you might find it challenging to select assets to invest in.
Fastest growing crypto projects to watch right now
To help you decide, we provide the five fastest-growing cryptos in 2022. Use this as your guide in searching for the best crypto to put your investment funds in.
Bitcoin (BTC)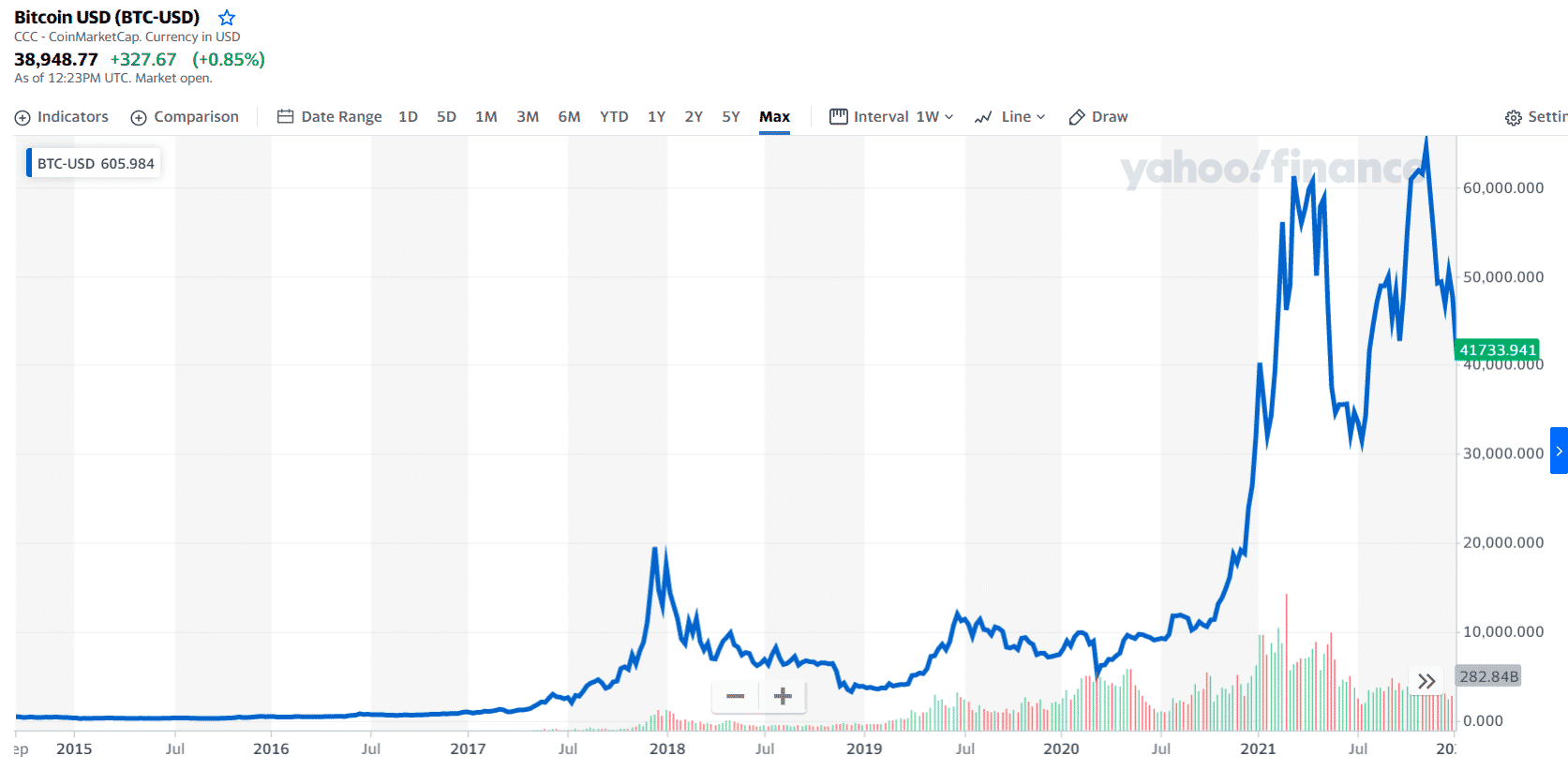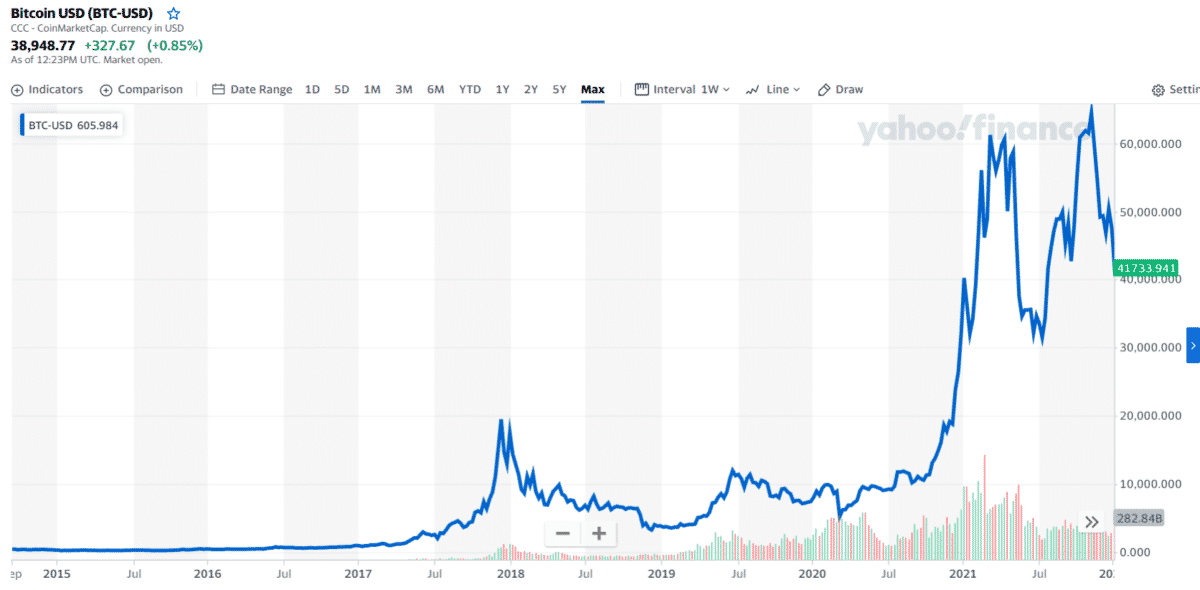 Since the beginning, the forefather of cryptocurrencies has occupied the top spot in the market cap. Bitcoin makes the list of the fast-growing crypto in 2022. Able to hedge inflation and other unexpected market events, investors see Bitcoin as a store of value. It could experience a lot of growth in 2022 and the coming years. Businesses and countries are expected to adopt Bitcoin as a form of payment. El Salvador, a prime example of this, accepted Bitcoin as an official form of money in 2021.
Why does it have the potential to grow?
Investors consider Bitcoin a safe haven that will shield other investments during uncertain times, such as a pandemic, war, and other calamities. The recent socio-economic condition gives rise to people keeping small amounts of cash and seeking hedging options to combat inflation and volatility.
How much would you earn if you invested in Bitcoin 1 year ago?
On 4 March 2021, Bitcoin closed at $48,360.50. One year later, its price fell to $39,175.56. This price change is equivalent to about a 19 percent drop in value. If you had invested $1,000 last year, you could have lost $190 today.
Ethereum (ETH)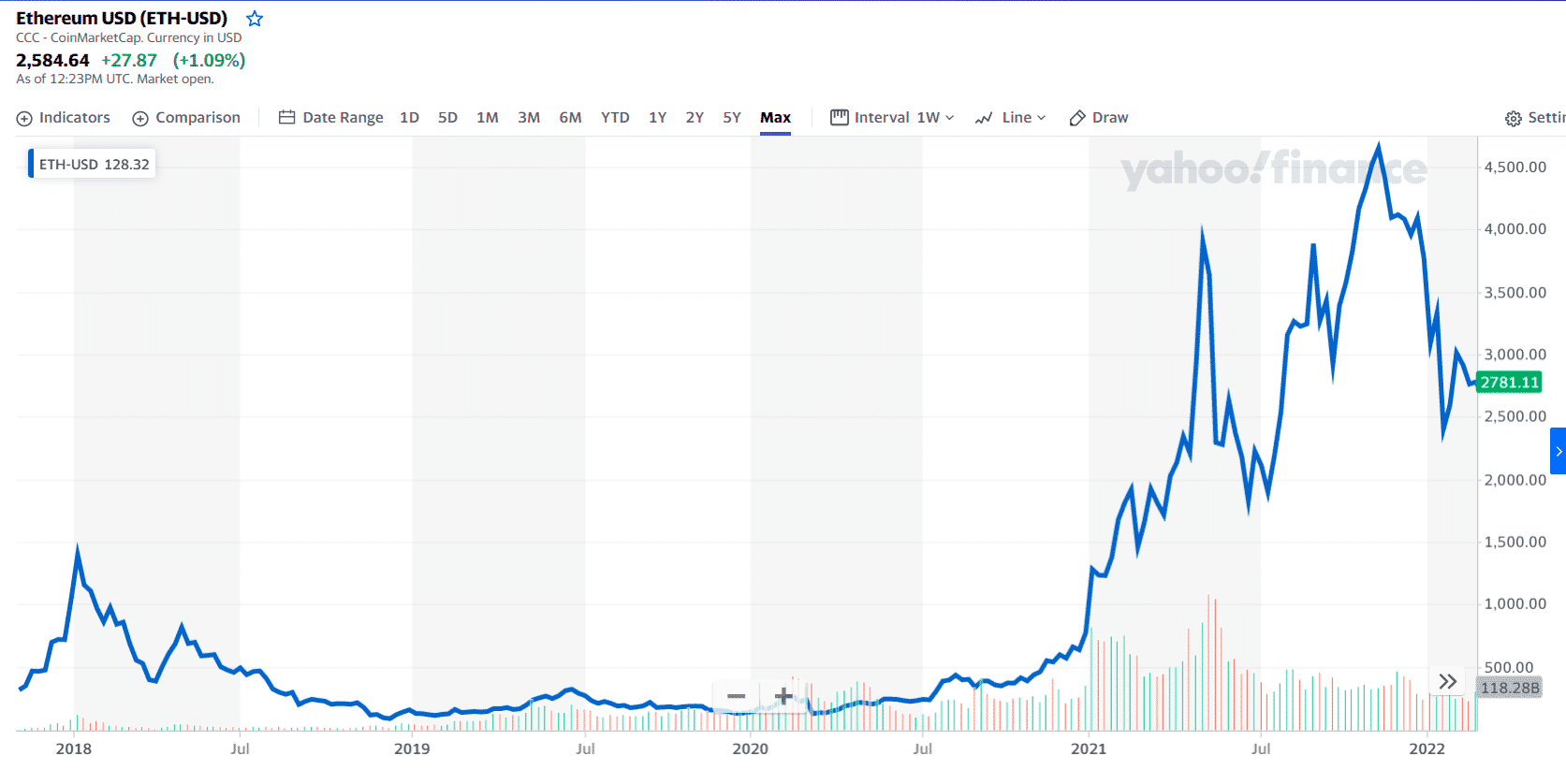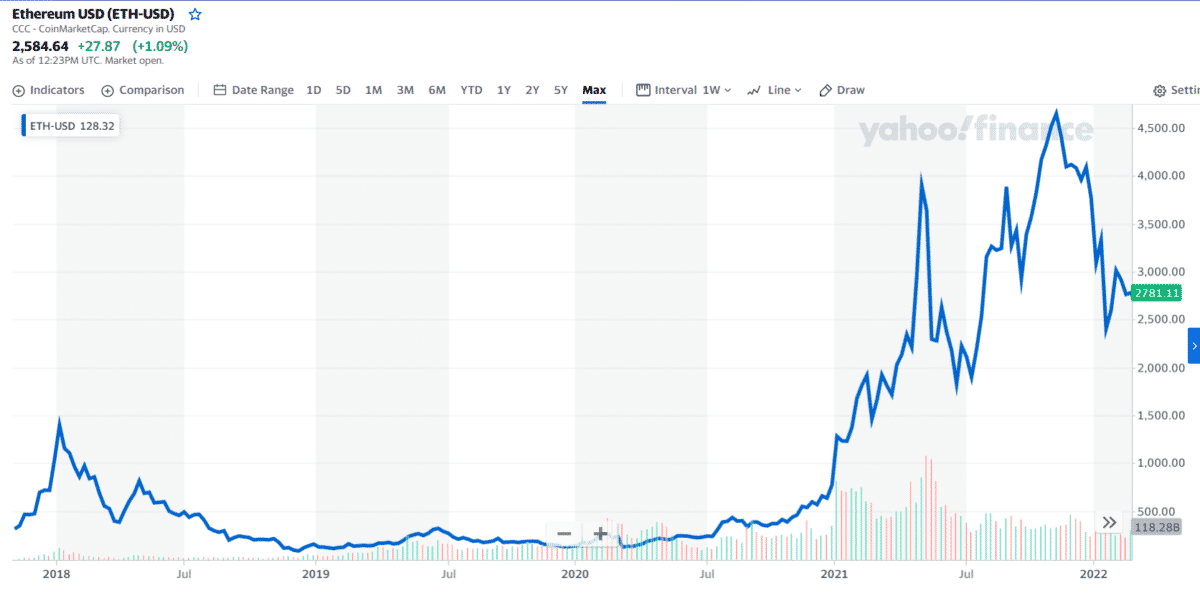 Over the past few years, most complaints of Ethereum users have been about the slow processing, high transaction fees, and network security. Things may change in the future, which could begin in 2022. In June 2022, the complete Ethereum 2.0 upgrade will come to pass. Plus, Ethereum will add more functions that users can enjoy. These factors might be a game-changer for the Ethereum platform.
Why does it have the potential to grow?
Ethereum has multifarious functions. It is the pillar that supports many critical crypto domains such as smart contracts and decentralized applications. With the release of Ethereum 2.0, the ETH token could see a lot of growth.
How much would you earn if you invested in Ethereum 1 year ago?
Each ETH coin cost $1,539.69 on 4 March 2021. One year later, its price climbed to $2,623.07. This price movement represents a 70 percent change from the previous value. Had you invested $1,000 one year ago, you could have made $700 in profit today.
Dogecoin (DOGE)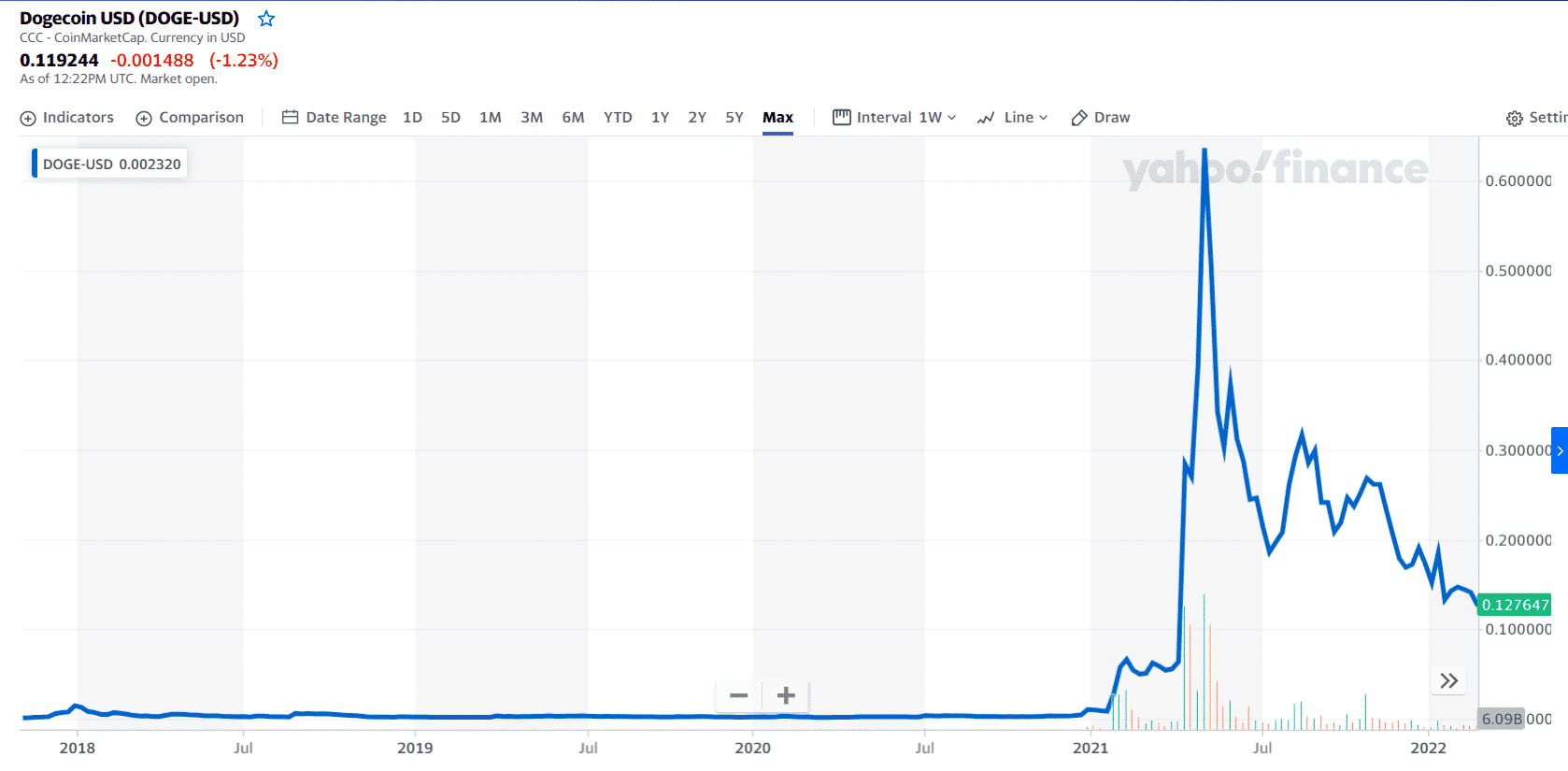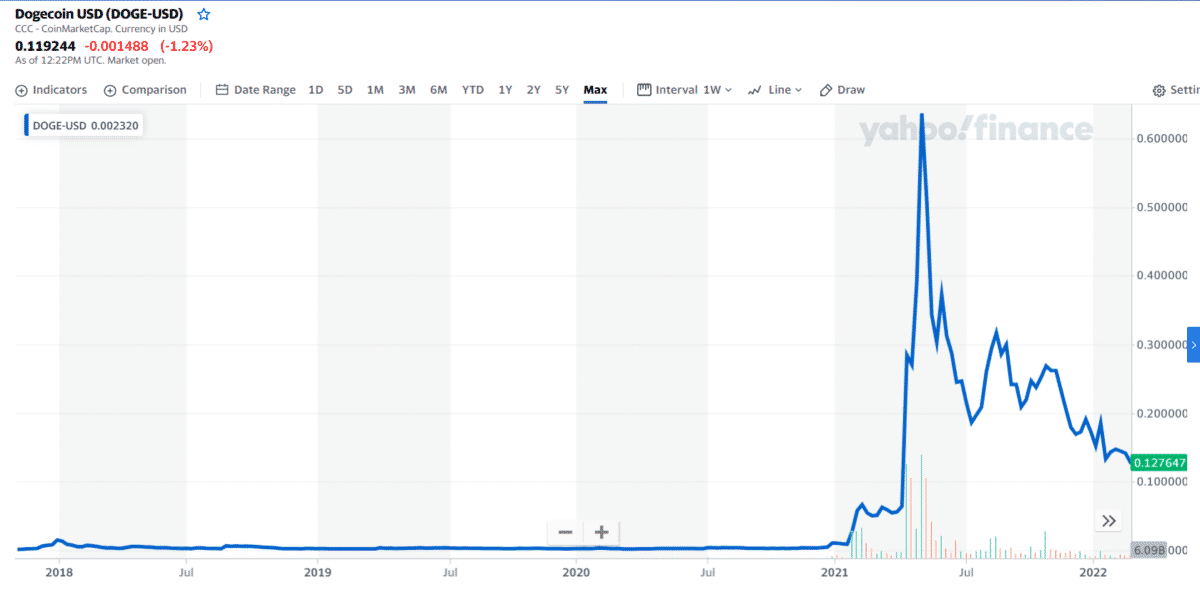 Dogecoin is a fast-growing P2P payment network using its native token DOGE. This token is not intended solely for making online payments. Projects are already in the pipeline to release new products that could raise the utility of this coin.
Why does it have the potential to grow?
The increased utility of Dogecoin is the main reason for its growth. In 2021, several platforms and companies accepted the DOGE token as a payment option. One good example is the initiative of the NBA team Dallas Mavericks to sell tickets with Dogecoin as payment.
How much would you earn if you invested in Dogecoin 1 year ago?
The price of the DOGE coin was only $0.05 on 4 March 2021. One year later, its price surged to $0.1226. This price change is equal to about 145 percent of return. Investing $1,000 one year ago could have netted you $1,450 today.
Shiba Inu (SHIB)
Shiba Inu is among the hottest tokens in the crypto market. It might have suffered a loss in the last quarter of 2021, but recovery and recording of a new high are in the books for this token in 2022. The token began in 2022 with the release of Doggy DAO, which brings decentralized networks. Several other projects are in the works that could propel its price forward with vigor.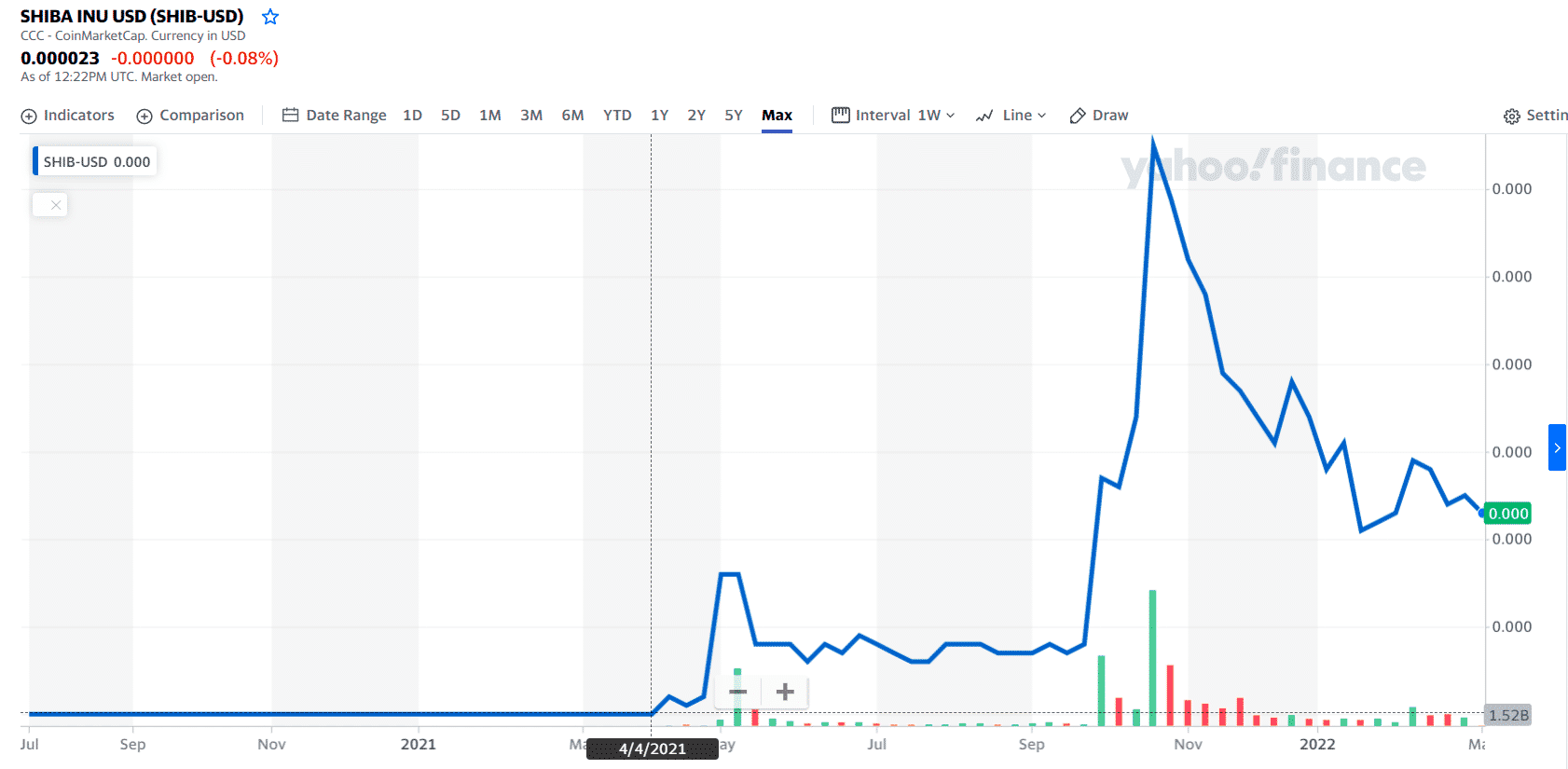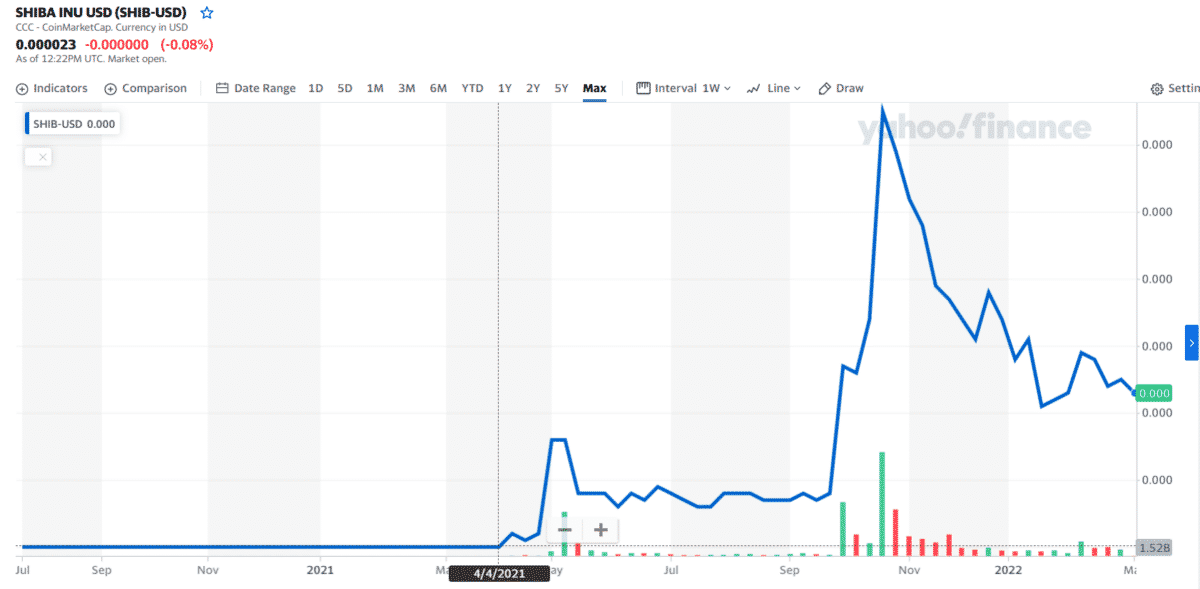 Why does it have the potential to grow?
Market analysts say that the proliferation of crypto giants and heightened institutional attention have fostered the growth of meme coins, particularly Shiba Inu. With a massive $13.28 billion in market cap, SHIB occupies the 15th spot in the Coinmarketcap.com crypto listing.
How much would you earn if you invested in SHIB 1 year ago?
Launched on 10 May 2021 at Binance exchange, SHIB/USDT is only about ten months old. During its debut, it opened at $0.00001412. At the time of writing, its price is sitting at $0.00002358. This price growth is about 67 percent of the initial price. If you bought $1,000 worth of SHIB coins upon launching, you could have earned $670 today.
Polygon (MATIC)
The main reason for Polygon's growth is its ability to address the scaling problem of Ethereum. With this platform, Ethereum became a multiple-chain network. Because it facilitates quick transactions at a low cost, several decentralized applications on Ethereum are moving toward Polygon.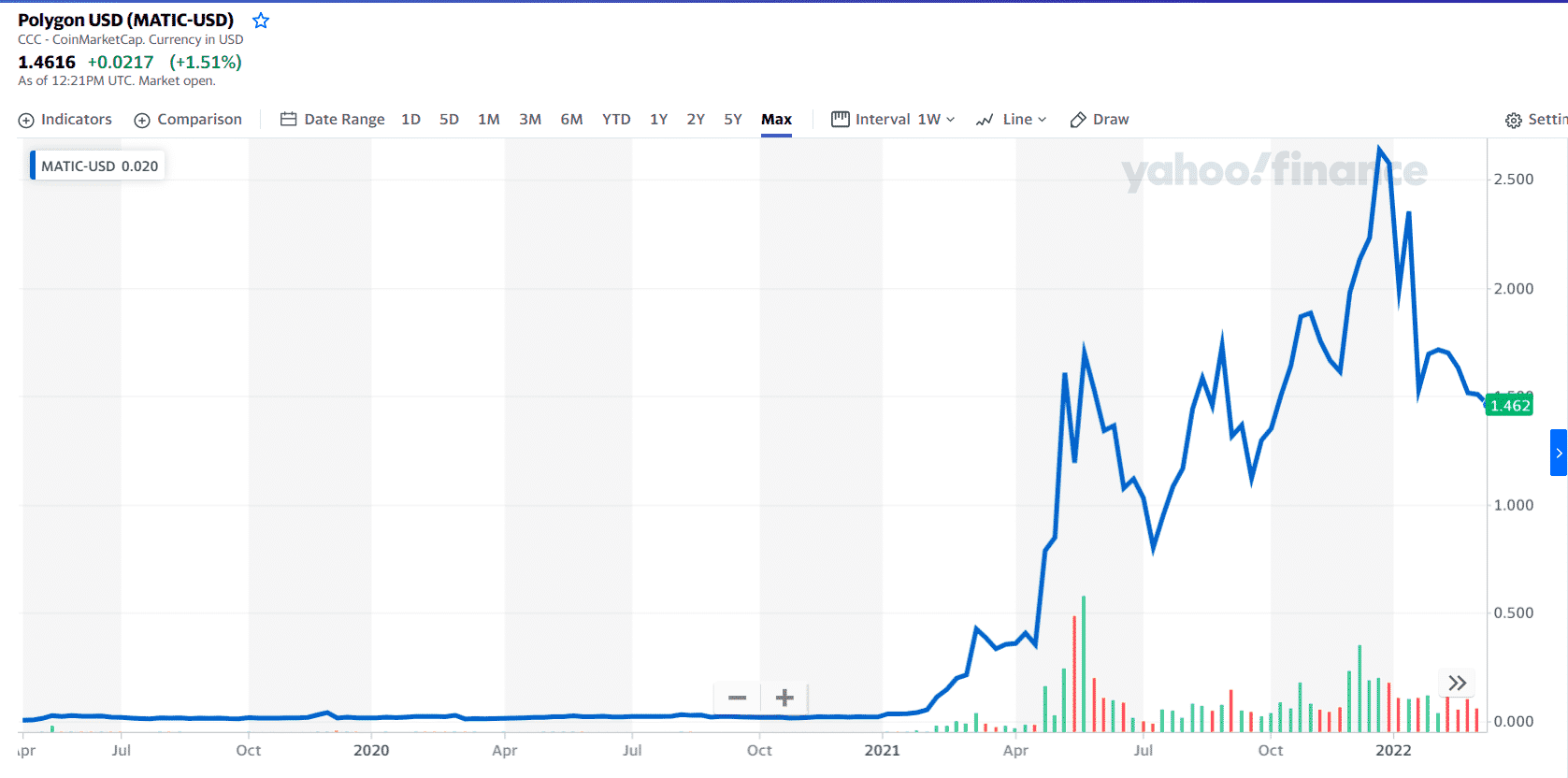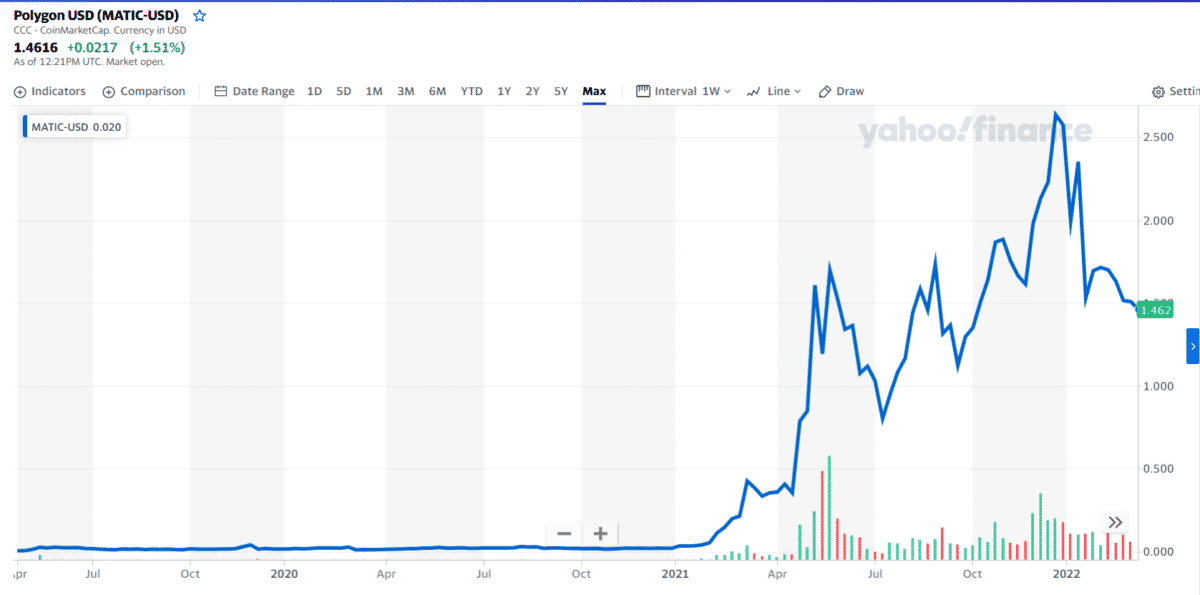 Why does it have the potential to grow?
Polygon has recorded close to one million unique crypto addresses, which represents 30 to 50 percent of Ethereum's user base. The network managed to bring in such a number of users due to its scaling solution. Its number of retail users has significantly grown.
How much would you earn if you invested in Polygon 1 year ago?
Listed on 11 March 2021 in Coinbase, MATIC/USD is only about one year old. It opened at a price of $0.3871 during launch. Almost one year later, its price jumped high to $1.4778. This price change represents a massive growth of 282 percent. Investing $1,000 in this project when it started could have led to a gain of $2,820.
Final thoughts
The above list contains the most promising cryptocurrencies in 2022. Four out of five crypto assets return profits to investors who got on board one year ago. Meanwhile, Bitcoin lost a paltry 19 percent, going back one year in time. Use this list as your starting point when looking for investment opportunities in the crypto market.