What are crypto trading hours?
How do I trade crypto hours?
What are the features and tactics of the crypto trading hour?
Unlike the stock and commodities, the crypto market is not traded on a regulated exchange. Instead, the Bitcoin and other cryptos markets are open twenty-four hours a day, seven days a week, on a rising number of exchanges. It's usually a good idea to be familiar with the subject beforehand. So read this article to the end to find out more.
What are crypto trading hours?
The cryptocurrency markets are open 24 hours, seven days a week. That isn't to say that there aren't some days or times of day when it's preferable to trade because the number of traders and general degree of liquidity in the markets may fluctuate.
However, access to the cryptocurrency markets is always available. As a result, you may obtain real-time crypto price updates, add some currency to your portfolio, or fine-tune your crypto day-trading tactics at odd hours, weekends, and holidays.
Crypto trading hours are available 24/7, altering how we analyze daily numbers. Although we have a starting and ending price, this does not mean that the market began or concluded at these levels.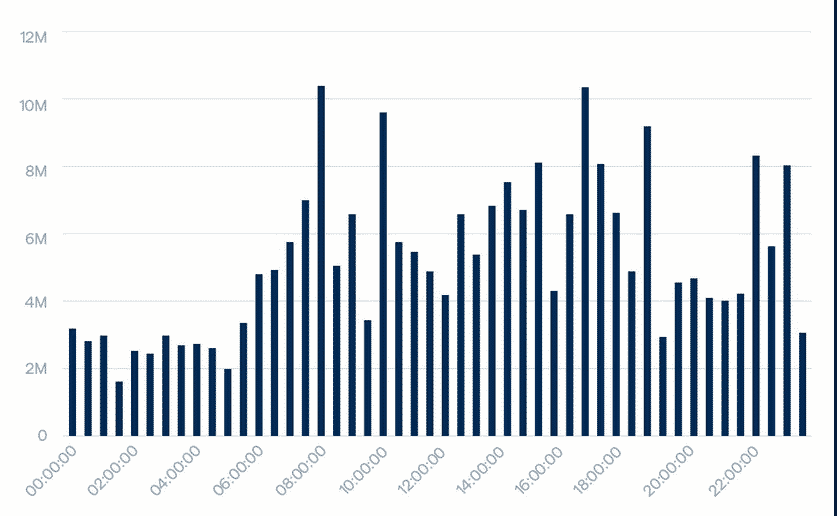 Because those are the Bitcoin trading hours, it simply shows that a coin was worth one price at 00:00 and another at 23:59. So there is no actual close or true open.
It has been claimed that trading crypto is best done between 09:30 and 10:30 EST. This is when you will witness the most volatility, particularly in American markets; thus, there is the most incredible opportunity to profit.
How to trade crypto hours?
Peak trading hours for a market are generally 8 a.m. to 4 p.m. in its local time. These are the trading hours when each area sees the most trade volume. Although a market might be "closed," significant moves in the global market can occur due to news and speculation.
Monday is the exciting day of the week to buy Bitcoin since it is at its lowest price. Overall, Sunday is the best day of the week. Following that, prices begin to soar, with Friday being the most costly day to purchase cryptocurrencies. Because more individuals are trading during business hours, it is usually the worst time to acquire Bitcoin.
In general, buying trading crypto in the afternoon is preferable because prices tend to fall. On average, the best time to purchase cryptocurrency is between 3 and 4 p.m. However, if you're a night owl, you may score a decent deal between 11 p.m. and midnight.
Characteristics of crypto trading hours
24/7 trading
The structure necessitates investors to see daily price movements in their holdings via a different conceptual lens than their stock portfolios.
Unpredictable fluctuations
The volatility of cryptocurrencies regularly piques the interest of investors. However, the extreme volatility of intraday prices can provide traders with fantastic profit opportunities, representing a higher amount of risk.
Opening and closing prices
Because BTC markets never close, we can't identify any opening or closing prices. So the current solution is to determine the 24-hour price change by comparing the current market price to the price a particular cryptocurrency was trading at the same time the day before.
Convenience
It is one of the advantages of crypto trading hours. If you have other commitments during business hours or reside in a different time zone, you can trade according to your convenience.
Sample of the crypto trading hours strategy
Now that you know what crypto trading hours are and some of their characteristics, let's illustrate how you can apply bullish and bearish setups. A key point to add here is you can apply multiple trading styles like scalping, day trading, swing, or position trading.
The first thing you need to do is find the volume of the crypto set you are trading. The earlier you start, the better. Generally, cryptos like BTC, ETH, ADA, and DogeCoin get the most volume between 8 a.m. and 4 p.m. EST.
If you live in a different time zone, you can convert the time accordingly. In addition, the strategy works on every time frame to select according to your trading style.
Bullish trade setup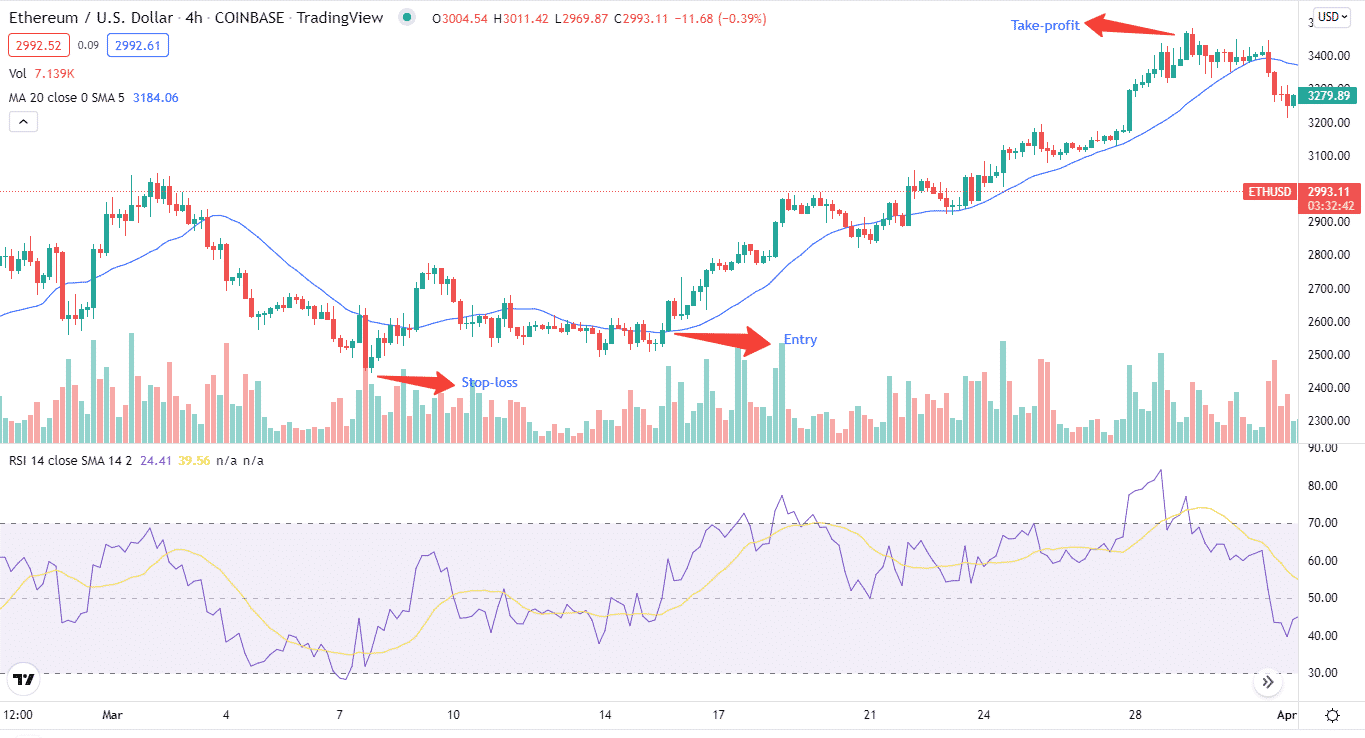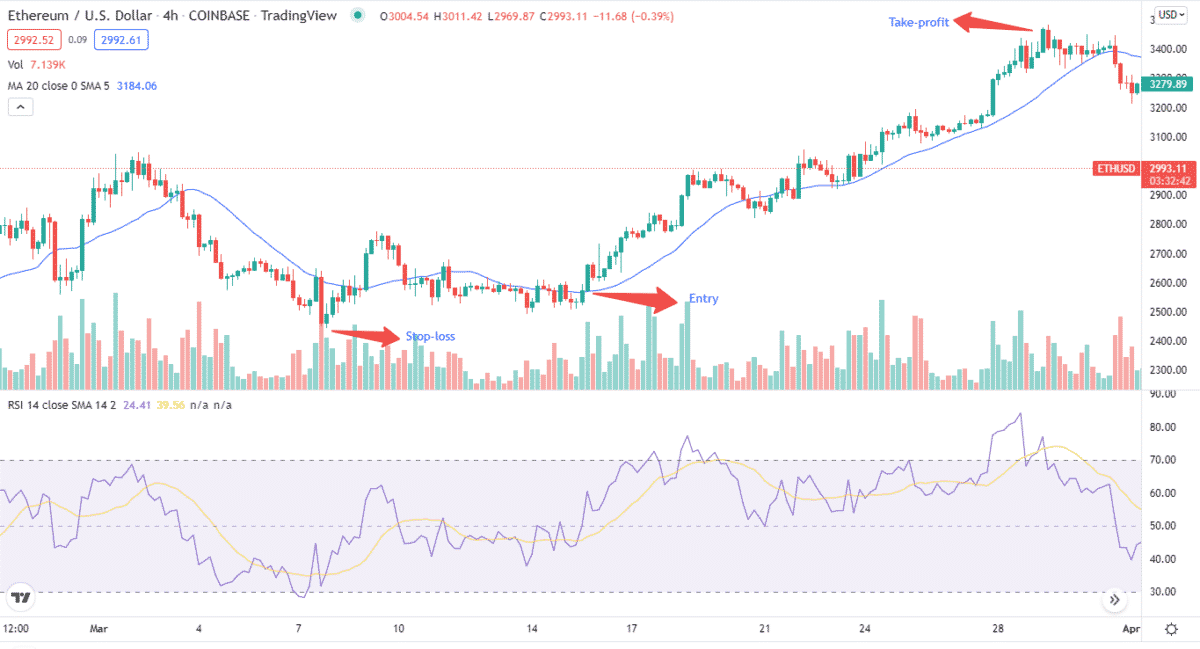 For bullish trade setups, we are going to use the 4H chart. We find the 8 a.m. candle and have applied MACD, volume, and the RSI.
Entry
The first thing we are going to note is the 2 p.m. candle. Next, we have to look at the indicators. For bullish positions, the RSI should be near or at 30, and the MA should be below the price.
Stop-loss
To protect from wild crypto moves, we put a stop-loss near the recent low of the entry point.
Take-profit
We set our TP when the RSI moves into overbought territory. It means it is above or near 70-level.
Bearish trade setup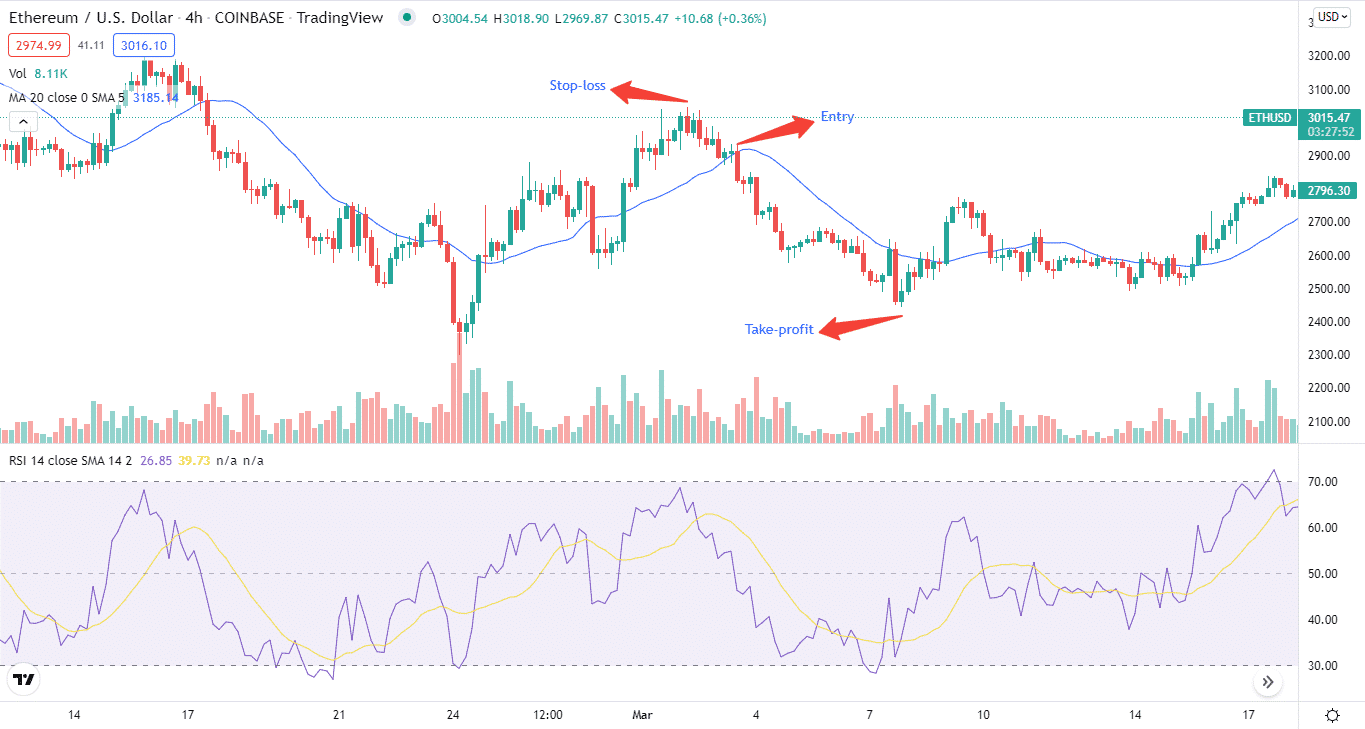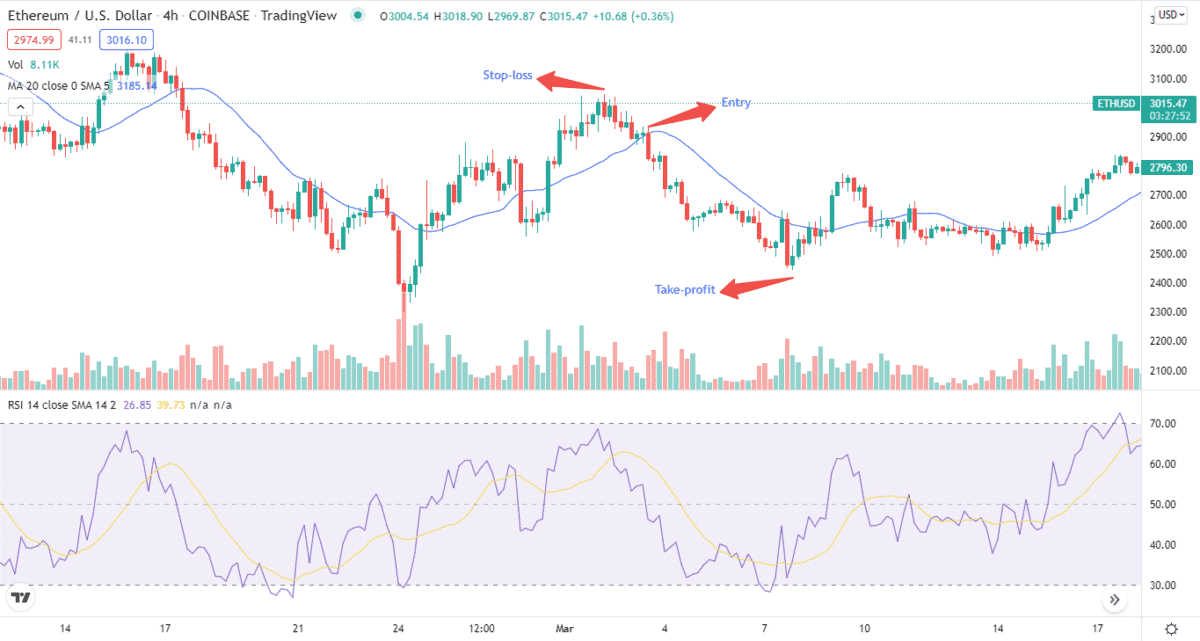 We'll pinpoint the market volume and MA and RSI similar to bullish trade setups. You can use other indicators also according to your preference.
Entry
As you can see on the chart, we entered the short trade at 12 p.m. candle when the price was below the MA and the RSI was near 70.
Stop-loss
Again, placing an SL is important to prevent wild moves. Therefore, we placed an SL near the recent high from the entry point.
Take-profit
We set our TP when the RSI moved into oversold territory. It means the indicators are near or at 30-level.
Final thoughts
Knowing the crypto market hours can help you decide when to enter or exit the trade. However, it's important to note that you need to pick crypto with high volume because they tend to present good buying and selling opportunities throughout the day.