What are the best DeFi projects?
What are examples of DeFi?
What is DeFi, and how does it work?
The passage of time brings growth, opportunities, and, most importantly, change. Previously, DVDs gave way to streaming apps, books to tablets, and now, cryptocurrency is replacing traditional forms of payment.
Cryptocurrency is currently a game-changer in the financial world, and the blockchain domain is booming. Therefore, crypto enthusiasts can reap the benefits of a plethora of opportunities. The groups are all working on decentralized finance, or DeFi, at the moment.
Best DeFi crypto projects to watch right now
So, whether you're a blockchain newbie or a crypto enthusiast, you may be interested in DeFi's effects on the future. There are five major DeFi projects listed in this article that will influence global and traditional views of finance.
How much would you earn if you invested in such projects 1 year ago?
Decentralized finance or DeFi coins is one recent crypto term that has taken the world by storm. DeFi coins are becoming increasingly popular as people use them to solve problematic issues in the financial industry.
For instance, the MKR token was worth $582.22 on January 1, 2021. On January 19, 2022, the MKR was $2,046.61. So, if you had invested $1000 in the token at the start of 2021, you would have received $3515.
Top 5 DeFi projects to invest in 2022
Here are some DeFi based crypto projects you can invest in to generate revenue.
Luna (TERRA)
Terra was an early player in DeFi and had a current market cap of $18.4 billion, ranking it the second-highest.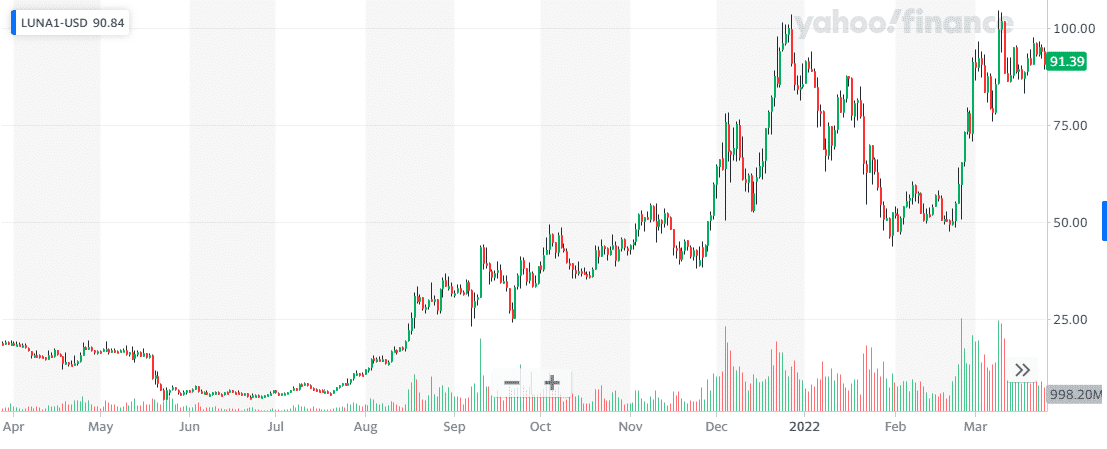 Why does it have the potential to grow?
With Terra, it is possible to keep a simple ledger using stablecoins. To keep track of fiat currency prices, this currency supply offers a bunch of stablecoins.
The elusiveness of the price then gets captured by LUNA. Now that this mechanism is in place, buyers can compare LUNA prices while simultaneously taking advantage of the benefits earned from yield farming, risk-taking, etc.
Combining all these features makes LUNA a promising investment opportunity for the future.
How much would you earn if you invested in 1 year ago?
This cryptocurrency was one of the most successful in 2021. Over the last year, the cost of digital tokens has increased by more than 15,000%. Compared to less than half a dollar ago, the price has increased by $75.56.
Since the publication of this article, the coin price has been $90.84. In other words, you would have gained $15.7 if you had bought this coin one year ago.
Avalanche (AVAX)
This year, Avalanche will take the top spot because it will be the most innovative and fastest contract platform. As well as having a secure protocol, it also has excellent validators.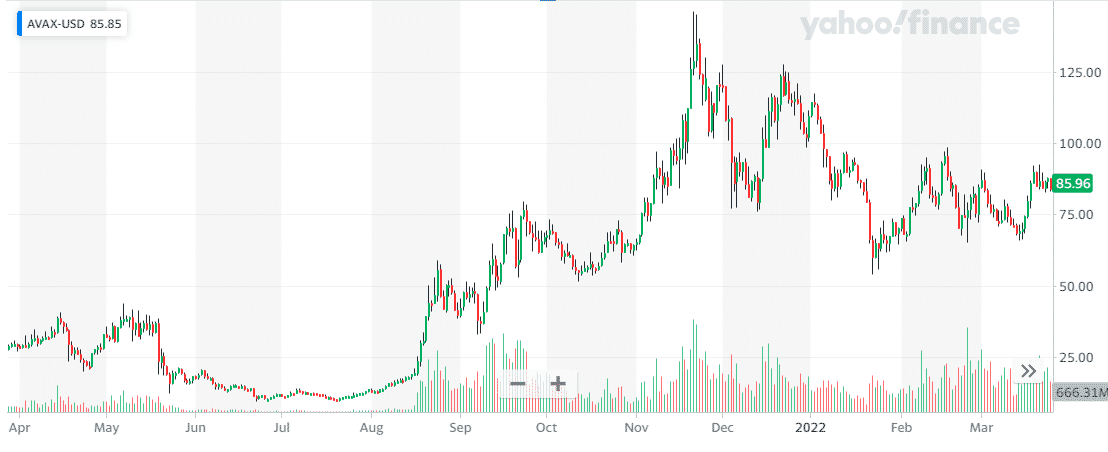 Why does it have the potential to grow?
The company has a value of $21.3 billion based on its market cap. Due to this, AVAX token holders are encouraged to stake their tokens and earn massive rewards.
Unlike other DeFi cryptocurrencies, AVAX consists of several marketplaces, wallets, exchanges, and more. As a result, it makes an excellent long-term investment, especially if you are looking to invest for the long-term this year.
How much would you earn if you invested in 1 year ago?
In November 2021, Avalanche's price crossed $400 million, its highest price since its launch on January 1, 2021. Currently, the coin is selling for $66.50 as of March 2022. Consequently, if you had bought this coin one year ago, you would have made $63 per coin.
Decentraland (MANA)
On the surface, Decentraland looks like a virtual gaming world, built on top of the Ethereum blockchain and accessible to everyone. However, the innovative feature of Decentraland is that you can buy virtual land and then build digital properties on top of it.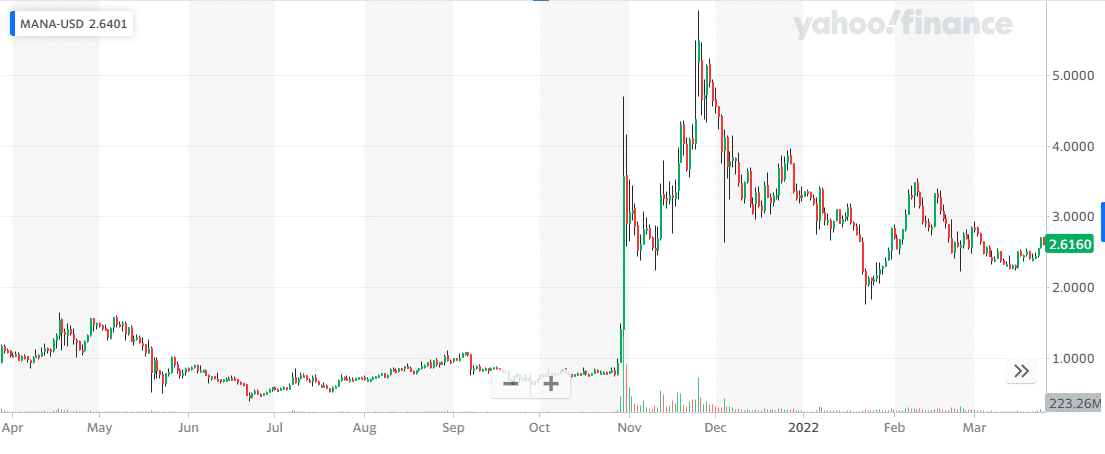 Why does it have the potential to grow?
Real estate can be bought and sold on the open market alongside various in-game items. Several reasons have led to this business model's successful proof of concept. In the first place, some property plots sold on the Decentralized platform have raised more than one million dollars.
How much would you earn if you invested in 1 year ago?
The Sandbox coin topped out at $0.0379 on January 11, 2021. With a $1,000 investment in SAND on January 1, you would have own 26,385.22 SAND coins. A $1,000 investment at the current price of $2.612 would be worth $68918.19 today.
Aave (AAVE)
AAVE is an open-source and non-custodial protocol that enables users to earn cryptocurrency by using an open-source architecture.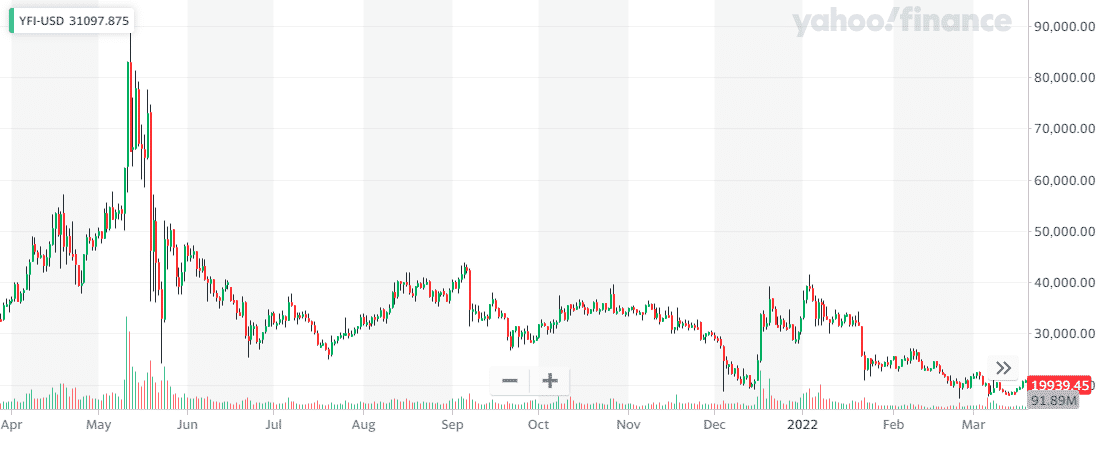 Why does it have the potential to grow?
Those who possess the AAVE token are entitled to numerous benefits. As a result, borrowers who take out loans denominated in AAVE will not be charged a fee and will receive a discount on any other fees applied to the platform.
Alternatively, you can post the token as collateral to be able to borrow more if you wish to be a borrower of Aave. Aave is valuable because of its utility.
How much would you earn if you invested in 1 year ago?
AAVE stands at US$90.35 on January 1, 2021. According to the AAVE price on January 19, 2022, it is worth $217.40. So, if you invested US$1000 at the beginning of 2021, your token would be worth $2406.2 at the beginning of 2022. In principle, that is more than twice as much.
Yearn Finance (YFI)
In YFI, the Ethereum blockchain hosts a collection of protocols. Through lending and trading services, the platform's primary objective is to enable users to maximize all of their cryptocurrency earnings.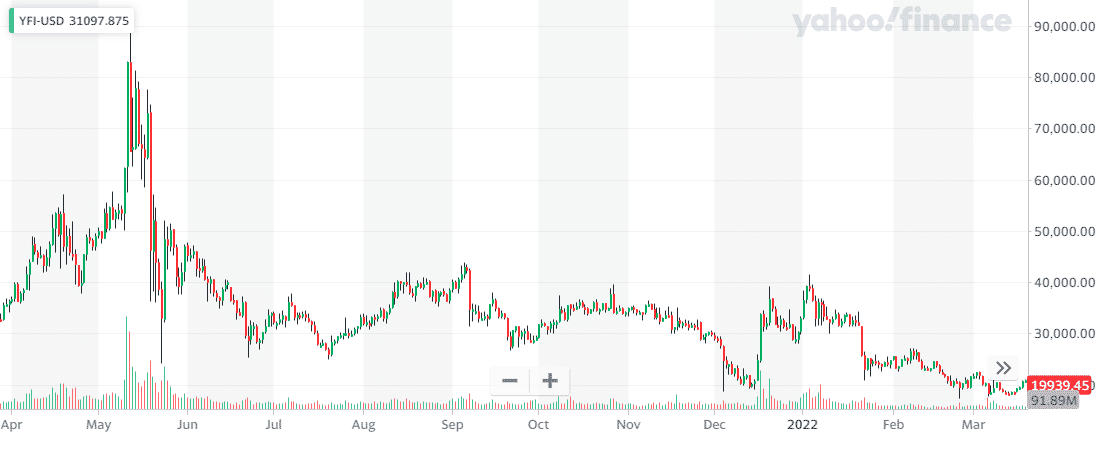 Why does it have the potential to grow?
YFI tokens diversify long-term portfolios, making them an excellent investment for investors. It is, for instance, a governance token that is distributed exclusively by active participation and liquidation. Anyone who owns YFI can receive a portion of its revenue.
How much would you earn if you invested in 1 year ago?
YFI tokens have $21,901.97 as of January 1, 2021. However, on January 19, 2022, the token was worth $31,846.32. Thus, if you had invested $1000 in it back in January 2021, it would be worth $1454 a year later.
Final thoughts
Many Defi coins have performed exceptionally well in recent years, with gains in the thousands of percentage points generated by Decentraland, Yearn Finance, and Terra. The overall best digital currency to invest in for 2022, however, is Lucky Block. Although the project only launched in early 2022, early investors have already received more than 6,000% returns.
The best part is that you can still invest at a very early stage in this innovative lottery-focused project.