What is the BlockFi crypto app about?
Is it considered to be a safe app?
Can you make money through this app?
BlockFi is one of the most intriguing cryptocurrency platforms available. It functions as a platform that brings together various crypto-related services in one location. That is highly convenient, and it eliminates any risk of mishandling your assets due to the large number of services that must be managed simultaneously.
However, this is only true if this app is genuine — that and a slew of other connected issues. We'll attempt to find out whether or not that's the case in our review.
What is the BlockFi saving app?
The app was launched in 2017 and quickly gained popularity as non-bank lending and savings account alternative. They provide a savings account where you may earn interest on your Bitcoin and a loan secured by cryptos.
The platform has been in existence for a few years and has been demonstrated to be secure. In the United States, the app is also a regulated service provider. Therefore, it must meet specific requirements to ensure that it can deliver a safe and secure service to its customers.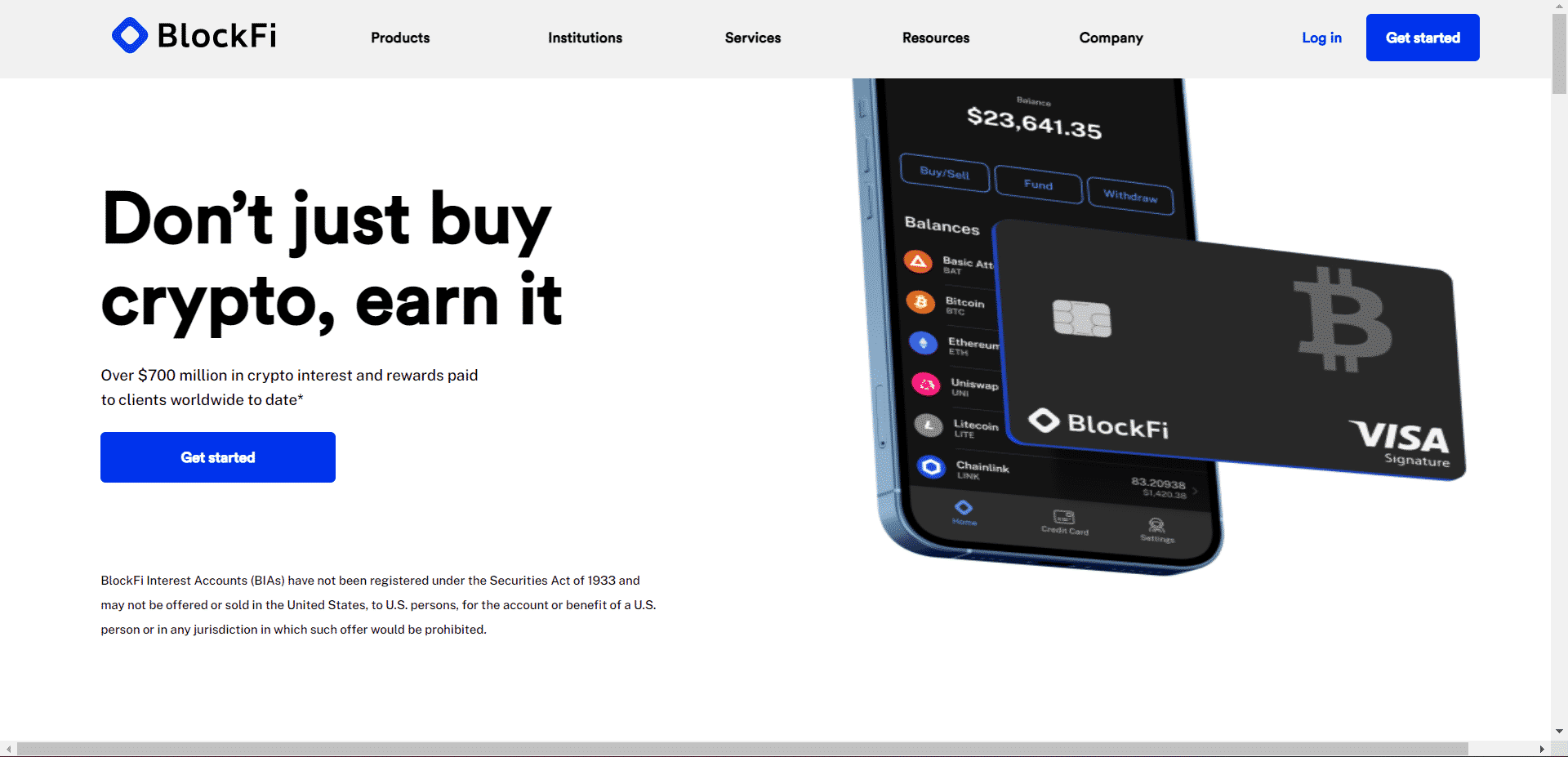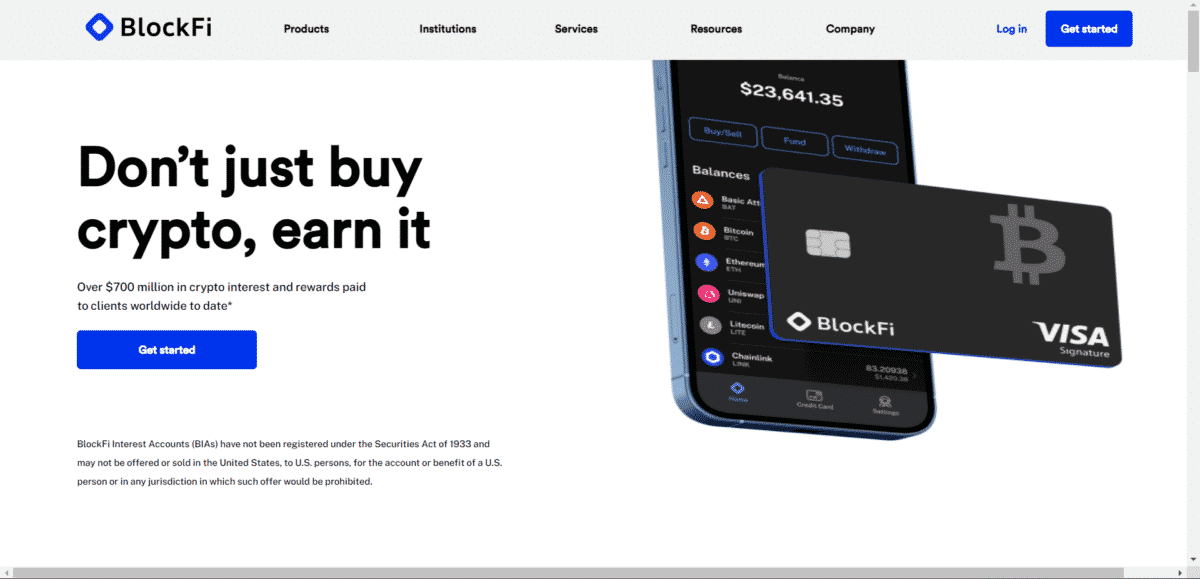 One of BlockFi's staff was once sim-hacked, although the hackers could not achieve anything and did not obtain access to any funds thanks to the correct security procedures. Low-interest rates, which are the lowest of its main competitors, may have contributed to this app's rapid growth and popularity.
BlockFi security
A Yubikey is a must-have to keep your BlockFI account secure. The app uses whitelisting to prevent unwanted withdrawals, making it very secure. In addition, it limits withdrawals to newly added addresses for seven days, so you can't withdraw to any address that isn't on the list. You may also safeguard your account with 2FA and an authenticator app.
BlockFi pricing
There are no trading costs when acquiring or selling supported currencies on BlockFi's exchange. Users may also withdraw one fee-free crypto or stablecoin per month. On the platform, however, you'll find two forms of fees:
Fees for withdrawals
If you need to withdraw cash more than once per month, you'll have to pay withdrawal fees. Depending on the coins you intend to withdraw, BlockFi charges a flat withdrawal fee.
Loan rates
You'll pay a 2% origination fee and the interest rates ranging from 4.5% to 9.75%, depending on the amount of your crypto collateral if you take out a BlockFi crypto loan.
BlockFi features
The app has many exciting features that set it apart from the competition. The following is a summary of some of its most distinguishing features.
Earn interest on your holdings
With a BlockFi Interest Account (BIA), you may earn between 3% and 8.6% compound interest on your BTC holdings. In addition, this account does not charge any fees or demand a minimum balance.
The interest rate is determined by the market and may change. It's like being paid to save your money. Amounts are credited to your account on the first of every month. If you choose Interest Payment Flexibility, you may choose the currency in which you receive your interest payments.
After each year, the platform will send out 1099 to US investors detailing the amount of interest they have received. Customers from outside the United States are solely liable for their taxes.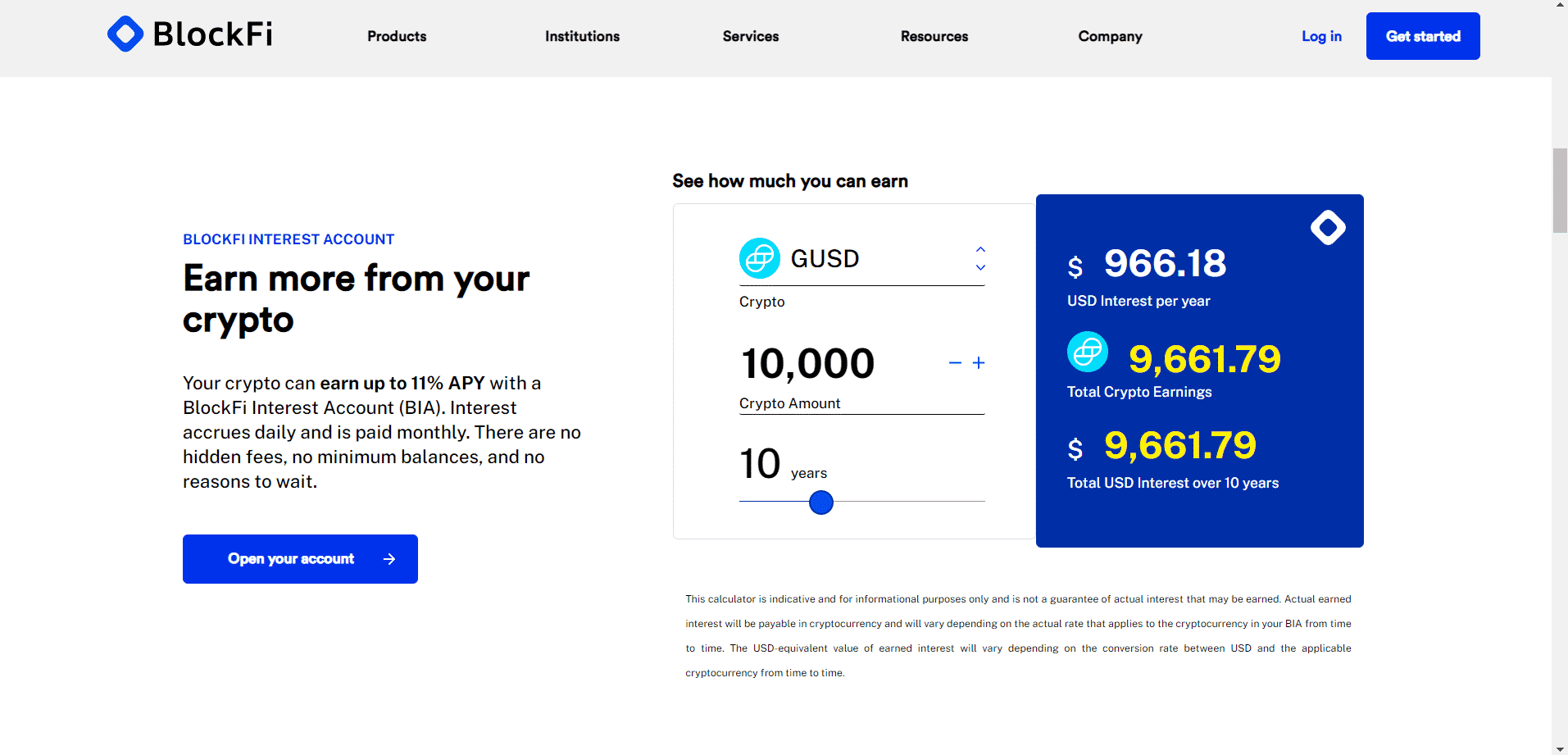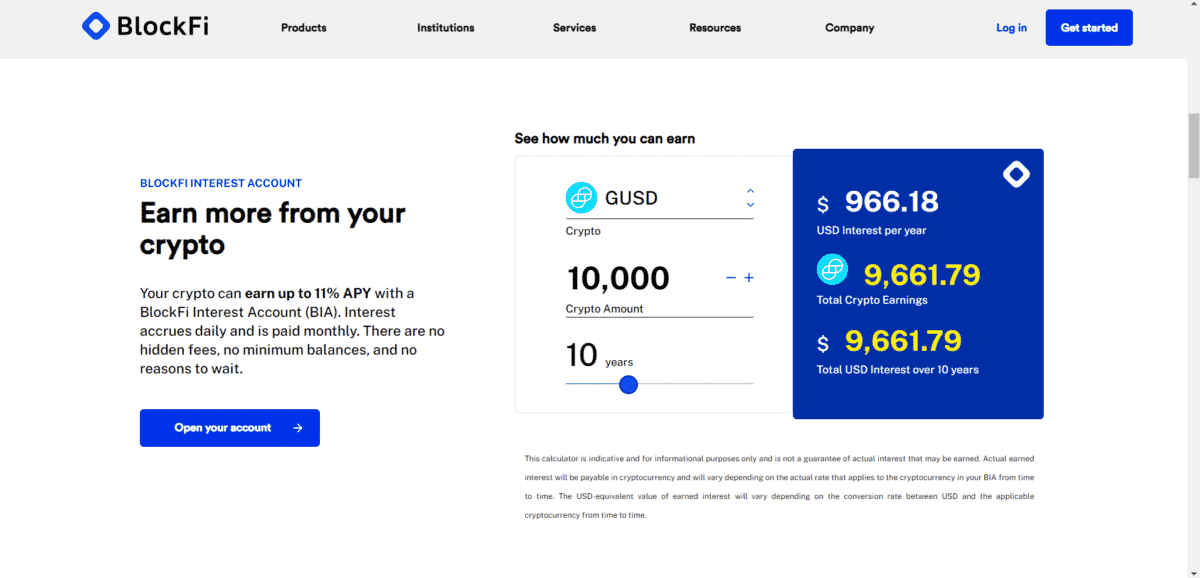 Borrow against your portfolio
Don't sell your BTC when you need money. For a rate as low as 4.5%, you may borrow USD cash against your crypto assets with BlockFi.
You may save money on taxes by not having to report your capital gains when you borrow instead of selling. In addition, a reduction in your taxable income may be achieved by deducting interest payments.
If crypto values fall, you may lose your collateral, your crypto assets, due to borrowing money via this technique. In addition, it's an indication that the money in your interest account isn't enough to cover the interest on your loan.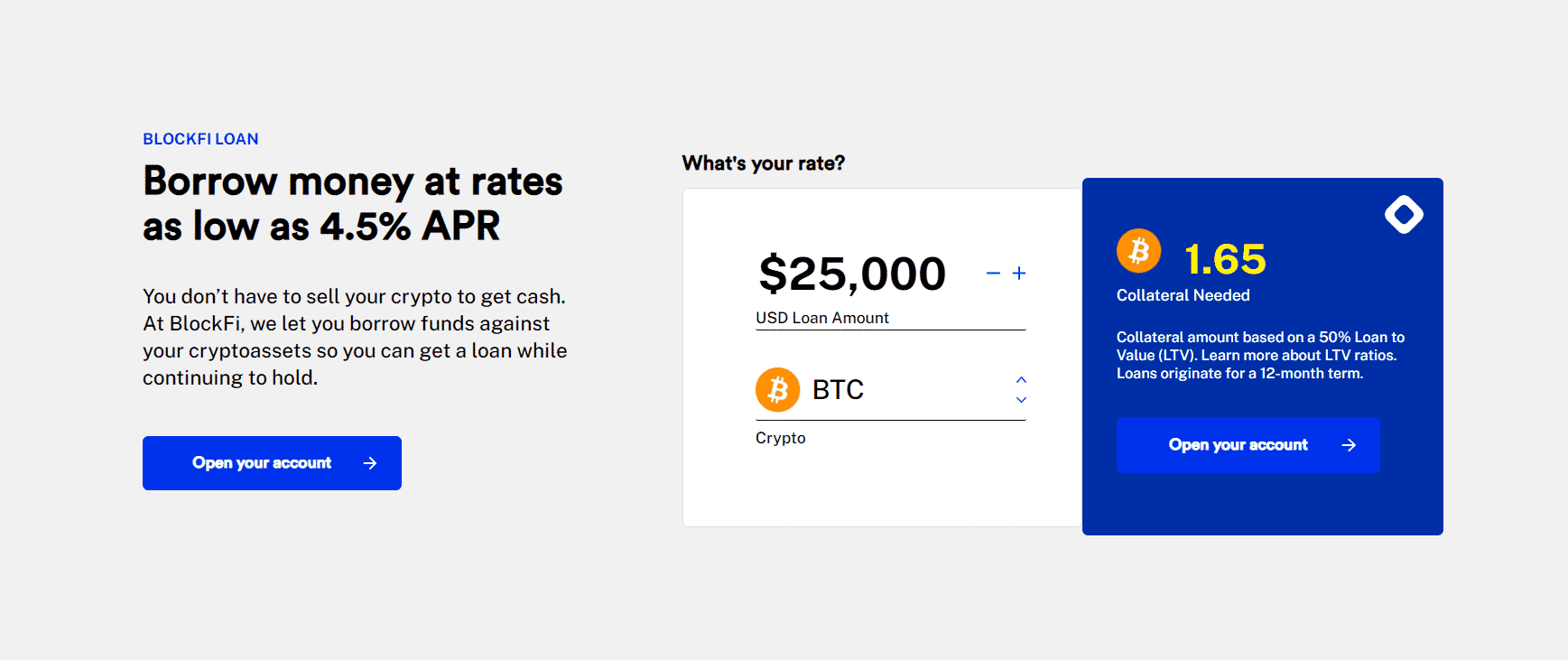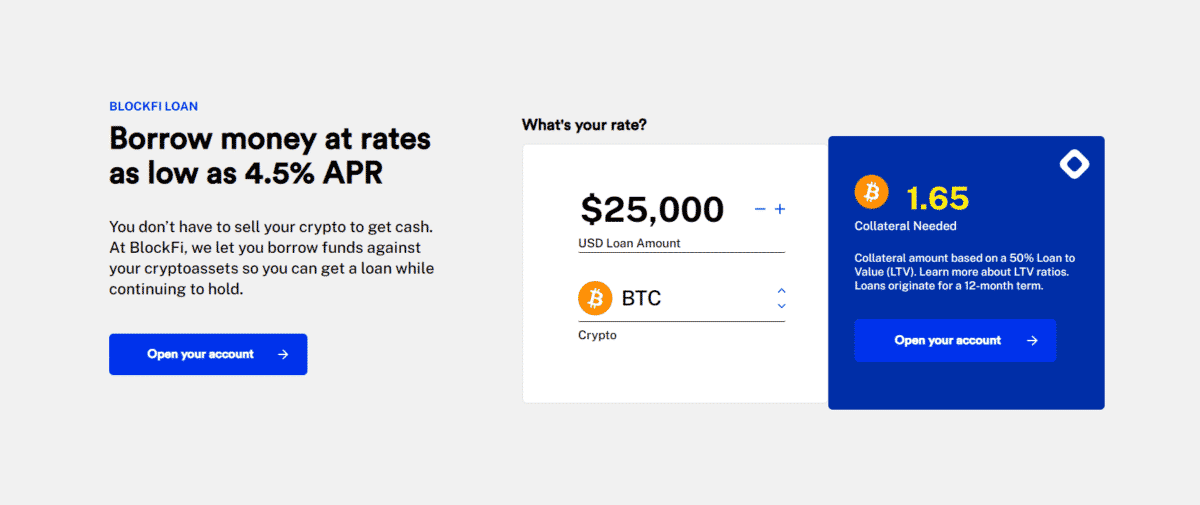 Rewards credit card
For the first time, the app has created a Bitcoin rewards credit card, a Visa credit card that pays out 1.5% of transactions in BTC. In addition, your BIA will instantly begin earning interest on your Bitcoin rewards once they have been transferred there.
To be the first to know when cards start coming in the spring of 2021, you may join up for the queue even if it is not yet available. All candidates must have a credit check done before they may be considered for employment. The card's early adopters will have an advantage in earning more bitcoin.
Automated trading
You may set up frequent transactions when you have money in your BIA. For example, daily, weekly, or monthly Bitcoin purchases may be made using these services. So even if you don't spend much time trading, your account may rise in value and make cash this way.
BlockFi ratings
Over 200 Trustpilot customers have given BlockFi an average rating of 4.0 out of 5 stars despite the company's numerous positive reviews.
BlockFi advantages
It has numerous advantages that you might want to consider:
Its exchanges don't charge any fees for trades.
Profit from your crypto assets while you sleep.
On your BIA, there are no minimum deposits or monthly fees.
It is accessible globally.
BlockFi Visa credit card offers cashback on purchases and is entirely regulated in the United States.
BlockFi alternatives
There are a few other alternatives to budgeting and saving applications worth mentioning.
PocketGuard
It is a budgeting tool for folks who desire to keep track of their expenses. Budgeting with PocketGuard is so easy that you won't have to spend the rest of your life doing math calculations.
YNAB
This app works by forcing you to classify each free dollar. You may plan where your money will go before spending it this way. YNAB thinks that you need to be disciplined about making a budget and sticking to it to change your spending habits. Consequently, the app keeps you focused on your money before you spend it, providing you ultimate control over how it is spent.
Does the BlockFi app work?
This platform is an entirely respectable and safe platform for any crypto investor, according to our exhaustive investigation. So whether you're a crypto beginner with a few coins in your wallet or an institutional investor with a vast quantity of money, BlockFi can meet your needs.
The app is all the more respectable and tempting as it has acquired support and money from some of the most notable US investors.
You may swap crypto for crypto, establish a Crypto Interest Account to store your digital assets and earn compound interest, lend your crypto, or borrow money using your crypto as collateral on the site.
According to our estimates, it is more lucrative than standard high-interest savings accounts. Consequently, we may assume that BlockFi is not a fake site. Instead, the startup wants to bring crypto closer to the general public and give regular financial services to this burgeoning industry by employing cutting-edge blockchain technology.
Final thoughts
The app has a lot to offer crypto investors, and millions of delighted consumers employ it worldwide. It's a terrific platform that brings common banking goods to the bitcoin community, which is impressive. To earn a reasonable APY or employ crypto collateralized loans, crypto investors turn to platforms like BlockFi, Webull, and Nexo, seeing some of the quickest growth and acceptance in the crypto sector.
Another reason for the surge in popularity is that these CeFi platforms enable crypto investors to benefit from their investments without having to grasp or handle the intricacy of DeFi.