MyConstant is a peer-to-peer loan network launched in January 2019 as a crypto platform. It had a different idea; to create a non-volatile kind of crypto. It is a firm located in the United States, but anyone around the globe can use it.
It is now one of the most well-known secured peer-to-peer lending platforms for investors and borrowers. This guide will talk about the MyConstant app and its main features.
What does the app have to offer?
MyConstant is the first secure peer-to-peer loan platform in the world. Because it runs so that lenders cannot lose money, borrowers always receive their deposits back when they repay their loans. It allows you to invest in both fiat cash and crypto. This way, you can get interested in the currency of your choice.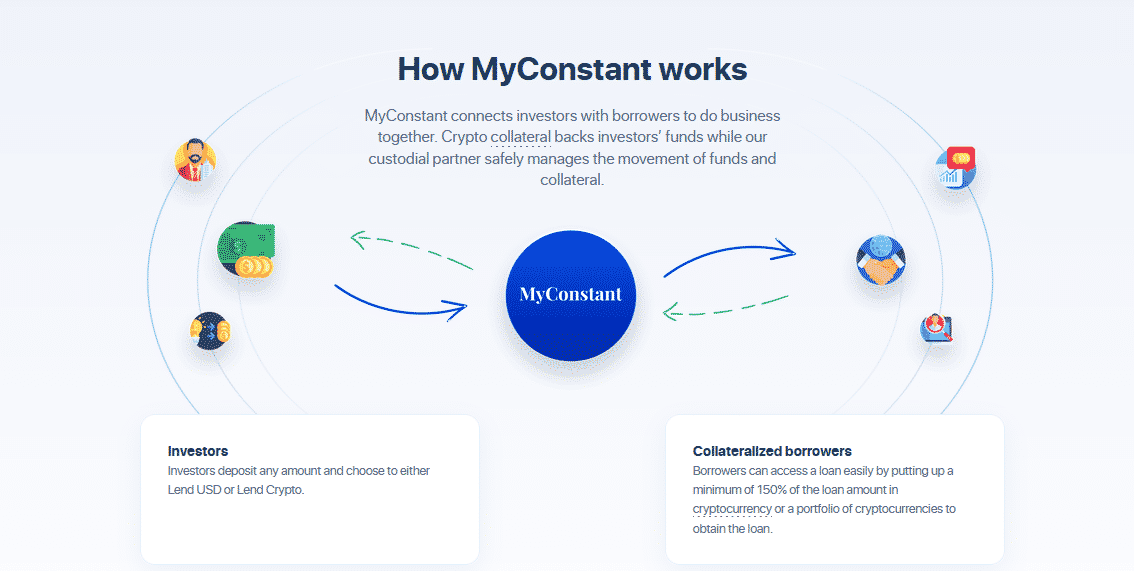 How MyConstant works
Investors must put funds into a flex account or any other account. They may begin generating money as soon as they join up. A money-back guarantee protects investors. You may withdraw money as an investor whenever you want.
1. Safety and security
The app boasts about media releases published on major news websites. Yet, you can't correctly check up on their system because it isn't available on their site for transparency. Many press references on significant news websites look to be well-executed paid campaigns. They are aimed at increasing the authority of the crypto lending business.
A red signal for MyConstant is the absence of a team presentation. Because the app does not have a license to hold digital content, this is a more secure solution. We recommend reading and understanding the terms and conditions.
It is a typical clause seen on all crypto loan platforms. It is not liable for any damages incurred due to your investment. As a result, "fixed return" or "secure investments" statements should be cautioned.
The app has the right to change the contract terms without notification. Therefore, it leaves you in a difficult situation.
2. Membership plans
The platform offers three membership plans:
Flex/Instant access
Instant access is a 4% annual yield investment service that lets you withdraw money. Your funds provide liquidity to trade exchanges and fund securitized lending pools. In exchange, you will receive interests and a cut of trade expenses. You can take money out at any time.
Crypto-backed
It is a safe and secure peer-to-peer loan solution with a 7% APR. You can choose from three loan terms – 30 days, 90 days, or 180 days. For this, you will earn 6%, 6.5%, or 7% APY, respectively.
Your money goes into a lending pool with up to 200% collateral, and lenders receive loans in exchange for interest. Borrowers' collateral is auctioned to repay you if they default on their payments; you have the option of investing for one, three, or six months.
Crypto-lend
On Bitcoin, Ethereum, and Binance Coin, crypto-lend allows you to earn a 9% annual percentage yield. It also helps loan pools and markets by providing liquidity. Every moment, your interest payments are done and compounded in the same currency you used to invest.
3. Budgeting and goals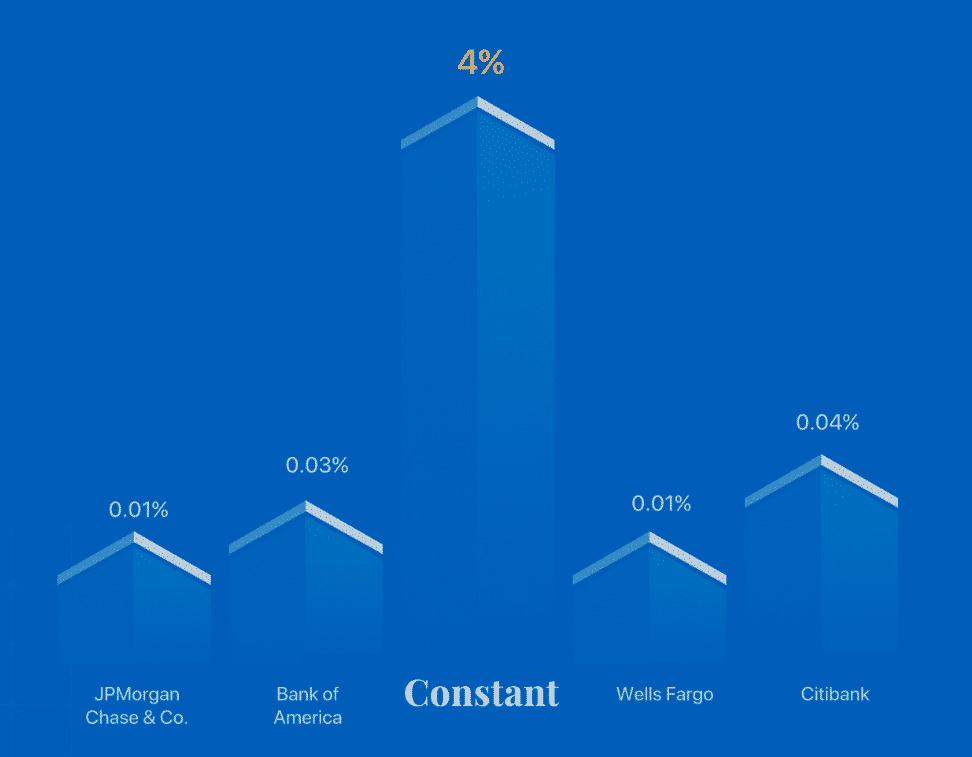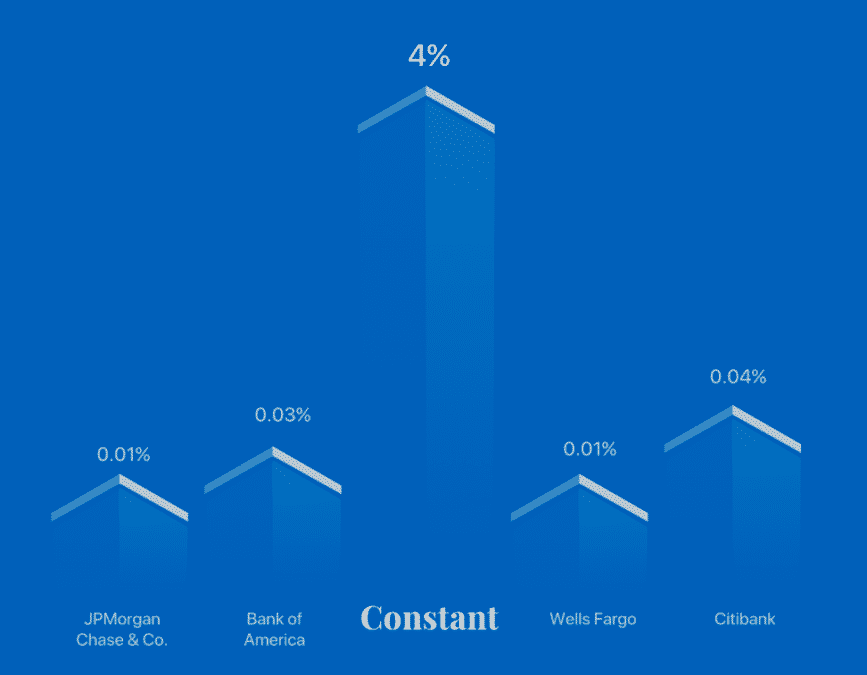 A personal budget is a robust budgeting feature included in the app. It assists you in setting, tracking, and achieving financial objectives. For example, you won't have to manually enter payments or save records because it's completely automated.
You may also establish overspend alerts and create categories for any form of income or cost. A personal budget will take care of the rest once you've linked your bank account and created a budget.
4. Special features
Here are some of the key features of the MyConstant app:
Returns you can count on
Borrower defaults can be mitigated with crypto collateral.
Withdrawals are free
Free USD withdrawals to your account.
Flexible conditions
You can get your money right now or choose from three-term limits.
24/7 customer service
There are no phone operators or automatic messages here. Instead, you will be greeted by actual individuals eager to assist you.
There are no credit checks
You'll always get authorized for a loan if you have the necessary collateral. There are no penalties for paying back your loan early. Pay off your debt early and avoid penalties. Only the days you borrow are subject to interest.
5. Alerts
You can receive alerts as a MyConstant user using a mobile app available for iPhone and Android devices. The mobile app delivers the same experience as the desktop website, and all functions are available.
6. Transactions and reporting
Customers of MyConstant pay fiat or crypto, which is subsequently handed out. Customers receive profit on their investments in return. Borrowers can get prices as low as 6% on deposited cash. At the same time, depositors can receive up to 7%.
Those interested in lending can do it in either US dollars or crypto. The app connects traders with lenders by allowing them to transfer funds into their accounts. There are no credit checks as long as you have the proper crypto security.
Prime Trust, MyConstant's custodian partner, handles the transfer of funds. In addition, devaluing specific cryptocurrencies is also available with this app.
7. Support
The app provides a dependable and professional customer support service available 24 hours a day, seven days a week. So, if you have a concern or find an issue with your account, you can contact them.
Pros and cons of using the app
| | |
| --- | --- |
| Pros | Cons |
| There are no costs for trading, transferring, or receiving additional membership perks. | Due to the numerous loan schemes, the investment process is complicated. |
| You can invest from just $10, which means you can get to grips with how it works before making a larger commitment. | Other currency owners must send US dollars or crypto. |
| An open platform provides real-time analytics. | Charges for early loan repayment. |
Final thoughts
If you want to experiment with crypto lending or saving, it is a great place to start. It provides 4% APY to 7% APR on stablecoins and immediate access to your money.