Is crypto going to die soon?
Should I buy meme coins and shitcoins in hopes of massive returns?
What are the best coins to buy in 2022?
Many people were calling the end of the crypto market after Bitcoin fell sharply in the second quarter of 2021. However, this is a standard narrative among those who have not invested in crypto. Since they believe crypto has no intrinsic value, a market collapse is like a self-fulfilling prophecy for them.
After BTC peaked at nearly $65,000 on 14 April 2021, it made a massive correction that put investors on their toes as they awaited the next movement. The sell-off came from fear brought by the rapid spread of the Delta variant of coronavirus. Investors panicked as Bitcoin lost more than 50 percent of its value in a matter of one month.
Despite the negative rumors from naysayers, Bitcoin survived the "crash" and has made new highs. On 20 October 2021, NTC broke the previous high reached in April 2021. With more and more people coming to understand Bitcoin as a store of value, it seems likely that crypto is here to stay.
If you believe that crypto has value and will persist, keep reading as we will present five of the best crypto to invest in 2022. We will also show chart samples of bullish and bearish trade setups. This way, you can buy or sell crypto when it is about to move in a particular direction.
Is the cryptocurrency market dead?
Naysayers and onlookers often say crypto has no intrinsic value. That is why they quickly announce that the crypto market is dead when Bitcoin is going down. Since BTC moves first and altcoins follow suit, many spectators judge the crypto market by the performance of Bitcoin. These people are not investors, though. They are only outside observers.
Although the crypto market is highly volatile and generally bullish, it corrects from time to time. Such characteristic is natural for any financial market. Crypto is no exception. Price corrects when buyers unload their holdings when they think the price is overvalued. After some time, when the market has onboarded fresh buyers, it will start a bull run again. The only time you can say crypto is dead is when its price goes to zero.
Is investing in cryptocurrency meme coins or shitcoins a good idea?
From the terms themselves, meme coins and shitcoins are not suitable investments. However, identifying if crypto falls into these categories is albeit difficult. No website would brand a coin as such. They would not dare, but they are giving hints. The most popular meme coins are Dogecoin and Shiba Inu.
A meme coin starts as a joke that has gained a following. At the same time, some people insinuate that these coins are also shitcoins, including mainstream assets such as Bitcoin and Ethereum. Meanwhile, shitcoins are those considered valueless. If you would like to dabble in these types of assets, be aware of the risk. Invest only an amount you can comfortably risk losing.
What is the best cryptocurrency to invest in 2022?
Below are five altcoins with a lot of growth potential following the BTC trajectory.
No. 1: Dogecoin (DOGE)
You might be aware that Elon Musk is pushing this coin to hit $1. Currently, this coin is hovering around $0.26. However, it is making a spring formation on the daily chart that has a potential for upside breakout. If this happens, the likely target is the shoulder of the head and shoulders pattern at $0.44.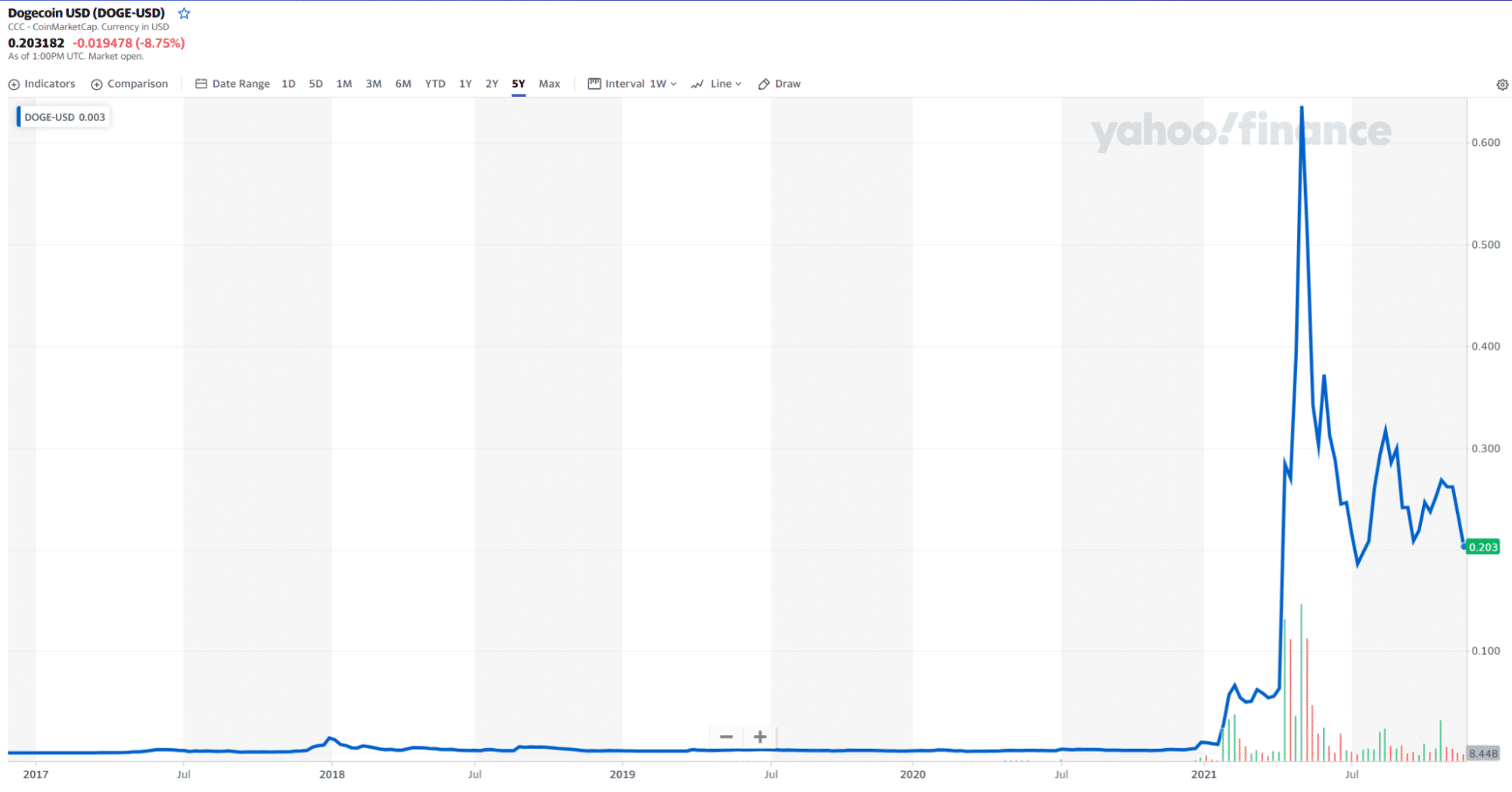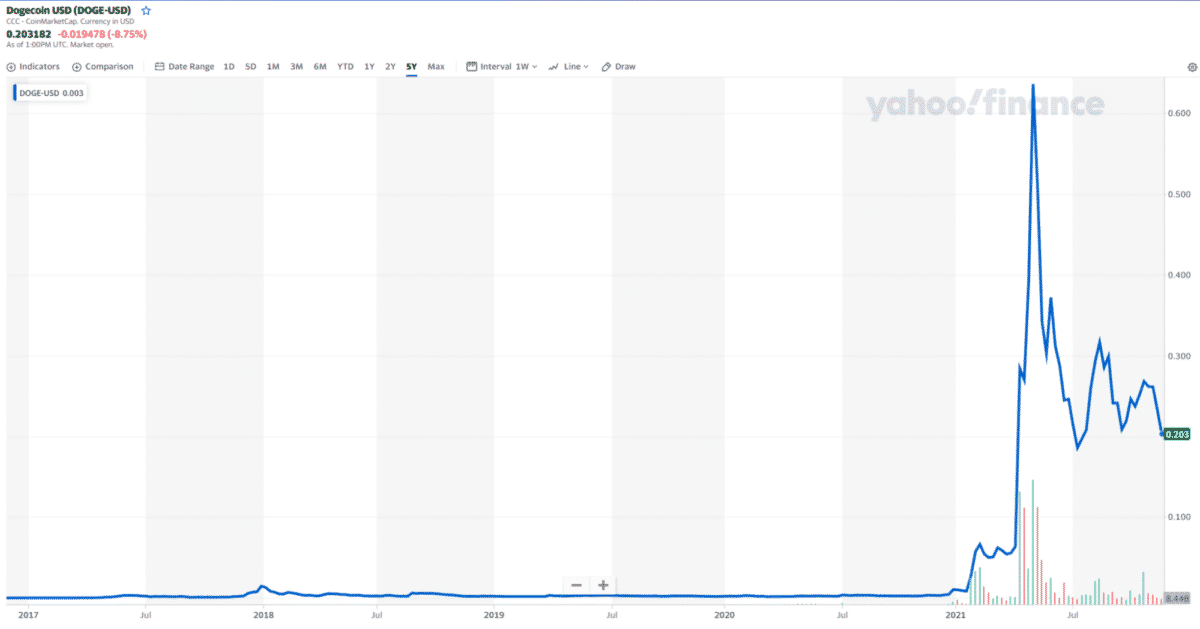 No.2: Cardano (ADA)
Right now, the price is correcting after it peaked at $3.1 on 2 September 2021. If you zoom out of the daily chart, you can see that price is making a step-up ladder formation. If the price breaks this high, it might continue toward $4.0, which is the completion point of the D point of a bearish AB=CD pattern.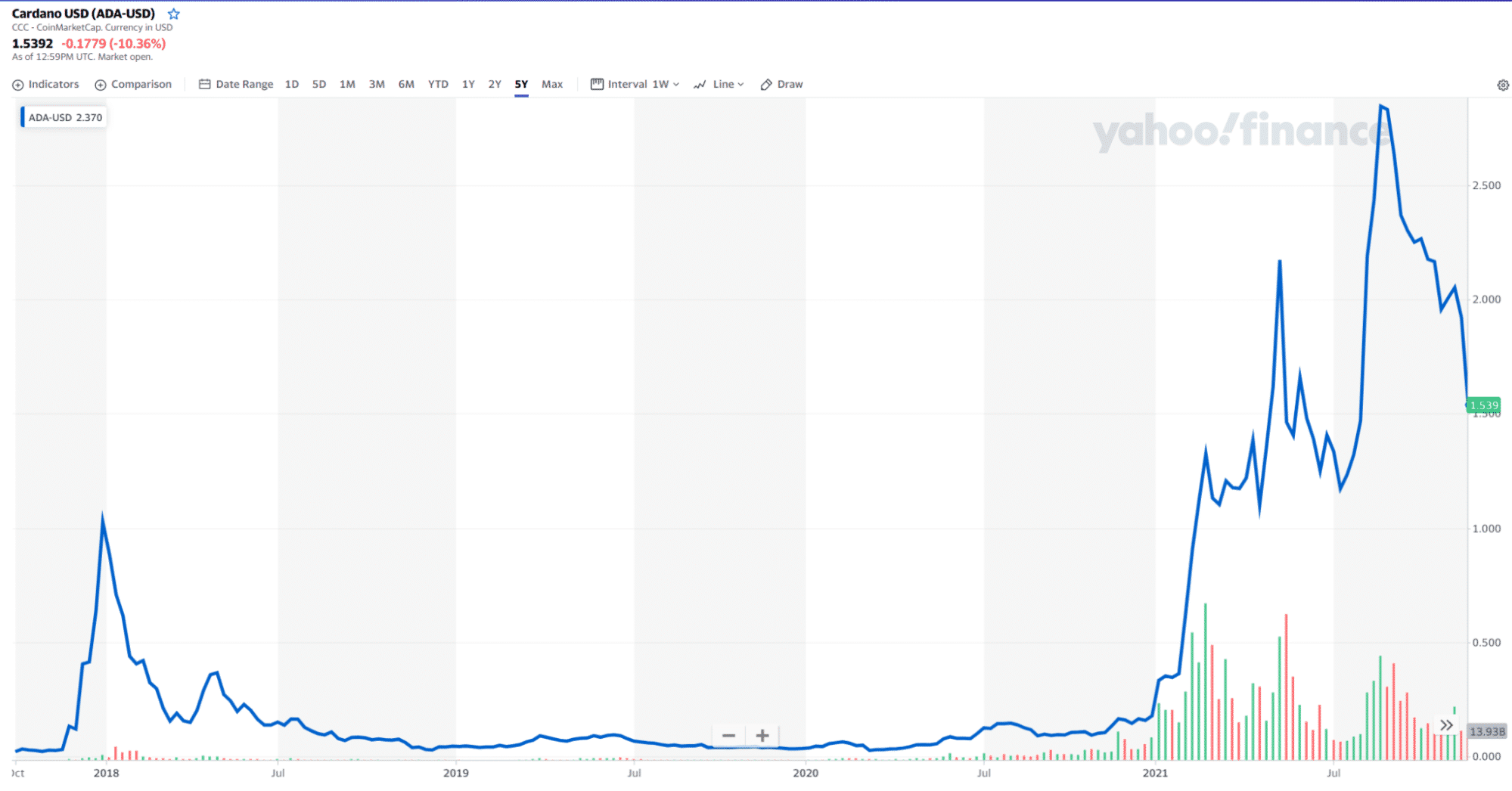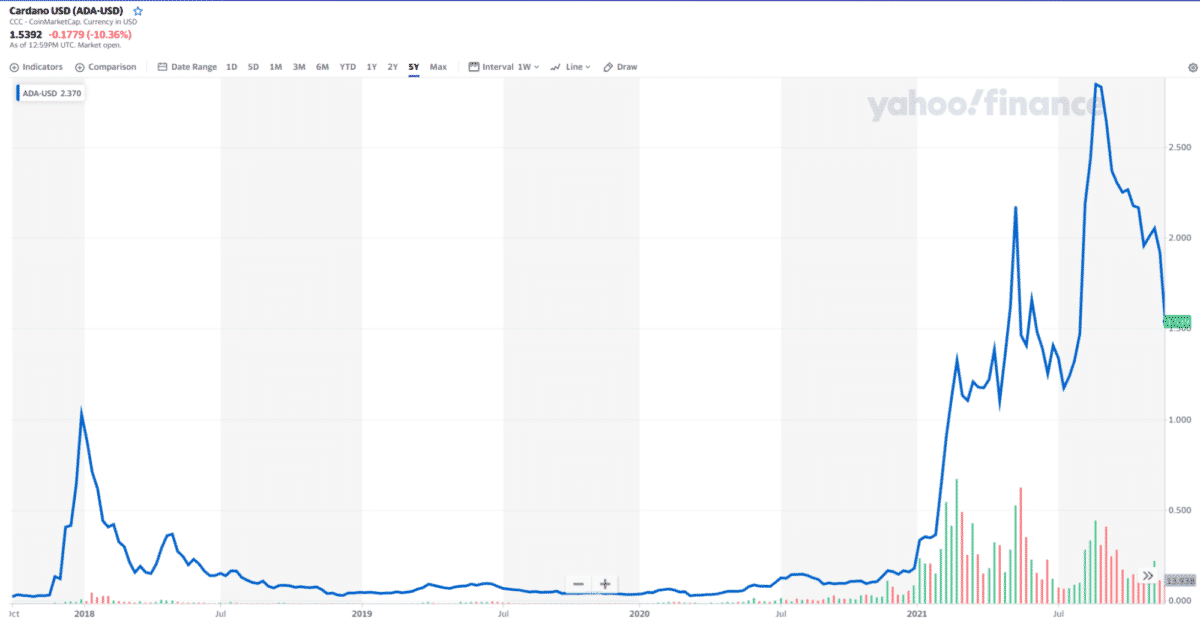 No. 3: Polkadot (DOT)
Price is near the D point of a bearish AB=CD pattern. If this pattern plays out, we could see a dip toward $28, the 50 percent retracement of the whole AB=CD structure. After this, we could expect the price to rally again.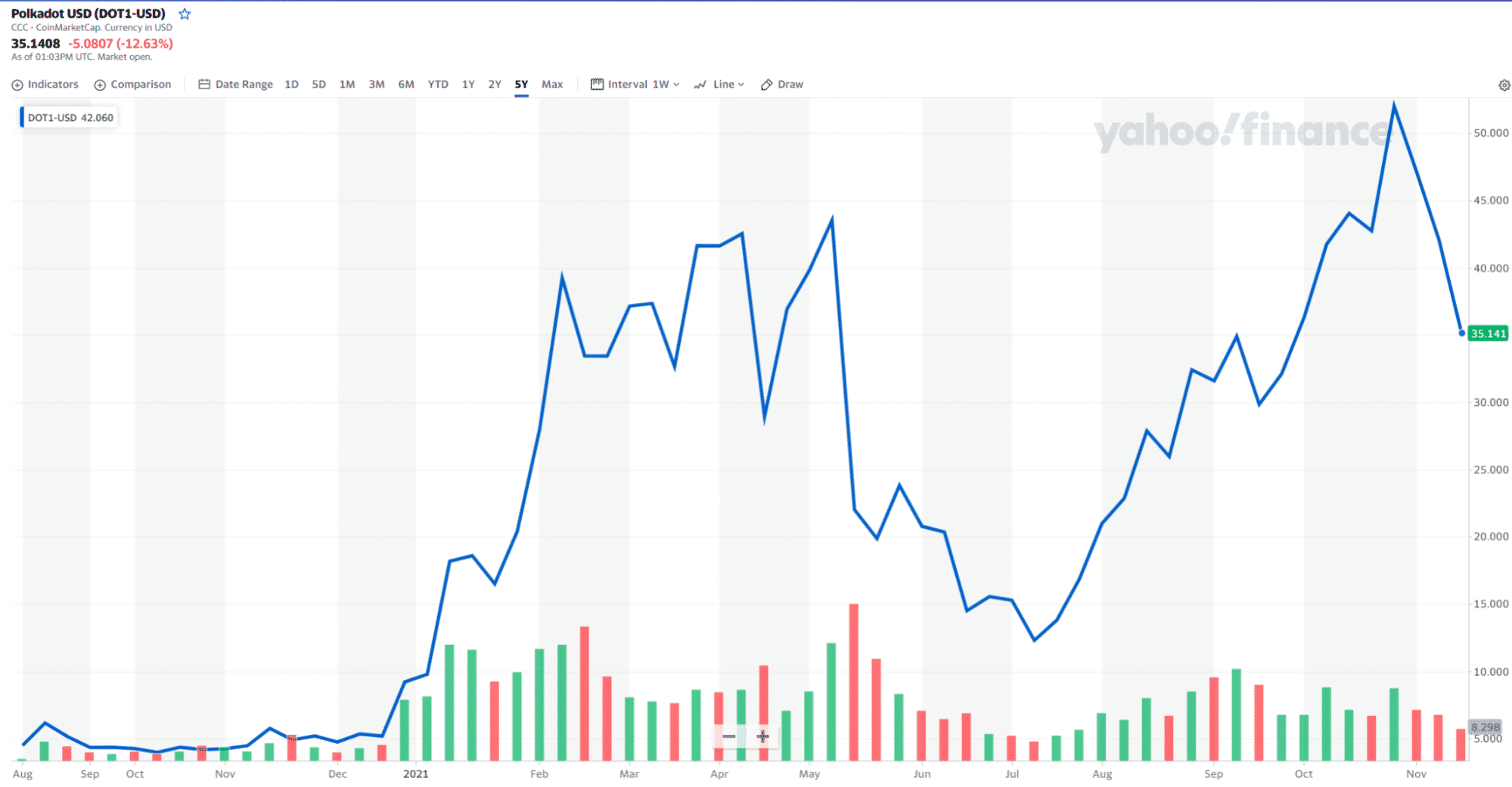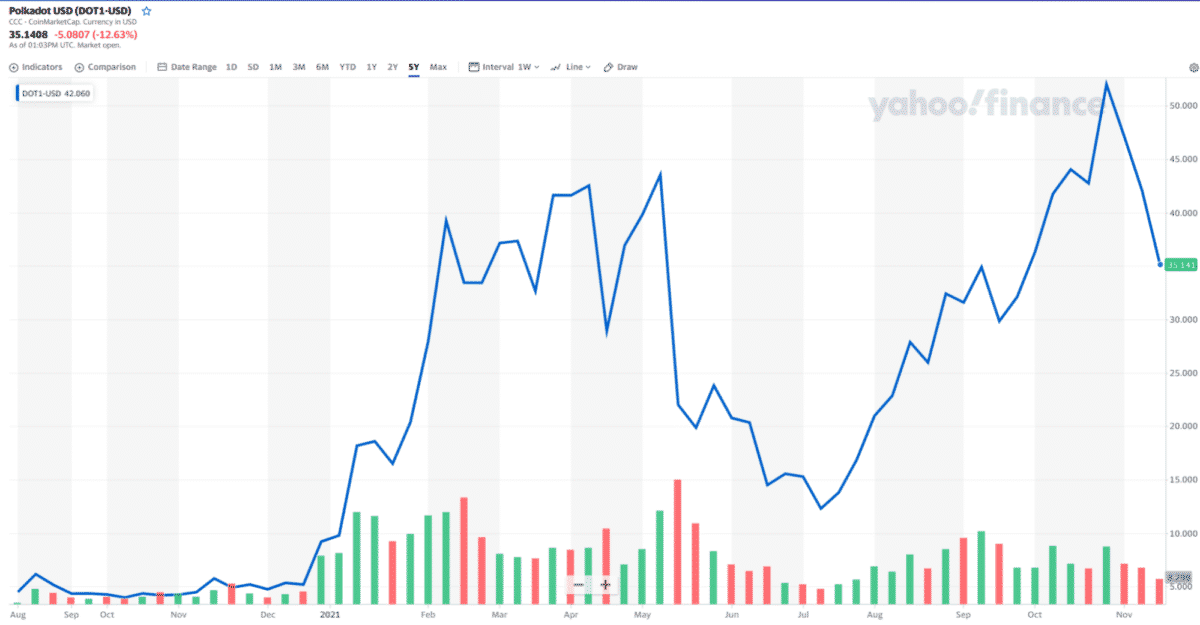 No. 4: Solana (SOL)
The market looks really bullish on the daily chart. Price is currently below the $259.9 peak on 6 November 2021. It seems this coin is not done with its bullish run yet. It could keep flying until it hits resistance at around $310, where a bearish AB=CD pattern completes.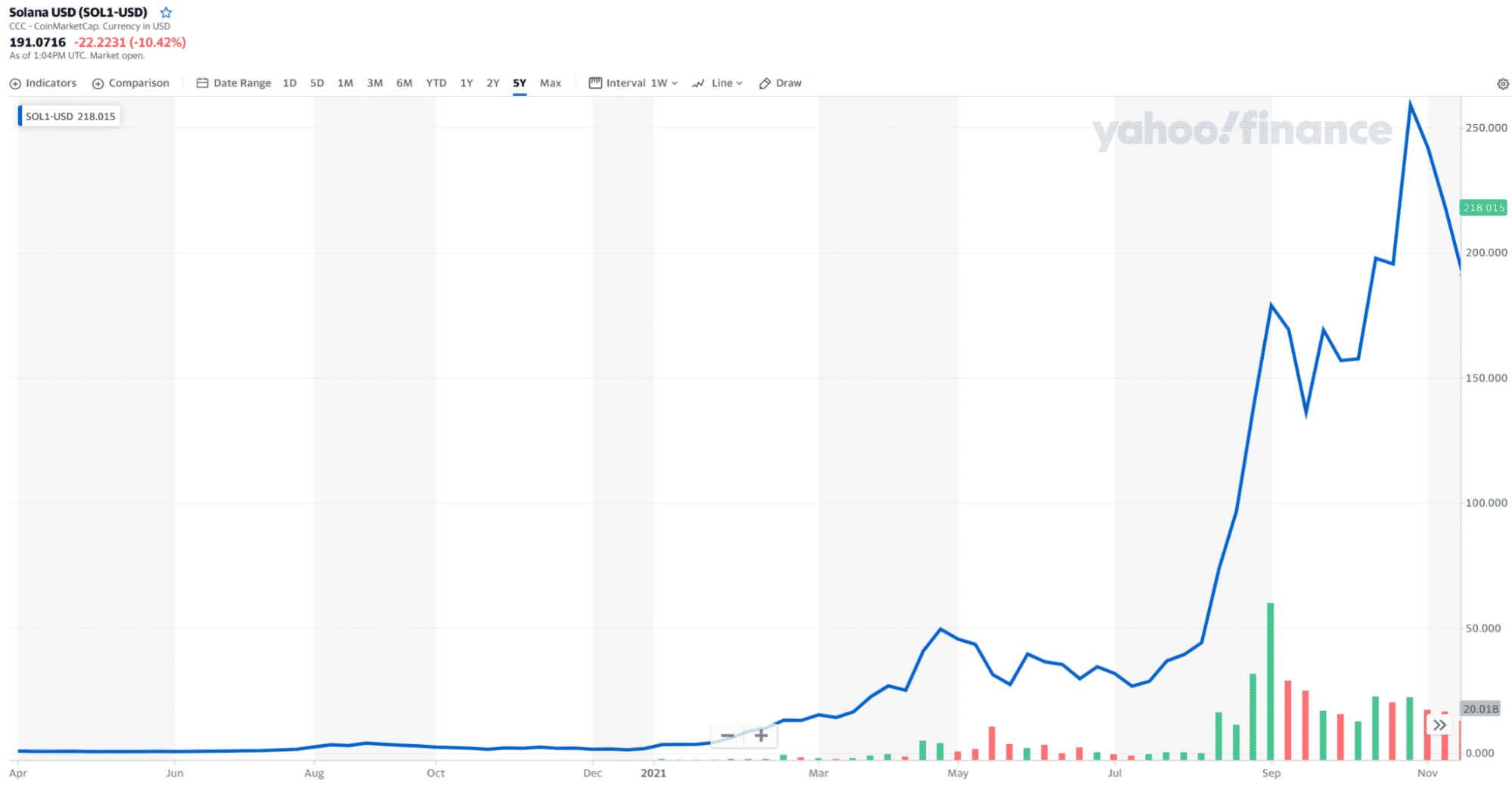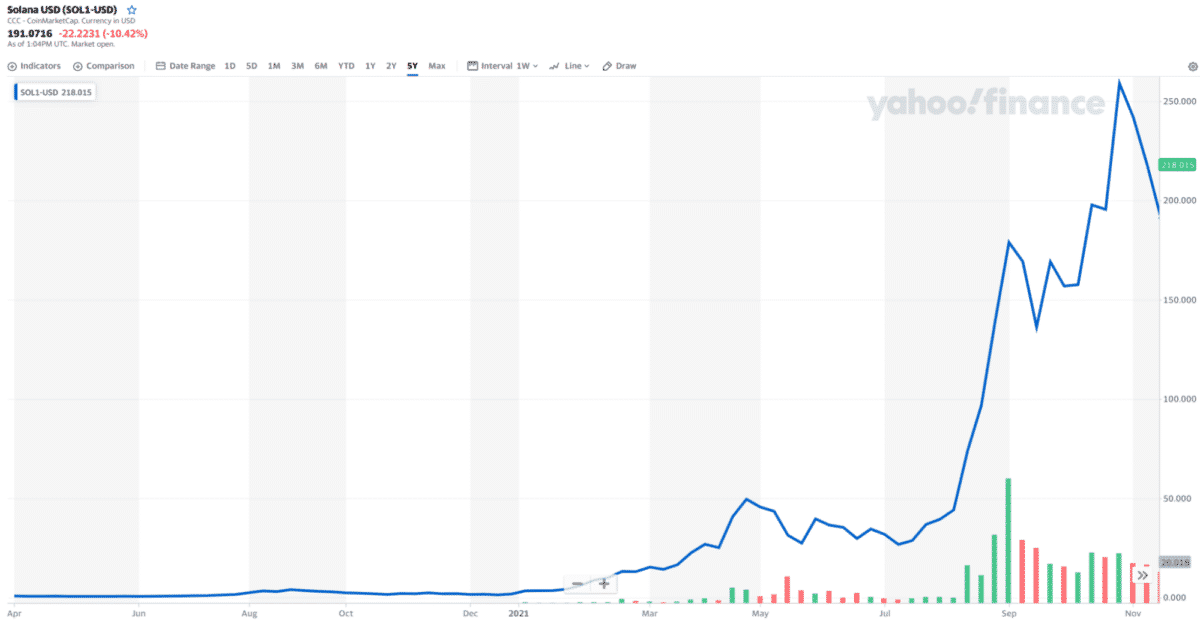 No. 5: Binance coin (BNB)
The market is still bullish if you look at the daily chart. However, it must contend with a strong resistance that is coming in sight at around $675. If it maintains the momentum, it could break upward and reach greater heights. Because of the market structure, there is more than a 50 percent chance that the market will reverse following a retest of resistance.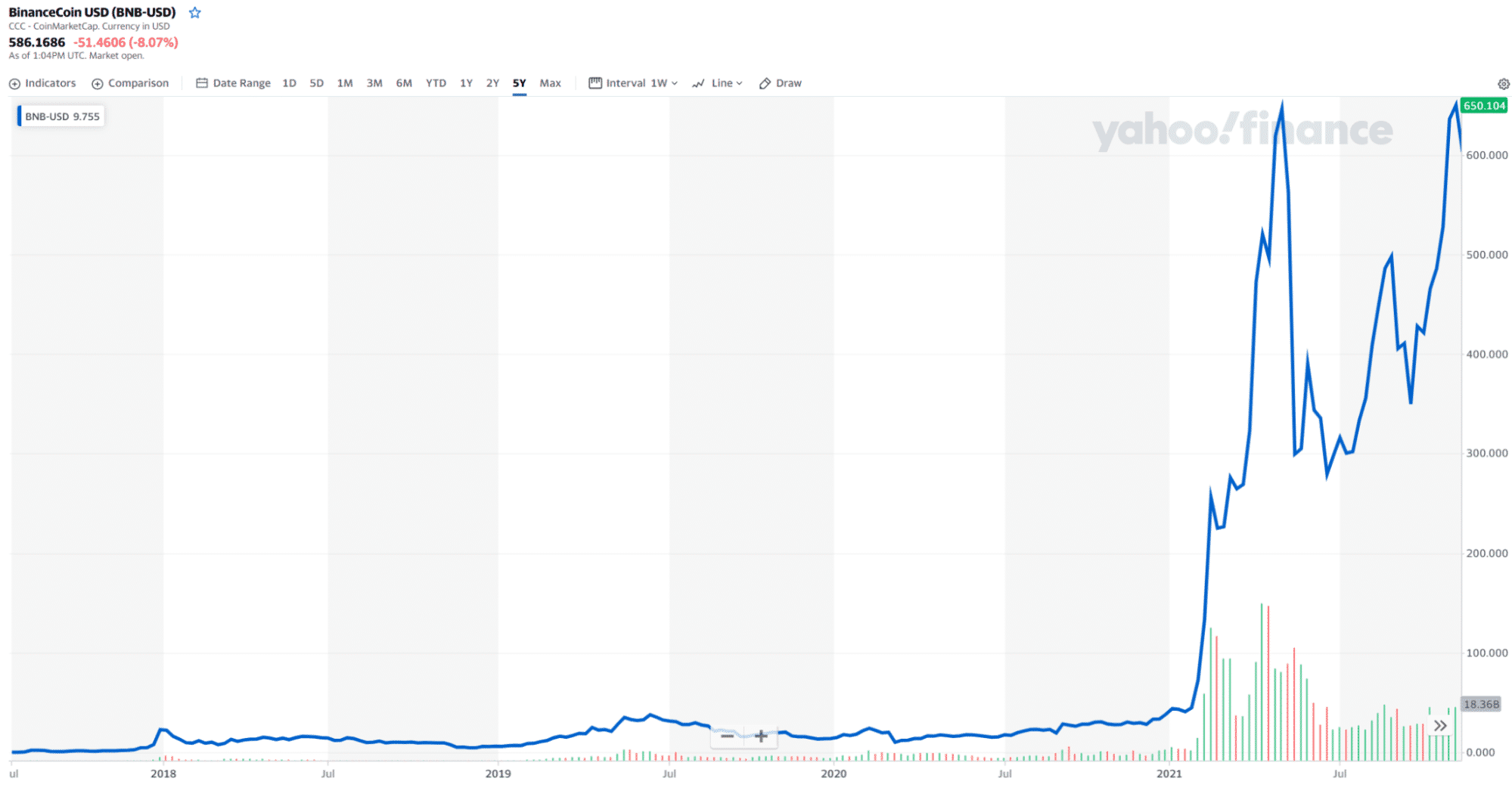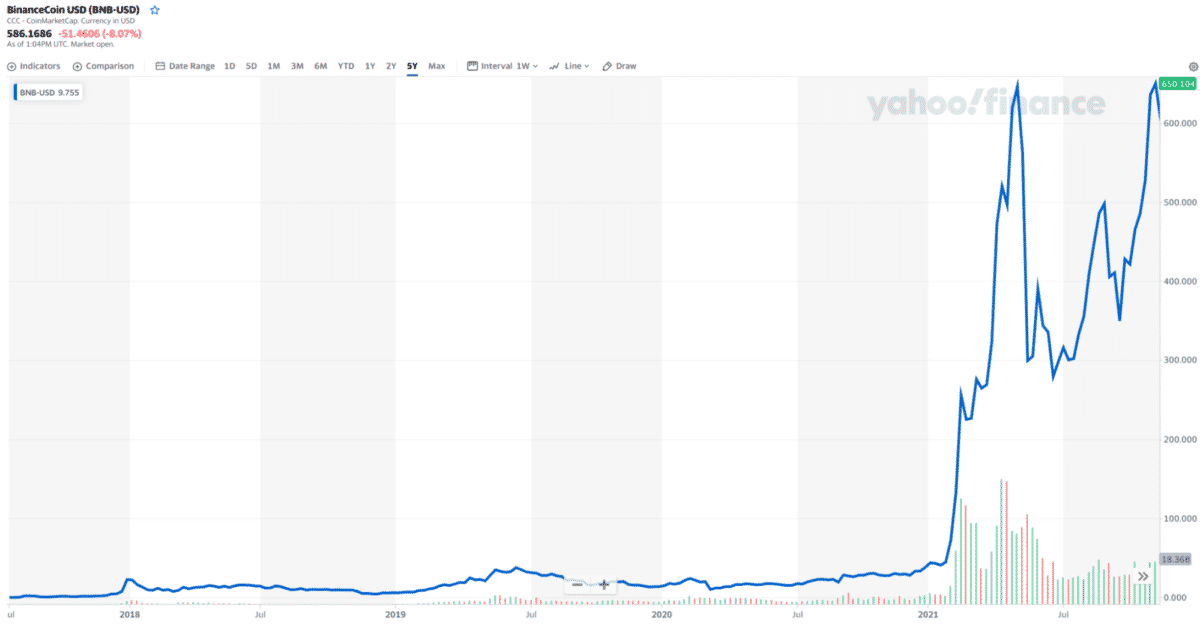 Sample trades
You can find two trade setups below for BTC. This shows that technical analysis, particularly chart patterns, works so well in the crypto market.
Bullish trade setup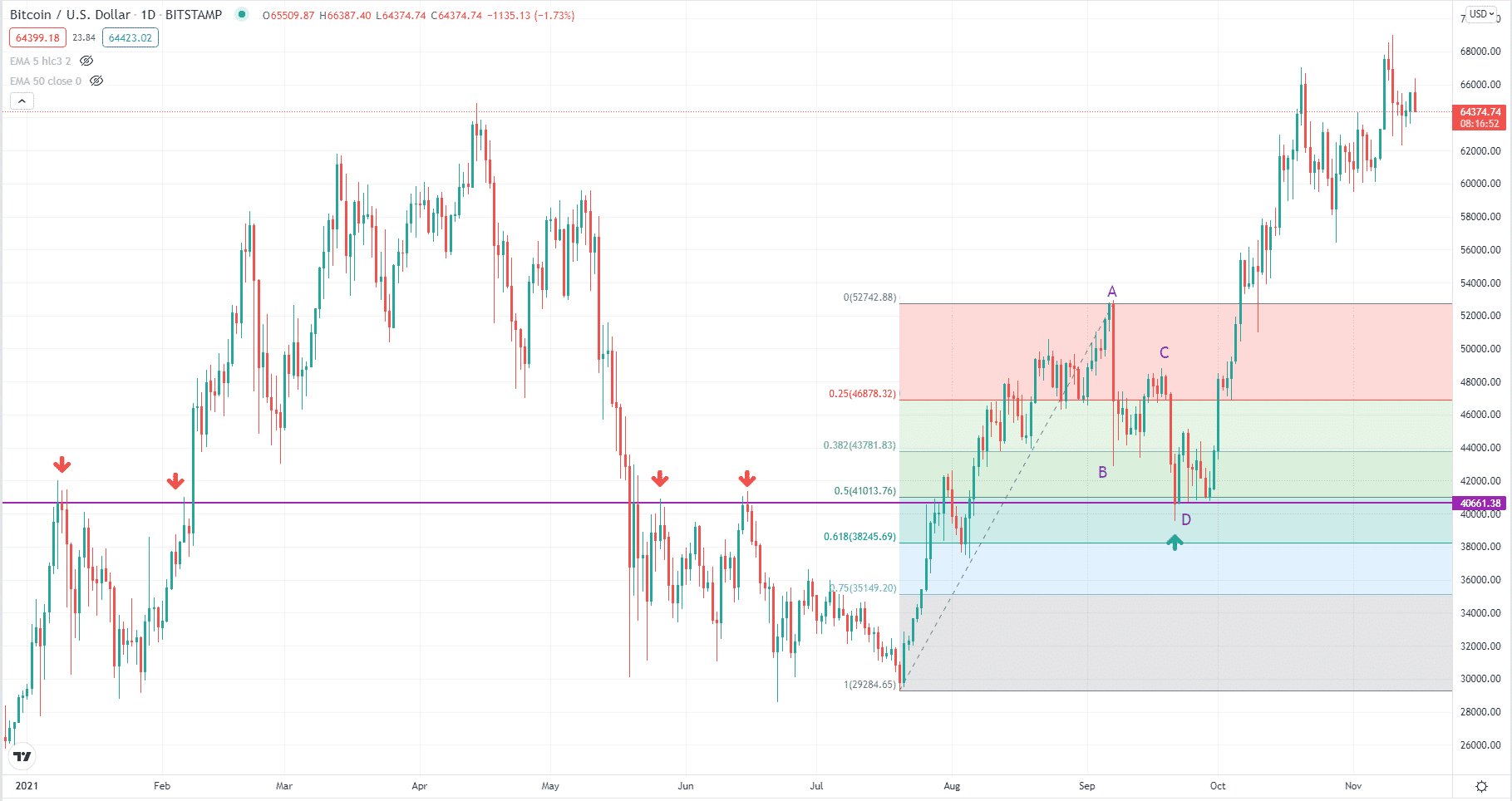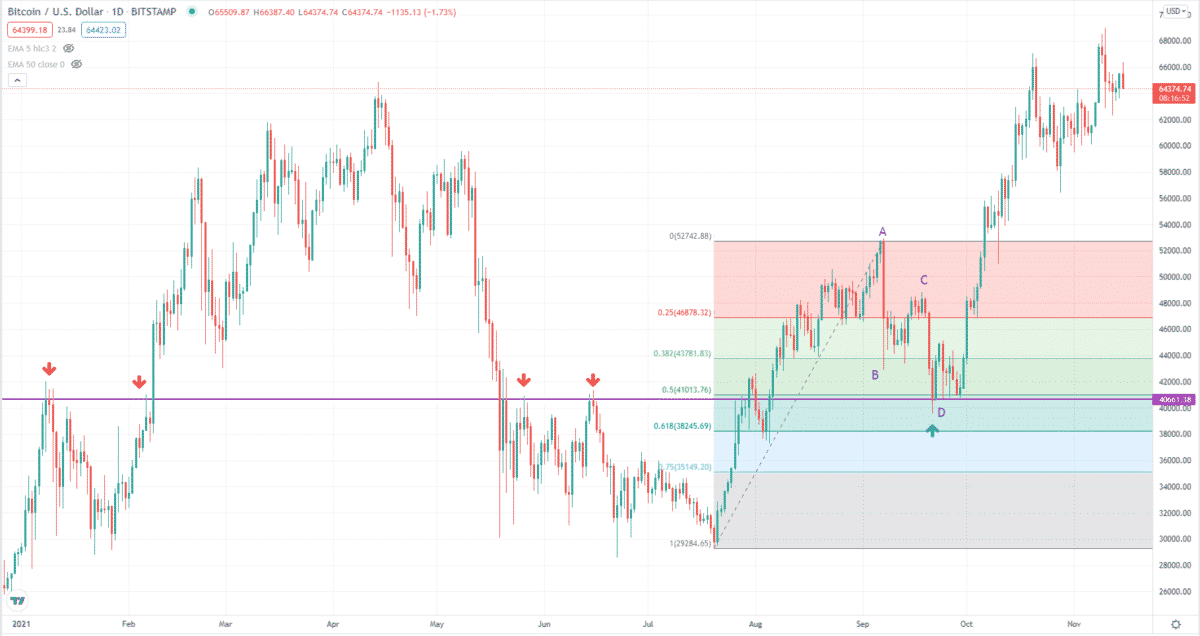 Consider the above bullish setup. Many factors make this setup ideal.
First, price is retesting support that was previously resistance in at least four instances.
Second, price formed a bullish AB=CD pattern that completes at the support level and at 50% of the previous rally.
For this setup, you can use point D as your stop loss. Meanwhile, the take profit is the 200% extension of the previous rally. While not shown in the chart, the take profit was already reached when Bitcoin hit $62,743.
Bearish trade setup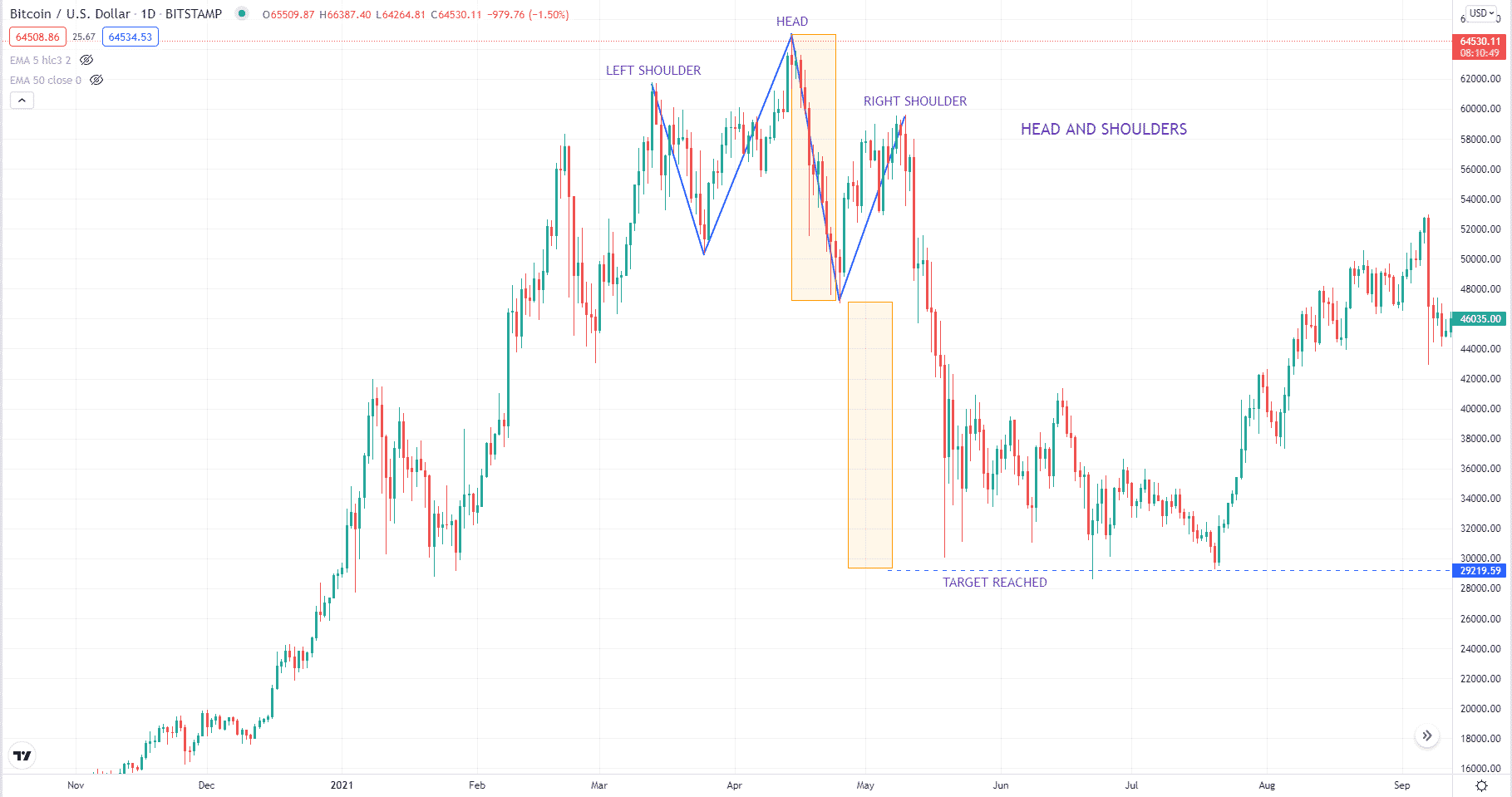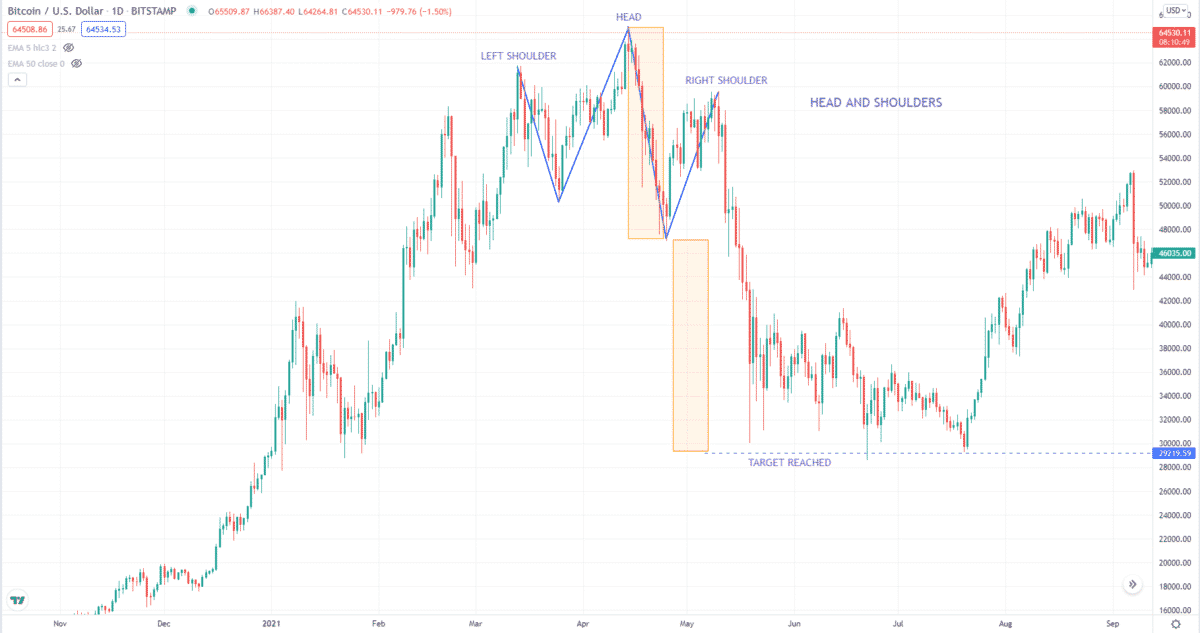 The above chart shows the famous head and shoulders pattern. This is not a perfect setup because the shoulders are not aligned as well as the neckline. Still, the pattern is tradable as it is prominent and large. Additionally, the pattern formed at the end of an uptrend and after a three-drive pattern. As you can see, the massive sell-off happened after the price turned from the right shoulder. Price eventually hit the take profit, but the target was almost hit nine days after the down move.
Final thoughts
The people saying that crypto is dead are those who have no crypto holdings. They are simply unbelievers of crypto. Keep in mind that any market goes up and down. Even if crypto has a bullish temperament, it must take a breather to build strength and keep moving higher.
Like any market, crypto is affected by supply and demand and other fundamental factors. One such factor is the recent pandemic, which has impacted all financial markets in the world. The crypto market is still young. It will mature soon.