Are altcoins worth investment?
Which penny crypto will explode in 2021/2022?
Which penny cryptos are most profitable?
When you entered the crypto space through a crypto exchange, what might have come to sight first are high-valued crypto assets such as Bitcoin and Ethereum. If you do not have a deep pocket, the experience could be discouraging. You might think about how you could start investing in crypto if you do not have significant capital.
The good thing is that there are plenty of cheap coins out there; their number in 2021 counts to 6,000. Some of these coins are new and have meager prices, allowing you to buy thousands literally with a few hundred dollars. When you do that, your investment could experience tremendous growth if these cheap coins begin to rally.
If you have a considerable risk tolerance and that speculative drive, chasing after these cheap coins can be worth your time. Once you start generating profits, it is good practice to move your funds into Bitcoin, regarded as a store of value.
We came up with a list of the top five penny coins for you to consider investing in. This list can serve as your starting point in your crypto search. After reading this, you can dig deeper on each asset later to make a better-informed decision.
Dogecoin (DOGE)
Market cap: $ 27.764 billion
Price: $ 0.2113
Growth one year ago: 7,650%
Dogecoin price prediction: $1.07 high, $0.91 low by the end of December 2021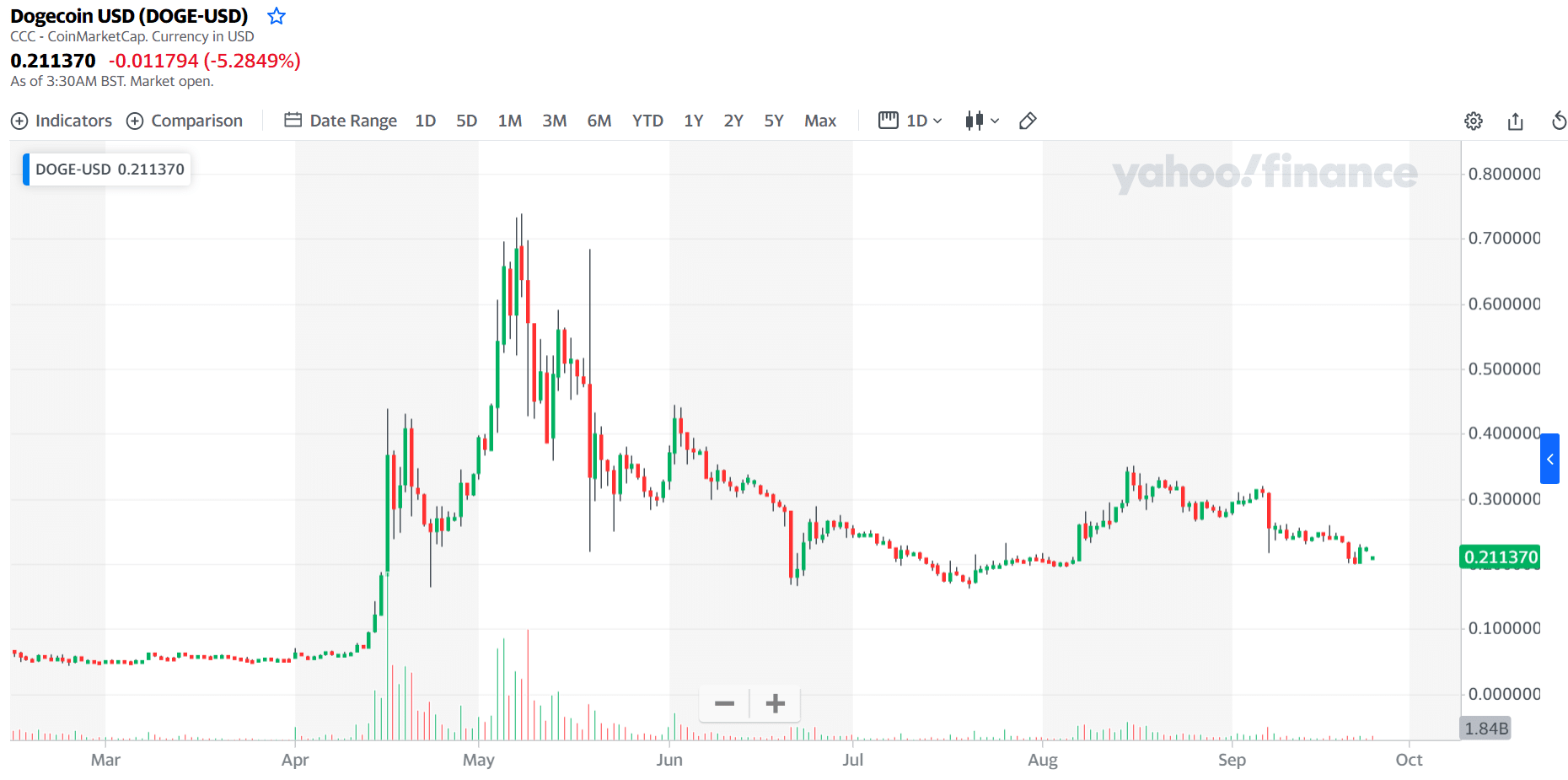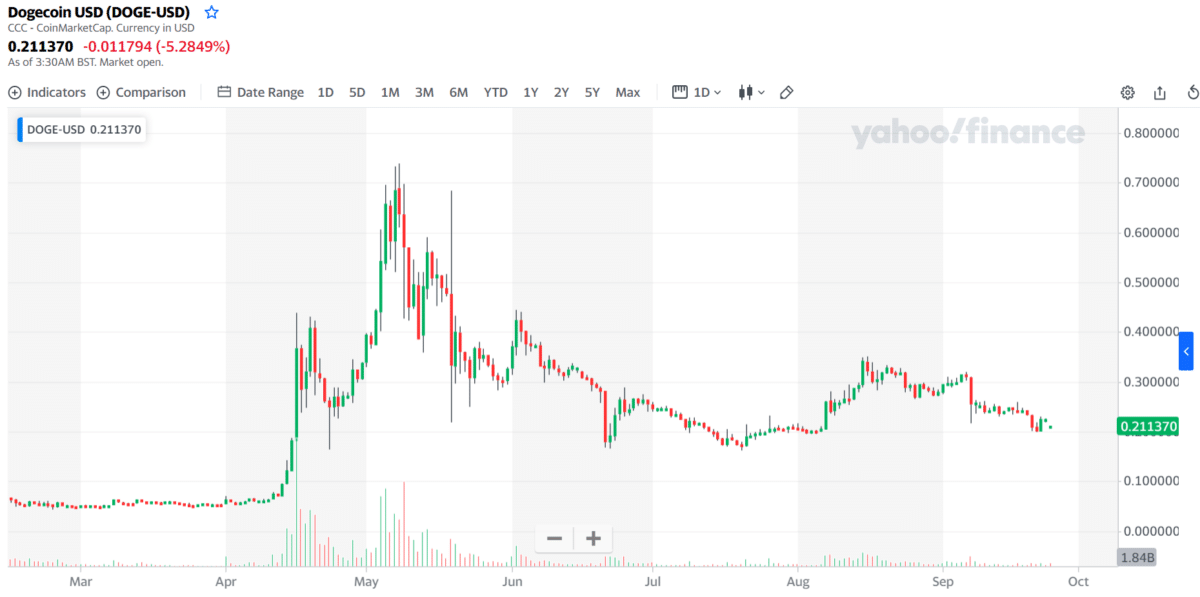 Introduced in 2013, Dogecoin is a digital currency satirically presented as an alternative to Bitcoin. Dogecoin originated from Luckycoin, which is in turn obtained from Litecoin. Due to the hype it gained from famous public figures. DOGE became the talk of the town alongside BTC. Now a large community is behind its back, pushing it even further in value.
The growth of this coin is phenomenal, which you can ascribe to its cult following. Naturally, when more people buy an asset, its price is likely to get higher. Be aware, though, that the price of DOGE does not align with its fundamentals. It may not sustain its price rallies. Sooner or later, it could come back crashing down. Hopefully, the publicity it enjoys remains so that it can continue its upward trajectory.
Shiba Inu (SHIB)
Market cap: $ 2.908 billion
Price: $ 0.00000739
Growth one year ago: no data available
Shiba Inu price prediction: $0.000013 by the end of December 2021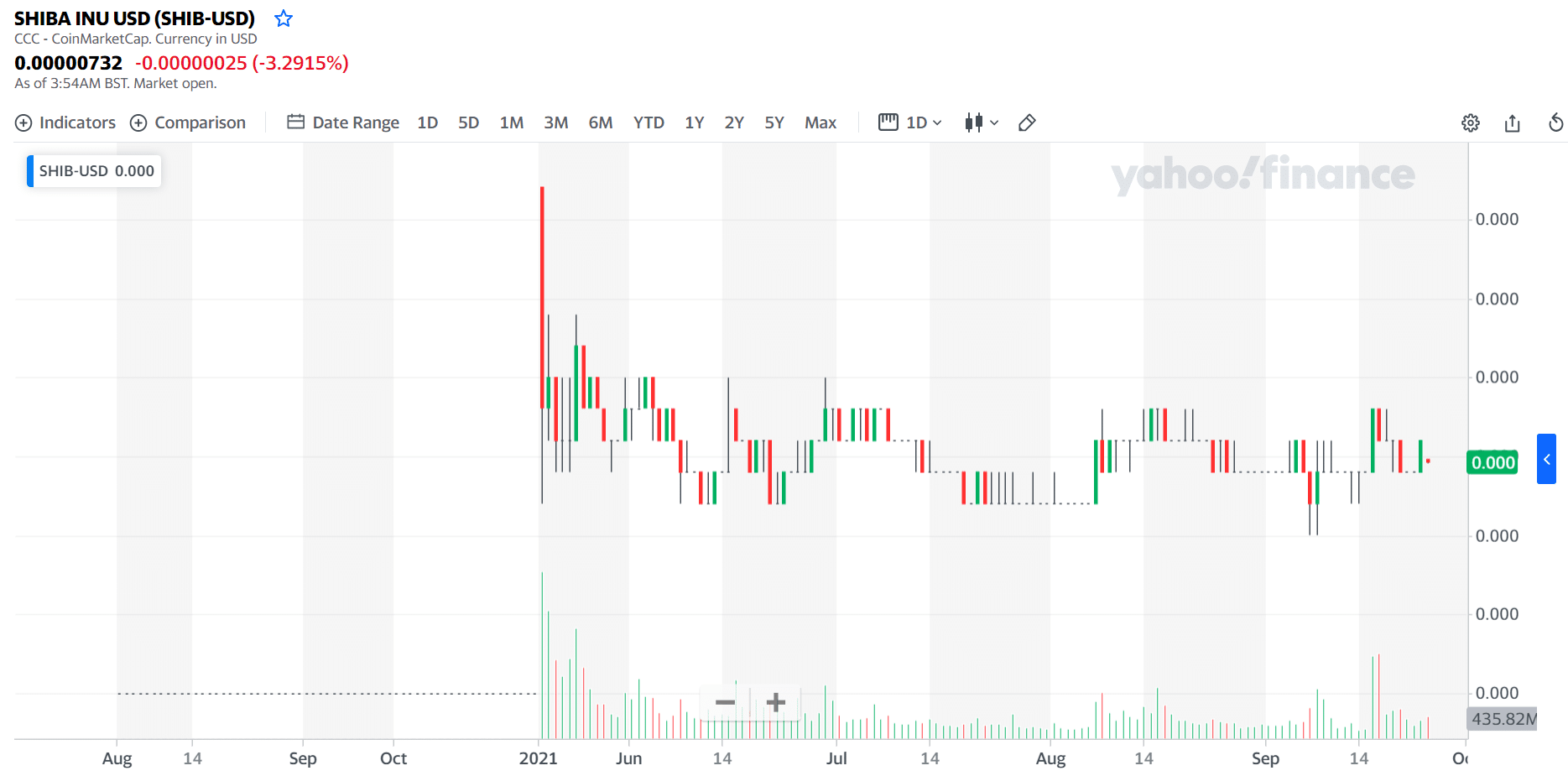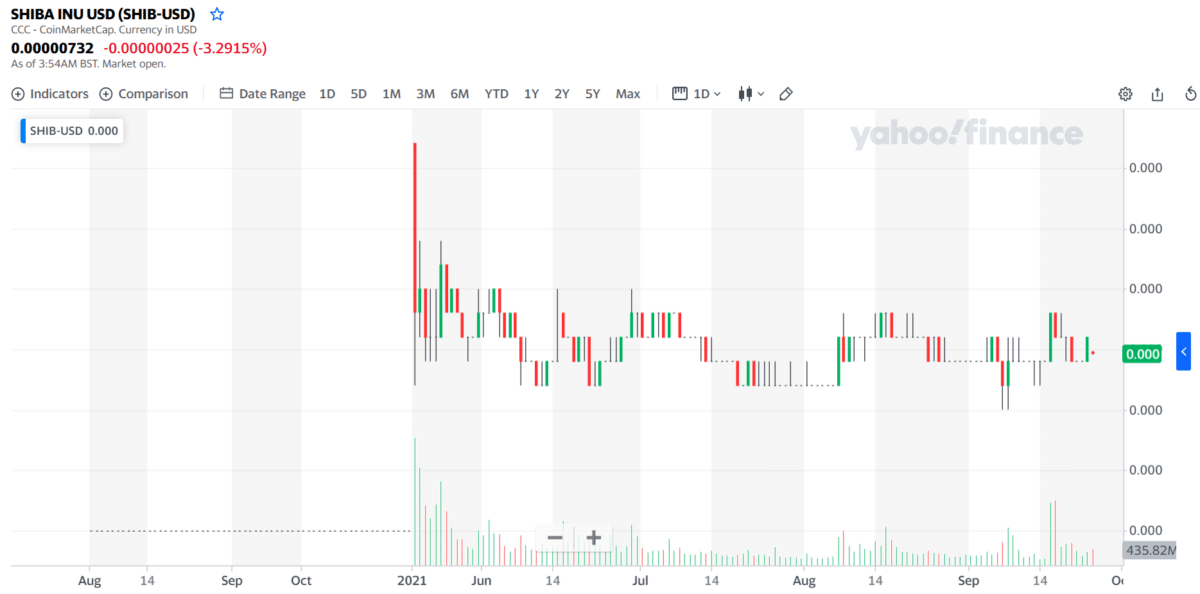 Its name derived from a Japanese dog breed, Shiba Inu (ticker SHIB), is a decentralized meme token similar to Dogecoin. Also, it is an adaptation of the ERC20 token from the Ethereum network. It can be said that this token brings together the significant aspects of BTC, ETH, and DOGE.
The SHIB token has gained popularity due to its regard for privacy, which it is known for. This respect for privacy allows the token to gain worldwide recognition and attention from crypto fans. Right now, the price of SHIB is meager. If you buy several digital currencies right now and hold them until the price gets to even one cent, you could realize a hefty return.
Ripple (XRP)
Market cap: $ 44.1 billion
Price: $ 0.942860
Growth one year ago: 31.7%
Ripple price prediction: $1.9 high, $0.6 low by the end of December 2021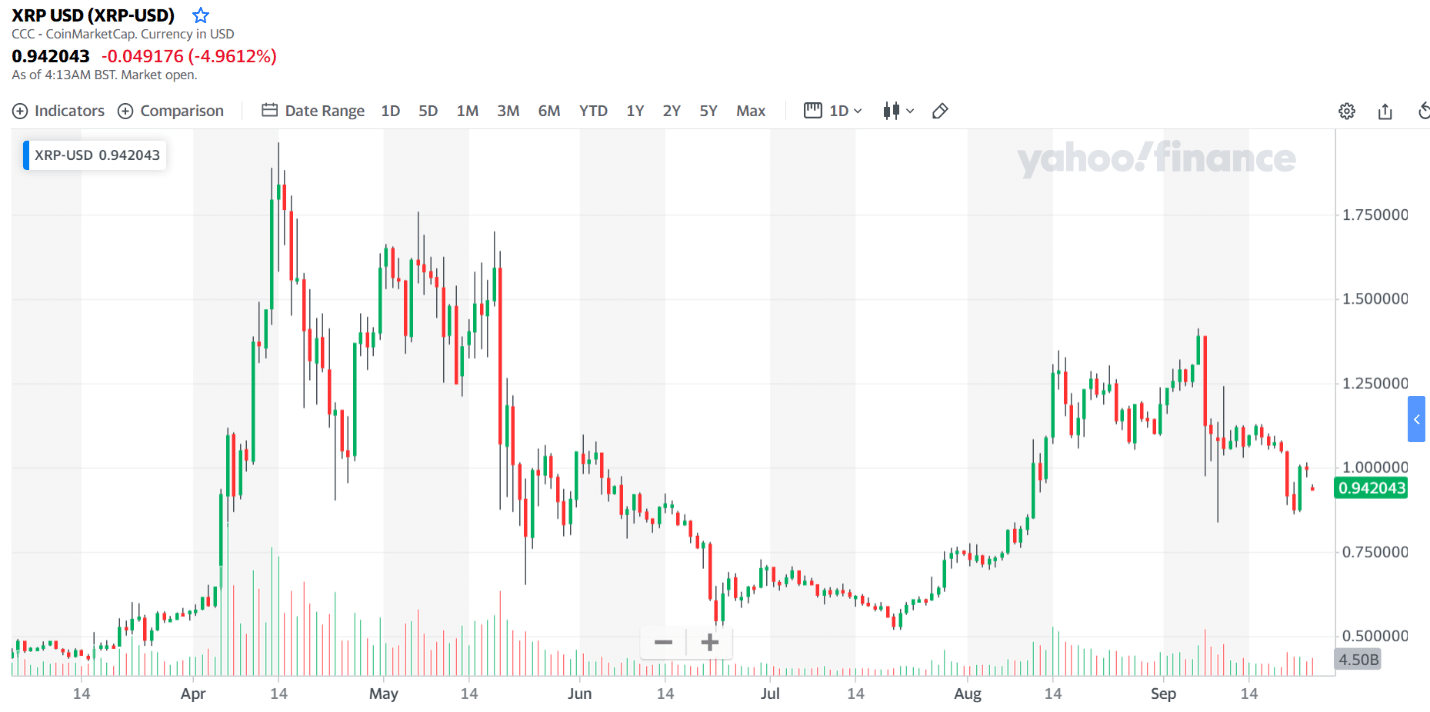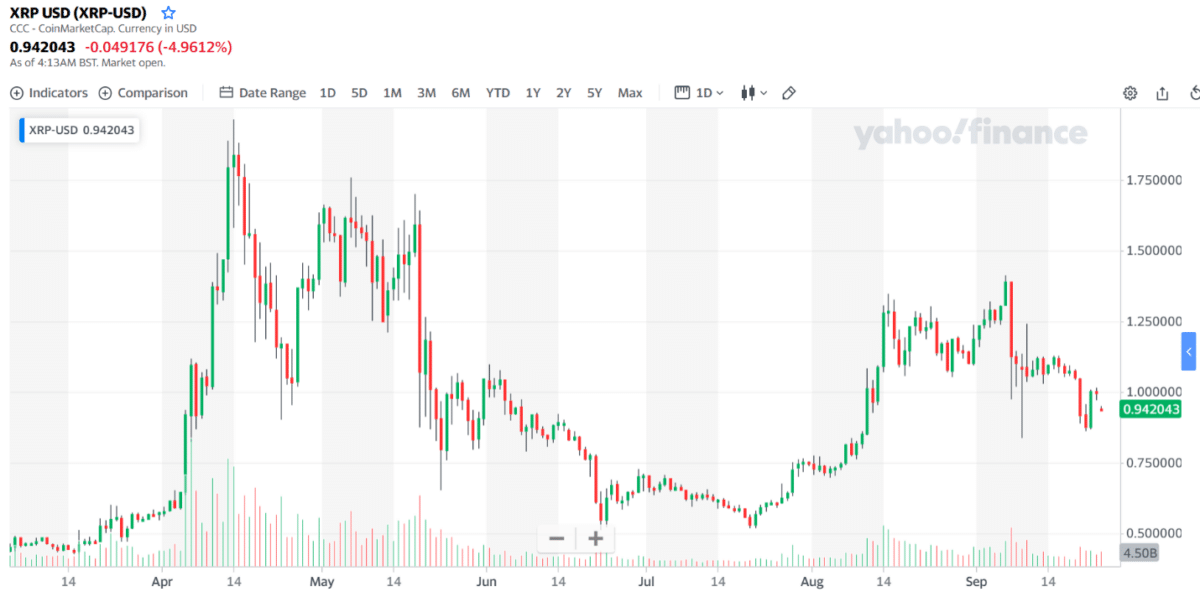 Ripple (XRP) is among the top four cryptocurrencies in the crypto space. The other three are BTC, ETH, and USDT. This incredible performance of XRP is primarily due to the efforts made by the company behind it (i.e., Ripple Labs, Inc.).
Although the price of XRP continues to grow by shadowing the price movement of Bitcoin, its future is still uncertain. In terms of usage, Ripple as a payment system must contend with the SWIFT payment system, which has a massive market adoption to date.
Apart from this, Ripple has been fighting a tough battle with SEC over a lawsuit filed by the latter. At this point, the two camps are in deadlock, and we might not see a case closure anytime soon. If you buy XRP right now, it could be an all-or-nothing situation in the near term. Either you get a substantial return, or you lose all your investment.
Stellar (XLM)
Market cap: $ 6.624 billion
Price: $ 0.281642
Growth one year ago: 191%
Stellar price prediction: $ 0.73 by the end of December 2021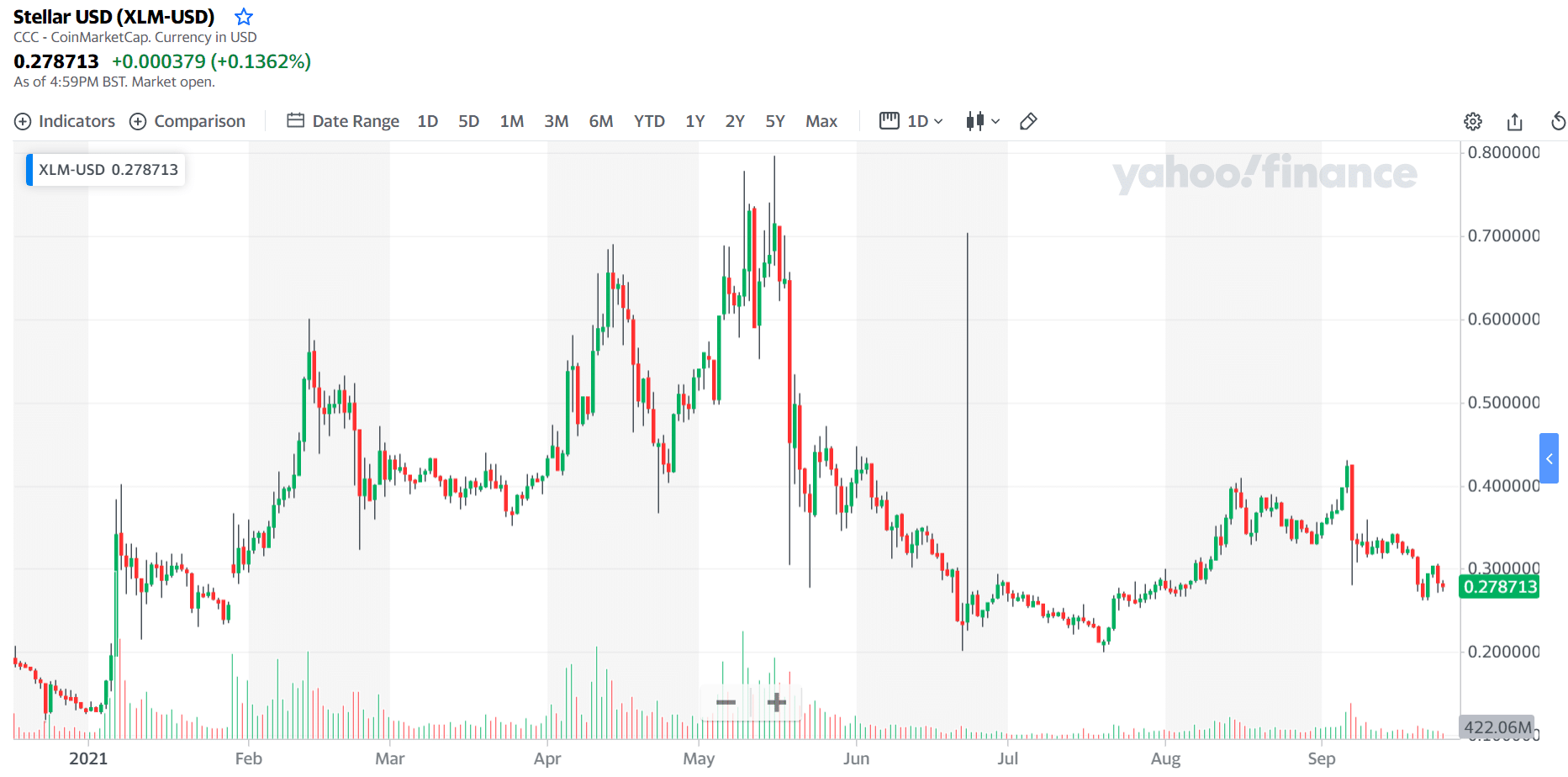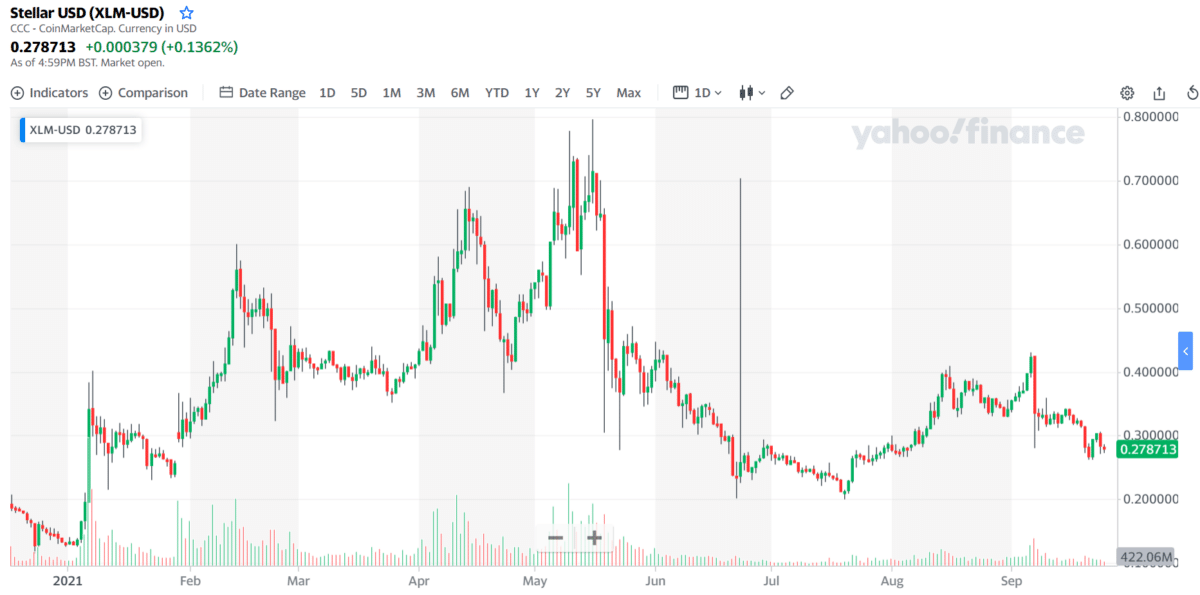 Stellar is a blockchain-based payment system. It allows users to easily convert fiat money to the token at a meager cost. In addition, it permits conversion of the token to any fiat currency of your choosing. While it takes two steps to convert one currency into another currency, the process is fast, and the transaction is instant.
In terms of market cap, Stellar belongs to the top ten list and has seen a lot of growth lately. Gaining partnerships around the world, Stellar has a bright future ahead, according to crypto experts. Recognized as a reputable payment platform, Stellar managed to partner with big companies such as Deloitte, ICICI Bank, IBM, etc. This goes to show that Stellar is worth investing in.
VeChain (VET)
Market cap: $ 5.856 billion
Price: $ 0.092594
Growth one year ago: 256%
VeChain price prediction: $ 0.8 by the end of December 2021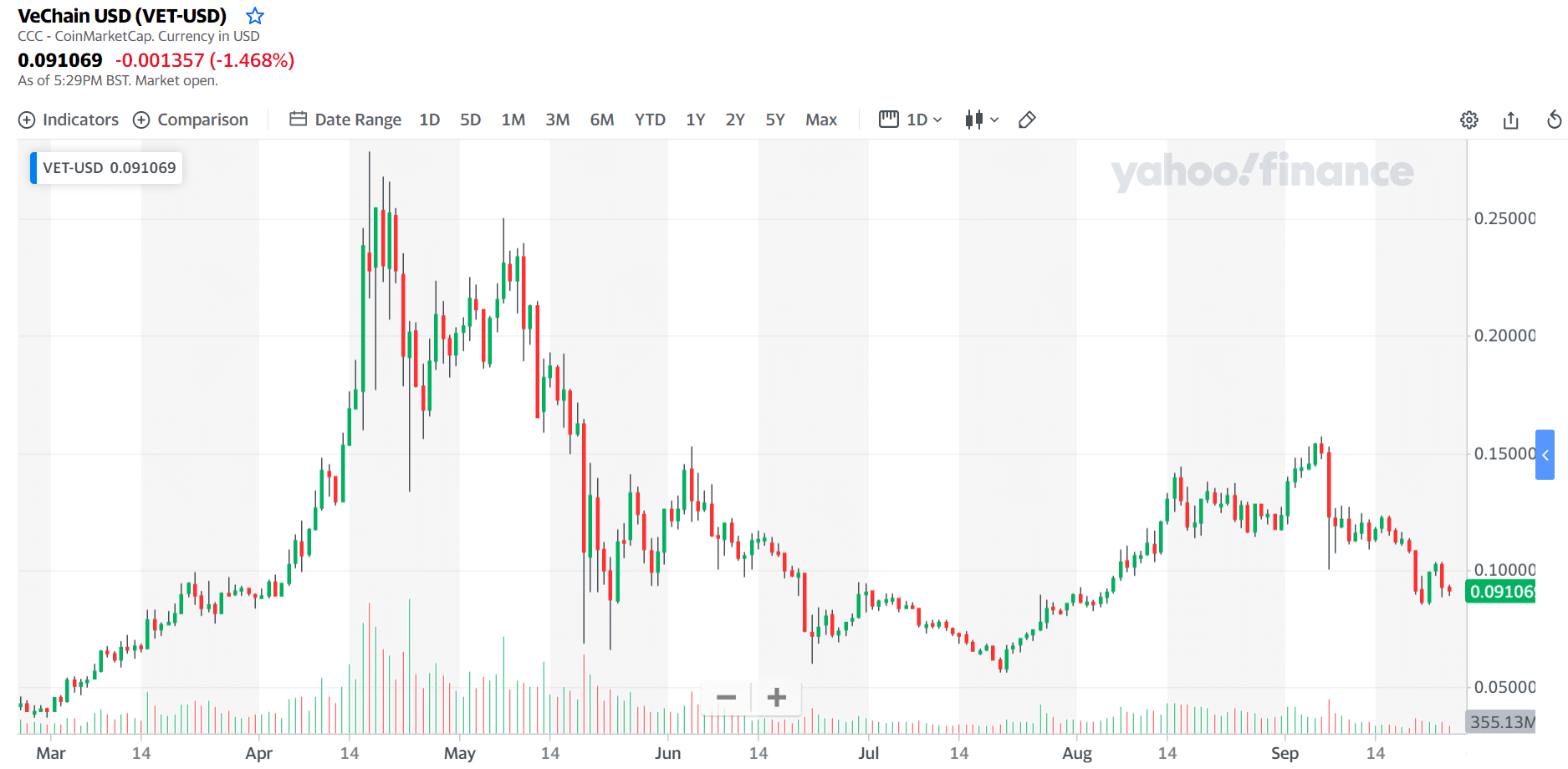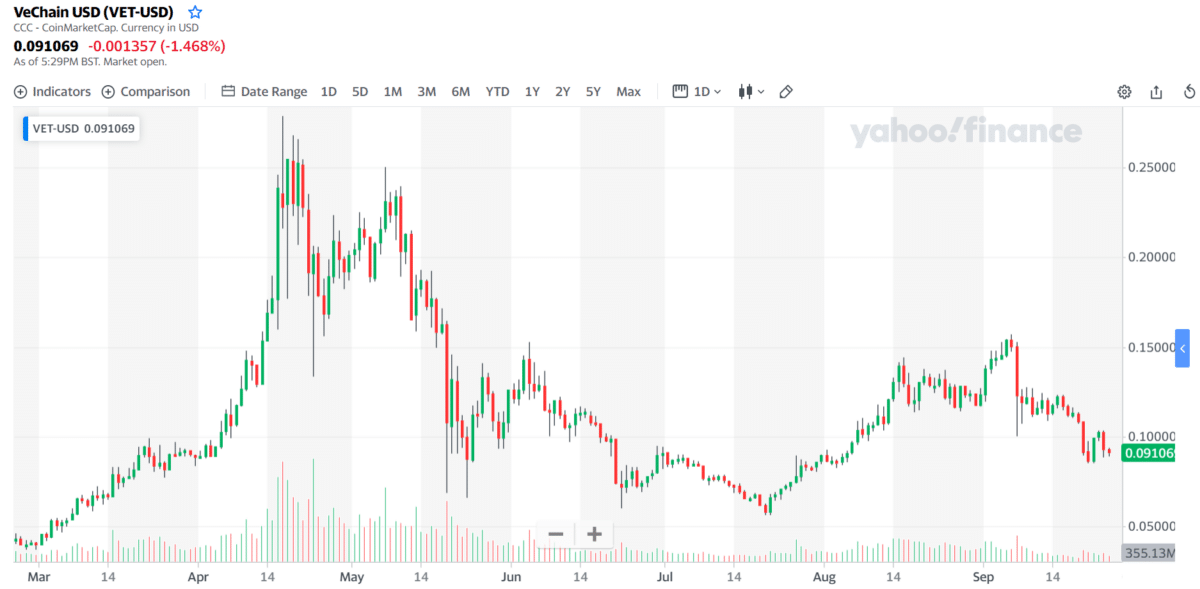 VeChain is a blockchain network whose goal is to enhance how companies manage the supply chain as well as other applicable business processes. To do this, the platform records information about activities occurring in each step of the supply chain. To date, the network has managed to join forces with big names in various fields of endeavor. Among these are Oxford University, BMW, to name just a few.
If you are looking to invest in Vechain, that is not a bad idea. The long-term technical outlook looks suitable for this token even if it dipped a little in 2021. However, it is making a comeback and seems to be doing fine. Apart from the technical aspect, the fundamentals are pretty strong. The network uses good technology, is supported by a good team of professionals, and boasts several practical applications.
Are these altcoins worth investment?
Investing in altcoins makes sense if you want to include cryptocurrencies in your portfolio and allocate time to research. Some altcoins present as lofty projects tanking BTC in terms of use cases. Still, investors think Bitcoin stores value, so they give more funds to it. Some altcoins are currently priced very low. If they catch up, the rewards in store for you could be significant.
Bear in mind that altcoins are a lot like bonds, stocks, or private companies. Your money is on the line, so you better do your due diligence and call the shots. Since crypto is relatively new, investing in it is generally riskier than investing in bonds or stocks.
Price movements in crypto are highly speculative. Thus, the price could rally regardless of fundamentals. Invest what you can afford to lose.