Can I make money day trading crypto?
Does a simple trading strategy work in the crypto market?
How can I succeed as a crypto day trader?
Crypto assets often start trading in exchanges at meager prices and gain value over time. Seeing the potential for a massive return in a short time, investors and traders flock toward crypto. People seem to be oblivious of the fact that losing is an equally common narrative.
Journaling software Coin Market Manager estimated that 90 percent of all crypto traders erase 90 percent of their capital within 90 days of crypto trading. This statistic is a reminder that crypto trading is not an easy game to play.
If you come to crypto searching for fortune, that is possible, but it needs study and time. Indeed crypto investing offers a better long-term reward than trading. However, if you want to day trading crypto and look to earn $500 a day, volatility is a considerable risk to contend with. With a solid trading system and a sound risk management plan, you will have a shot at winning in this thrilling venture.
Here we will present a simple strategy on how to day trade crypto and provide sample trades to illustrate the trading process. First, let us review what crypto day trading is in the next section.
What is crypto day trading?
Day trading involves making a speculative guess about a crypto asset's future price or next movement within a trading day. Then as a day trader, you are going to trade based on that speculation. If you think the price will go up, then you will open a buy trade. If you think it will go the other way around, then you will execute a sell trade. As with forex trading, crypto trading allows you to buy and sell crypto at any price and possibly make money whether the market goes up or down.
Usually, you would enter multiple trades within the day, trading various crypto assets of your choice. You may keep the trades open for a few hours, but typically you will close them before the trading day ends. Your goal is not to capture huge price swings. You want to capitalize on short-term trends.
How to trade crypto day trading?
Before you can trade crypto, some things must be in place first. Follow the steps below to get started:
Choose one or more crypto exchanges where you will trade crypto. Make sure to work with reputable exchanges only to mitigate risk.
Put money into your account. This often involves converting your local currency with one of the stablecoins such as USDT.
Buy your favorite cryptocurrencies. To do this, decide at what price you would like to trade and how many coins you would like to buy. You will need a strategy to determine your entry price.
There are many ways to day trade the crypto market. Two of the most popular strategies are price action and indicator battery. You can definitely combine the two strategies to enter high-quality trades. The decision depends entirely on you. Once you make the decision, make sure you develop a written trading plan that you will follow every single trading day.
Sample of the crypto day trading strategy
Here we present a simple strategy that you can apply right away after a cursory backtest. This strategy involves the use of moving averages. The indicators and their settings are specified below:
5 EMA (applied to typical price with an offset of 2)
200 EMA (applied to close)
Here are the rules of this system:
Trade only in the direction of the 200 EMA. This is our trend direction.
Wait for the price to break the 5 EMA in the trend direction. The candle must penetrate the 5 EMA strongly and clearly.
Set your stop loss on the lowest low or highest high of the two candles prior to entry.
Close the trade after two candles.
Sample trades
We will show how to execute the above strategy in this section, and we will use one sample for buy entry and one sample for sell entry.
Bullish trade setup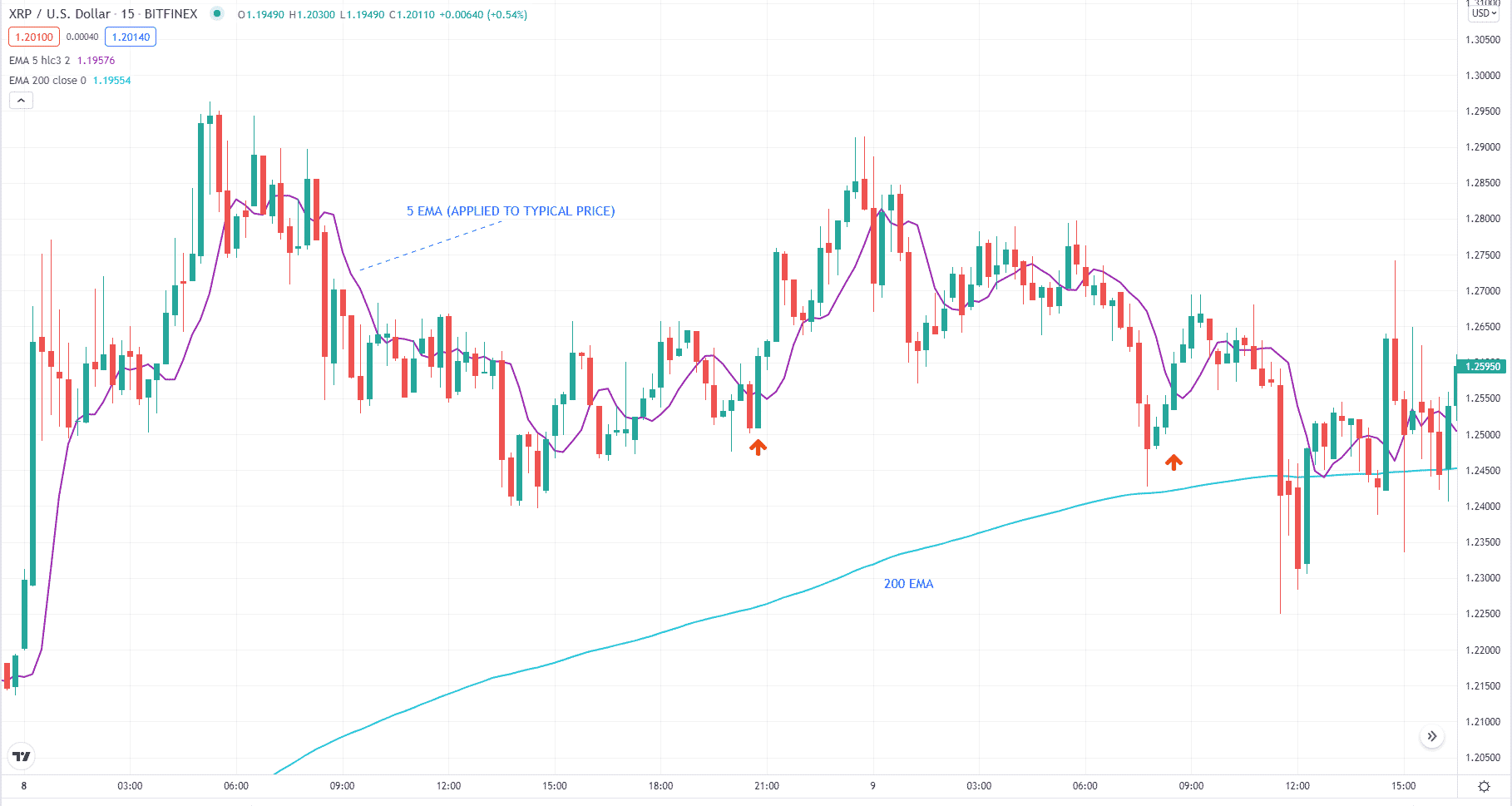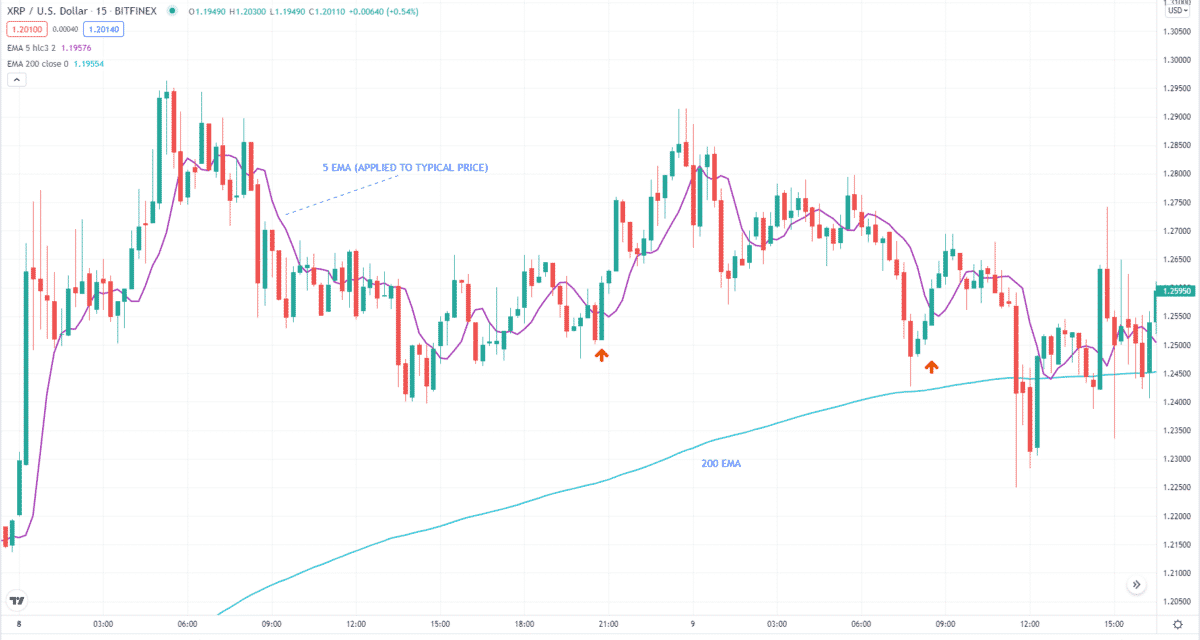 Let us consider the above 15-minute XRP/USD chart. As you can see, we marked two possible buy entries. These are valid signals based on the above strategy rules.
First, the price is above 200 EMA, so the overall trend is bullish.
Second, a bullish candle convincingly crossed and closed above 5 EMA.
After this candle closes, you can open buy trades.
Then we put the stop loss on the low of the second candle from the entry candle.
We have no target profit, but we will manually close the trade after two candles. Regardless of the trade result, either win or lose, we will close the trade. Luckily, both trades above are winners.
Bearish trade setup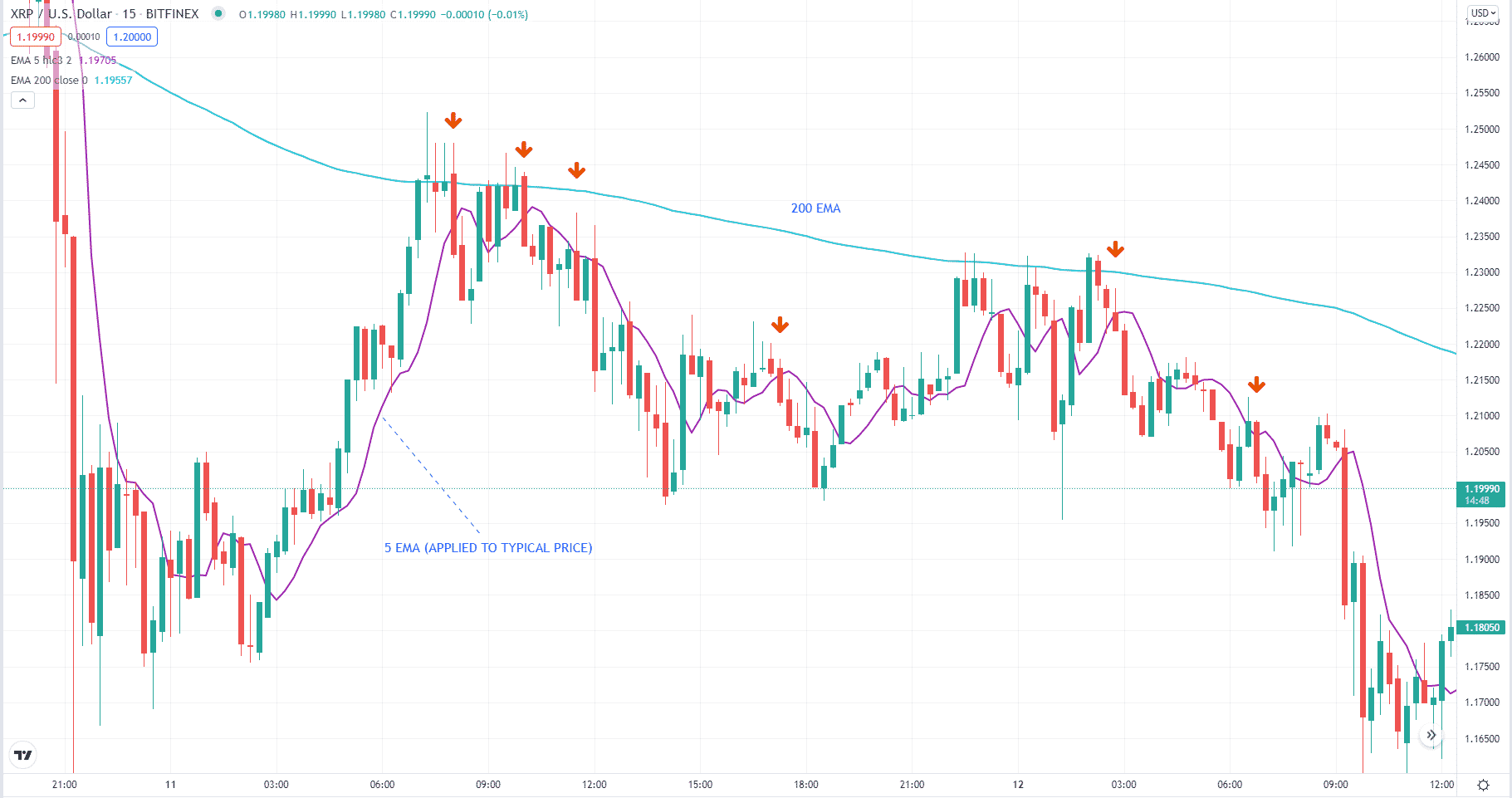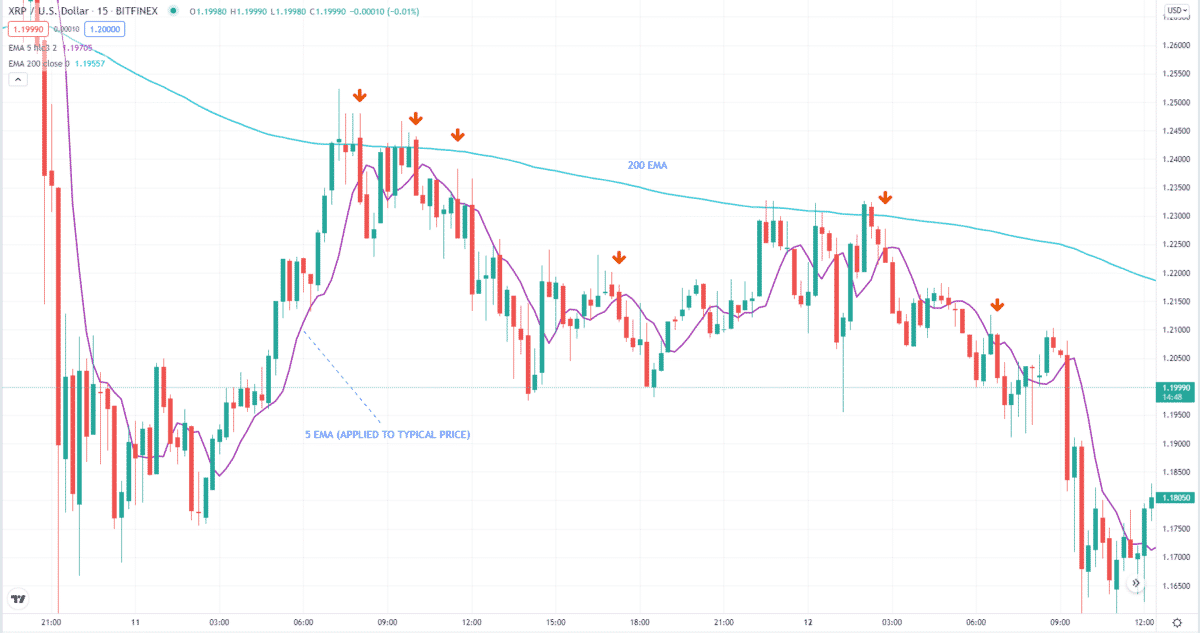 Here we will consider sell entries on the same XRP/USD 15-minute chart. As you can see above, we have six potential trades. They all qualify our strategy rules.
First, the price is generally below the 200 EMA.
Next, the price nicely penetrated and closed below the 5 EMA.
After the trigger candle closes, we enter short right away.
We put the stop loss on the high of the first or second candle after entry, depending on which candle has the highest high price. In this case, five trades are winners, and one trade is a loser.
Final thoughts
Day trading is an exciting but risky business. Of course, with significant risk comes great reward. If you want safer avenues to engage in crypto, you can use mining, staking, or investing. Trading crypto, in general, is not easy. For one, you need to find or build a solid trading game.
Your trading strategy does not have to be complicated. Simple strategies work depending on the user. It is best to start with a simple system and improve it little by little. Trading with a complex method at the outset is often not a good idea.