What are the key functions of SmartyPig?
Does it work as a budgeting app?
What makes this app different from the competition?
Saving money with a specific goal in mind is a simple way to tick your bucket list off, especially if the goal involves the purchase of a high-ticket item. However, saving through the traditional method is often challenging to do. FDIC reported that about 7.1 million American households did not have bank accounts in 2019. This number is equal to approximately 5.4 percent of US families.
With the advent of micro-savings apps, it has become easier to save for a specific purpose. Now you do not have to go to your local bank, open a couple of savings accounts, and perform several money transfers. You can do it right where you are using your smartphone. One such app is SmartyPig. In this post, let us explore the benefits of using this free app in managing our finances.
What is the SmartyPig app?
Consider SmartyPig as an online money jar you set up to save for different goals. Its maxim is essentially "make your dreams come true." It belongs to a family of savings apps available free of charge. Let us assume you would like to get a new car, pay a down payment on a new home, buy a computer unit, or go on a vacation.
To achieve goals that require an outlay of huge cash, you need to start saving and do it consistently for a while. It would be a matter of time before you can achieve your savings goal. You can establish a new goal in the app and arrange automatic payments from your main bank account to the application. Below is an image showing how the application looks on the web.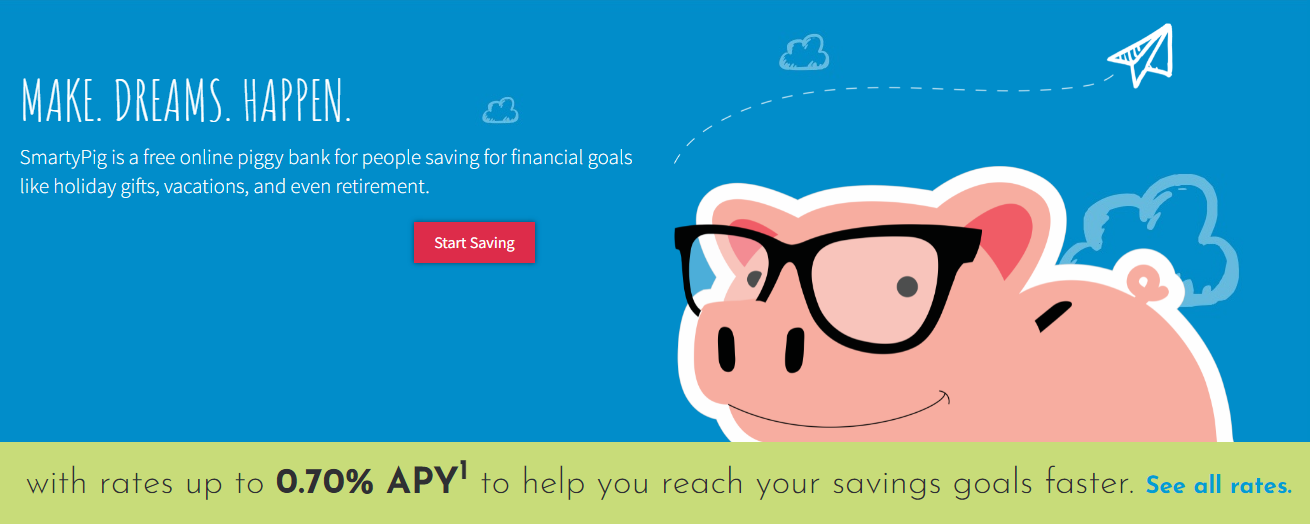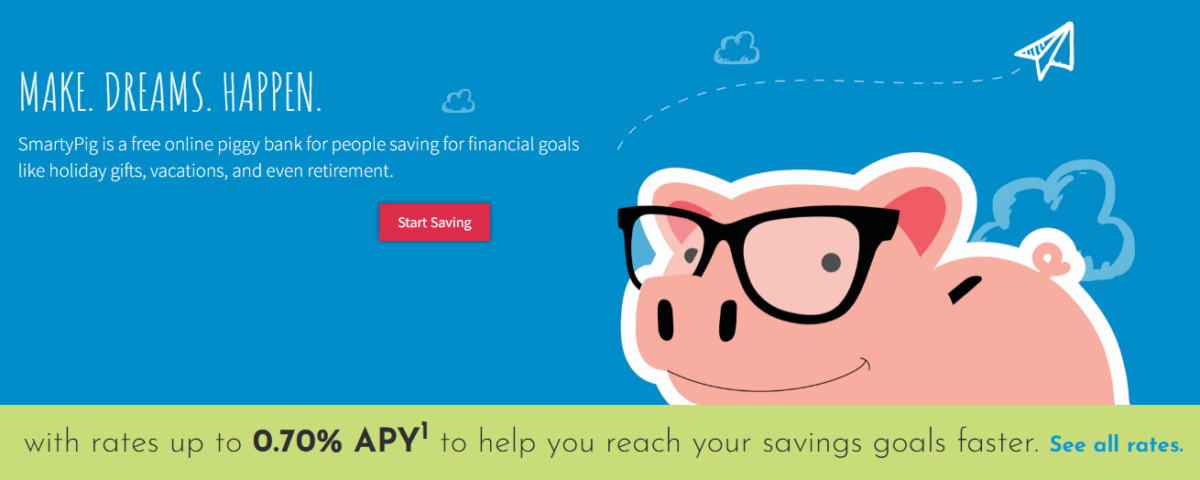 SmartyPig security
You might be concerned about the security of the funds stashed in your account. What should offer consolation is that your money is deposited in Sallie Mae Bank, a member of FDIC. For this reason, savings are insured up to a maximum of $250,000.
SmartyPig pricing
The app is available to users free of charge. If you wonder how they do business, the concept is pretty simple. SmartyPig makes use of a redemption program to generate income. If users have savings and decide to withdraw some or all of the funds, they have multiple ways.
One way is to opt for gift cards. If they do, they can enjoy a cashback reward. Meanwhile, SmartyPig earns a commission from the transaction in return for marketing the products. That is the advantage of spending money on retail gift cards rather than withdrawing funds back to a bank account.

SmartyPig features
Some of the app's best features are shown in the image above and discussed below:
There is no minimum deposit amount requirement and no fees involved every time you save money to your account. Plus, you can get to your account via Apple or Android devices or through a web browser.
There are three options available when you decide to withdraw savings.
First, you can choose a gift card and earn a cash bonus.
Second, you can send cash to a debit card.
Third, transfer funds to a bank account.
You will have peace of mind knowing your funds kept in SmartyPig have protection from FDIC. The app puts the money of users in a Sallie Mae Bank deposit account insured by FDIC.
At present, the maximum annual interest is 0.7 percent. Meanwhile, the national average in 2021 was 0.25 percent. The difference is apparent. However, the actual APY depends on your account balance. The rate goes down as the balance goes up.
If you refer a family member, a friend, or any new user to the app, you will get $10 in commission for each referral, increasing your savings in the process.
SmartyPig ratings
SmartyPig got an average rating of 4.6 out of 5 stars from 350 users who downloaded the app through the Apple Store and provided feedback. This rating is high enough considering the ratings of top-of-the-line apps in the App Store. The downside is that this rating comes from only 350 users who used the app.

SmartyPig advantages
Here are some of the advantages of using SmartyPig as a savings app:
SmartyPig has one of the best deals in terms of APY among online banks in America. Refer to the image above.
Rebate for gift card redemption
You will get up to 11 percent rebates if you choose to redeem SmartyPig savings through retail gift cards. Some of the retailers that offer gift cards include Chili's, Travelocity, Macy's, Amazon, and more.
One factor that makes SmartyPig different from the competition is social funding. At your discretion, you may share your savings progress on social media and even receive contributions from others who got inspired by your tenacity.
Knowing your SmartyPig funds are FDIC insured could give you peace of mind about the safety of your finances.
SmartyPig alternatives
You can explore several other savings apps apart from SmartyPig if you want the best deal. Great alternatives include the following:
Albert
The Albert Savings function is one of the best features of the Albert app. When you enable this functionality, the app will track your transactions and try to set aside little amounts of money each week. Albert does not charge you monthly fees.
YNAB
YNAB's zero-based approach to budgeting is unique and innovative. It makes you want to set a goal and save for the future. YNAB offers the promise of helping users overcome debt and put an end to the vicious cycle of living from paycheck to paycheck. You can use a trial version to find out if this app suits you.
PocketGuard
PocketGuard allows you to create and maintain a budget. First, it will establish a connection between the app and your bank accounts. Then it will organize your financial transactions. It is suitable for people who want a tool that regularly facilitates easy updating of the budget.
Does the SmartyPig app work?
This app is a good choice for people who have difficulty saving money. When you visit the website, you will find that it is easy to explore. Content is designed to avoid too much text explaining features. Creating an account in SmartyPig is pretty simple.
Following account creation, the next thing is to set savings goals such as getting a college education or getting married. Then you can work toward achieving those goals one after another. SmartyPig provides users a feeling that saving is not always a boring and daunting task.