Can we mine crypto on iPhone?
What are the benefits of crypto mining?
Which are the top three apps for such crypto mining?
It is possible to generate money while viewing Netflix on a computer at home. To help you out, I'll walk you through a few different Bitcoin mining applications.
In the crypto world, mining is a lifeline. Existing transactions are validated, while brand-new currencies are created and put into the market. In other words, a miner validates transactions by solving difficult mathematical problems.
A miner receives his block reward using this mechanism in return for his processing power and energy in return for his processing power and energy. For example, Bitcoin's blockchain system relies on a reward for miners who contribute to its long-term survival.
NFT and cryptocurrency both rest on the foundation of blockchain. Every transaction is recorded in a tamper-proof digital distributed ledger.
The benefits of cryptocurrency mining
It may be a successful side business if you're a cryptocurrency miner. If you do a little study, you can make money from your processing power without doing anything. Get–Set–Forget. As a result, you might play a crucial part in the crypto revolution, given that miners are the primary drivers of decentralized finance. Finally, you have the power to reject any modifications to the network protocol.
Who is eligible to mine cryptocurrency?
As long as you have the right wallet, internet connection and a lot of electricity, you can start mining BTC. Additionally, the kind of currency you'd want to mine is a factor. You may either mine alone or join a mining pool. In solo, you're the only one working on the hash, but in a pool, everyone pitches in to get the job done. Finally, the kind of hardware you've utilized, like a CPU, GPU, or ASIC (application-specific integrated circuit) miner, might also have an impact.
Now, let's look at the iPhone's top three crypto mining apps.
ECOS mining app
Ecos claims to be a cryptocurrency trading platform with bells and whistles. However, when you consider their extent in the crypto sphere, you think the same thing.
In addition to a Bitcoin wallet and an exchange, it also offers cloud mining contracts and a cryptocurrency portfolio for investors to use. In addition, ECOS has a mobile app that might be quite handy. You may get it through the Apple or Google Play stores.
On the other hand, their cloud mining contracts are just for Bitcoin mining. As an option, you may create an agreement for $75 to $50,000 that is valid for a period of 15 to 50 months. They take credit cards and a few cryptos, such as Bitcoin, Ethereum, and Litecoin.
If you want to buy a Bitmain Antminer, you may do it online. It will also be able to mine Bitcoins on-site. It is also possible to deliver it when it works best for you. Daily, they purchase cloud mining and miner hosting contracts. So all of your account's data is available to you in its entirety. Because the ECOS platform provides free cloud mining contracts for a month, it's a huge perk.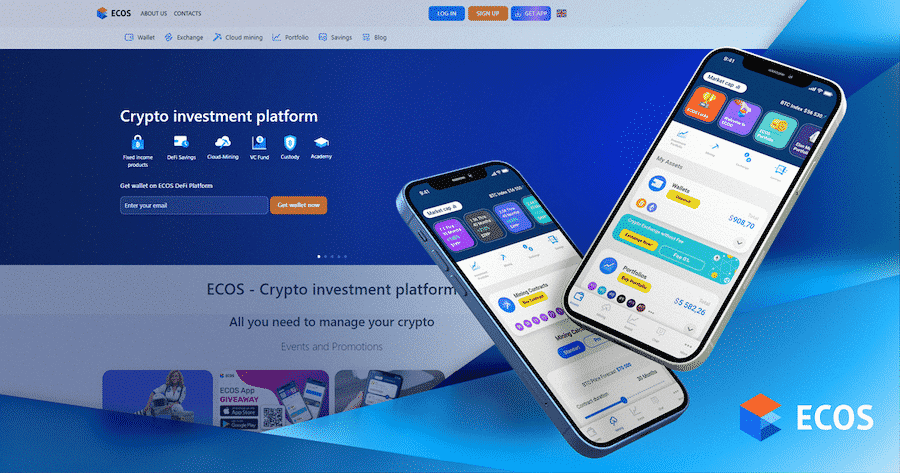 Pros and cons
There are many pros and cons of using this service over the alternatives:
Pros
The power supply for Hrazdan TPP's data center is handled directly by itself.
A deal is made directly with Bitmain, a hardware manufacturer.
There are no taxes or fees to pay.
If you need help, the government can help you.
Hardware with the potential (Antminer S19 PRO).
There is a wide range of contracts to choose from.
Support for operations through Telegram and on-site.
Steady cash withdrawals.
Low entry fees (beginning at $49 per person).
Cons
Bitcoin mining is the only option available on the site.
In exchange for its services, the company charges a fee to the customer.
There is no guarantee of success because of the volatility of the BTC.
CryptoTab Browser mining app
Using the CryptoTab Browser, you can mine Bitcoin while browsing the internet. It's got mining capabilities right in there.
CrytoTab Browser promises to boost revenue by automatically switching algorithms. In addition, there will be no overheating or loss of electricity when using its in-house browser.
Conversion of reward money is done in Bitcoins. 0.00001 BTC is the lowest payment amount that may be made. As a miner, you may make money from your equipment, as well as via referrals.
You may use it with a PC running Windows or Mac OS X or an Android or iOS mobile device. In addition, non-technical persons who wish to feel for Bitcoin mining might consider this option.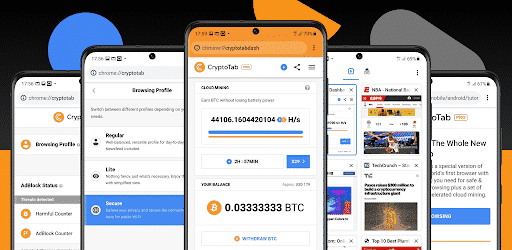 Pros and cons
The pros and cons of the CryptoTab browser:
Pros
It is equipped with built-in mining capabilities.
The UI is easy to use and can be changed to suit users' needs.
The browser is lightning-fast and very low in weight.
Mobile phones include a Crypto tab that users may access.
Many devices may be synchronized using data supplied from a third-party browser.
The referral program is enticing.
Cons
It overwrites Google Chrome once it has synced.
When it isn't authorized, it takes over as the default browser.
As soon as you switch on your computer, it immediately starts working.
Inadequate support for customers.
The system does not prevent ads or trackers, so you may still see them.
Slushpool mining app
If you're new to pool mining, I recommend starting with Slushpool. An experienced Bitcoin miner mines around 3.5 percent of the total Bitcoins in existence. A 2% pool fee is levied for using the SlushPool platform. It also offers a 0% pool fee option for some supported ASIC miners. It also has an official app for iOS and Android.
Using the app, you can keep track of your bank and credit cards. Two-factor authentication is used on the platform for additional security (2FA). In addition to one-time passwords, you may use FIDO2 compatible physical authentication devices like the TREZOR or Yubikey.
In contrast to the low payout fee of 0.0001 BTC, the minimum payment amount is 0.001 BTC. For Zcash payments, the same holds. Only Antarctica is left out of the continents where SlushPool offers Bitcoin mining servers. The Zcash mining servers are located in the United States and Europe.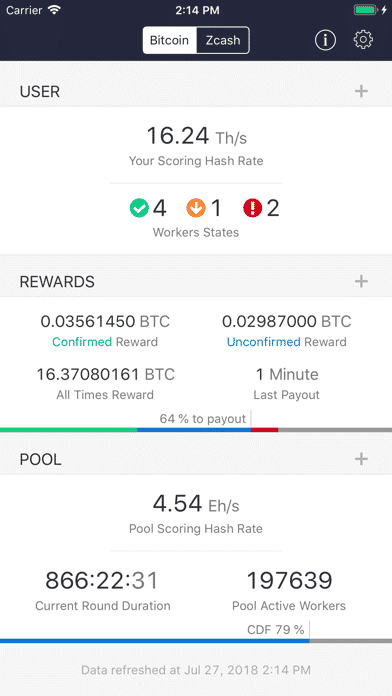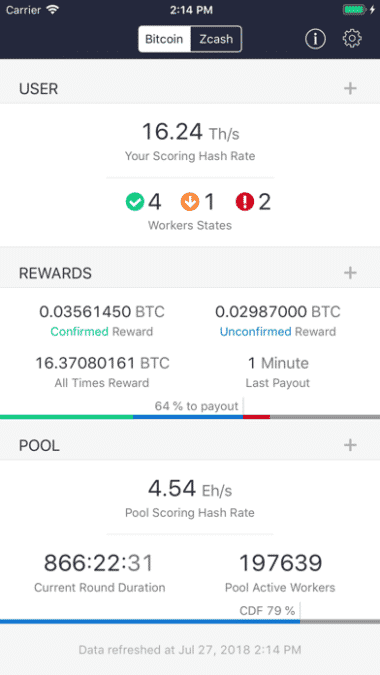 Pros and cons
It's time to review the positive and negative aspects of Slushpool.
Pros
A team with extensive knowledge and experience in the cryptocurrency sector.
A well-designed and user-friendly site with a wide range of options.
Positive feedback and a solid reputation are essential.
Open and transparent payment and charging system.
Cons
Relatively high fees.
The coins offered are lacking in variety.
We don't see any substantial negatives to this service. It's a long-standing, high-quality pool that's been there for a long time. Newcomers are actively encouraged and welcomed in the pool. It's a good place to start for first-year students because of its simplicity. Each miner may be able to benefit from the support.
Final thoughts
Crypto mining is at an all-time high now that cryptocurrency has become a household phrase. As a result, both technical beginners and expert miners may benefit from the abundance of crypto mining solutions now accessible.
In theory, it may make sense to employ unused processing power to mine for cryptocurrency. Still, it requires a high level of technical expertise to make money and limit losses. Therefore, currency support, mining algorithms, incentive schemes, minimum payout, withdrawal costs, and user ratings are crucial when choosing a crypto mining platform.