What are NFTs?
How do NFT marketplaces work?
What are the best five NFT marketplace?
NFTs or non-fungible tokens are digital assets that you can buy, sell, and create from the NFTs platform. These tokens have become popular in the investment sector within a short time since the "DeFi summer" of 2020. So it has become an attractive marketplace for investors and crypto holders.
If you want to participate in this NFT, you need to know and understand this marketplace. This article includes a brief about the NFT blockchain options and the working procedure of the NFT marketplace.
Let's guide you to join and participate in the NFT blockchain network.
What are NFT marketplaces?
It is an online platform where you can store, trade, display or create NFT. It is not similar to traditional currencies or cryptocurrencies. It is something that has value, attributes, and unique traits.
Nowadays, these tokens have become digital. So it is easy for creators to make some unique and rare tokens available for their supporters. An example of NFT is digital artworks that have an antique value. People have been collecting physical paintings for centuries; collecting NFTs is just like that.
On the other hand, you will remain at the same place for a while if you exchange a Bitcoin with another one, just like other fungible assets. For an example of NFT, you may exchange a British Tobacco company card with an ancient rare 70's baseball bat card. The tobacco card may have a value of half a million dollars, but you get an antique baseball bat card. That's a good deal. NFTs can be a tweet, digital paintings, soundtracks, artwork, etc.
To participate in this marketplace, you need to have some following just as below.
Wallet
Choose a crypto wallet that is acceptable to the blockchain you want to 'buy.' Different blockchain platforms accept different wallets. So you have to select the wallet related to the blockchain network that you wish to purchase.
Coins
Add some funds to your wallet to purchase NFTs. Before adding coins to the wallet, you must check that the specific crypto coin is available to buy or the marketplace you wish to participate in accepting your wallet coins.
Account
The last requirement is a user account on the particular marketplace in which you wish to purchase NFTs.
One more thing worth sharing is a blockchain network fee when you list or create any NFT. The fee depends on the marketplace and wallets.
NFT blockchain options
The most popular unique blockchain for buying, selling, and creating is Ethereum, but more competitors arrive at the list such as:
Flow (by Dapper Labs)
Binance Smart Chain
EOS
Tron
Tezos
Algorand
Solana
Hedera Hashgraph
Polkadot
Cosmos
WAX
Some of these blockchain systems are interoperable. Meanwhile, others are only useful for a single network.
How do NFT marketplaces work?
This part will clear the working procedure, steps, or phases to perform at the NFT marketplace.
Signing up
It is the first step for participating in the NFTs marketplace. You need to sign up at your target marketplace and add your wallet to it. You will find the add button in the upper right corner for most of the marketplaces. When connecting your wallet, you need to enter your wallet password to finish the process successfully.
Buying NFTs
The general procedure for buying an NFT is to purchase it with a predefined fixed price or auction. There is also an option for buyers to offer the owners for negotiation or have a better deal.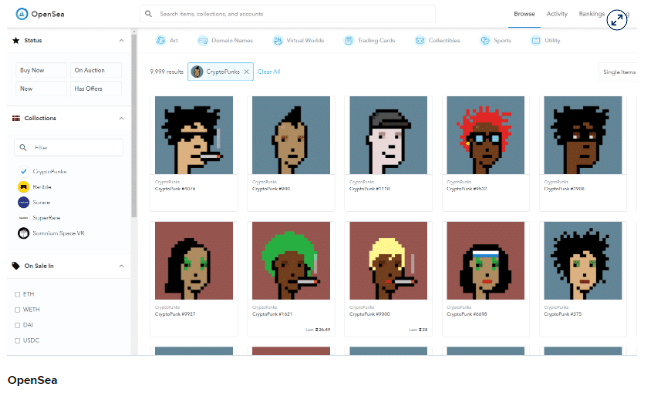 The figure above shows the digital collections of the OpenSea platform that are available to buy. Purchasing NFTs is more or less similar to purchasing other things from the internet. No extra hassles are involved.
Selling NFTs
It isn't very easy if you compare it with buying. Firstly the seller needs to upload the digital asset to the marketplace and set a fixed rate/value for the NFT or make available bidding for the asset via auction. Then the verification occurs for the asset by the platform. If it passes this step, then the asset is on the list of selling. When the seller accepts bids by any buyer, then the transaction process takes place.
Minting an NFT
Once you get verified on the Ethereum marketplace, you already join the ETH blockchain. Then it would help if you had a supported wallet such as Coinbase, Trustwallet, or Metamask. Then you have to add $50-$100 worth of coins to your wallet to cover the transaction fees. After reaching this level, you'll be able to use minting platforms such as Rarible, Mintable, or OpenSea.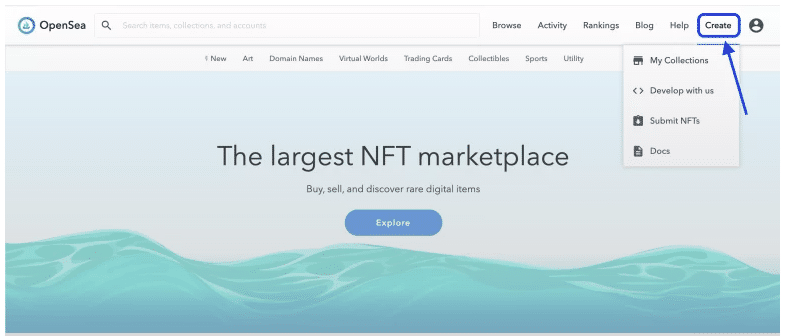 The figure above shows the create button of the OpenSea platform. Most platforms have a 'create' button at the upper right corner; clicking that button will navigate you to the next page, where you can start minting your own NFT.
Types of NFTs market
Several types of NFT marketplace are art-oriented and universal. They may list digital arts, gaming items, virtual real estate assets, or collectible cards.
In this part, we list the best five NFT marketplace:
It is one of the established. You can find various kinds of NFTs representing the ownership of the digital arts, sports collectibles, artworks, domain names, etc.
This marketplace involves digital arts, so it is a place for a handful of leading artists that creates digital arts.
The community members who own the RARI tokens are the owners of this marketplace. However, the main feature is art; you can also find other NFT items here.
This marketplace quickly became one of the most popular. It has become so famous among creators of NFT because the trading volume touched near $48 million recently.
This is one of the largest NFT marketplaces dealing with artworks by well-known artists.
Final thoughts
So now you know the basics of the NFT. Before starting participation, we suggest you gather some more knowledge about this marketplace.