Investing in copper ETFs is based on the price of copper ore, which is used in various sectors, including manufacturing and electronics.
Copper prices rise and decrease in tandem with the status of the economy, increasing when the economy is sluggish and declining when it is booming.
Copper is an inflation hedge since its price rises in line with the inflation rate.
The copper sector has seen significant expansion. Demand for this metal is expected to rise as the world shifts away from oil and toward renewable energy. On the other hand, should you put your money into these assets? We'll go through it in more depth later on.
Copper may be used as an industrial commodity in a variety of ways. It's in our homes, phones, and automobiles. Investors see copper as a safe haven against inflation and a reliable way of keeping cash. This metal is often disregarded in favor of more expensive metals like gold.
Experts predict that decarbonization programs will boost copper consumption in the coming years. According to JP Morgan, global copper demand will likely increase by roughly 40% next year. Copper futures contracts and mining are the focus of the ETFs listed below. As a result, these assets provide a once-in-a-lifetime opportunity as demand rises.
What is a copper ETF?
Due to its reddish-gold coloring and flexible nature, copper is the preferred material for household heating and cooling systems and steam boilers. It is a good investment because of its various applications as a commodity and a financial asset. Purchasing natural copper bars and coins, futures contracts, mutual funds, shares, and exchange-traded funds are all options for investing in copper metal.
Top 3 Copper ETFs
Let us take you through the top three assets you should consider investing in.
United States Copper Index Fund, LP (CPER)
Price: $26.18
Expense ratio: 0.85%
Net assets: 238.79M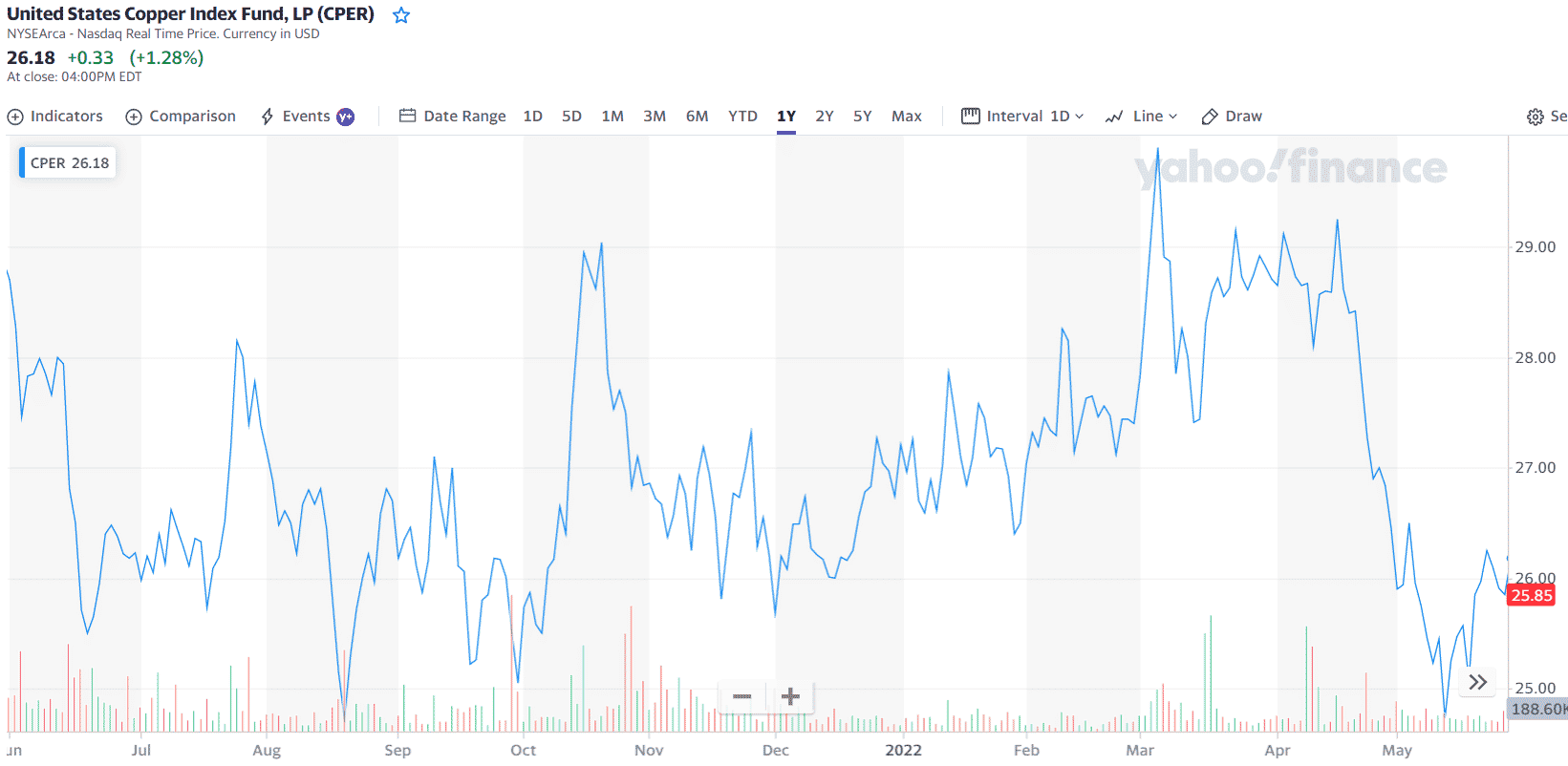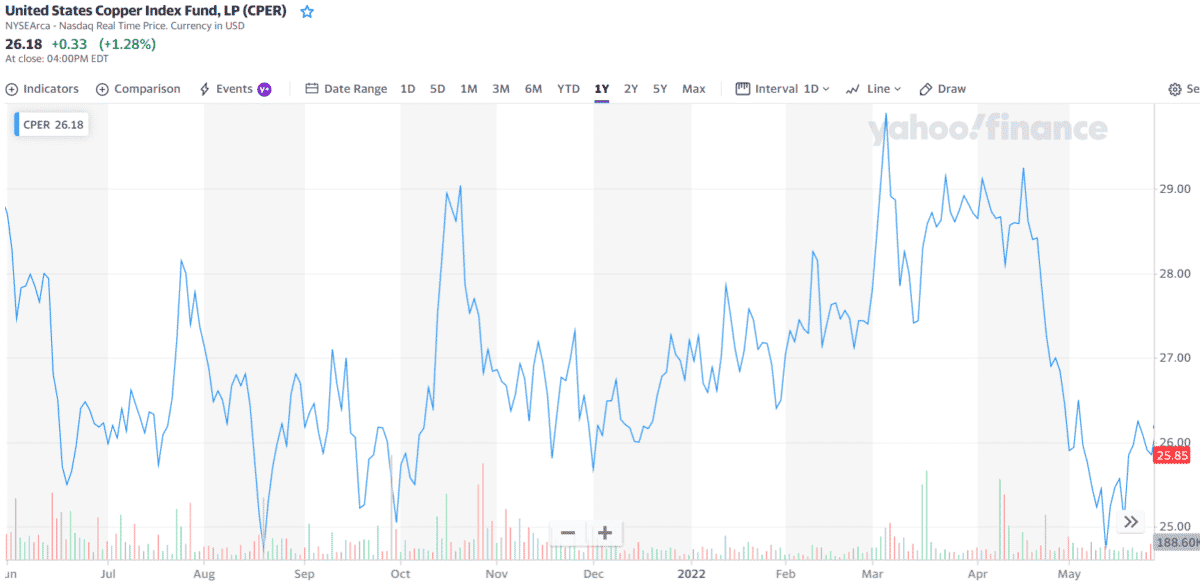 This fund a commodities pool, which has almost ten assets. Its principal cash holdings are the Goldman Sachs Financial Square Government Fund and the U.S. Government Money Market Fund. This has resulted in a substantial cash weighting.
The fund's purpose is to match the total return of the SummerHaven Copper Index. It is a commodity-specific index used for trading. Copper index contracts are the copper futures contracts used to determine the index price. A few copper futures contracts make up the copper index. Summer Haven Indexing uses a rule-based method to choose approved contracts every month.
Commodities and future investing may be difficult. You don't have to be worried about trading copper ETFs. If you make a simple investment, fund providers will handle the rest.
How much would you earn if you invested in CPER 1 year ago?
Its share price on May 28, 2021, was $28.85. The stock's share price closed at $26.18 a year later. If you had invested $1,000 last year, your account could have lost $92.5.
iPath Series B Bloomberg Copper Subindex Total Return ETN (JJC)
Price: $21.64
Expense ratio: 0.45%
Net assets: 78.08M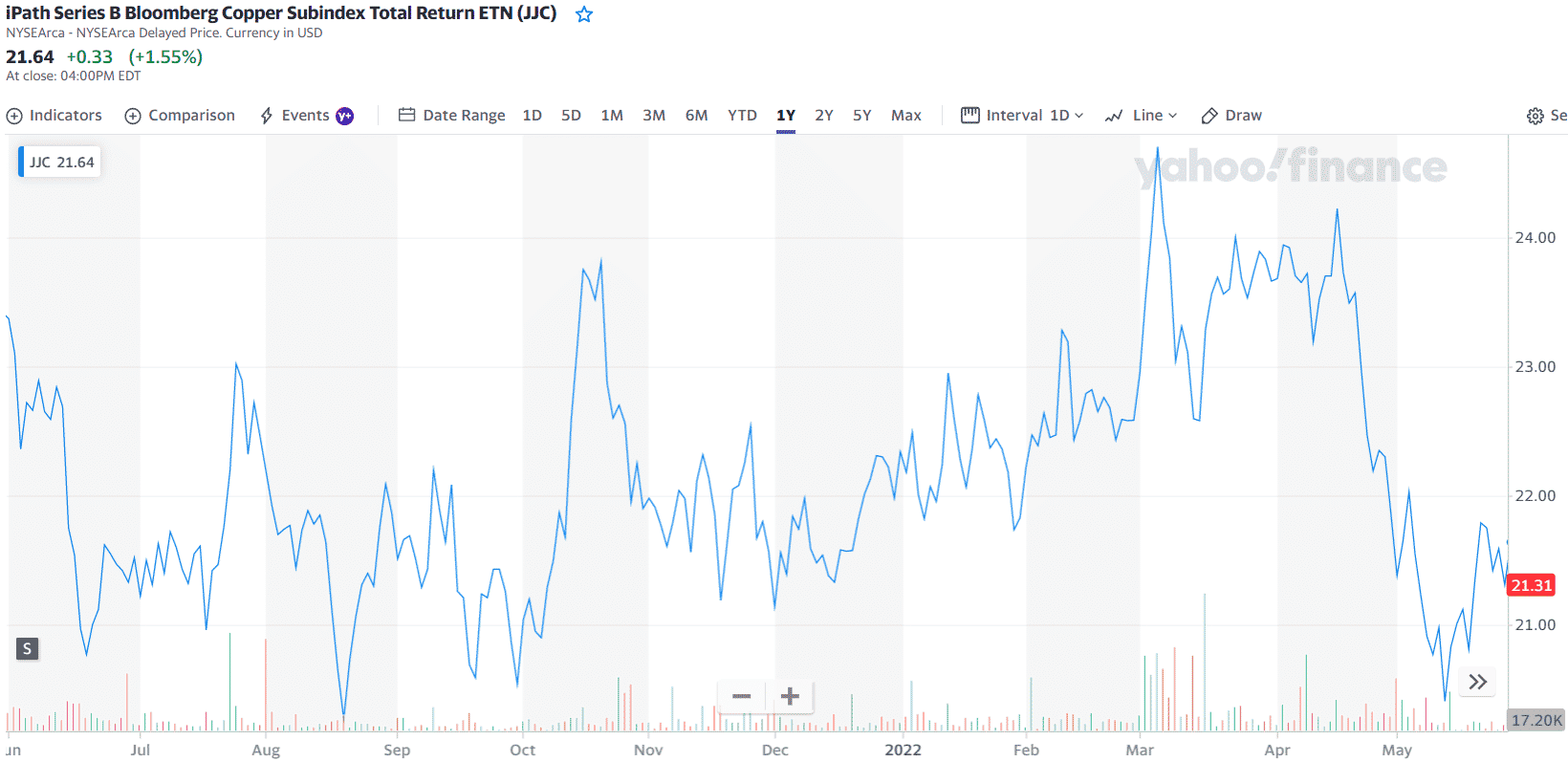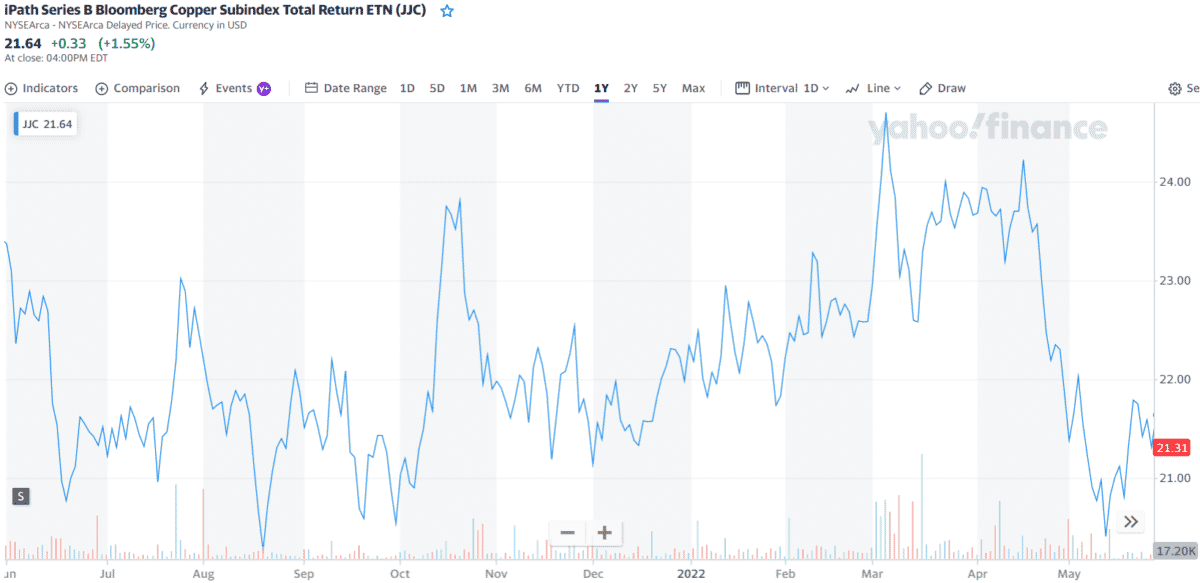 The smallest fund on the list, the JJC tracks the Bloomberg Copper Subindex Total Return and exposes investors to copper futures contracts. Barclays' JJN is an ETN, or exchange-traded note, a kind of debt issued by a bank.
An ETN, unlike an ETF, does not own any underlying stocks. The note's sponsor guarantees repayment of the underlying futures contract (in this case, Barclays). There may be no tracking difficulties because the ETN does not own stocks. Because the ETN has its own credit risk, investors may not receive their money back if Barclays goes bankrupt, which appears improbable.
One of the world's most important industrial metals, copper might be a good inflation hedge for JJC investors. Because of the danger of loss owing to contango, investing in futures-based strategies should raise warning signals for investors. One choice is JJC, the only pure-play option for investors who want to obtain exposure to the metal without going through a mining company.
This investment's benchmark is the Bloomberg Copper Subindex Total Returns. For investors, commodity futures contracts are utilized instead of genuine commodities in the ETNs. Commodity futures contracts indicate the predicted returns on an unleveraged investment in such contracts and the interest rate earned on cash collateral, kept in Treasury Bills, as previously stated.
How much would you earn if you invested in JJC 1 year ago?
Its share price on May 28, 2021, was $23.41. The stock's share price closed at $21.64 a year later. If you had invested $1,000 last year, your account could have lost $75.6.
Global X Copper Miners ETF (COPX)
Price: $39.70
Expense ratio: 0.65%
Net assets: 1.84B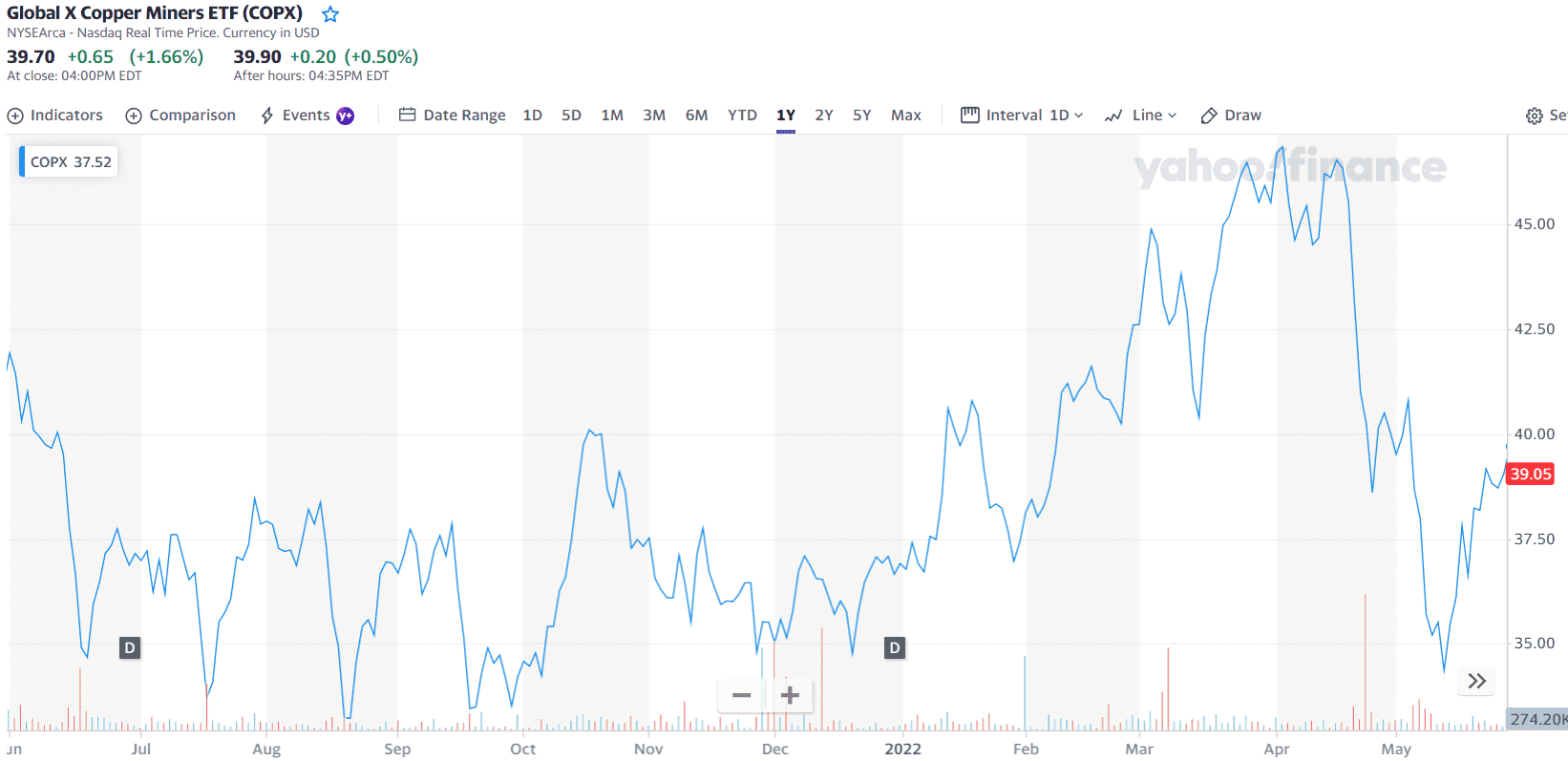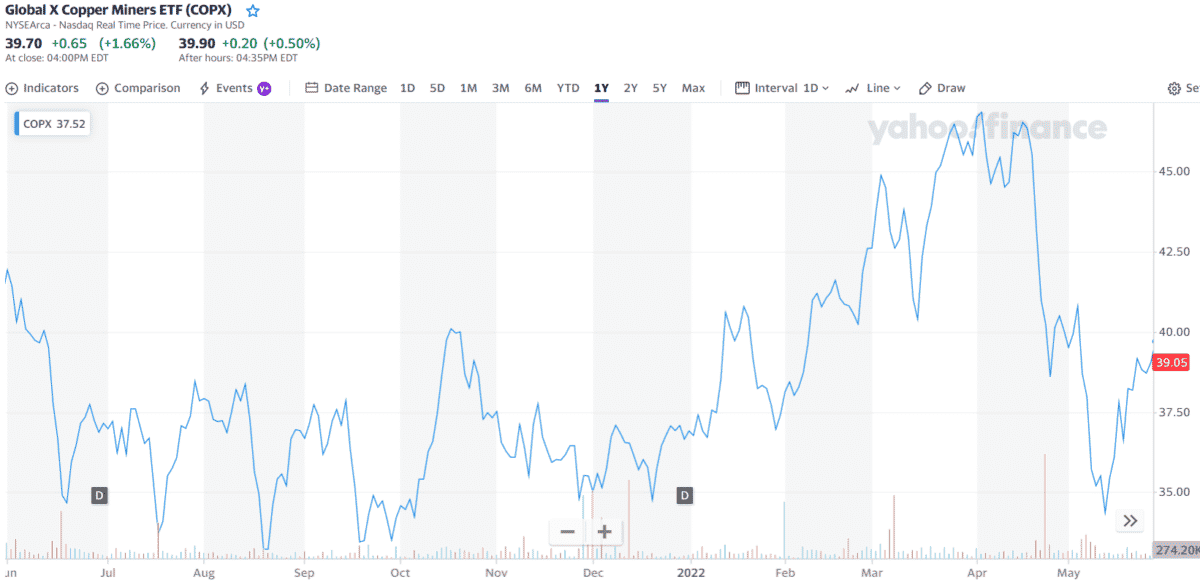 The performance of this fund is measured using the Solactive Global Copper Miners Total Return Index. This fund is targeted by global copper mining and processing companies, notably those in the United States.
This fund has more than 40 investments. The market capitalization of O.Z. Minerals in Australia and Freeport-McMoRan in the United States are significant. Long-term mining operations employing low-cost and efficient processes emphasize these companies.
The Solactive Global Copper Miners' Total Return Index will perform similarly to the investment price and yield before fees. At least 80% of the time, the fund's assets are invested in the underlying index's equities and derivatives based on those stocks. The underlying index is focused on copper mining firms all around the world. This fund isn't very diverse.
This ETF eliminates the need for investors to navigate the complexities of futures trading to get exposure to copper. Consider it if you want to gamble on the growing demand for a commodity that can be utilized in various ways. The fund is often traded as a leveraged bet on the underlying natural resources, making it a risky investment and an excellent way to benefit from rising commodity prices.
How much would you earn if you invested in COPX 1 year ago?
Its share price on May 28, 2021, was $41.24. The stock's share price closed at $39.70 a year later. If you had invested $1,000 last year, your account could have lost $37.34.
Final thoughts
A broad range of investment options may be found in the copper market. Investors are paying attention to the industry because of the expected record-breaking outcomes in 2021. To make an educated investment choice, it's critical to weigh a potential investment's good and bad elements. Before deciding whether to invest in copper ETFs, do some research. These copper ETFs with long-term growth potential may lead to the discovery of other copper investment strategies.