Why is Ripple so popular?
What makes XRP different?
Should you buy XRP?
Ripple (XRP) is one of the leading cryptocurrencies in terms of market share. Despite its huge market cap, XRP maintains a low value of around $0.72 as of 3 August 2021, making it a lucrative investment option for many. However, before you get money elsewhere and channel it to XRP, there are things you must understand regarding this potential investment.
This article will look into the Ripple company that created the coin XRP, the advantages of XRP compared with other crypto options available, and the challenge that this coin is currently facing. At the end of this short primer, you will be in a better position to decide whether or not Ripple is a good investment.
What is Ripple?
It is a company that provides payment processing services around the world through its coin XRP. It started its operation back in 2012 and continues to penetrate the market as more and more people see the potential of this technology.
Ripple utilizes blockchain technology, but it claims to have been offering superior service than its competitors, such as more accessible and faster processing of transactions while ensuring the security of such transactions at the same time.
The purpose of Ripple
This coin is a bit different from other cryptos in that it came into existence through a for-profit corporation. This corporation intends to facilitate a smooth money transfer across the globe. It plans to make this a reality through its coin offering XRP. Ripple, holding the most significant number of XRP coins today.
Compared to buying Ethereum or Litecoin, buying XRP has not been that easy in the past, but this has changed nowadays. The only problem, which is a major one that stands in the way of XRP's market breakthrough, is a lawsuit that Ripple had received from the Securities and Exchange Commission in 2020. You will learn more about this issue in a later section.
The ripple advantage
There are reasons why Ripple has high hopes for the coin's success. As a payment system, Ripple has a lot of potentials, such as:
Low transaction cost. The platform charges 0.0001 XRP for each transaction.
Quick processing. The platform completes transactions extremely fast. An average transaction takes about five seconds.
Banks can use the coin to trade one currency against another currency. This way, there is no need to keep different types of currencies. Banks can keep XRP and convert currencies cheaply.
What makes Ripple different?
When creating XRP, Ripple released 100 billion coins to the market, held back 20 billion coins, and gave the rest to Ripple Labs. Since then, Ripple Labs put 55 billion coins inside an escrow account to control the fluctuation of the price of XRP.
Two years after the release of XRP in 2012, supporters of this cryptocurrency dubbed XRP as the Bitcoin killer. However, XRP gained attention and following from crypto enthusiasts only lately. Like other cryptocurrencies, XRP has seen significant price growth and a sizable market capitalization. Still, the XRP price is relatively lower than other digital currencies making the top ten list.
In terms of market cap, the top ten in the list are the following:
Bitcoin
Ethereum
Tether
Binance coin
Cardano
XRP
USD coin
Dogecoin
Polkadot
Uniswap
This ranking can change quickly, but the current order as of 4 August 2021 is as shown above. The chart below shows the current price of XRP.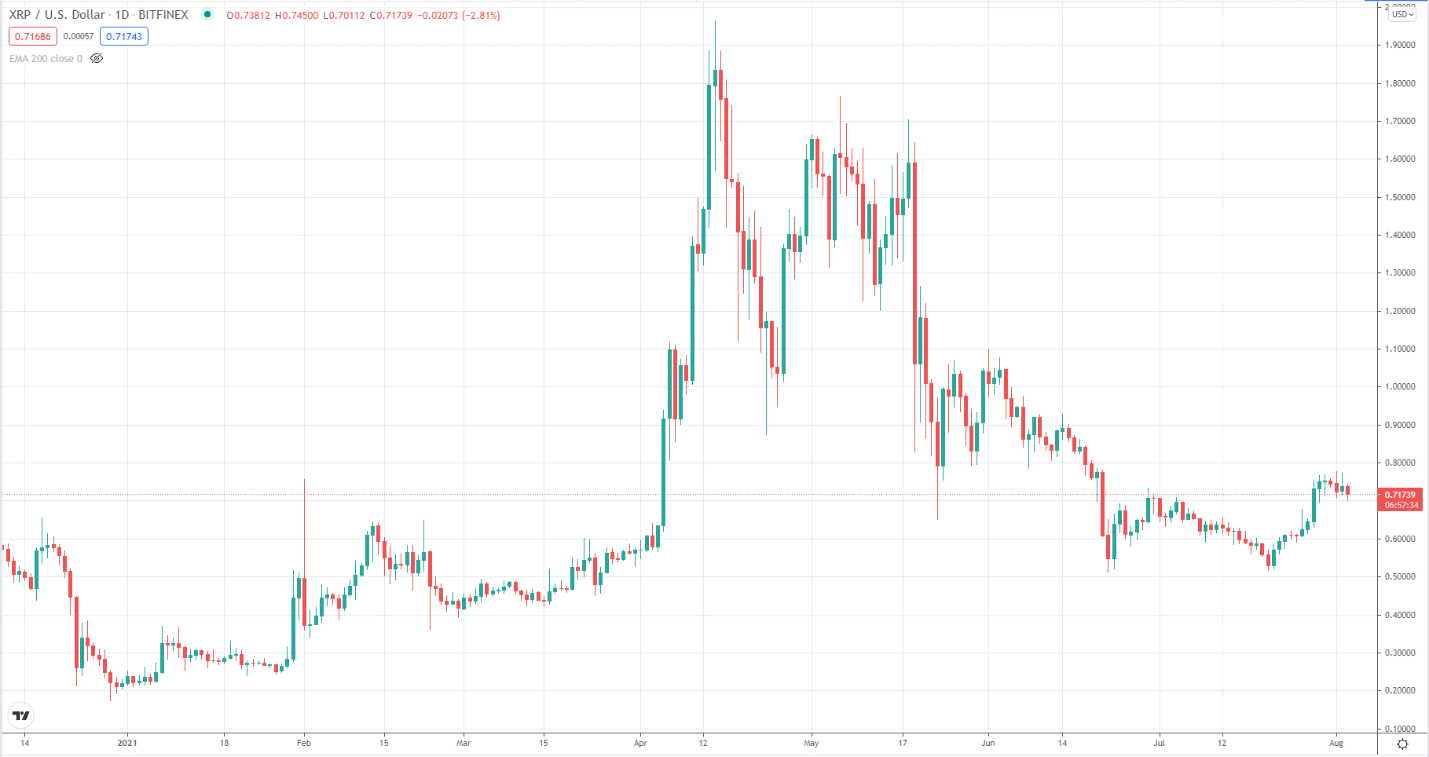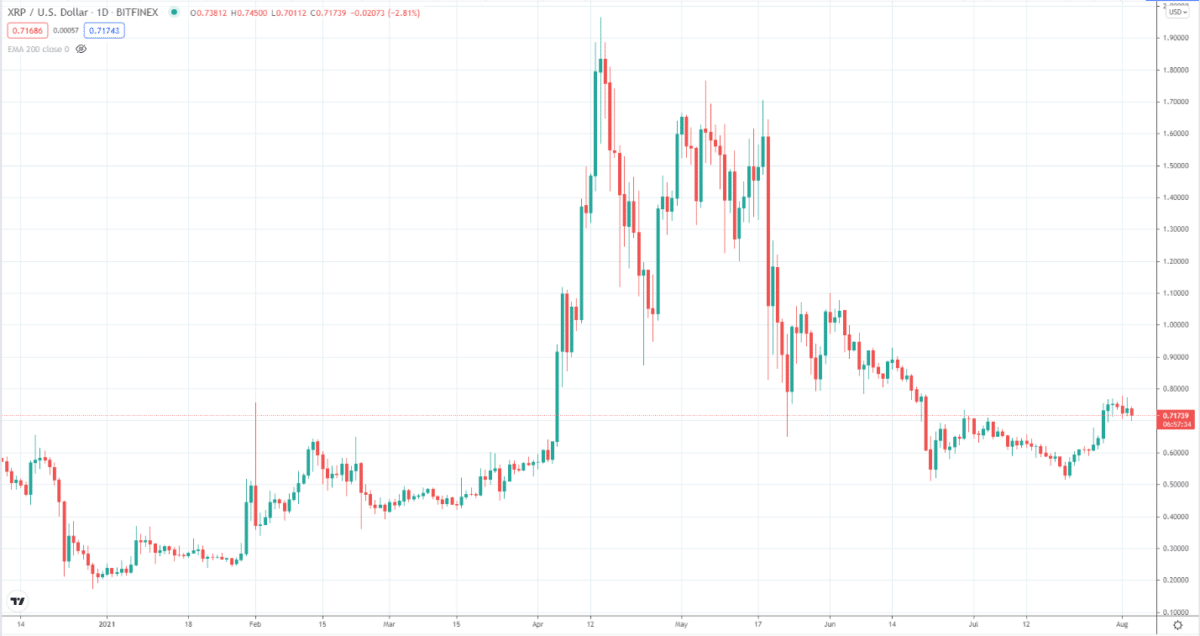 XRP versus SWIFT
The goal of Ripple is to become the number one option for people sending money abroad, which means taking the place of SWIFT. However, SWIFT dominated the market, so Ripple cannot take its place just yet shortly, although it is slowly gaining ground.
Before Ripple encountered an issue with the SEC, it had made steady progress over the years. A report says that Ripple can serve more than 300 financial institutions scattered in more than 40 countries worldwide. This is already a good start for Ripple. However, SWIFT is still ahead of the race. SWIFT can partner with more than 11,000 financial institutions scattered in more than 200 countries in the world.
The Ripple issue
Ripple is now facing a lawsuit filed by SEC, adversely impacting its continued patronage from supporters. On 21 December 2020, SEC filed a case against Ripple, alleging that the company sold unregistered security (XRP) amounting to $1.3 billion. In its defense, Ripple contended that XRP is not a security.
Until now, there have been no court decisions about the lawsuit. SEC and Ripple might settle. Without settlement or ruling, Ripple will suffer from the lawsuit due to the following reasons:
The lawsuit is preventing the company from going public.
The lawsuit prompted several major crypto exchanges to remove XRP from their list of digital currencies for investors to buy.
The lawsuit might have caused XRP to stay low in price. At this time, the price of XRP is well below one dollar.
Should you buy XRP?
If you think XRP has a good outlook and could win the battle in the current issue with SEC, then you can buy XRP. Just be aware of the risk posed by the lawsuit and invest with money you can afford to lose.
The concept behind the creation of XRP is interesting. Ripple intends to expedite money transfer because the current setup is slow, pricey, and challenging to put in place. Ripple can solve the money transfer problems associated with using banks, and it has already tied up with hundreds of partners.
Despite the beneficial use case, you must be careful with buying XRP if you intend to invest long-term. Here are some reasons why:
The lawsuit could lead to an unfavorable decision against Ripple. Another possibility is that SEC might keep the case running for so long, adversely affecting the subsistence of Ripple.
Ripple is competing against a major player (SWIFT), which has gained a stronghold in the banking system.
Ripple might succeed as a platform, but XRP may not see similar growth. This is because many financial institutions partnering with Ripple do not necessarily utilize XRP.
Investors cannot find XRP in several popular crypto exchanges in the US.
Final thoughts
XRP is not as attractive an investment as it was when it first surfaced. That is likely the case until Ripple arrives at a settlement or wins the case with SEC. At this point, the main draws of XRP are the relatively low price and the usefulness of the platform for payment processing. As always, invest wisely and diversify.