Wrenfx EA is a Forex expert advisor that is compatible with the MT4 trading platform. It is a system based on the MQL4 programming language which promises to provide swift and measurable results for experienced as well as novice traders. To check whether this EA is truly reliable or not, we are going to investigate various factors like vendor transparency, features, trading results, price, customer support, and reviews.
Wrenfx EA company profile
There is zero information on the parent company behind this expert advisor. We don't know where it is located or when it was founded. The vendor has not shared any information on the company's history and reputation and we don't know the identities of the team members. Also, it is unknown whether this team has built other Forex robots in the past.
The highlights of Wrenfx EA
Wrenfx EA is a fully-automated Forex robot that is capable of performing its tasks automatically without human intervention. You don't need to make a huge investment to get started with this robot and a small balance of $200 is sufficient. It is possible to set this system up by following a few simple steps.
This robot works with different types of accounts like ECN, NDD, Standard, and micro. It takes care of various activities like finding profit levels, adjusting stop losses, and sending orders based on preset rules. Wrenfx EA avoids using risky trading strategies like scalping and hedging.
The EA has a smart money management feature that, according to the vendor, minimizes the trading risks. However, the vendor has not clearly explained how this feature works. You can use this robot to trade in pairs like EUR/USD, USD/CHF, USD/JPY, and EUR/CHF. It follows the trend on higher time frames while searching for reversal points on lower time frames for making its entries.
Facts & figures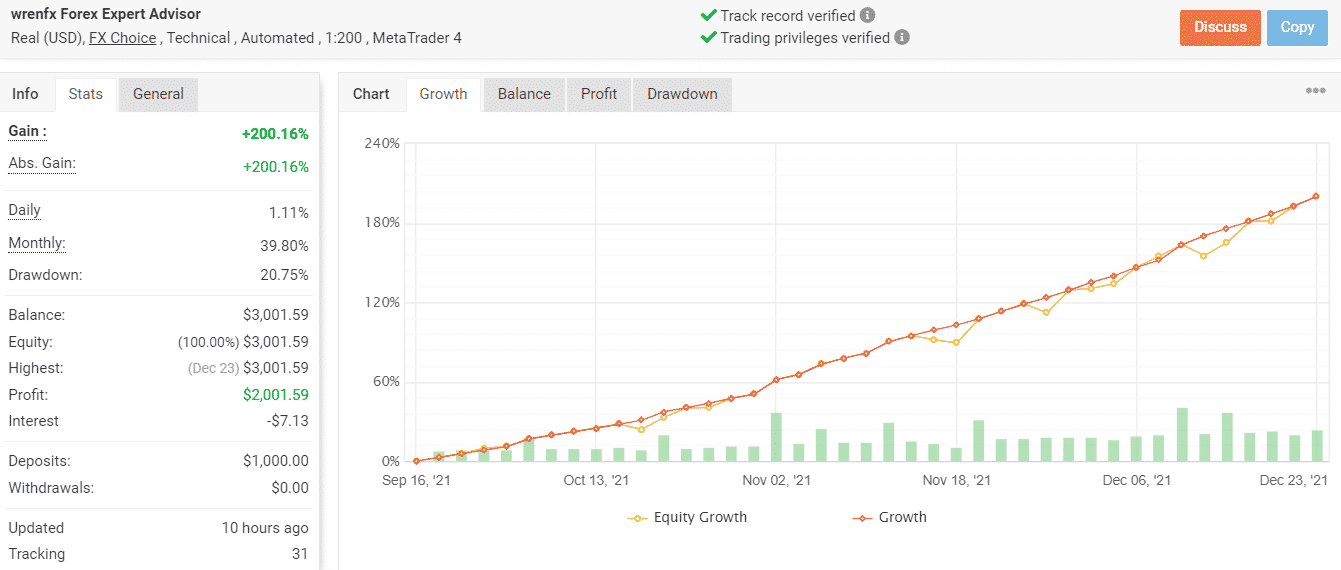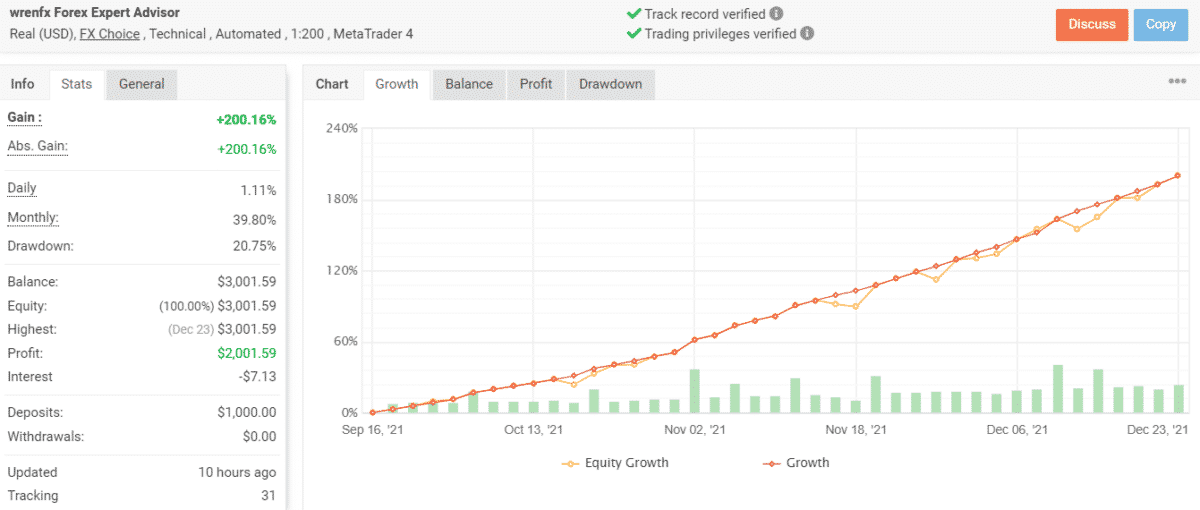 This trading account on Myfxbook was launched on September 16, 2021, which means it has a very short trading history. To date, the EA has placed only 49 trades through this account, winning 96% of them and generating a profit of $2001.59. Currently, the average daily and monthly gains are 1.11% and 39.80%, respectively, while the drawdown is 20.75%.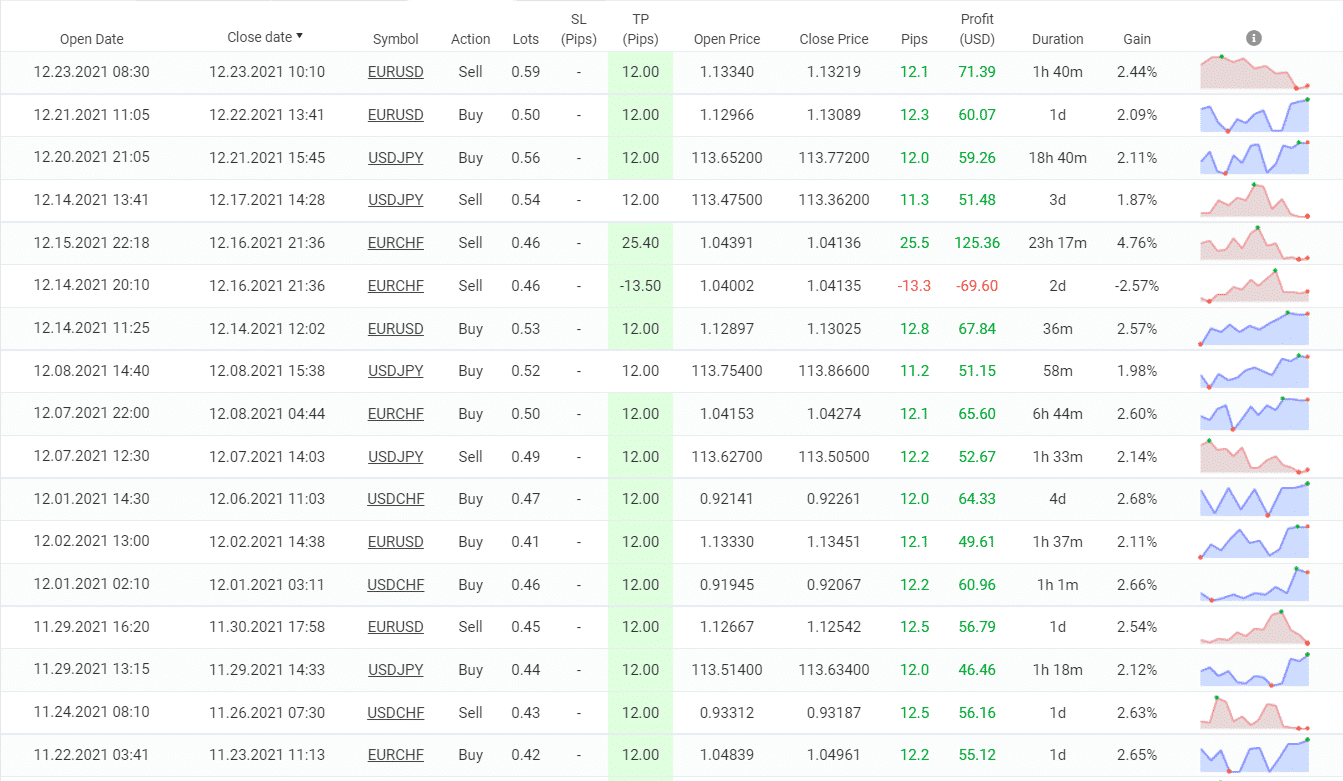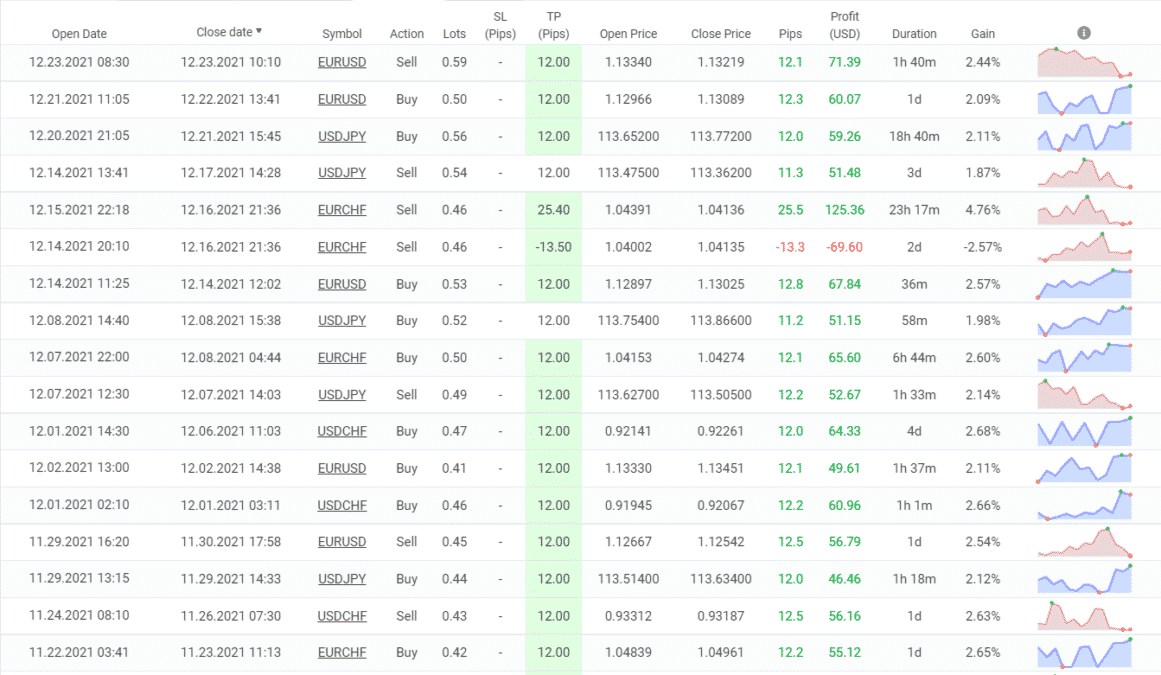 From the trading history, we can see that the EA generally keeps its orders open for a few hours, and sometimes for an entire day. It generally earns more than 2% profit for each trade. The average win and loss for this account are 12.78 pips/$45.15 and -13.40 pips/-$60.15, respectively.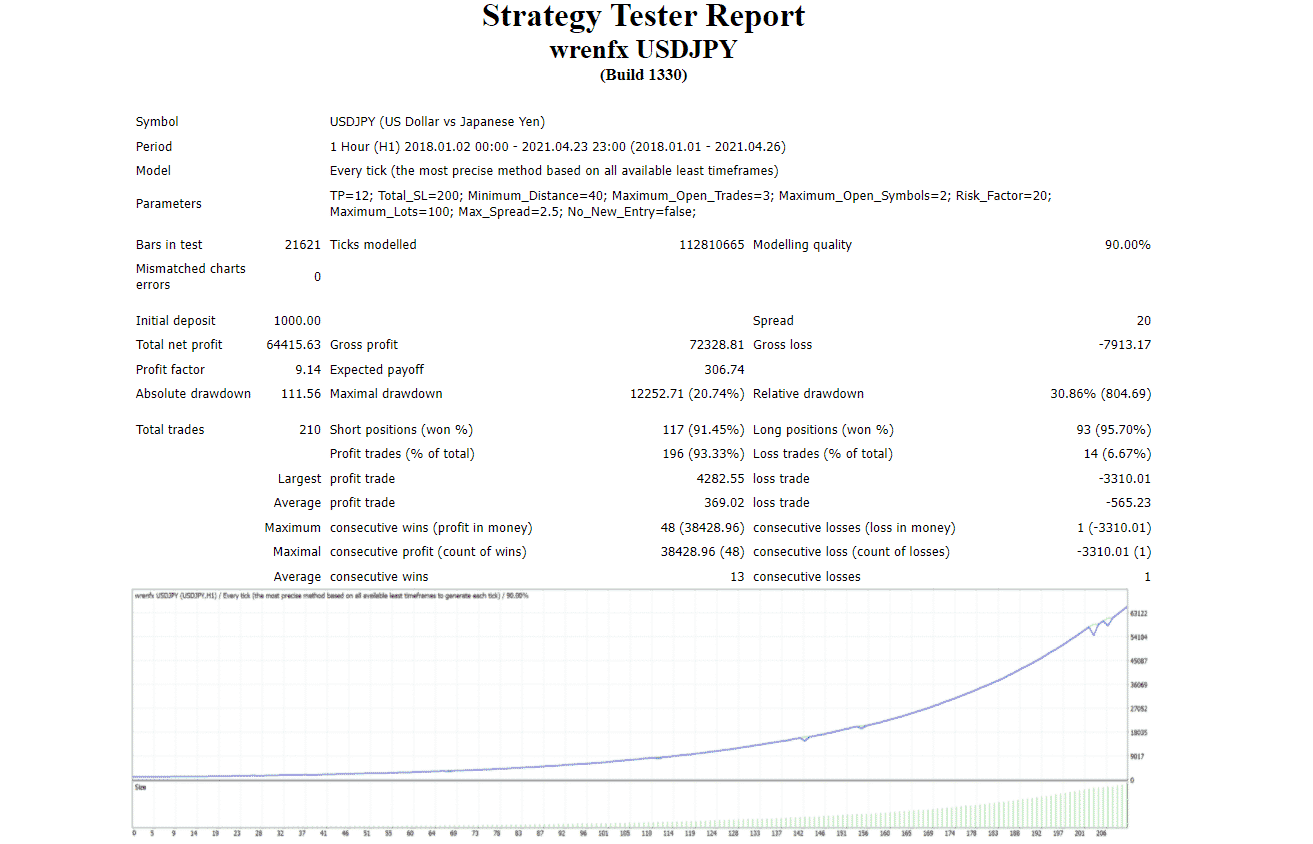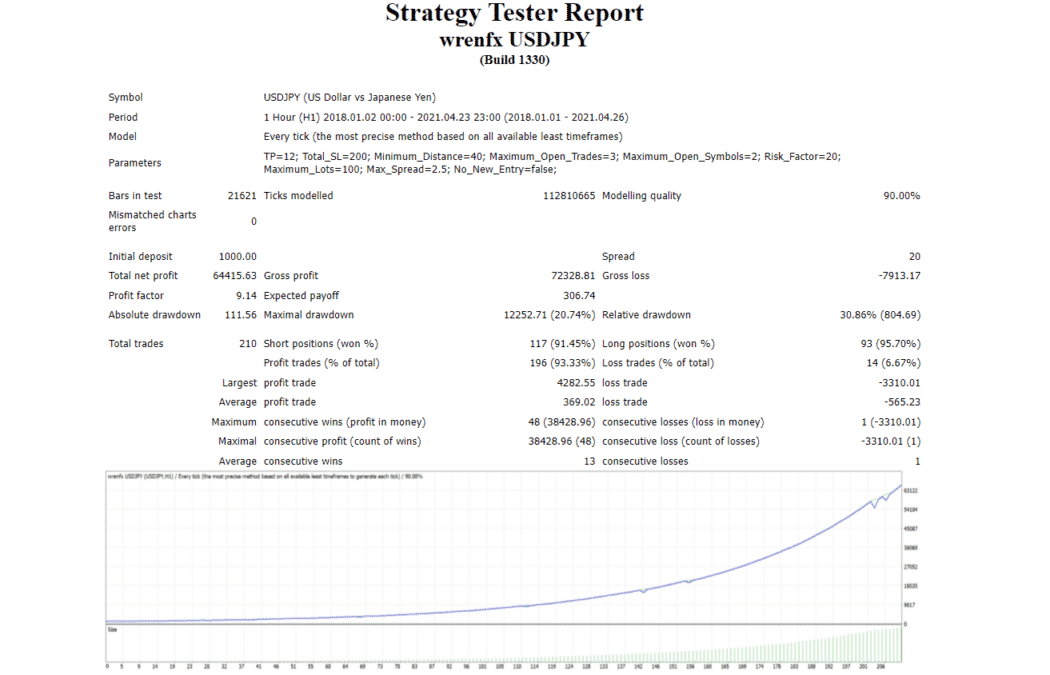 This backtest involved 210 trades conducted between 2018 and 2021 on the H1 timeframe. The win rate for this test was 93.33%, which is slightly lower than what we saw in the live statistics. Here, the relative drawdown is even higher at 30.86% and the profit factor is 9.14. There were 48 maximum consecutive wins and 1 maximum consecutive loss during the testing period.
Wrenfx EA packages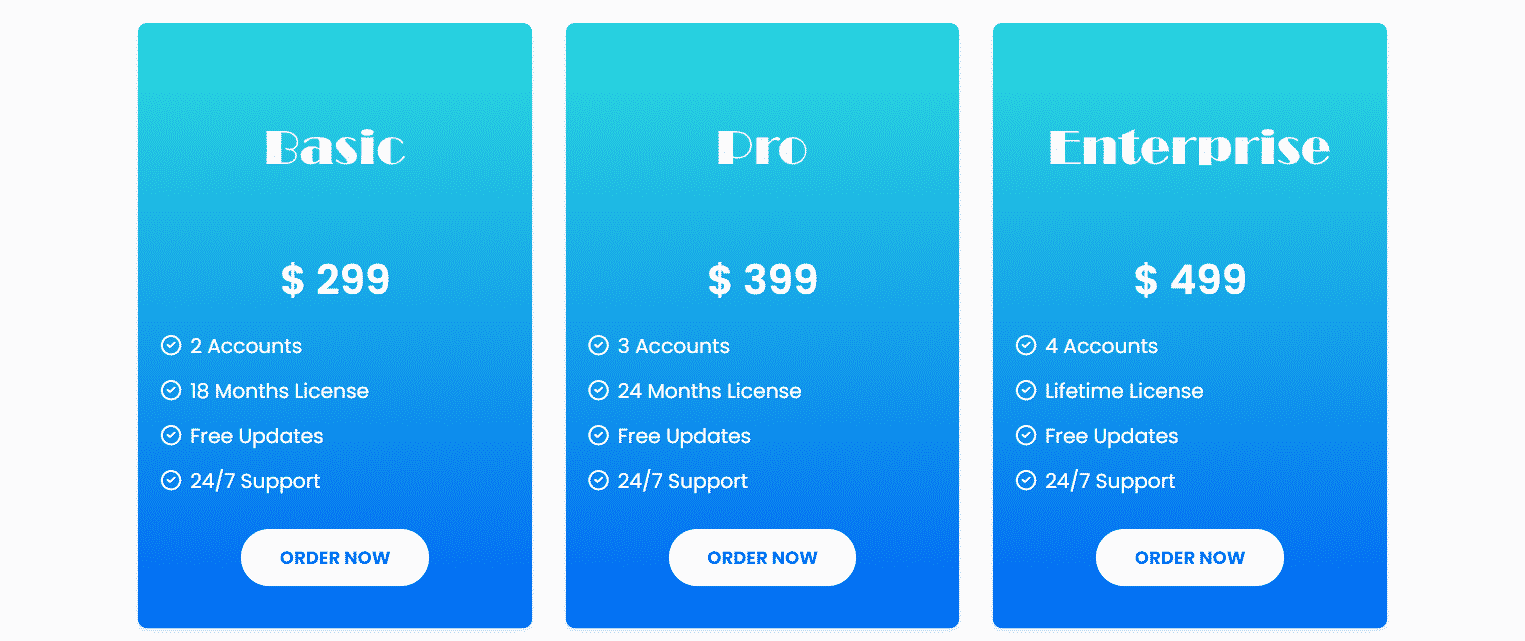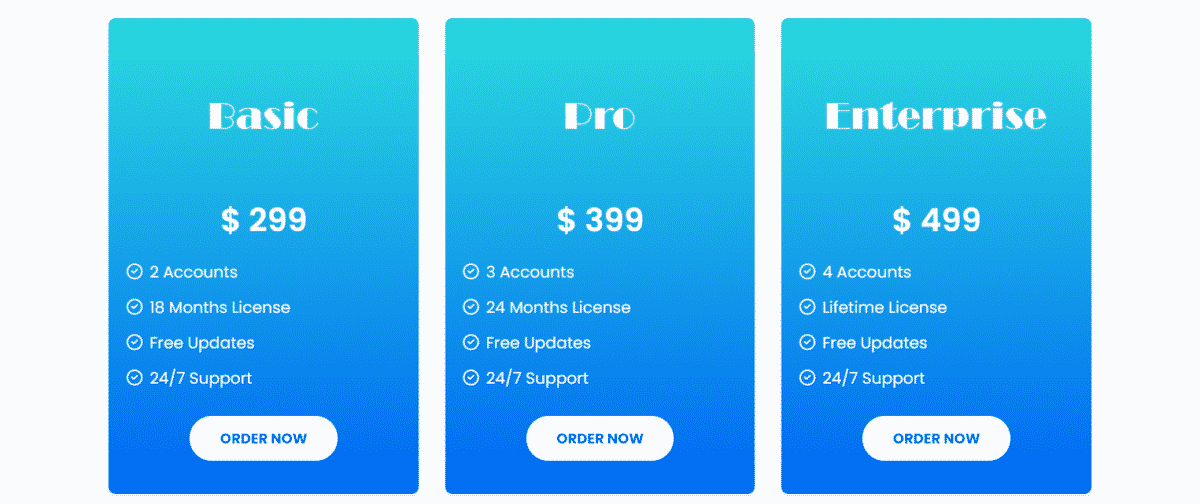 There are three pricing plans for this EA, namely Basic, Pro, and Enterprise. To purchase them, you need to pay $299, $399, and $499, respectively. With Basic, you get access to 2 accounts and an 18-months license. Pro and Enterprise let you access more accounts while providing you with a 24-months and lifetime license, respectively. The vendor offers a 30-day money-back guarantee for all the plans.
Assistance
Round-the-clock assistance is available for all customers. You can use the email address or the contact form to get in touch with the support team.

On FPA, one user has expressed their satisfaction with the support provided, praising the responsiveness of the developer.
Customer reviews

There are only two reviews for this robot on FPA, and this indicates a lack of reputation.
Is Wrenfx EA a reliable system?
We don't think so. This system has a very short trading history and suffers from a lack of vendor transparency. Also, it trades with a high drawdown.