Velocity Finder Neural Trader is a tool that analyzes the actual market scenarios in real-time without any repainting. It is beginner-friendly and doesn't require any past trading experience. The developer claims it comes with a unique strategy and logic, resulting in high accuracy that can withstand market volatility. Our review will find the pros and cons of the indicator to check its adaptability and legitimacy in harsh trading conditions.
Velocity Finder Neural Trader company profile
WeTalkTrade is the founder of the Velocity Finder Neural Trader. The company started its journey in May 2009 and has introduced several trading solutions. Their timeline is available on the website and several social media handles.
The highlights of Velocity Finder Neural Trader
The presentation of the signal is very sloppy, and the developer fails to provide insight on important information such as leverage, timeframes, deposits, etc. The non-providence of the strategical game plan of the signal also raises concerns over the functionality of the indicator. The trading tool is compatible with all symbols.
Facts & figures with Velocity Finder Neural Trader
No backtesting reports are present on the official website of the indicator. These reports can only show the system's historical performance and do not predict any future robot evaluation but are still widely used by the traders to know the system's legitimacy.
The developer has not posted any live trading tests on the official and other reputed third-party websites such as Myfxbook, FXBlue, etc. This makes the algorithm look unreliable and shows major red flags. Before considering the system worthy of their valuable investments, investors try to take a deep look at the drawdown value, profit factor, win rate, lots, equity, and profitability of the ATS.
Velocity Finder Neural Trader packages
The Velocity Finder Neural Trader comes with an asking price of $450 for a lifelong license and a free update. The price tag of the indicator is a bit expensive compared to its competitors in the market. The product doesn't have any refund policy, which shows the vendor's lack of confidence in his solution.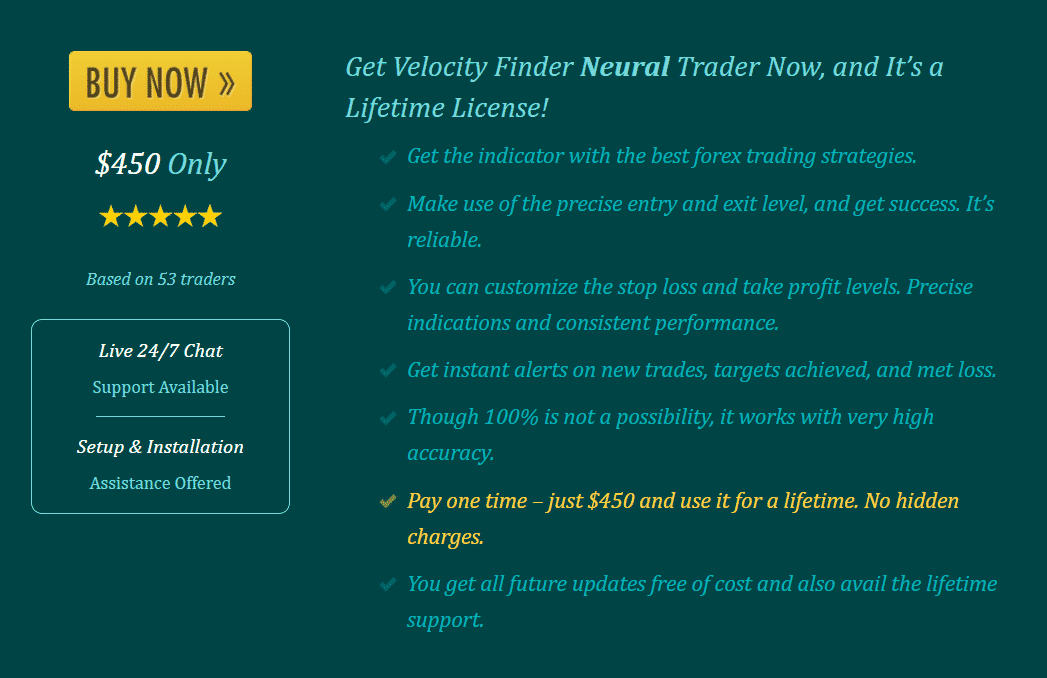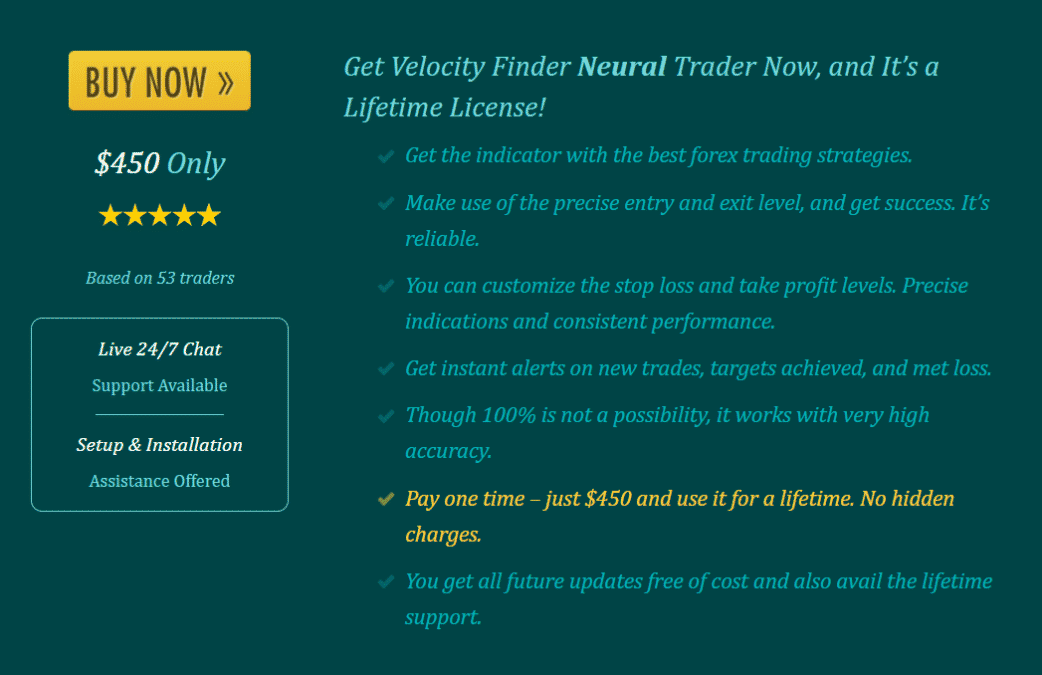 Assistance
The developer claims 24/7 customer support through the live chat option is available on their website. However, a trader gave his feedback on Forex Peace Army by stating that customer support is terrible.

Other notes
The vendor's reputation among the traders is not acclaimed as they have a rating of 3.272/5 on Forex Peace Army.

One scam alert was filed on the Forex Peace Army. The investor mentioned that it was a fraud and explained how he lost 80% of his trades. He further states that he filed a refund request to the vendor, which they rejected.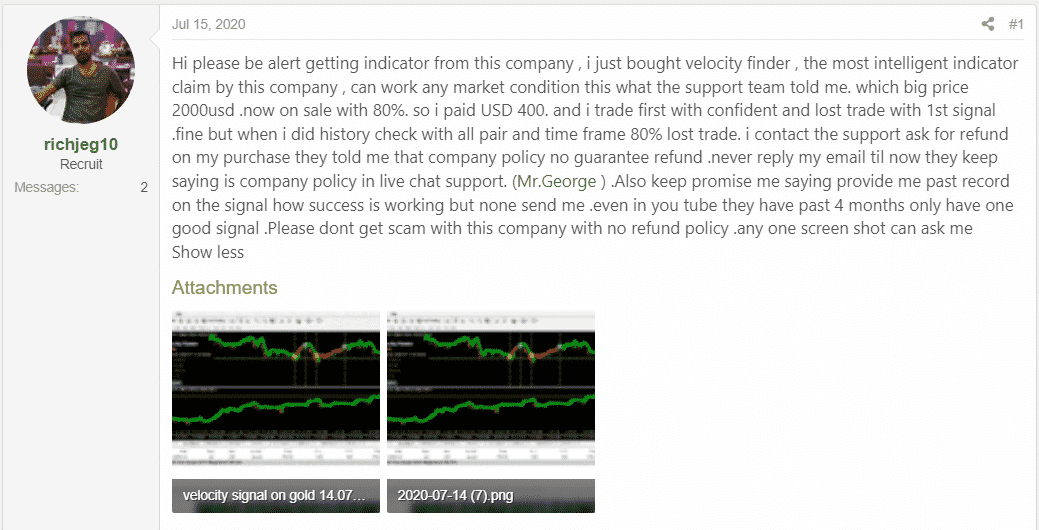 Is Velocity Finder Neural Trader a reliable system?
Velocity Finder Neural Trader is unreliable as the vendor fails to provide clear insight over multiple significant factors. There are no live or backtesting records that could be used to gauge the system's performance.