TradeSanta is a professional trading solution that allows everyone to manage their portfolio on the real market. The developers provide extended explanations of how the system functions: the robot performs a trend-following strategy that allows you to make profits without huge risks. For us, it's enough to make a decision to check the system out.
TradeSanta quick summary
TradeSanta is a solution that works with trend oriented indicators to scan the market 24/7 in order to spot trading opportunities. So, we can expect to trade in the market direction.
TradeSanta: what is it?
The system is a crypto bot that performs orders on the crypto market.
Who is behind TradeSanta?
We have plenty of explanations provided that we systemized in the following list:
The robot can support us with executing orders automatically on the market.
It works with different strategies at once.
We can trade on the different exchanges.
Traders can open orders manually if needed.
It opens orders in both directions.
You can receive signals from TradingView too.
The marketplace will be fully functional.
Leverage trading is allowed too.
It is possible to open orders in both directions.
Stop loss, trailing stop loss, and stop signals can be customized.
You can start working on a demo account first.
There's a feature that allows users to trail profits.
You can deploy the robot within several minutes.
Users are allowed to start trading with $10 on the balance.
The robot works with coins: Ethereum, Binance, Solana, Cardano, Ripple, Terra, Polkadot, Dogecoin, Litecoin, and more.
If you need customer support, you can easily access it.
The system works on the market by using API keys.
How does TradeSanta function?
The system consistently receive data from indicators. If the market setup is good to go, the robot places an order.
Technical indicators available
You can work with trend-based indicators MACD, RSI, Bollinger Bands. They are good to go for conservative trading.
What should you know about TradeSanta performance?
We don't have actual trading results, but we have positive testimonials from people who are profitable.
Key features of TradeSanta
Automatic trading.
A trend-based strategy.
Acceptable for conservative trading.
Trailing features applied.
How easy is TradeSanta to use for beginners?
The system can be used by beginner traders without restrictions.
How to get started on TradeSanta?
Traders need to follow the next steps to get started with this bot:
Register on the site and pay for the system
Download a copy of it and customize it if needed
After this, API keys have to be generated and the system should be placed on your trading account
Pricing, fees, deposit, withdrawal
There are various packages provided The Basic subscription costs $15 monthly. The package is featured by 49 bots, an unlimited number of pairs, and all strategies. The Advanced subscription costs $27 monthly. You can rely on 99 bots, Telegram-notifications, trailing take profit features. The Maximum subscription is available for $35 monthly. The ultimate pack is featured by an unlimited number of bots. We have no money-back guarantee provided.
What settings are available?
The default settings are everything you need to use.
Which exchanges does TradeSanta support?
We can work with the following exchanges: Binance, OKX, Coinbase Pro, Huobi, Binance Futures, HitBTC, BYBIT, and Kraken.
TradeSanta: supported assets
It supports trading with Ethereum, Binance, Solana, Cardano, Ripple, Terra, Polkadot, Dogecoin, Litecoin, and more.
TradeSanta: security and regulation
TradeSanta was registered as: TradeSanta Global Limited. BVI Business Company–BVI COMPANY NUMBER:2069399.
It was registered in Fall 2018.
The last updates were in 2020: added some extra exchanges and updated various features.
What do customers say?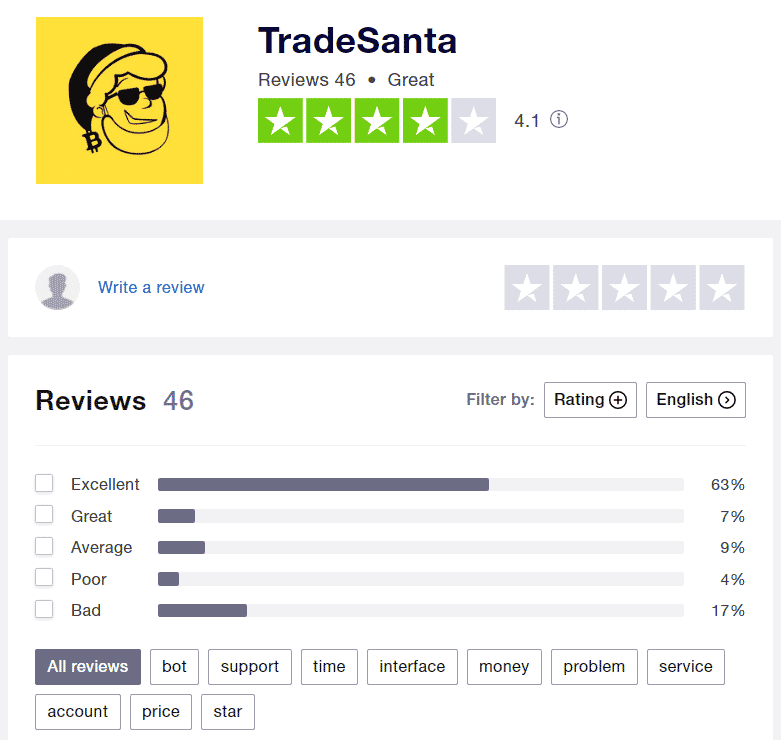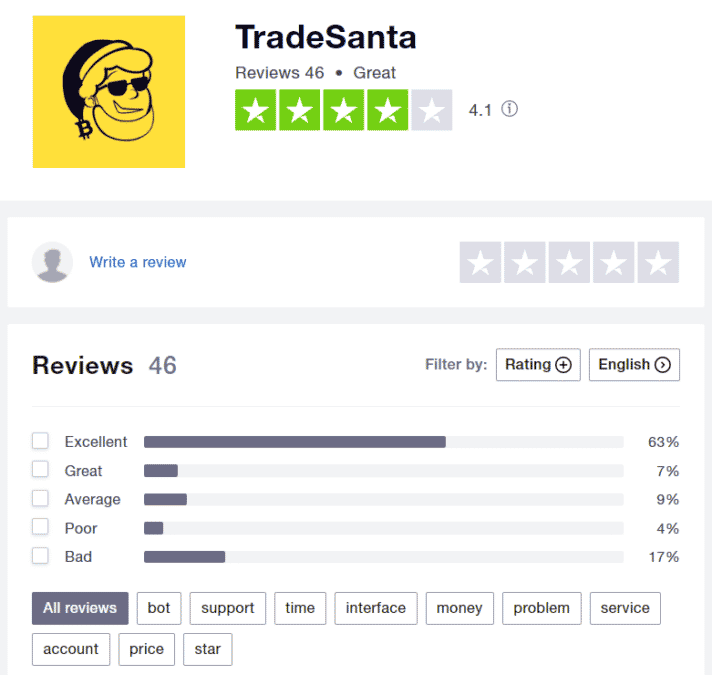 There are 46 reviews written on the Trustpilot profile. We have a 4.1 rate of the system.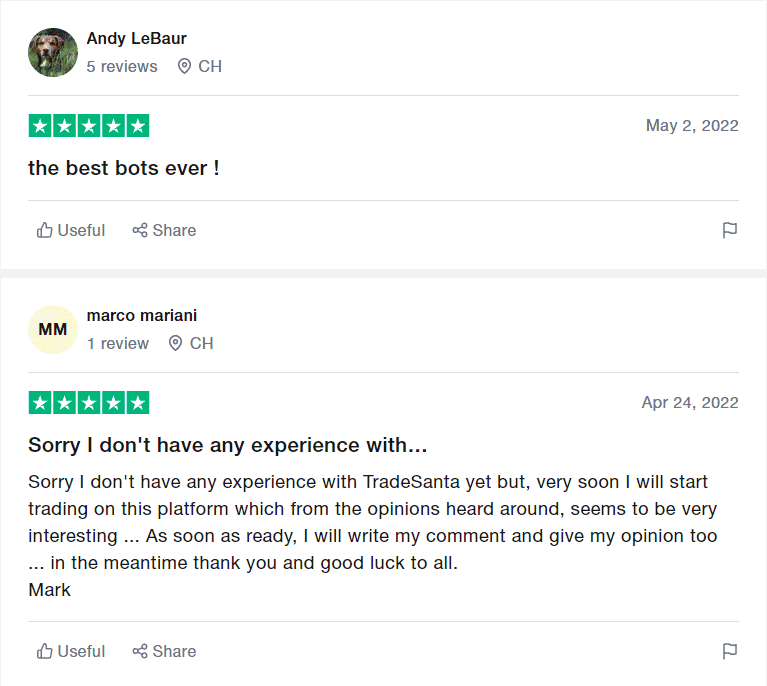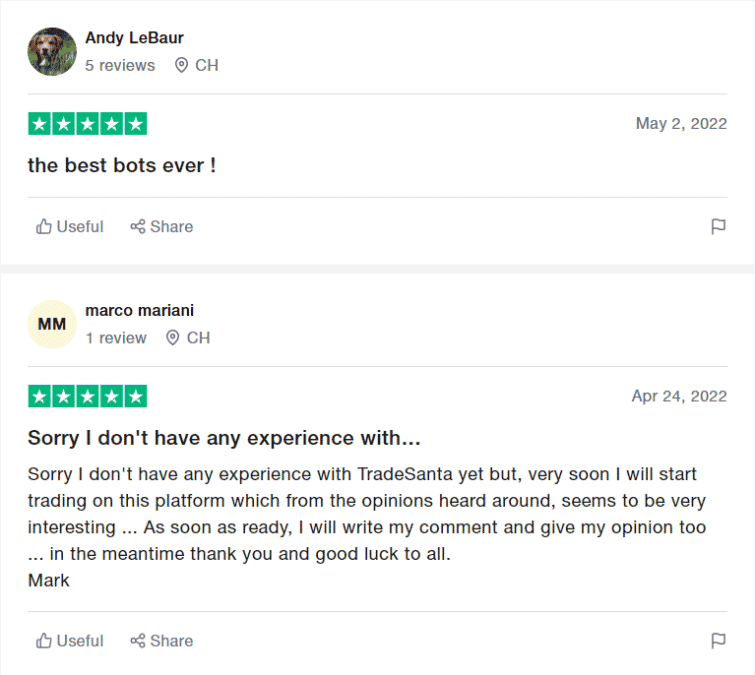 We have various positive testimonials where people inform that the robot is easy to use and it is profitable.
Public support
The developers provide everyone with quick and informative support.