Signal Factory is a company that is known because they provide various signals for the Forex market. Many google for it on the web. So, how can we use it? We have information that the signals can be useful for traders, institutional investors, and those who need advice. So, it's time to figure out if the signals are profitable and useful.
Signal Factory company profile
The company doesn't have a profile that we can check because it wasn't officially registered.
The highlights of Signal Factory
The presentation is five pages long and includes a few details about settings, features, and so on.
The provided signals can be used for a profit on a real market.
They are the bridge between us and real traders with relevant experience.
The signals will be executed automatically on our terminal.
The system that generates those signals works on a real market.
It has to work with only low drawdowns.
We have over 45,000 satisfied clients.
Alas, the developers don't provide us with the list of them.
It doesn't use risky strategies like Grid or Martingale.
If the account doesn't meet the devs' requirements of profitability, it's delisted from providing signals.
The company unites signals from various sources.
We can work with any risk that we want.
There are no extra hidden commissions.
We are free to pick any broker that we want. .
Trading results with Signal Factory
So, it's time to talk about backtest reports. The developers decided not to provide us with reports. It's a huge con because we don't know how well the system was traded before being released. We have no final report that would include win rates, profit factor, monthly gain, drawdowns, risks, and so on.
The same picture we have when we talk about trading results. The devs mentioned that the signals can be automatically executed for us. This means there should be a master account from which those signals are generated from. If the owners didn't share verified by Myfxbook or by Fxblue trading results that could mean that there's something wrong with win rates, and risky strategies.
Signal Factory packages
There are four packages provided. There's a Telegram news package for $49.99 for a month. Copy Trading is possible for $199.99. The tire pack is Algobot Signals Package for $99.99 monthly. The Algobot Trade Copier is available for $199.99 monthly. The devs decided not to support us with a refund policy if we don't like the s results this signal service provides.
Assistance
The company provides an average level of support. We can expect our questions to get answered within half a day.
Other notes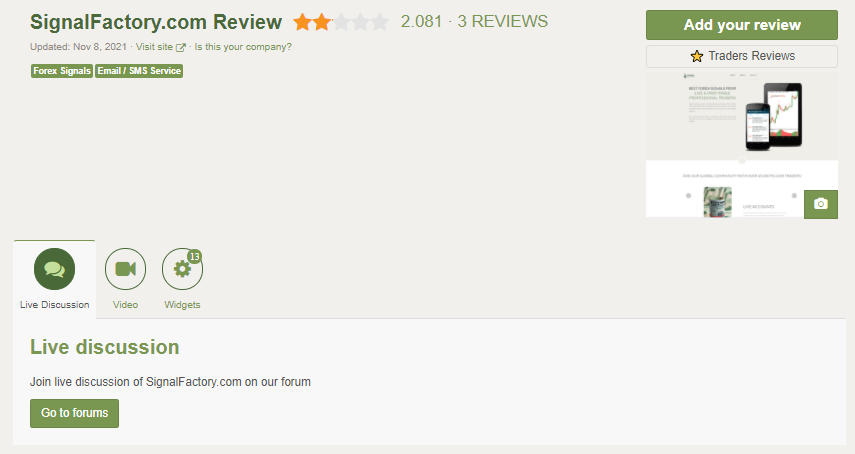 The company has a page on Forex Peace Army created. We have only three testimonials written and no trading account attached.

People aren't satisfied with the quality of the signals. So, to trust them or not to trust is up to you.
Is Signal Factory a reliable system?
We don't know for sure. The devs didn't provide us with intel to make this decision. We have no backtest reports, pips counters, free signals, or trading results provided.