Red Hawk EA trades on the MT4 and MT5 platforms and comes with multiple risk management settings that traders can tweak according to their choice. No manual intervention is necessary for the robot to work, and multiple filters are incorporated within the code to help avoid uncertain market conditions. Read our review below to find out if the algorithm is able to trade profitability using its techniques and risk control factors.
Red Hawk company profile
Red Hawk was developed by a developing entity named Profalgo Limited. It seems to be owned by an individual named Wim Schrynemakers. This individual is based in Malta and states that they have been developing forex items since 2005. This item was published on Oct 12, 2020. This EA is listed for sale on the MQL5 marketplace. This vendor has many MT4 and MT5 products available like Luna, The Viper EA, The Reaper EA, etc.
This seller has a rating of 3.8, which is not that impressive. They claim to have an experience of more than eight years. Wim currently has 33 signals, 24 products, and 4653 demos available. The owner provides no information like company whereabouts, email, or phone number. Customers can only contact through the live chat option. This raises concerns about the trustworthiness of this person.


The highlights of Red Hawk
The system has the following main features:
It trades in 9 currency pairs.
It's fully automated.
The system includes multiple inbuilt filters to help in trading.
It comes with free updates post-purchase.
The algorithm uses a mean reversion tactic, which works best when the market is ranging. The seller suggests that this strategy performs well with low spread values and fast execution. Due to this, they recommend using an ECN broker. The robot can trade on EURUSD, GBPUSD, USDCHF, EURCHF, EURGBP, AUCAD, AUDJPY, EURAUD, and USDCAD on the M5 charts.
The history from live records on MQL5 shows that the system uses a 20 pip stop loss with a 10 pip take profit. The algorithm uses night scalping strategy combined with averaging.


There is no information on the leverage or the minimum deposit required to trade with Red Hawk.
Trading results with Red Hawk
Backtesting records are provided for the period of 2012 to 2020. With a fixed lot size of 0.01 was used on a total of eight currency pairs to generate the report. A sharpe ratio of 0.17 was churned out. Total profit stood at 1107.45 USD, with a CAGR of 31.89%. Drawdown stood at 19.65% and the SQN score is written as 19.16.
Throughout this duration, the system has made 4119 wins and resulted in 1269 losses. The largest loss of -6.23 USD exceeds the largest win having a dollar value of 2.63 USD.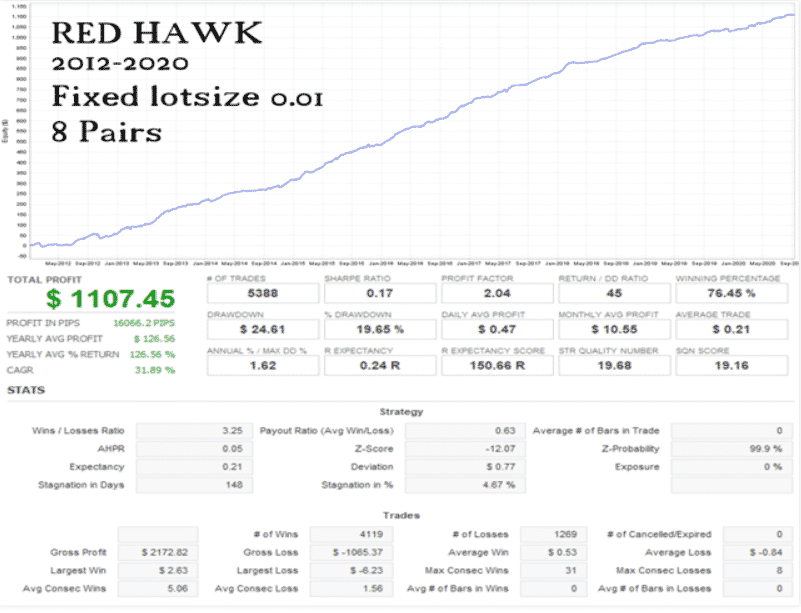 Verified live trading results are present on Myfxbook. They cover the period Jan 01, 2021, till January 29, 2021. So, it is fair to say that these results are pretty outdated when tracking performance. These are reported for the trades executed on MT4 with leverage of 1:500. The monthly gain rate was reported as 0.51%, and the drawdown was shown as 1.22%. But the graph shows that growth followed a very downward trend, which paints a negative picture.
The bot only produced a profit of 5.67 USD from a deposit of 1000 USD. The algorithm participated in 74 trades, of which 32% made a loss. The worst trade of -22.98 USD exceeds the best trade value of 8.20 USD, which follows the pattern set by the backtesting records.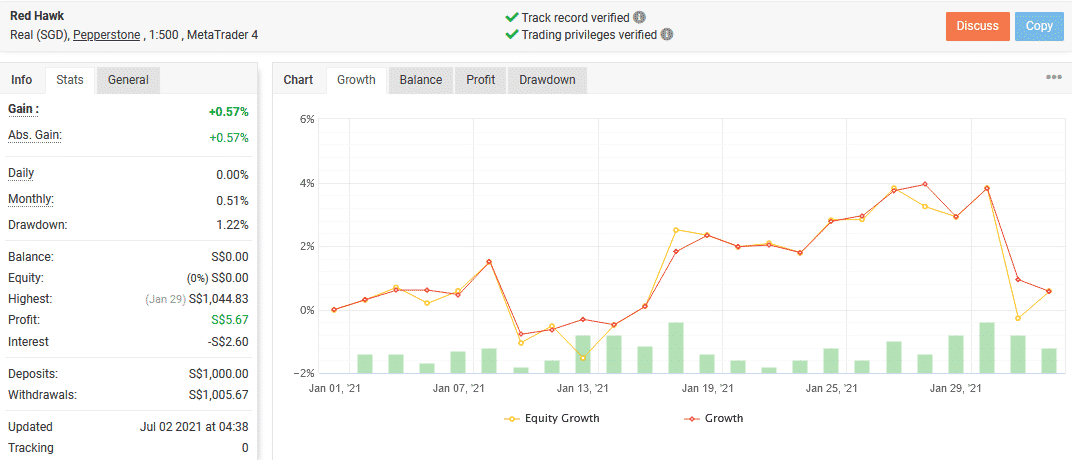 Red Hawk packages
This EA is sold in multiple packages. Customers can pay 249 USD upfront and acquire it for lifetime usage. The monthly subscription comes at 99 USD per month, and the author charges 149 USD for a three-month package.
Traders can also purchase the bot for 199 USD and use it for six months. Payments are accepted through PayPal, MasterCard, Visa, Union Pay, and Web Money. There is no information provided about a money-back guarantee.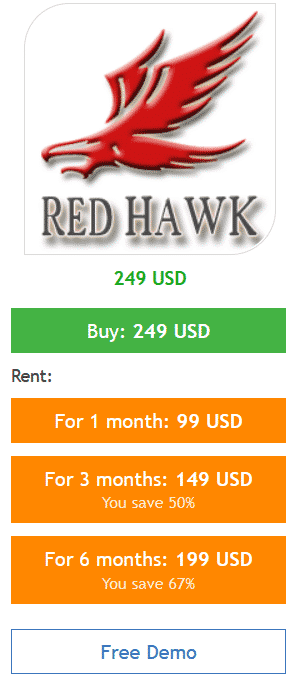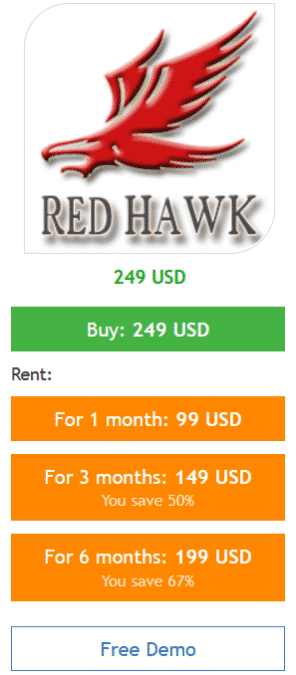 Assistance
Traders can send a message to the developer through the MQL 5 website. There is no live chat support present.
Other notes
The robot has a 4.5 rating for 11 reviews on the MQL5 marketplace. A trader comments that they have been trading with the system for one year and found it consistent.

Another buyer states that they are dissatisfied with this bot's performance and report that it is not worth investing in.


Is Red Hawk a reliable system?
After inspecting live trading results on Myfxbook, we can see that the robot uses an averaging approach that may prove to be risky if the market trends in a negative direction. Furthermore, the developer is not transparent about their profile information.