Hippo Trader Pro is a trading solution that was released on MQL5 and has average attention among forex traders. The presentation doesn't look professional. Let's check the system and its trading results in this detailed Hippo Trader Pro review.
Hippo Trader Pro company profile

Michela Russo is a developer from Italy with a 38,255 rate. His portfolio includes seven products and he has two year of MQL5 experience. The rate is 5 based on 206 reviews.
The highlights of Hippo Trader Pro
We have some explanations provided about how the system works and what we have to expect from the advisor when it will work on our account.
The system works automatically on our account if we decide to purchase it.
The current price is $299 for a copy.
It can be available for $599. This price is truly high.
It executes orders during European and Asian sessions.
The system was tested on the 17-year tick data.
The only pair to trade is EURUSD.
We are allowed to open orders on H1.
We can work by following FIFO rules.
"It analyzes the market without using obsolete indicators and patterns, looking for the main trend, entering the market based on volatility (ATR Filter) and some Trend Pattern to predict the likely future trend."
Trading is allowed on MT4 and MT5.
The margin requirements are $1000 for getting started.
We are free to trade with any broker.
Trading results with Hippo Trader Pro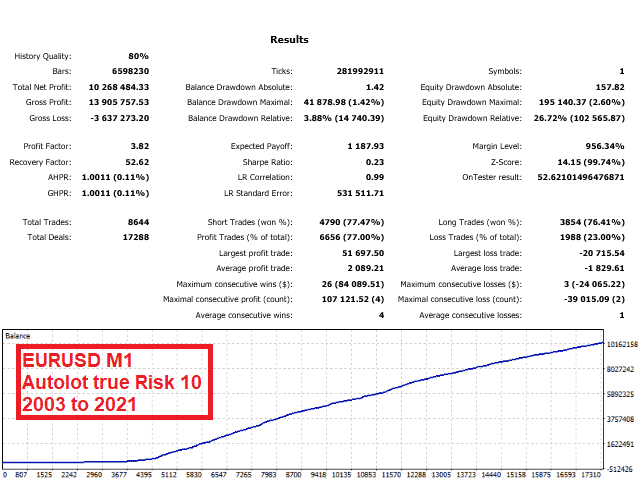 We have a backtest where the system was tested on EURUSD on M1. We don't know a broker that provided tick data. The risk level was 10% (average is 1%). The history quality was 80%. The recovery factor was 52.62 when the profit factor was 3.82. The maximum drawdown was 3.88% only. There were 8644 orders traded. The accuracy was 77% for shorts and 76% for longs.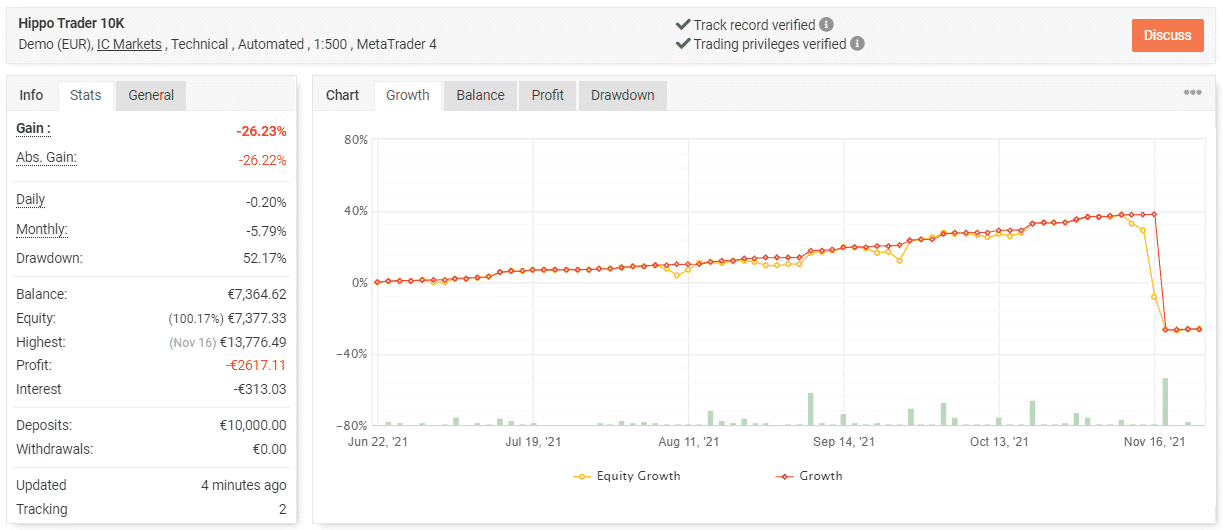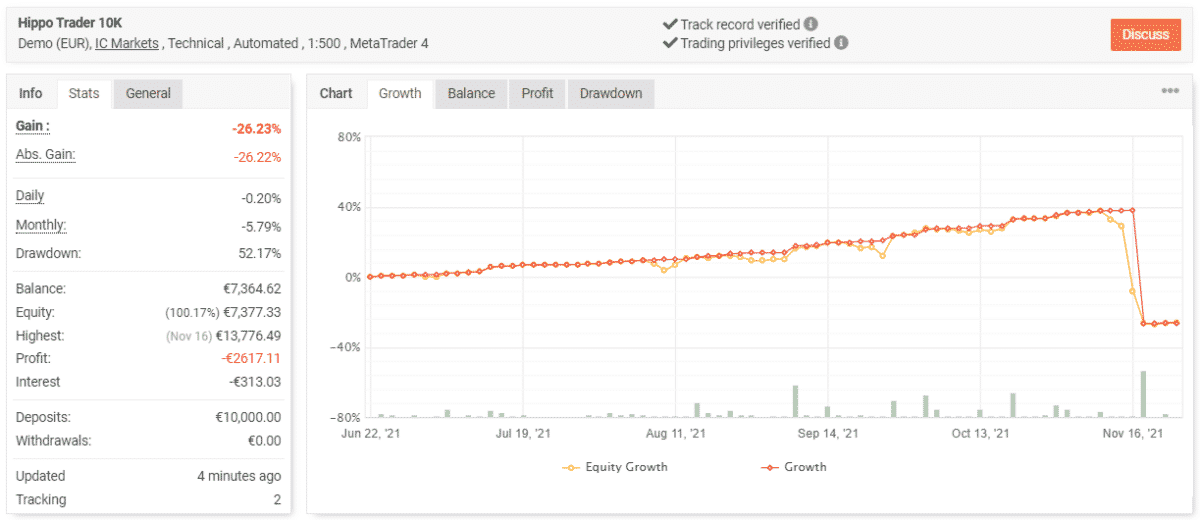 It's a pity that the account was blown. The system worked on a demo account on IC Markets. It means that the devs can't trust real money in trading. The leverage was common – 1:500. The account was created on June 22, 2021, and "deposited" at €10,000. Since then, the absolute gain has become -26.23%. An average monthly gain was -5.78%. The maximum drawdown waas 52.17%.


Alt: Hippo Trader Pro statistics.
The system traded 191 deals with -874.8 pips traded. An average win was 19.82 pips when an average loss was -48.71 pips. The accuracy was 57% for long and 70% for short trading positions. An average trade length was two days. The profit factor was 0.72.


All crucial losses occurred in the long direction.

The advisor trades the night hours mostly. There's a short trading activity during the European session.


Wednesday with 52 orders is the most traded day.


It works with maximum risks to the balance.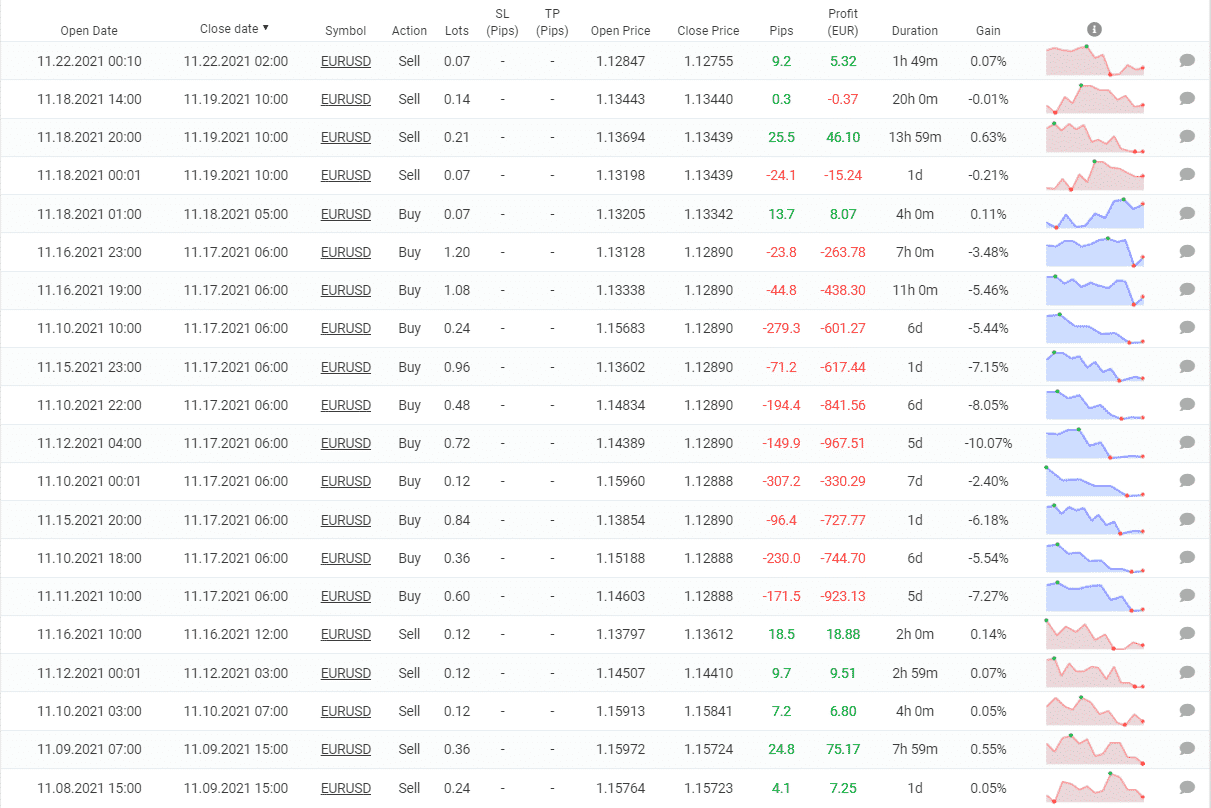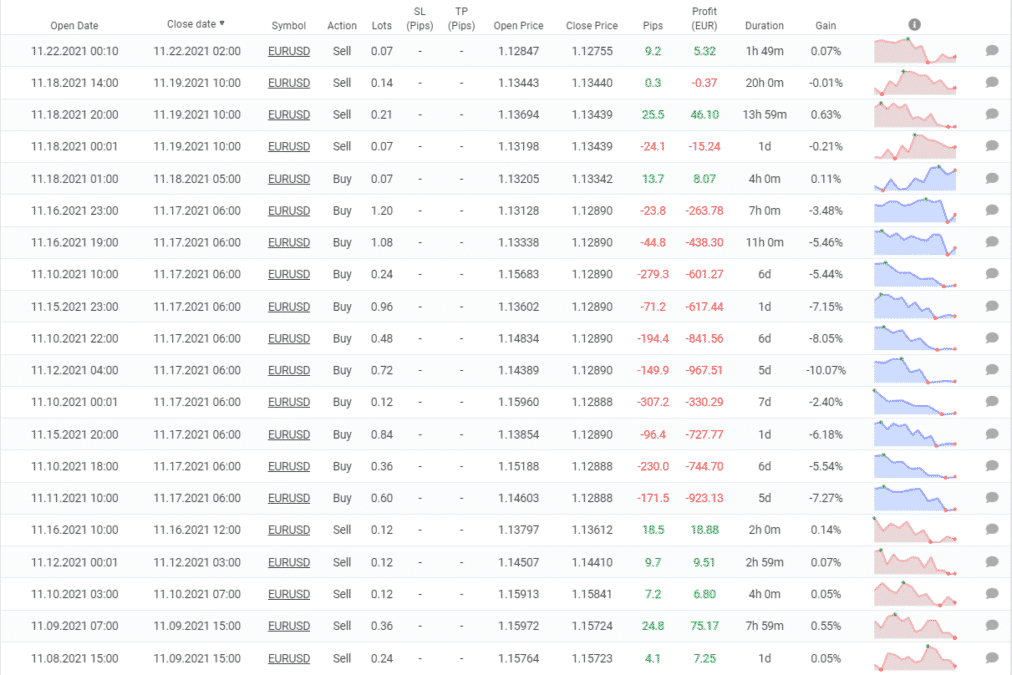 The reason for losing much is using a Grid with Martingale combo on the low win rate account.


We are allowed to see open orders.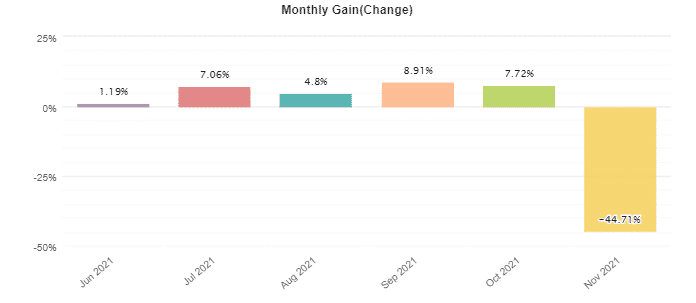 November 2021 has become a month of huge losses.
Hippo Trader Pro packages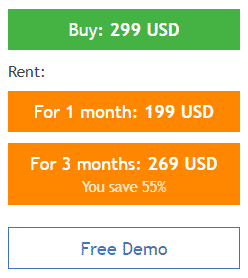 The robot can be purchased for $299 for a single real account copy. We can enjoy two subscription options for $199 monthly and for $269 quarterly. There's no refunds provided.
Assistance
The support should average as for a MQL5 hosted robot.
Other notes
The system is dangerous and it works unstable. We should wait for an update.
Is Hippo Trader Pro a profitable bet in 2021?

We have mixed testimonials. According to trading results a negative customer review is relevant.