Happy Trend is Forex-related software that allows us to make profits from the wild market moves. Also, we'd like to note that Happy Forex is a well-known robot developer that has over ten years of trading and developing experience.
Happy Trend company profile
Happy Forex is a developer of many products where the core ones are Happy Galaxy, Happy Power, Happy Neuron, and Happy Breakout. It was created in 2016. The developers behind it have a trustful reputation among traders.
The highlights of Happy Trend
We have some details explained about how the system works.
The advisor can provide us with executing orders completely automatically on our terminals.
It's possible to trade various cross pairs.
It seeks for trading opportunities on the H1 time frame.
The system avoids performing orders during periods of high-impact news.
The advisor covers us with placing proper SL and TP levels for orders that are placed on the market.
The advisor doesn't require us to have a proper trading experience to work with the software.
The system can be used on any account balance.
It can draw charts over our charts to provide us with extra information.
We can work with trailing features like UseTrailingStop, TrailingStop.
The advisor can work stably on Windows 7, 8, 10, Mac OS, and Linux.
The account types can vary Micro, Mini, or Standard.
We have to start trading with $300 on our account balance.
We can work through a pretty-known broker such as Fort Financial Services.
An ECN account with low spreads is a good option for this system.
It supports 4 and 5 digits brokers.
Trading results with Happy Trend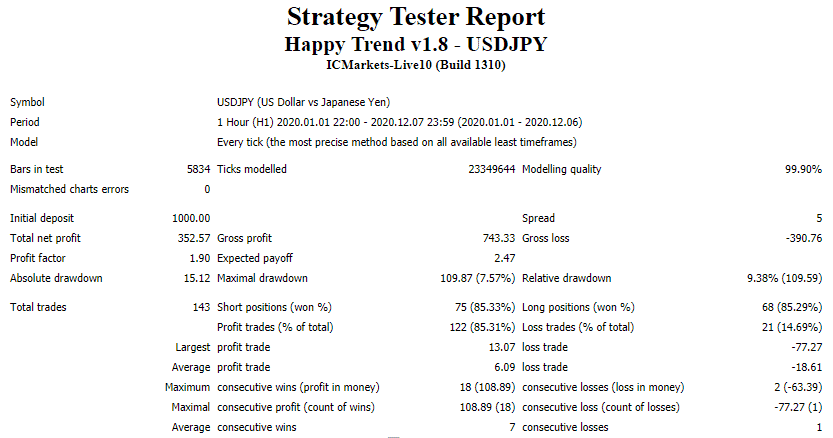 There's a report of USDJPY on the H1 time frame based on the data from IC Markets. It's weird that the devs promote one broker and use another one.The data was eleven months of 2020. The modeling quality was 99.90% with 5 pips spreads. The initial deposit was $1000. It has turned into $352.57 of the profits. The profit factor was 1.90. The maximal drawdown was 7.57%. There were 143 orders with an 85% win rate for longs and shorts.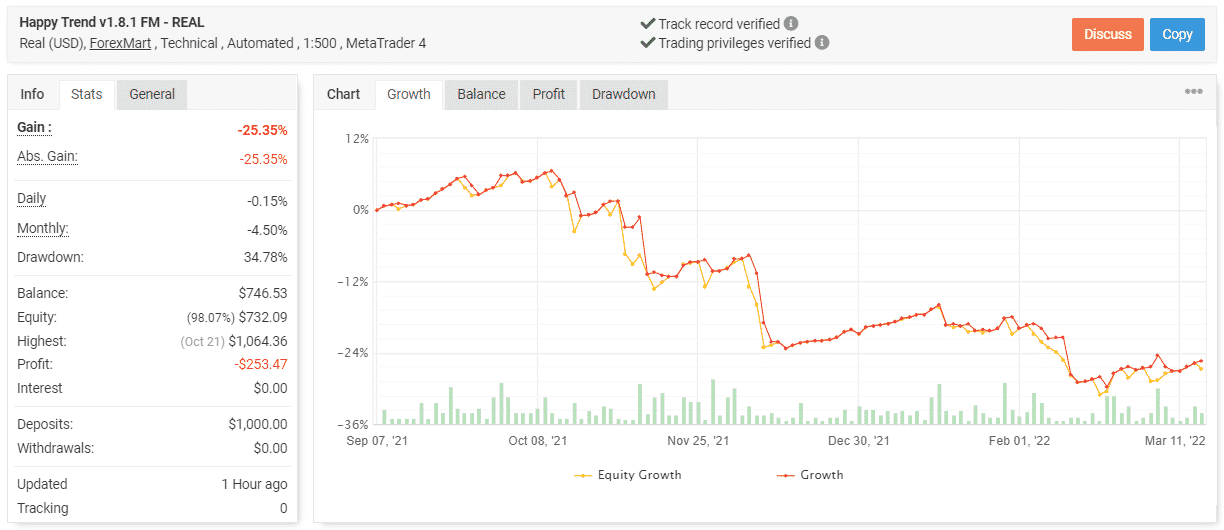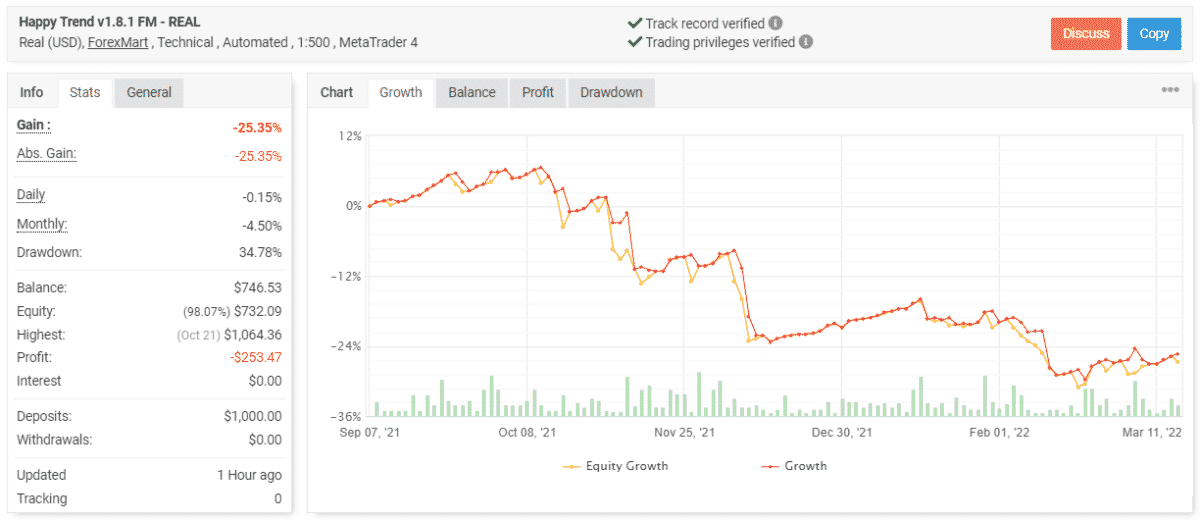 We have a robot working on a real account based on a ForexMart-deployed account. It works automatically with a common leverage of 1:500 on the MetaTrader 4 platform. The account has a verified track record. This means we can rely on the data that we see. The profile was deployed on September 07, 2021, and deposited at $1000. Since then, the absolute loss has amounted to -25.35%. An average monthly gain is -4.50%. The maximum drawdown is 34.78%.


The advisor closed 370 deals with -459.8 pips lost. An average win is 3.42 pips when an average loss is ten times deeper, -33.29 pips. It works with high accuracy of 85% and 88% for long and short trading positions, respectively. An average trade length is 6 hours and 8 minutes. The profit factor is only 0.67.


The advisor executes orders on five pairs and it has only one of them profitable–GBPUSD ($105.58).


The system performs with high risks to the balance.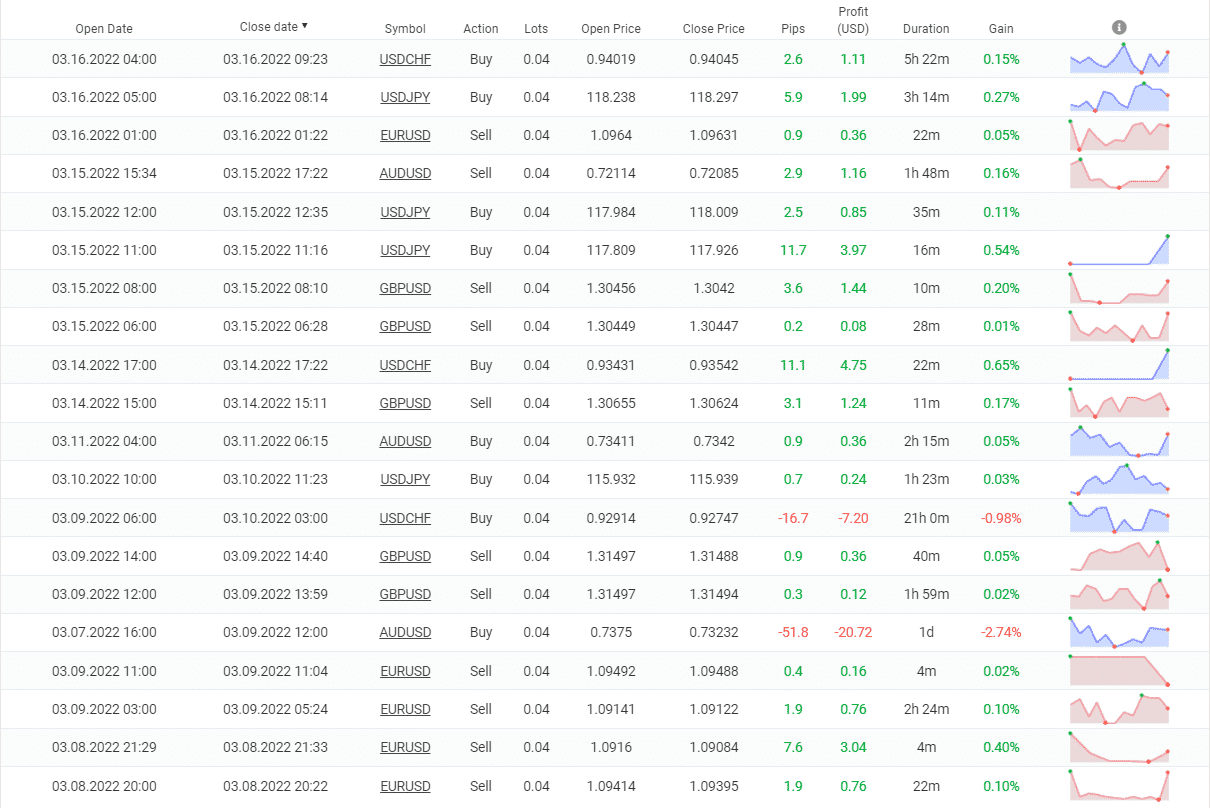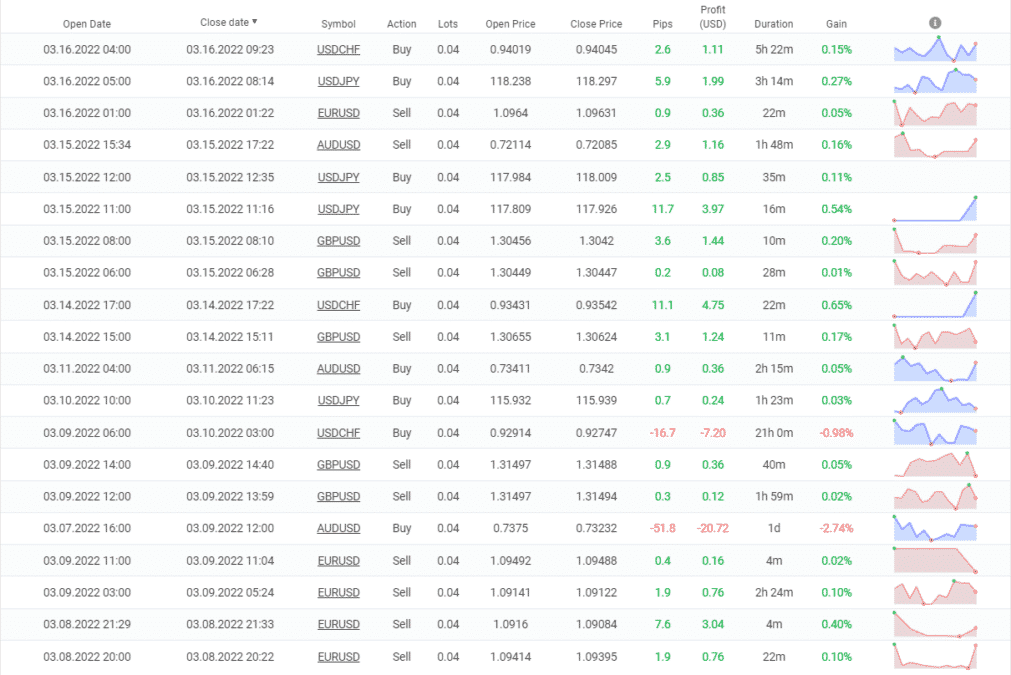 The advisor works with 51.8 pips stop losses when an average win in pips 2-3 pips only.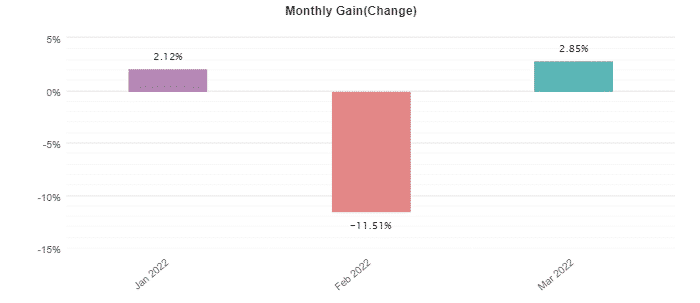 The system tries to recover after significant losses in February 2022.
Happy Trend packages
We can purchase a system via two packages. The first pack costs €299 and it's featured by two real-account licenses. The second pack includes five licenses and we have to pay €499 for it. The other features are: 10 EAs and one indicator, free updates and upgrades, support, and as usual, a 30-day refund policy.
Assistance
The developers provide everyone with welcome support within several hours.
Other notes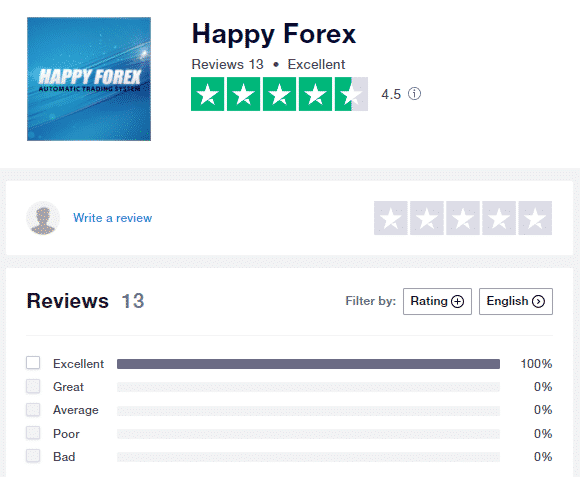 We have a profile of the mother company created on Trustpilot. This was done to let people write honest reviews about the service. There are 13 reviews written that formed a 4.5 rate. The clients inform us that the company and its solutions are good to be used and they are profitable.
Is Happy Trend a reliable system?
Yes, the robot has to work well after several updates are performed. We may expect a stable profitability in the next few months.