Happy MartiGrid is a system that works and keeps an account profitable on the real market. It was developed by Happy Forex. This company is well-known among Forex-related traders. From the name it's clear that the system works with a Grid and Martingale combo. It requires a proper margin level and good money-management.
Happy MartiGrid company profile
We have not only various systems published on the site like Happy Galaxy, Happy Power, Happy Neuron, Happy Breakout and others, but also ten extra advisors offered for free if you buy one of their products. They also protect you with a money refund, which means they are confident in the products they develop.
The highlights of Happy MartiGrid
Let's talk about the presentation and features that we could manage to find.
The advisor can work with the market completely automatically.
We can even open orders on the market manually if we want.
The system works based on Grid with Martingale.
Trading is possible on AUDUSD, EURJPY, EURUSD, NZDUSD, USDJPY.
It works on the H1 time frame.
It places adequate SL and TP levels for orders.
We have a news filter on the board to avoid trading during high impact news.
The system opens orders taking into account available margin.
It follows FIFO rules during trading.
The operational systems that can support the robot are: Windows, Mac OS, and Linux.
Standard, Mini, and Micro are allowed account types to trade.
The balance has to be over $3000.
The account type should be ECN for better performance.
Trading results with Happy MartiGrid
The system was tested on GBPUSD on the data of four years on the H1 time frame. The modeling quality was 99.90%. Most likely, the spreads were variable. An initial deposit was $3,000. It turned into $8,839 of the total net profit. The profit factor was 1.92. The maximum drawdown was 15.80%. It has performed 6101 orders with a win rate of 74% for longs and for shorts.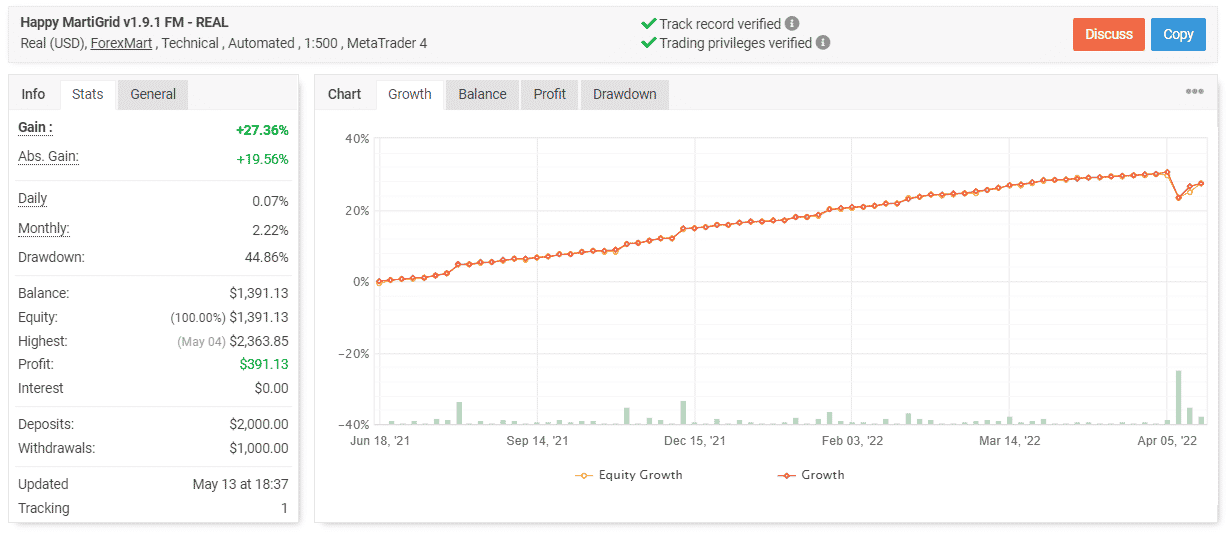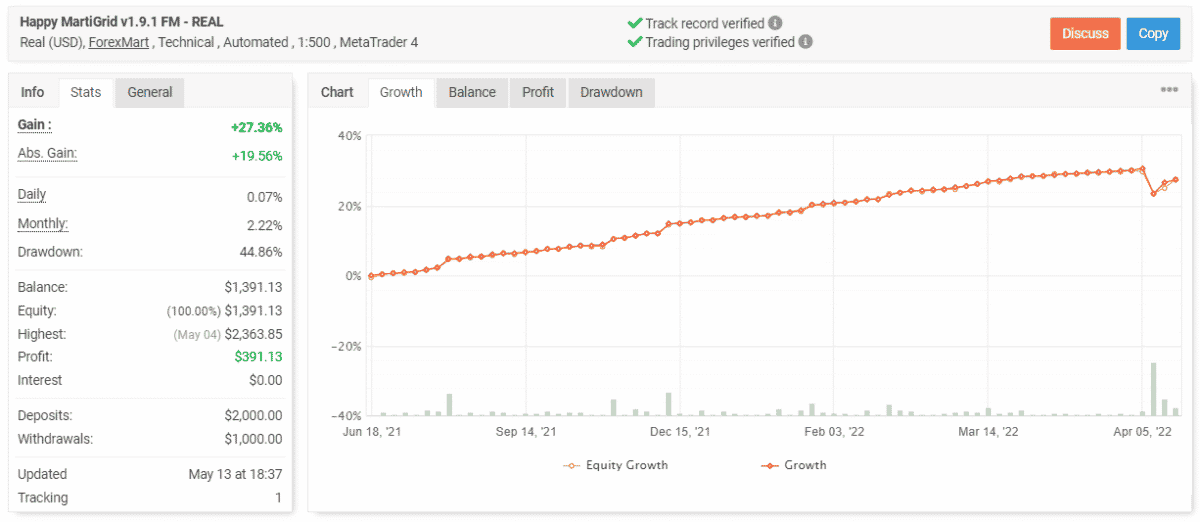 The robot manages orders on a real USD account on the ForexMart broker. The leverage is 1:500 and the platform to trade is MT4. The account has a verified track record. It was created on June 18, 2021, deposited at $2,000, and withdrawn at $1000. The advisor could manage to generate 27.36% of the total gain. We have an average monthly gain of 2.22%.


The robot executed 224 deals with -1045.6 pips. An average win is 25.55 pips when an average loss is -95.34 pips. The actual win rate is 73% for long and 79% for short trading positions. An average trade length is four days. The profit factor is good as well–1.60.

The system performs a Grid of orders with conservative Martingale. The growth chart looks pretty decent because the robot works with good money-management.
Happy MartiGrid packages
The offer includes two packages. We can buy two licenses for €299 and five licenses for €499. The developers provide us with a refund policy to get our money back if we don't like the system's performance.
Assistance
We should expect to receive decent support within several hours.
Other notes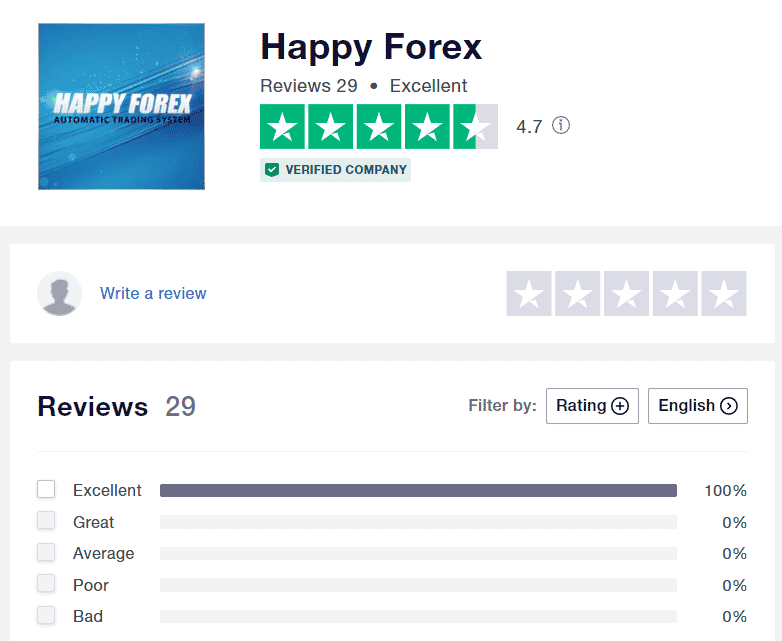 Happy Forex has a page on Trustpilot created. We can find 29 reviews that were written by clients. The final rate of the company is 4.7.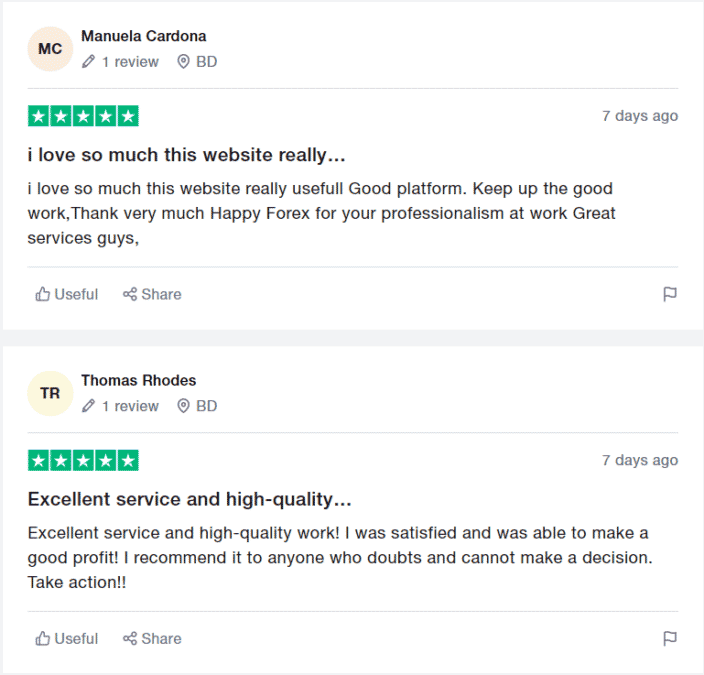 The clients share their positive experience of using this service.
Is Happy MartiGrid a reliable system?
Happy MartiGrid is a good system to keep working in 2022. Trading results showed that it knows how to make profits under various market conditions.