Aura Rocket provides a classic way for long-term trading. You just need to set the EA on a low risk setting and it will handle all trades for you as you go about your business or sleep. You can work with a higher risk setting, but expect the drawdown to be larger.
Aura Rocket company profile
A Russia-based developer known as Stanislav Tomilov is responsible for creating this EA. Aura Black Edition, Aura Turbo, Matterhorn, and Aura Pro are examples of his other creations.
The highlights of Aura Rocket
Here is a list of the EA's features:
It's easy to install.
The supported trading instrument is XAUUSD.
The minimum recommended deposit is $100, whereas the minimum leverage is 1:20.
A hard stop loss and a take profit are attached to each trade.
It is compatible with FIFO and suitable for FTMO.
Not sensitive to broker conditions, but a lower spread in gold is good.
The system allows you to work on the H1 timeframe.
Aura Rocket's trading strategy is based on the trend. According to the vendor, the EA opens orders in the direction of the trend and ensures each position is protected with a stop loss. We are also reminded that no risky money management methods like hedge, arbitrage, averaging, martingale, or grid are used. Scalping is also not incorporated into the algorithm.
Facts & figures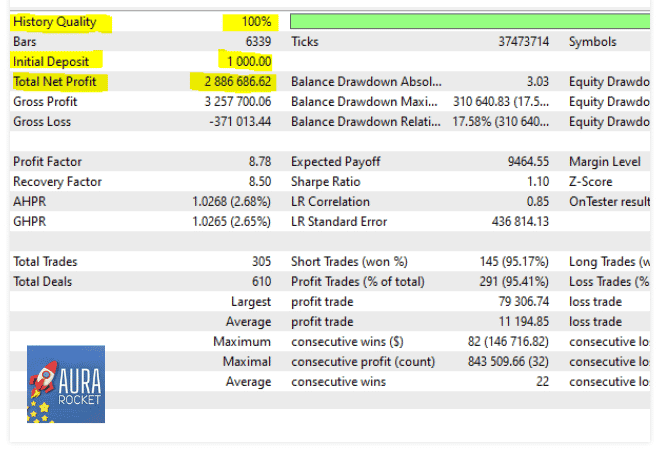 The backtest results have 100% historical quality, but at a glance, it is evident that data like the win rate for long trades, average loss trade, symbols used, test period, etc., are missing. Anyway, we can see that a total net profit of $2886686.62 was generated from a deposit of $1000. This was preceded by the completion of 305 trades. The profit factor (8.78) shows that the EA's activities were rewarding for the most part. The relative drawdown was 17.58%, indicating that trading risks were low.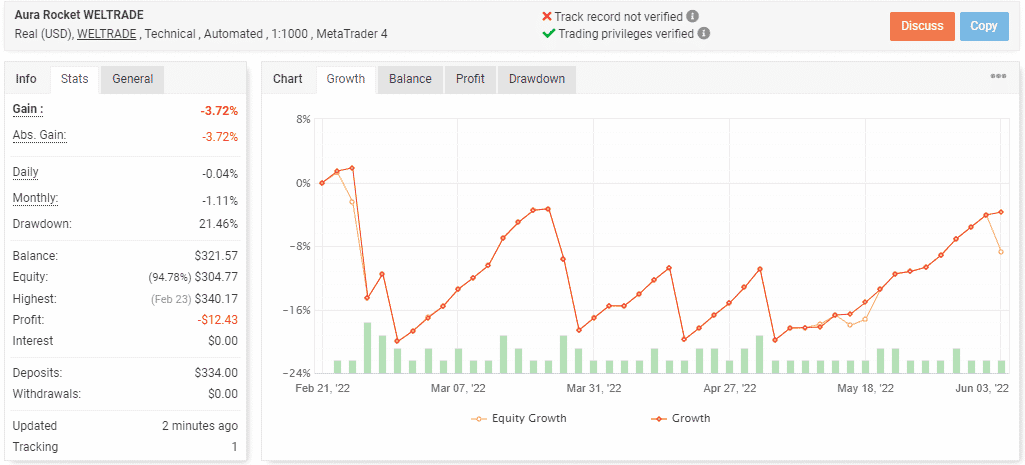 For an account that was opened in February 2022, it is obvious from the growth chart that the EA's performance in the market has been inconsistent. Unfortunately, the loss rate is much higher than the profit rate. This explains the deterioration of the account's value by -3.72%. From a deposit of $334, a net loss of -$12.43 has been made. Over the last few months, the drawdown has increased to 21.46%.

The EA has carried out 68 trades with 0.68 lots. The resulting win rates for the long positions are 85% and 90% for short ones. There's a profit factor of less than one, which suggests that the system doesn't generate enough returns on investment. Luckily, no commissions are charged on profits.

This account can be wiped out easily.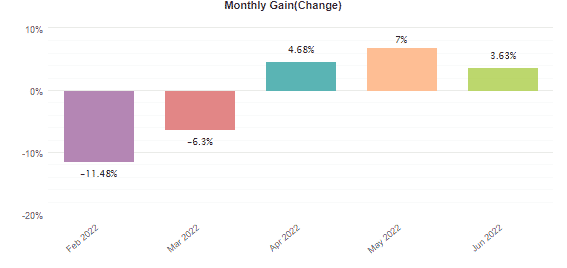 The robot made significant losses in February and March. The good news is that it has made profits in the last 2+ months.
Aura Rocket packages
Several pricing packages are available. We have a lifetime license that costs $995. Monthly plans are also available, and they cost $295, $445, or $595 if renewed every 3 months, 6 months, or 12 months, respectively. We can all agree that none of the packages are cheap. Unfortunately, the live trading results suggest that the EA may not be worth these costs after all.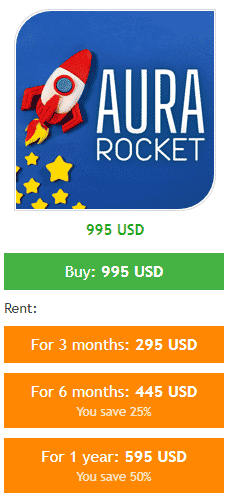 Assistance
Customer support is available through mql5's comments section and email. We are not sure if the vendor has a Telegram group that can answer clients' queries.
Other notes
Aura Rocket has a 3.78 rating on MQL5 based on 23 reviews. Some traders claim that the EA is excellent, profitable, and produces good outcomes during backtesting. Those of a contrary opinion say that the robot conducts fewer trades, performs poorly, and generates numerous losses.


Is Aura Rocket a reliable system?
Reviews from customers intimate that the robot is reliable, but its trading outcomes in the live market have influenced us to think otherwise. In light of this, we advise that you test the bot on a demo account first before going live to be safe.