Happy Forex is an expert advisor launched by the Happy Forex team. This is a robot that is compatible with the Metatrader 4 expert advisor. In order to check out the reliability of this system, we are going to check out its features, live trading performance, pricing, backtesting data, trading strategy, and user reviews.
Happy Forex company profile
Happy Forex is a company based in Germany. It has been manufacturing Forex automated trading systems for over five years. This team has a great reputation and some of their best-known expert advisors include Happy Frequency, Happy Power, Happy Galaxy, Happy Trend, Happy Way, and Happy Gold.
The highlights of Happy Forex
This EA supports operating systems like Linux, Mac OS, and Windows. It is compatible with different types of accounts like Standard, Micro, and Mini. For a Micro Account (0.05 lot), the recommended deposit is $1000. Mini Accounts (0.5 lot) require a deposit of $10.000 while Standard accounts (5 lot) require $100.000.
The robot operates 24/7 and has an easy setup process. It supports ECN brokers and can perform auto-quotes detection up to 4 or digits. For the live trading account, the EA uses a 1:500 leverage.
This EA supports currency pairs like EUR/USD, GBP/USD, and AUD/USD. It uses reinsurance positions as a part of its grid strategy. However, unlike martingale systems, it does not increase the size of the trading lots. For making safe entries with a news filter, the robot uses technical analysis. You can use this robot with any broker with a maximum of 4 spreads.
Facts & figures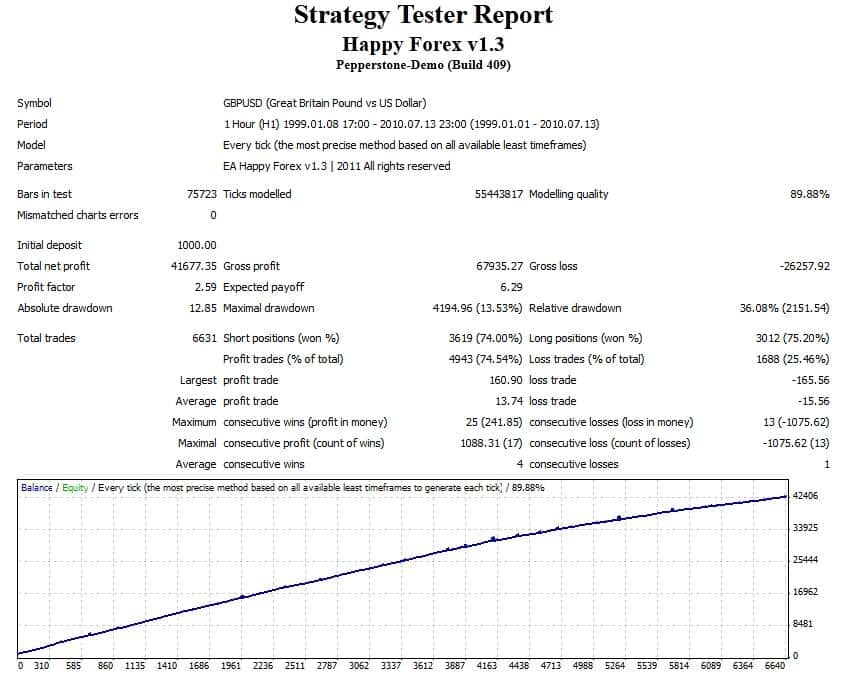 This backtest was conducted from 1999 to 2010 using an every tick model. The EA conducted a total of 6631 trades, winning 74.54% of them and generating a total profit of $41677.35. Apart from the high win rate, the EA also had an impressive profit factor of 2.59. The relative drawdown was a little high at 36.08%, but looking at the high win rate, this shouldn't have been an issue. There were 25 maximum consecutive wins and 13 maximum consecutive losses during the backtest.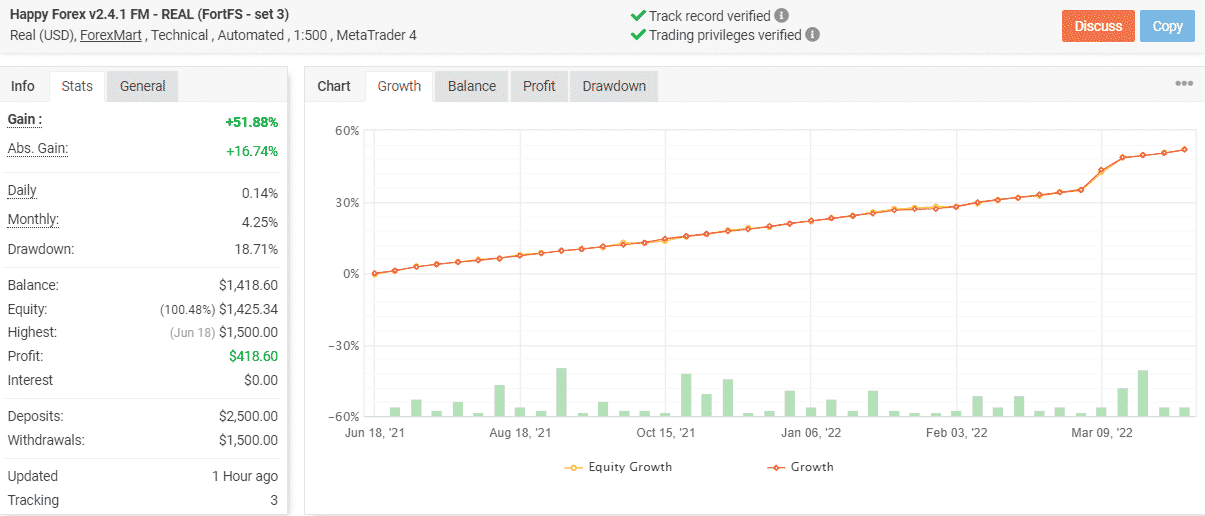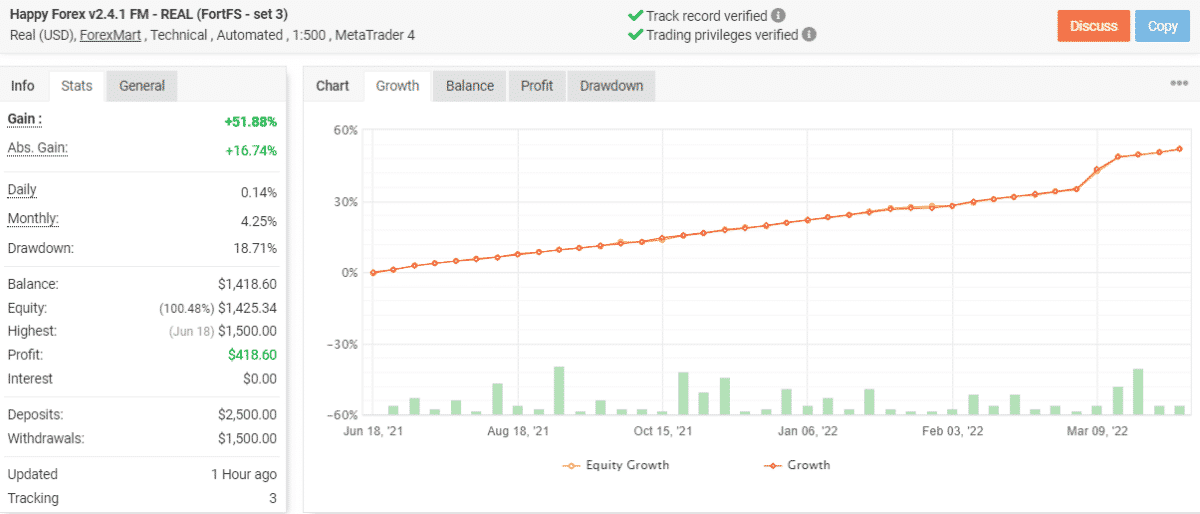 This live trading account on Myfxbook has been active since June 18, 2021. To date, the EA has conducted 193 trades through this account. Currently, the win rate is pretty high at 69%, although it is a bit less compared to the backtest. The robot has managed to generate a profit of $418.60 through this account.
Currently, the daily and monthly gains are 0.14% and 4.25%, respectively. The drawdown of 18.71% can be considered acceptable for trading. This account currently has a time-weighted return of 51.88%.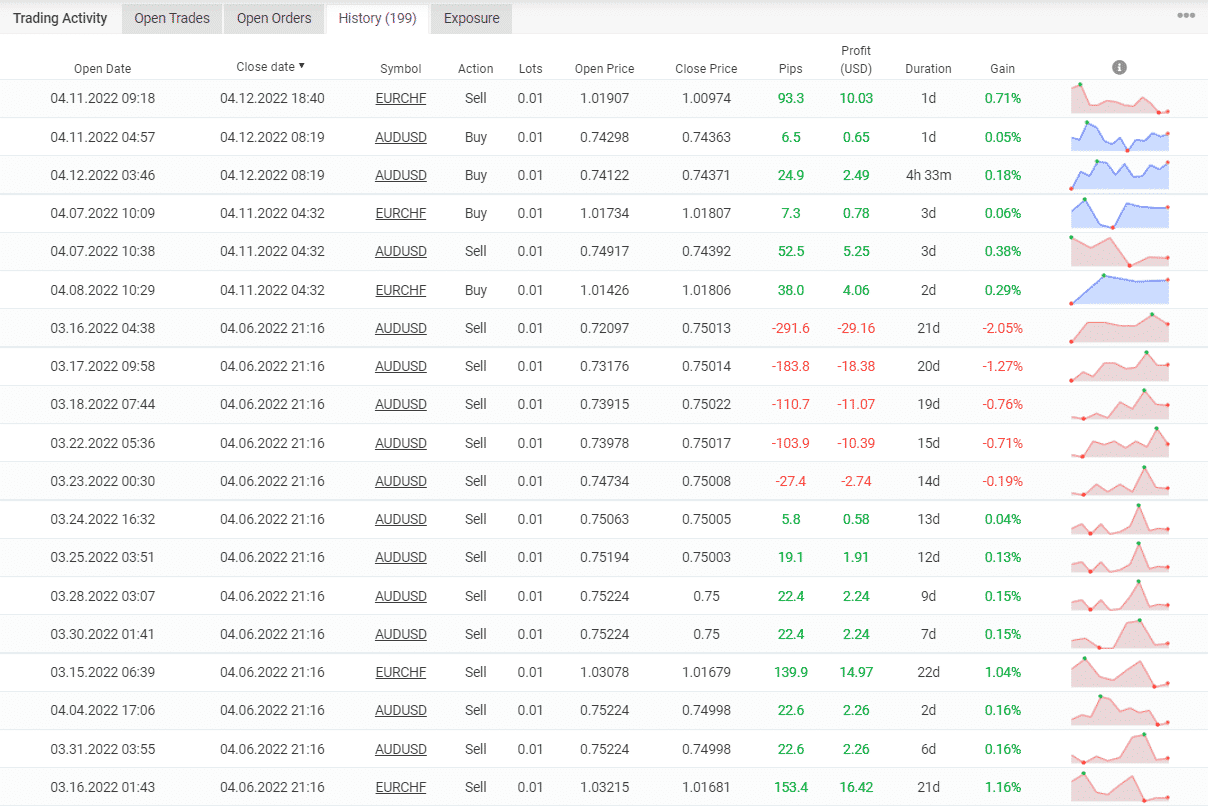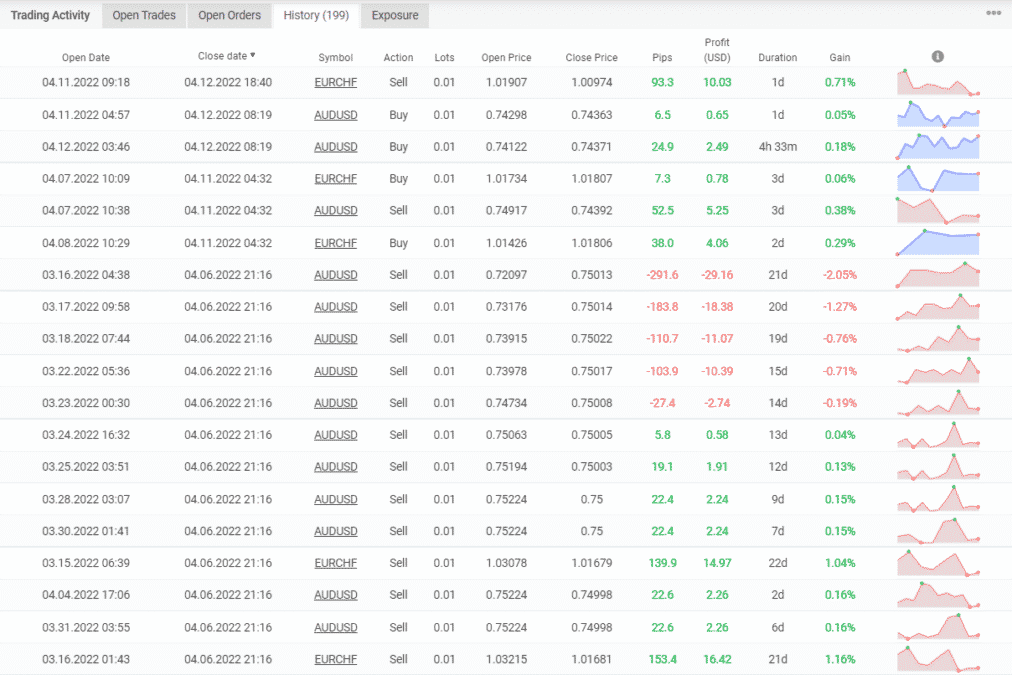 Here we have some of the recent trades conducted through this account. As you can see, the EA is capable of generating profits consistently. It uses a lot size of 0.01. The average win and loss for this account are 56.08 pips/$5.73 and -54.62 pips/-$5.73, respectively.
Happy Forex packages
This EA is sold as a part of the Happy Forex Full Pack containing 10 EAs in total. For two real licenses, you need to pay 299 Euros, while five licenses cost 499 Euros. Both the plans are quite affordable compared to other robots. The vendor offers a 30% discount and a 30-day money-back guarantee. 
Assistance
There is a contact form on the website through which you can get in touch with the support team. On the official Facebook page, you can find the email address.
Customer reviews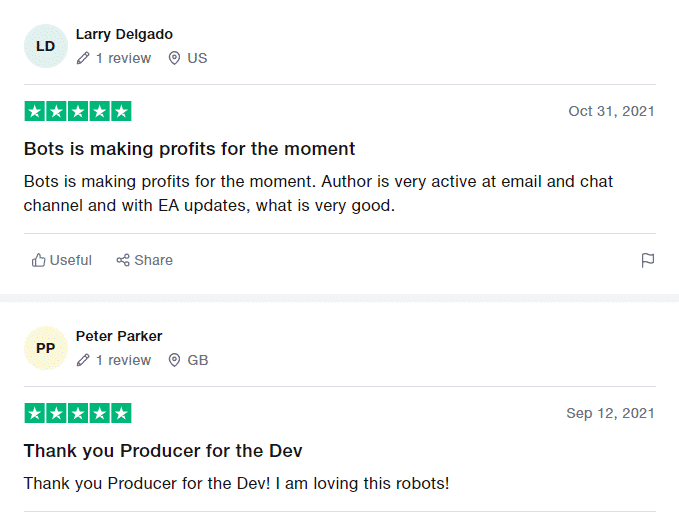 While no reviews exist for this particular robot, the parent company, Happy Forex, has a rating of 4.6 out of 5 based on 18 reviews on Trustpilot. The users have claimed that the bots make steady profits.
Is Happy Forex a reliable system?
The robot has proven itself capable of generating steady profits in the live market. It is developed by a reputed company and the price is really affordable.