The devs of FXSecret Immortal claim that the system is one of its best products as it is capable of generating large profits. They also assert the EA is designed to work with three distinctive strategies that diversify trading risks. This makes it resilient to market changes. We evaluate the veracity of these claims.
FXSecret Immortal company profile
FX-Secret is the company behind this robot. We are told it started creating Forex robots in 2009, although the official founding year was 2012. The firm is purported to work with successful traders. However, their qualifications and credentials are not in the public domain yet. We need tangible proof to verify the expertise of this team and its reputation in this market.
The highlights of FXSecret Immortal
FXSecret Immortal offers a few features, which are indicated below:
Requires a minimum of $1400 to begin trading.
Can work on both MT4 and MT5 accounts.
Customer support is available.
Has a drawdown control system.
FXSecret Immortal combines 3 different strategies. However, we are not told what these strategies are or how they work. Notably, we saw some elements of the grid in the trading stats. The devs say that it is possible to customize the EA's settings to work with all 3 strategies or less. They also state that the system will automatically compute lot sizes and stop losses based on the risks specified in the settings.
Facts & figures
The devs do not feature a comprehensive strategy tester report in the presentation. They have decided to take another route to explain to us how the system performed on historical data. So, we have several charts with a storyline highlighting how the team tested different strategies and finally settled on a combo that showed good performance. We suspect that this test wasn't done at all, and the charts are just manufactured to fool us.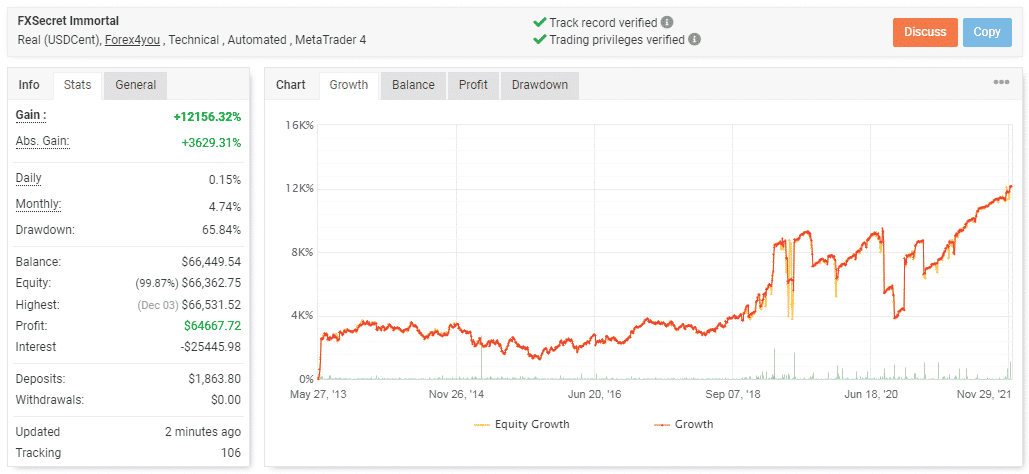 FXSecret Immortal has been trading in the live market for a very long time. As per the stats above, the account was opened on March 27, 2013, and deposited at $1863.80. The profit made so far is $64667.72. Going by the drawdown level (65.84%), it is evident that the EA trades dangerously. We doubt if traders would be willing to work with such high risks. The daily and monthly profits are 0.15% and 4.74%, respectively.

The system has completed 3040 trades with 1865.41 lots. The win rates for long (57%) and short (55%) positions are very poor. From these results, it is clear that the robot struggles to win the orders placed. From the profit factor of 1.16, we can see that the successful trades hardly bring in substantial returns. The average win is 41.63 pips, whereas the average loss is -51.22 pips.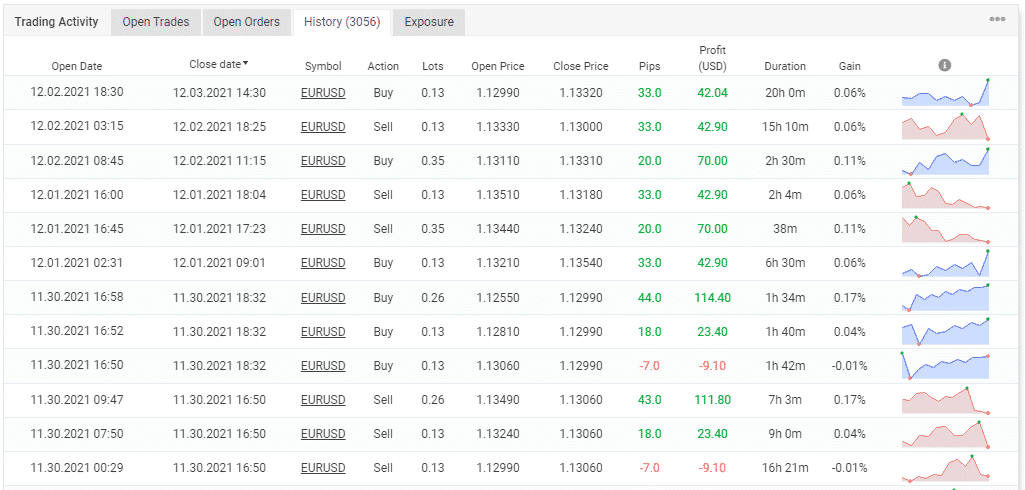 As we look at these stats, we are able to see that many risks are taken when trading. This is evidenced by the large lot sizes and the grid of orders applied.
FXSecret Immortal packages
You can get FXSecret Immortal at a price of $549. This package comes with a single license, versions for MT4 and MT5 accounts, settings for easy setup, and 24/7 lifetime support. Unfortunately, a money-back guarantee is not featured.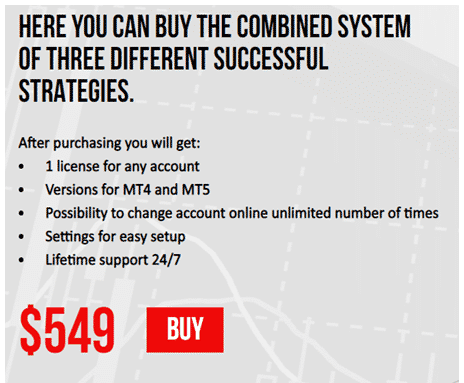 Assistance
Obviously, the FXSecret Immortal team offers customer support. However, the quality of this service is low. For one, they don't give us a contact address. Secondly, it is not clear if they respond. Lastly, there are no other support contact options.
Other notes
Though we don't have any customer reviews for FXSecret Immortal, we stumbled upon one review on FPA that discloses some damning things about the parent company. Apparently, systems developed by FX-Secret produce small profits, and in some instances, you can end with huge losses.

Is FXSecret Immortal a profitable bet in 2022?
No, it is not. We concluded this after establishing the following about the EA:
It trades with large lot sizes
The grid is one of the strategies applied
Produces a high drawdown
Low profitability