FXCipher's presentation is not so informative. Aside from highlighting the robot's features and performance statistics, the vendor does little to explain to us how it really works, the team involved, and how we can contact them. We doubt if traders will be interested in a system that is shrouded in secrecy.
FXCipher company profile
As indicated earlier, the company behind this bot is mysterious. Consequently, its year of foundation, location, trading experience and history in the FX market cannot be ascertained. The fact that the devs do not want to know who they are is really suspicious.
The highlights of FXCipher
FXCipher has a few features and we have highlighted them below:
It is 100% automated.
The system runs on MT4/5 platforms.
It is compatible with NFA regulated and FIFO brokers.
The system supports many currency pairs: EURJPY, AUDUSD, USDCAD, GBPUSD, and EURUSD.
It has a preset selection mode.
However, the EA's strategy description is too general. The devs indicate that it has 2 in-built approaches designed to adjust to different market conditions. The trading styles supposedly decrease risks and augment efficiency, which, in turn, allows the bot to trade reliably and profitably. You will be shocked to find out that the team is really talking about the grid and martingale approaches. We are not oblivious to the dangers these techniques pose to traders' accounts.
Facts & figures with FXCipher
Several backtest results are featured in the presentation. In this case, we have analyzed the backtest report for the AUDUSD currency pair.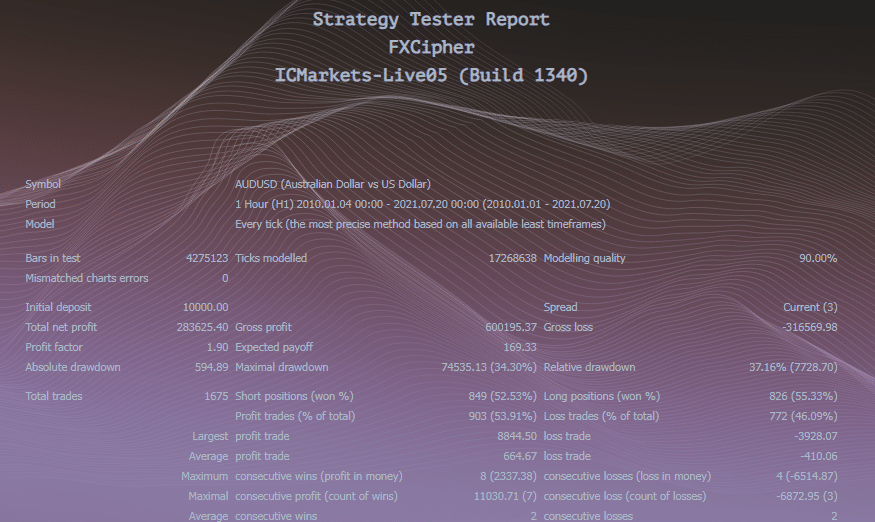 The data tells us that the system was tested from January 2010 to July 2021 on the 1 hour time frame. Using a deposit of $10,000, the EA conducted 1675 trades and made a total profit of $283,625.40. Nevertheless, these trades performed very poorly. Only 52.53% of the short positions and 55.33% of the long ones were won.
The sales pitch also includes the live trading results that can be found on Myfxbook.com.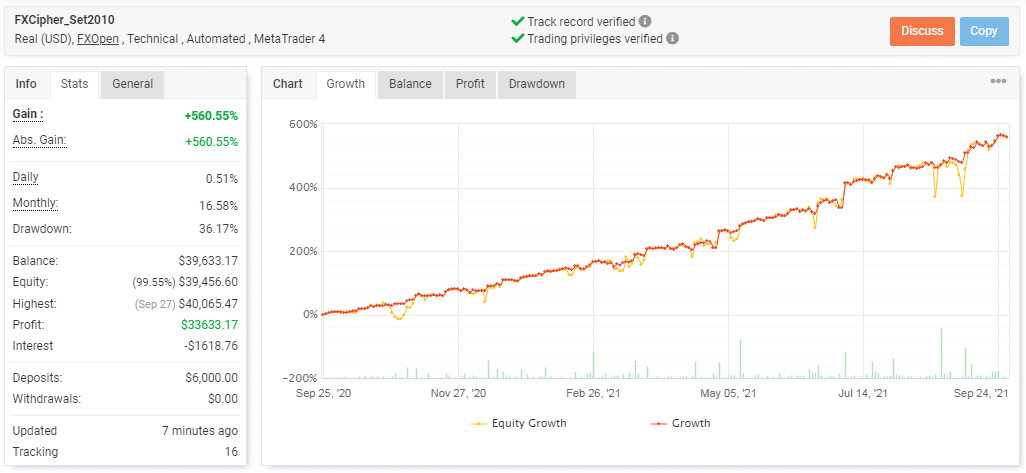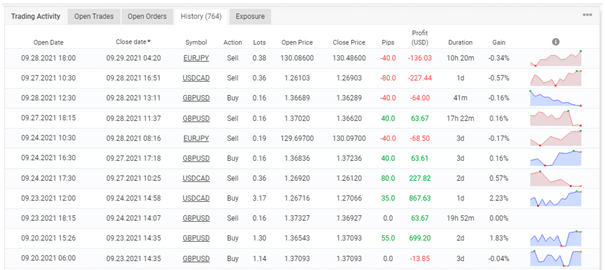 We have found out that the EA is running a real USD account that was activated on September 25, 2020, and to date, it has reported a gain of 560.55%. In particular, the system has increased the deposit from $6,000 to $39,633.17. Although the monthly profits of 16.58% are promising, the drawdown rate of 36.17% does not portray a good picture. It is a sign that risky trading approaches are being executed.
The system has conducted 763 trades with 373.77 lots. Most of the trades have not been successful. The low win rates of 48% for long positions and 47% for short positions prove this. This performance was even poorer than the one we see in the backtest data. The profit factor (1.58) isn't that good either.
According to the trading history, the EA places a grid of orders. It also uses big lot sizes and increases them whenever losses are incurred.
FXCipher packages
You can get this robot at $295. This price features 1 software license, the MT4/5 versions, detailed user manual, 24/7 technical support, free updates, and a money-back guarantee.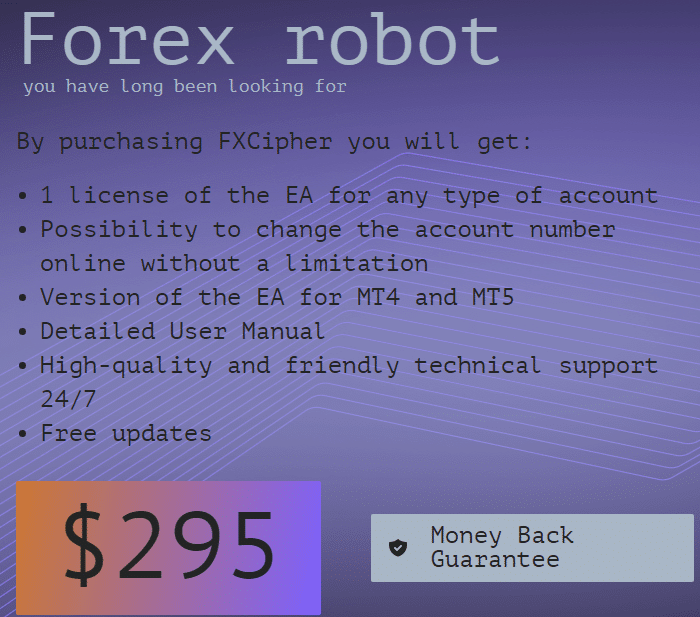 Assistance
We believe that the vendor provides support services to its clientele. This is if what they are telling us is true. There is a contact us page that contains a form that customers can use to make their queries. But surprisingly, it does not contain the vendor's email address.
Other notes
FXCipher also doesn't seem to have any customer reviews yet. From the trading stats, it is apparent that it has been in the market for a while. The lack of user testimonials should hence be a great cause for concern.
Is FXCipher a profitable bet in 2021?
We don't think so. Through this review, we have discovered several unsettling things we just cannot disregard. They include:
High drawdown.
Poor trading performance.
Presence of grid and martingale approaches.
Evidently, the EA trades dangerously, which increases its chances of losing trades. Therefore, your investment won't be safe with it.