ForexSignals.com is a company that not only provides signals services, but also a platform for traders to learn more about Forex trading and share their experiences in the market. We have assessed the services offered and established that they are only useful for learning purposes. Real customers say that the signals are unprofitable and dangerous.
ForexSignals.com company profile
ForexSignals.com is a company owned by a person called Nick McDonald. He launched the site back in 2012. The company boasts of having 52 employees plus three mentors who provide Forex education to subscribers in the trading room. The mentors include Andrew Lockwood, Mark Bennell, and Max Norbury. Together, they are purported to have 55+ years of trading experience.
The highlights of ForexSignals.com
The services offered by the company are listed below:
Daily Forex trading signals
Free Forex courses and tools
Pro trading video academy
Market analysis from Forex mentors
More than 300 hours of easy to comprehend video lessons
Live chat with pro mentors
Daily live trading sessions
Real-time international news stream
Weekly hot-pick analysis
Trade sentiment analysis
Trade discussion with other fellow members.
The mentors use three different strategies to identify trading signals that they supply to you:
Naked trading strategy
This method assesses the market through price action and key support and resistance levels.
FX propulsion strategy
This is a form of intra-day trading that applies powerful technical indicators to predict market movements.
Trend surfing
The approach focuses on identifying trading opportunities on the charts.
Facts & figures
We are disappointed by the vendor's failure to present us with the backtesting results of the signal program. The team floods the website with info about the services offered, but leaves out one of the most important parts — the signals' historical performance. This is very telling. Probably they have not tested the aforementioned trading methods on a simulator program.
ForexSignals.com does not share any proven track record of the performance of signals either. Surely, any professional who claims to have been in this market for decades knows the importance of sharing their trading results with the public it is trying to convince to invest with them. So, their failure to do so only raises suspicion about the efficiency of their services.
ForexSignals.com packages
Traders interested in this vendor's services have 3 options to choose from. We have the first plan (the Apprentice) that bills traders $97 every month. There's also the Committed pack that requires a payment of $297 every 6 months. The last package (the Professional) will cost you $564 yearly. The Professional includes additional features such as a direct line to mentors, Trend Surfing EA, and a license key to Forex tester 5 that aren't available to the Apprentice and the Committed plan subscribers.

The company also has a free trial offer that lasts for 7 days.
Assistance
The company's customer service team is available 24/7 to assist you. So, all you have to do is email them at [email protected]. Alternatively, you can contact the company through its social media handles on Facebook, Youtube, or Instagram.
Other notes
Customers are pretty much happy with ForexSignals if the 4.454 rating they have given the company on FPA is anything to go by. However, the satisfied clients do not tell us whether the signals are lucrative or not. This information is provided by the few disgruntled subscribers. There are claims that the mentors have a history of providing inefficient signals that have blown up the accounts of their clients.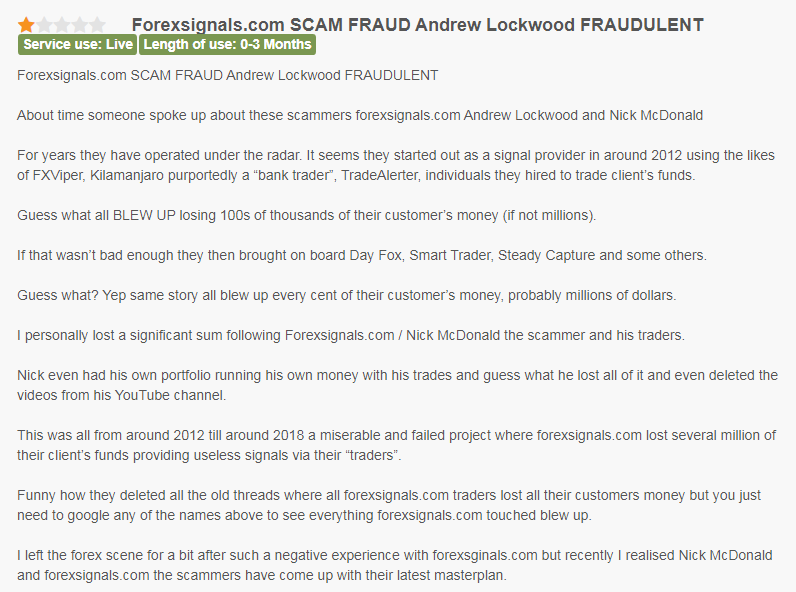 Is ForexSignals.com a profitable bet in 2021?
No, it is not. We came to this conclusion because:
There are concerns that the mentors are amateurs.
The signals are not profitable and can crash accounts.
The company does not publish the live trading results of its signals.
Therefore, subscribing to this company's services is risky because chances are that you will not get any return on investment.