Forex Diamond is a fully automated Forex expert advisor that works on the Metatrader 4 and Metatrader 5 trading platforms. According to the vendor, this robot is well-suited to the market conditions of 2021 and it can take our trading to the next level.
We must check the veracity of the vendor's claims and determine the true profitability of the system. For this purpose, we are going to analyze the live performance, features, pricing, reviews, and vendor transparency.
Forex Diamond company profile
Forex Diamond is a product from the FXautomater team, which is based in Seychelles. We don't have enough information on this company's background and history. It is unknown who the key figures of this organization are. Thus, we can say there is a lack of vendor transparency. Some of the robots sold by this company include Smart Scalper Pro, Grid Master Pro, BF Scalper Pro, Omega Trend EA, BF Grid Master EA, BF Scalper EA, New Scope EA Pro, and Gold Scalper Pro.
The highlights of Forex Diamond
Forex Diamond follows a high-frequency trading approach. It uses take profit and stop losses with each trade and has high slippage and high spread protection. It also has a profit protection system, but the vendor has not explained this feature in detail. Therefore, we have no idea about the risk management features of this robot.
With Forex Diamond, you can configure each trade based on your trading style. It can execute over 1200 orders every year. The robot computes the trading parameters based on the market scenario. It adjusts these parameters according to the market conditions.
Forex Diamond follows three main strategies, namely Trend Retrace Signal strategy, Scalping strategy, and Counter Trend strategy. For the first trading scheme, the system looks for market impulses and adjusts the trading parameters accordingly. The Counter Trend strategy is where the EA watches out for trend reversals. Then there is the scalping strategy where the EA tries to take advantage of the small price differentials between currency pairs, placing a large number of trades daily.
Facts & figures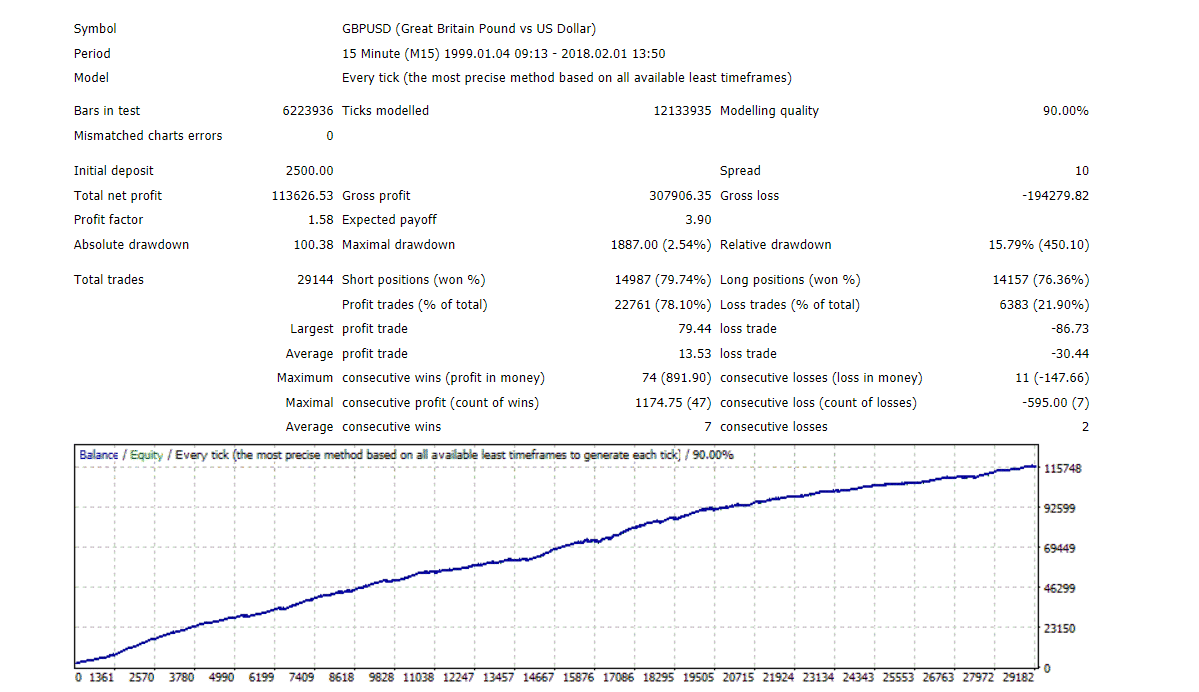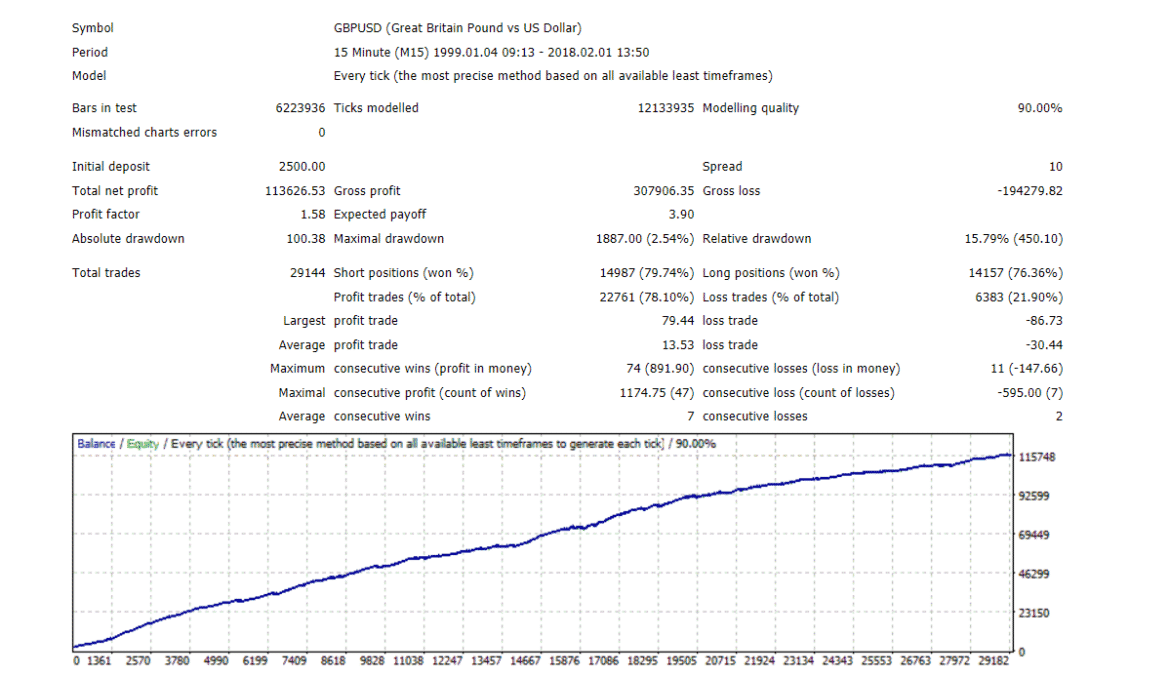 Here we have the backtesting data for GBP/USD. The test was carried out from 1999 to 2018 with 90% modeling quality. Forex Diamond placed a total of 29144 trades during the testing period and generated a profit of $113626.53. It had a win rate of 78.10% and a profit factor of 1.58.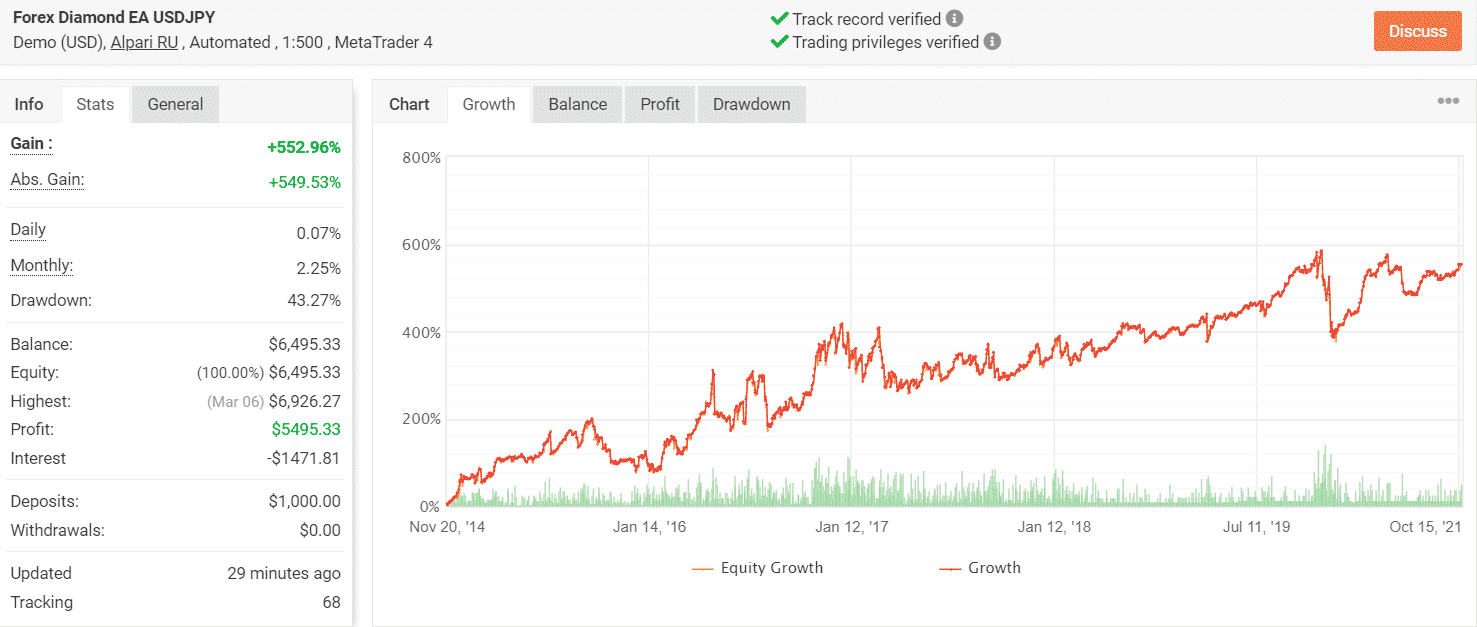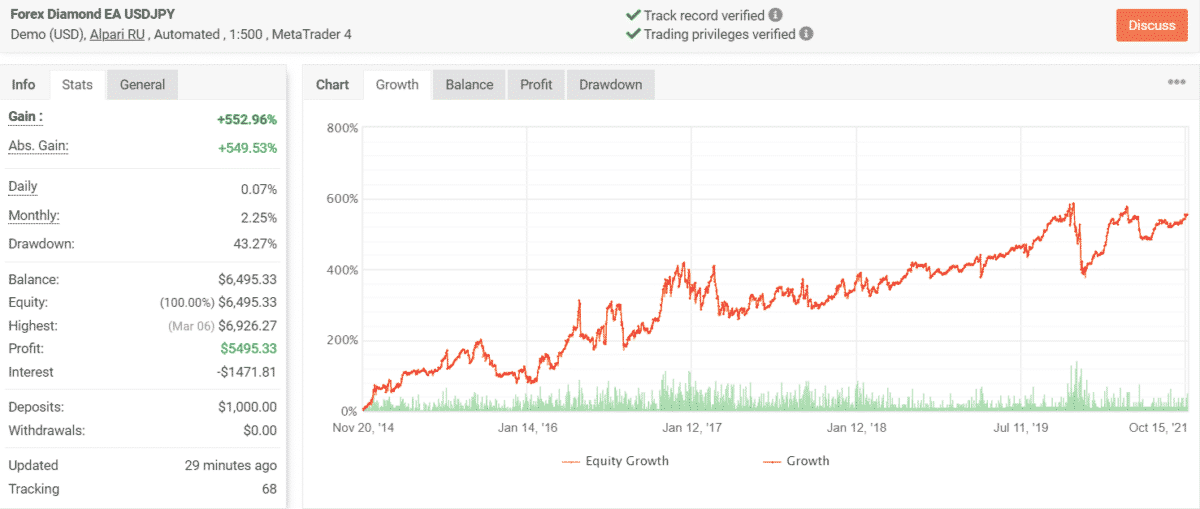 Here we have the live trading results of Forex Diamond presented on a verified trading account on Myfxbook. This account has been active since November 2014 and the EA has placed 3968 trades through it. It currently has a win rate of 70% and has generated a total profit of $5495.33.
At this moment, the daily and monthly gains for this account are 0.07% and 2.25%, respectively. The drawdown is extremely high at 43.27%, and this makes Forex Diamond a risky trading system.

As you can see from the trading history, the robot is prone to suffering consecutive losses. It follows a high-risk trading approach and can drain your account overnight.
Forex Diamond packages


You can purchase Forex Diamond for a one-time price of $237. This gives you access to a single real-money account and multiple demo accounts. You can also use an advanced news filter and trade in 4 currency pairs. The vendor offers a 60-day money-back guarantee.
Assistance
The Forex Diamond customer support team remains active 24/7. To get in touch with them, you can use the contact form on the website.
Other notes
There are no reviews that tell us about the experience of customers with this system. This shows a lack of reputation.
Is Forex Diamond a profitable bet in 2021?
No, it is not. The drawbacks of this system are as follows:
Lack of vendor transparency
High drawdown
No customer reviews.
Due to the lack of reputation and the high drawdown, we think this is a risky investment.