Forex Trend Hunter is a fully-automated trading system designed for the MT4 trading terminal. The vendor claims this is the best trend-following EA for long-term profits. According to the developer, traders can make several hundred pips worth of profit for a single trade, while using this robot.
To check out whether it is a good trading tool, we are going to analyze various performance factors of this system like vendor transparency, features, live trading results, backtests, customer support, and user reviews.
Forex Trend Hunter company profile
The parent company behind this robot is known as Automated Forex Tools. We don't have any background information on this company. Since the vendor has not shared an official address, we don't know where it is located. There is no information on this company's foundation and trading history and does not seem to have much of a reputation.
The highlights of Forex Trend Hunter
Forex Trend Hunter is compatible with currency pairs like EUR/USD, EUR/JPY, GBP/JPY, USD/JPY, and USD/CAD. It has an advanced recovery system that places recovery trades when the market conditions are inappropriate. You can run this EA on Windows and Mac computers. The Mac version also supports other operating systems like Linux.
Being a fully-automated EA, Forex Trend Hunter can run on its own without any manual intervention. It has an integrated advanced account and money management system. You can run the robot on all brokers, including those based in the US. The broker protection feature prevents dishonest brokers from seeing your take profit and stop loss levels.
You can get started with a minimum balance of $500. The vendor recommends testing the performance of the EA with a demo account, using a deposit of $5000 or $10,000. Depending on the market conditions, the EA can choose not to trade on a particular day.
Forex Trend Hunter is a trend-following robot, but we don't know the details of the trading strategy. The vendor has not mentioned what indicators this robot uses and how it analyzes the trend. For the live trading account, the EA uses 1:500 leverage.
Facts & figures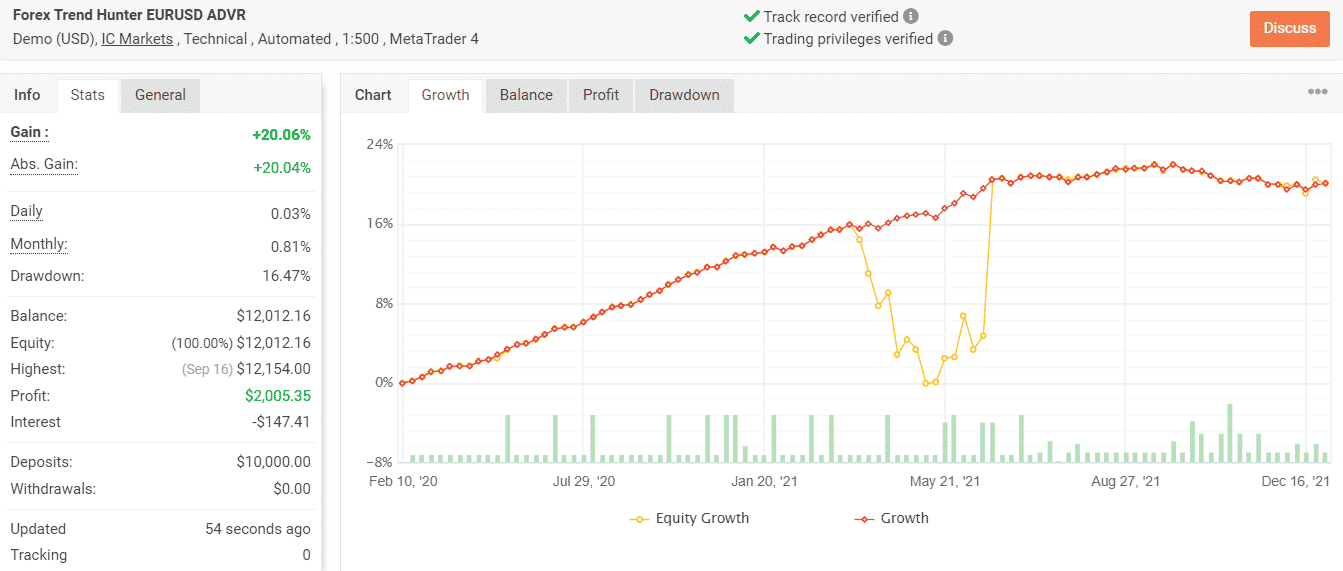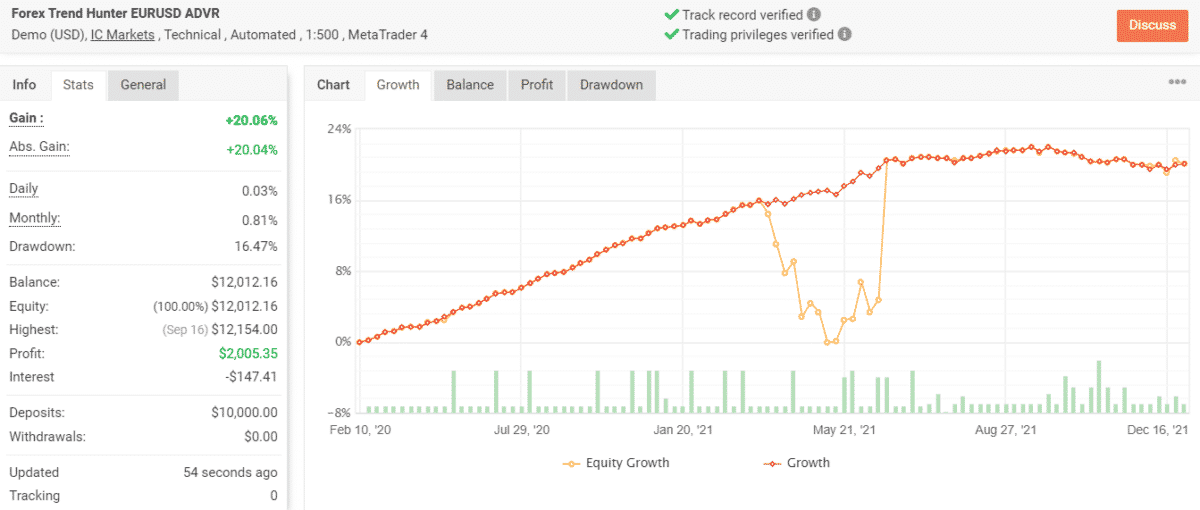 Since February 2020, Forex Trend Hunter has placed 122 trades through this account. The current win rate is 66% and the total profit is $2,005.35. This account has daily and monthly gains of 0.03% and 0.81%, respectively. The drawdown is 16.47%. The system trades with a profit factor of 2.11.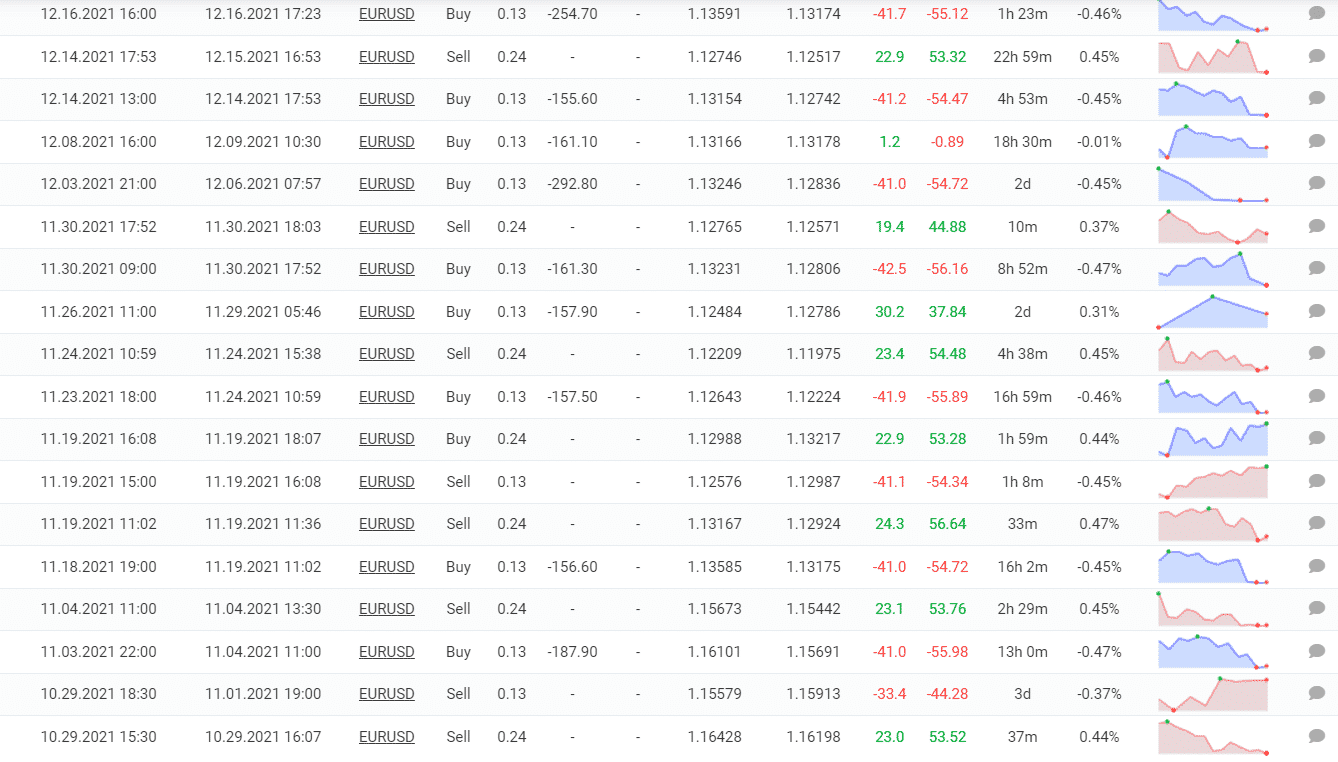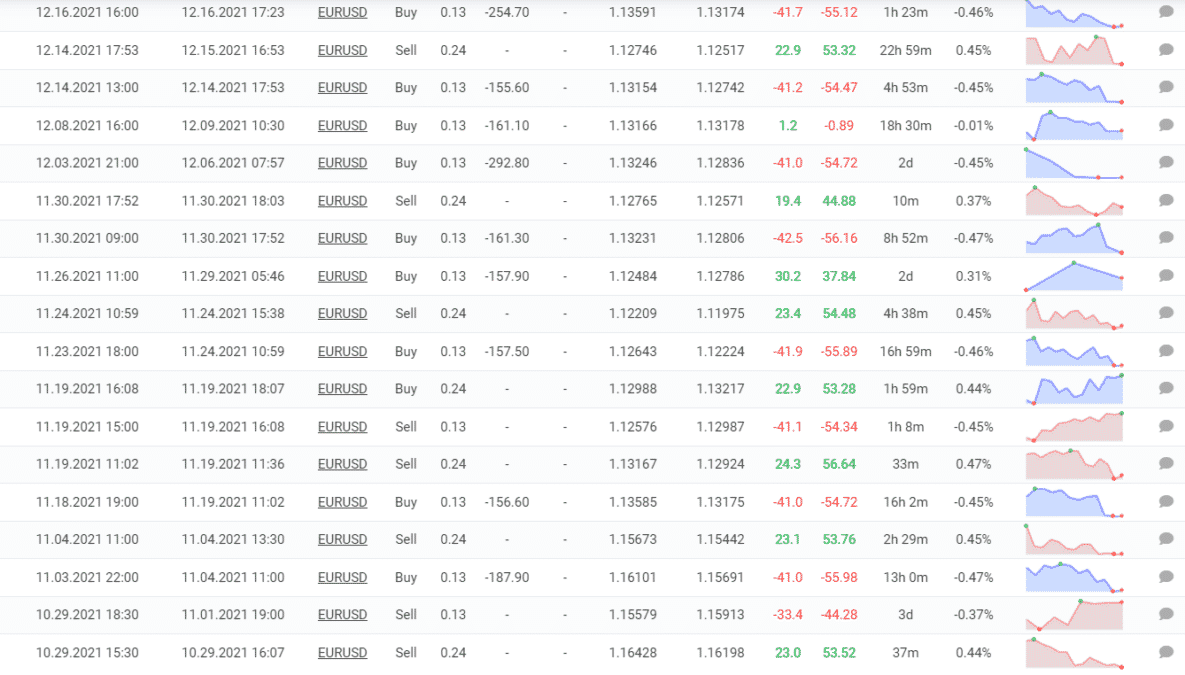 From recent trading history, we can see that the robot is prone to suffering frequent losses. It does not trade every day and usually keeps its positions open for a few hours. The average win and loss for this account are 27.42 pips/$47.15 and -35.24 pips/-$44.25, respectively.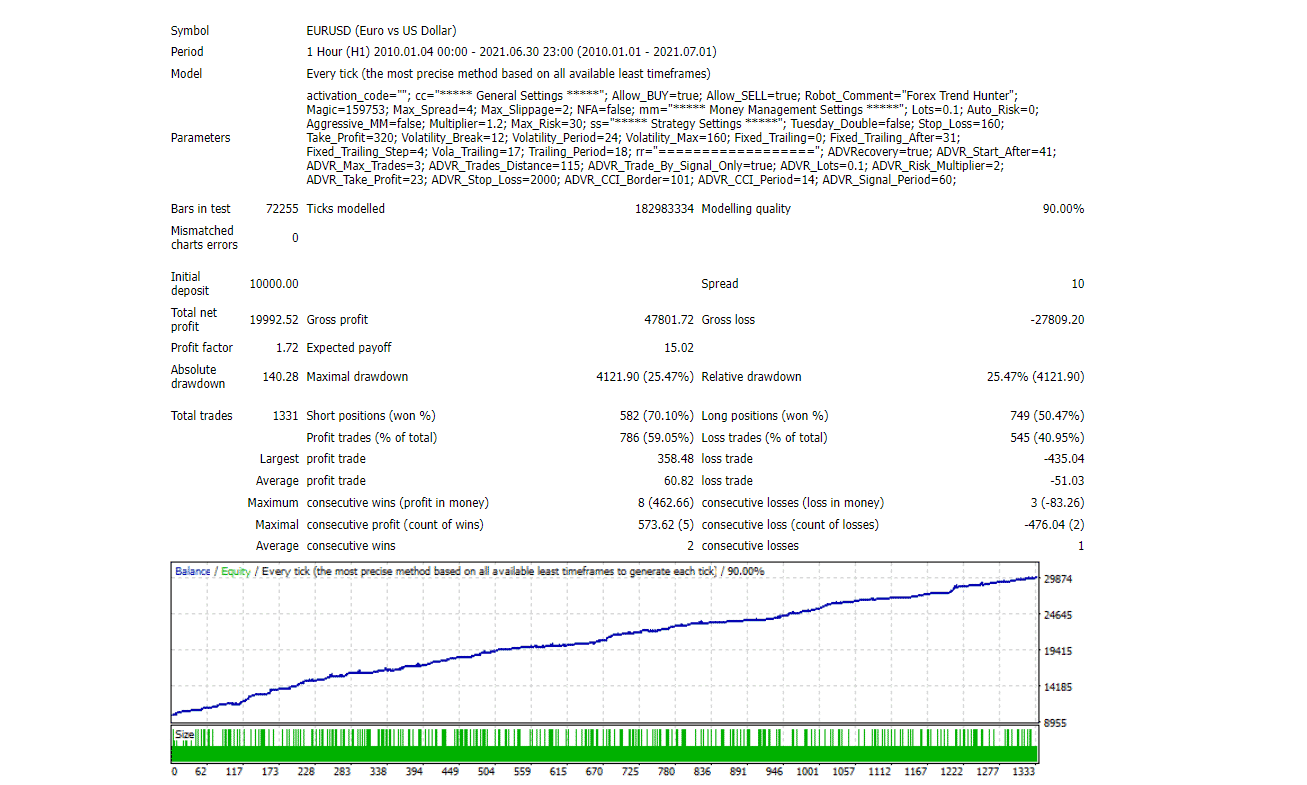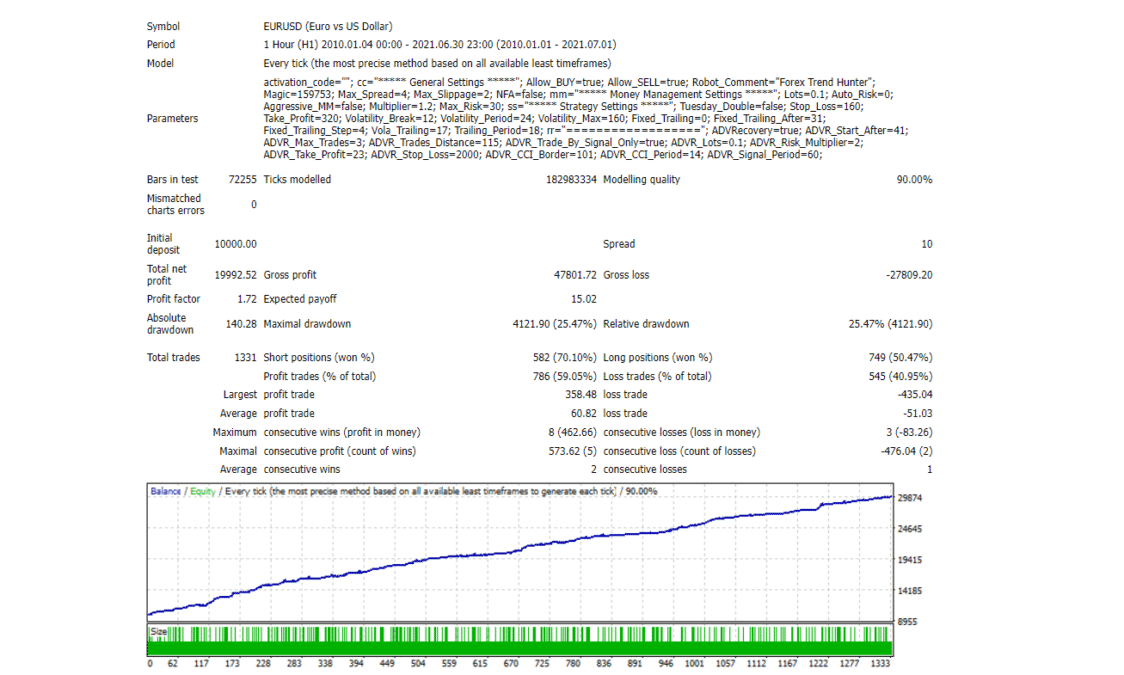 This backtest was conducted on the EUR/USD pair from 2010 to 2021 for the H1 pair. The EA used an initial deposit of $10,000 to conduct 1331 trades, winning 59.05% of them and generating a total profit of $19992.52. Here, the win rate is significantly lower in comparison to the live statistics. The relative drawdown is slightly high at 25.47%, and this is indicative of a high risk of ruin.
Forex Trend Hunter packages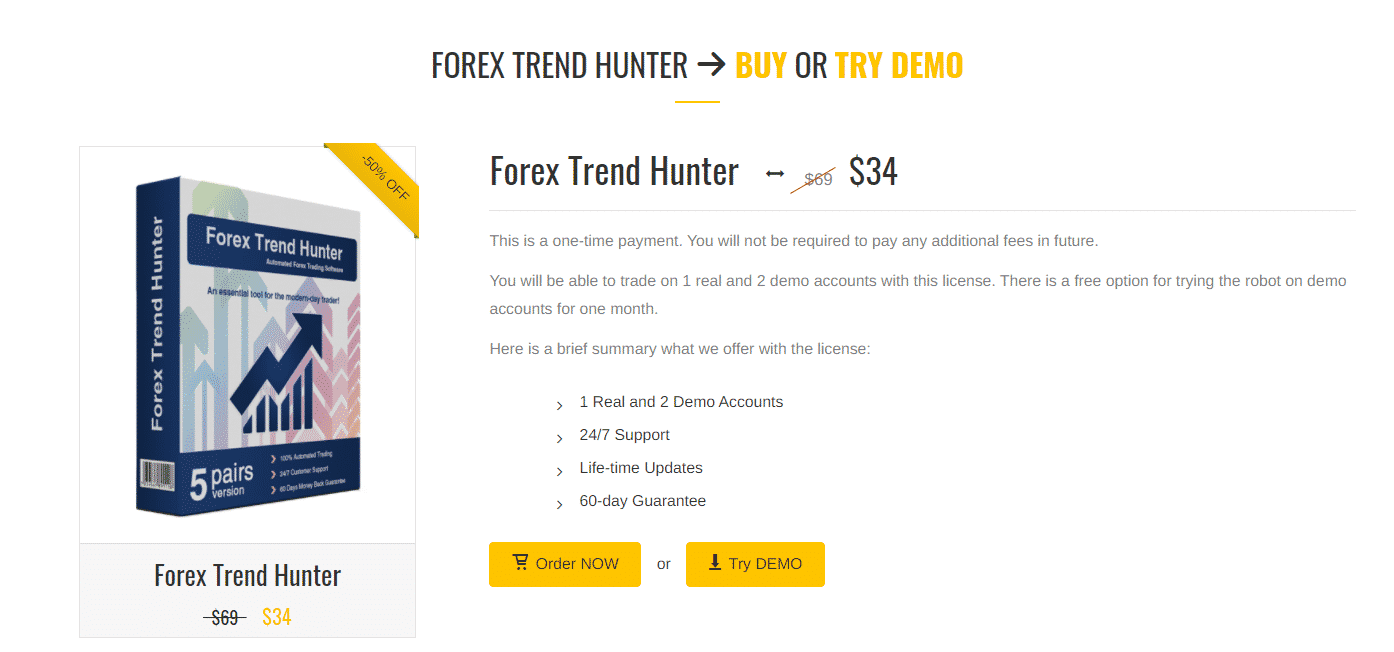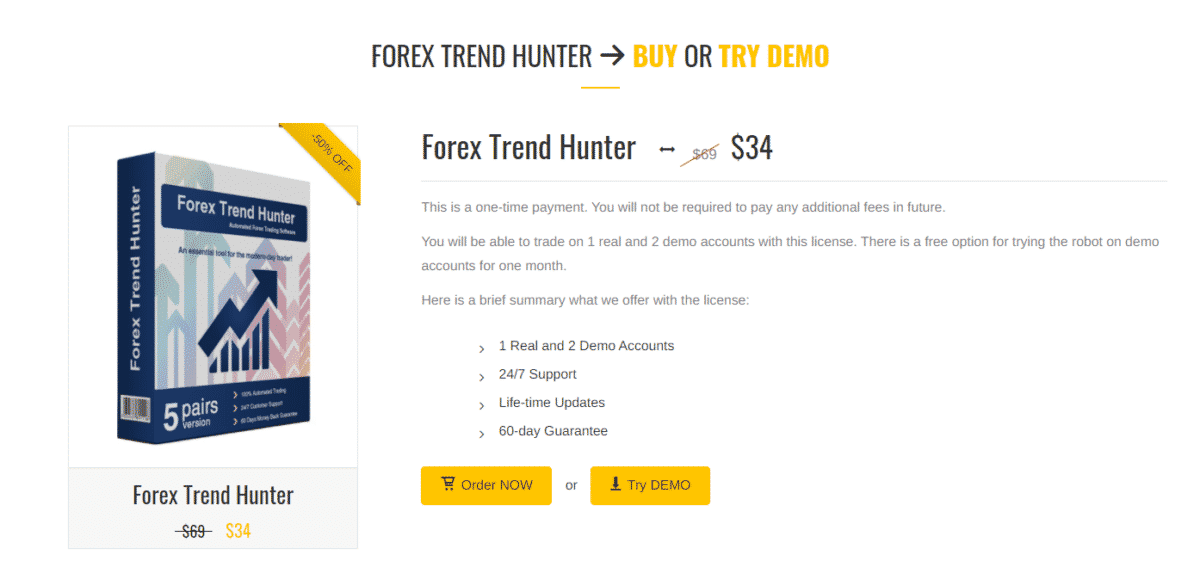 You can purchase this EA for the price of $34. This is quite cheap compared to the market average price. By purchasing the license, you can trade with one real and two demo accounts. The vendor offers lifetime updates and a 60-day money-back guarantee.
Assistance
Customers of this EA get 24/7 support for a lifetime. The vendor has shared the official email address on the website, and there is a contact form as well for sending a message to the service team.
Customer reviews
At this moment, there are no user reviews available for this expert advisor.
Is Forex Trend Hunter a reliable system?
We don't think so. Here are the drawbacks of this platform:
Lack of vendor transparency
Undisclosed trading approach
Only 122 trades placed in the live market