Forex Flex EA is a Forex robot that you can use with Metatrader 4 and Metatrader 5. As per the vendor's claims, this system is updated with the best performance settings and it is the number 1 performing EA for 7 years running. To check the veracity of the vendor's claims, we need to analyze factors like vendor transparency, features, trading strategy, live performance, and customer reviews.
Forex Flex EA company profile
The lack of vendor transparency makes us question the reliability of this system. We don't know who the vendor is or where they are located. There is no information about the trading experience and history, and we don't even know when the robot was launched.
The highlights of Forex Flex EA
This is an NFA and FIFO compatible system that supports all MT4 and MT5 brokers. It works on 10 different currency pairs. Forex Flex EA has a money management functionality that allows it to modify the lot sizes depending on the account balance.
This EA also has a news filter that lets you avoid impactful news announcements by a specified time period. You have the option of turning this feature off and choosing by how many minutes or hours you wish to avoid the news.
Instead of using a physical take profit for each trade, Forex Flex EA uses equity trailing take profit. It tracks all orders from each pair using a basket. When one of them reaches a certain percentage, the robot triggers the equity trailing take profit, locking in half the gain. You can choose to close all trades at a specific drawdown percentage.
Forex Flex EA lets you use session filters to avoid particular trading sessions. It uses indicators like Momentum, Candle sizes, RSI, Stochastic, ADR, Bollinger Bands, Support and Resistance, TDI, and EMA crosses. The strategy insight is inadequate and we think the vendor should have shared more information.
With this robot, you can hide your trades from the broker. For a nano account, you can get started with $10, while a micro or cent account requires $100. You need a minimum balance of $1000 for a standard account.
Facts & figures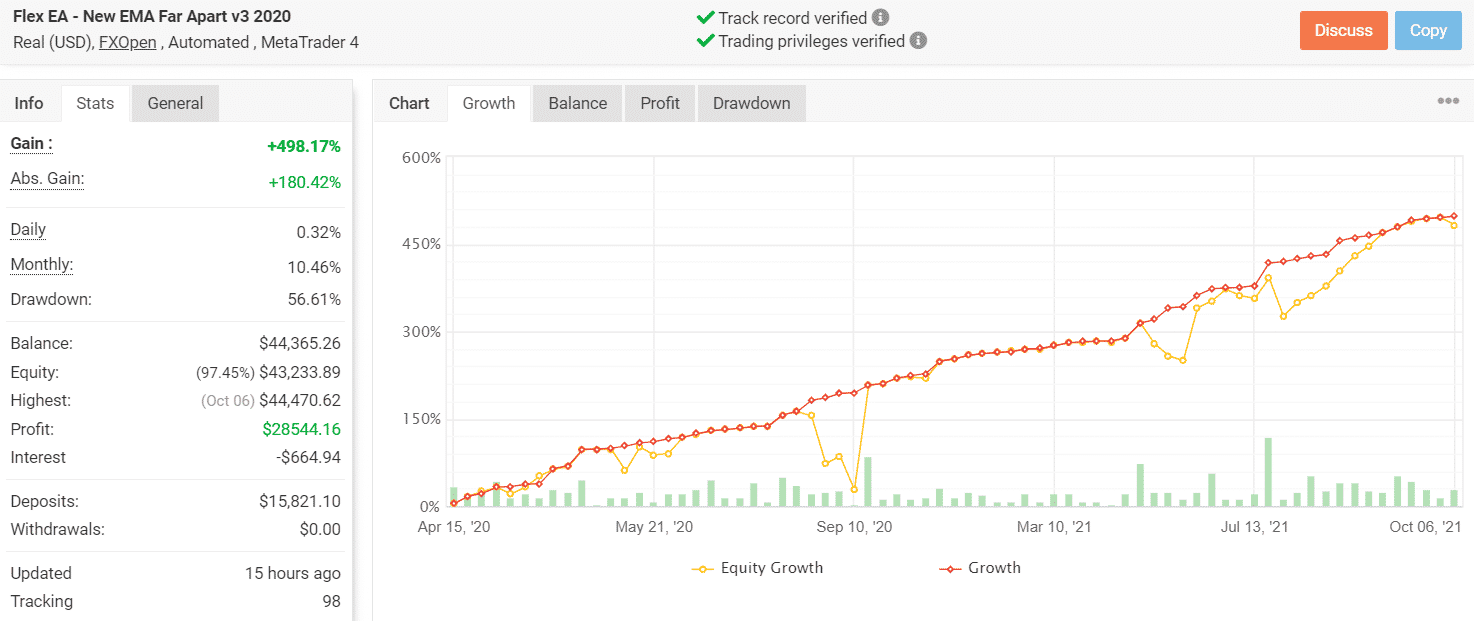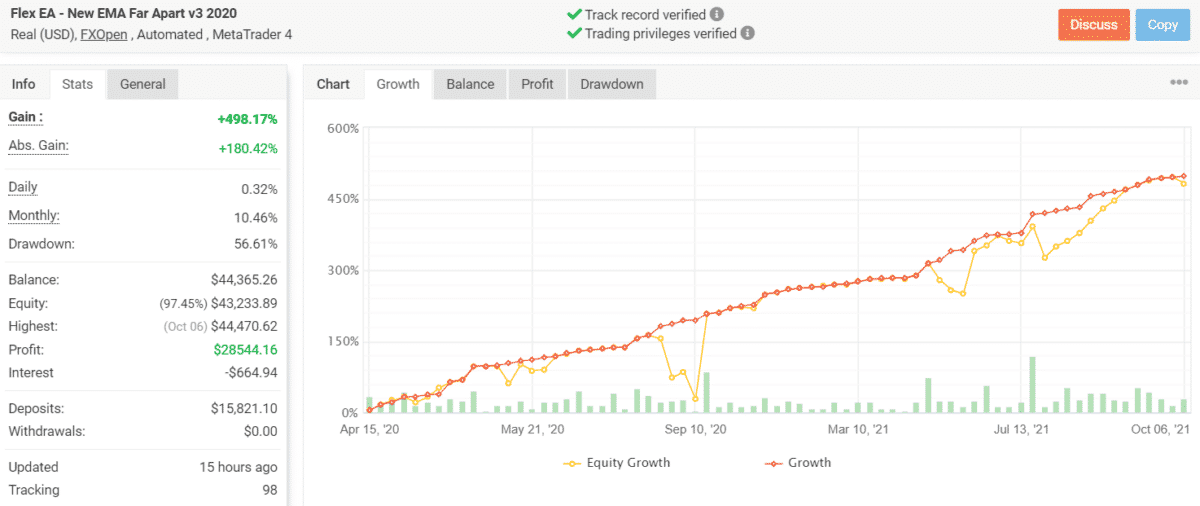 Since July 5, 2017, the EA has placed 415 trades through this Myfxbook account. It has a win rate of 69% and a profit factor of 4.24. Currently, the total profit generated through this account stands at $28544.16.
At this moment, the daily and monthly profits generated through this account are 0.32% and 10.46%, respectively. The drawdown is incredibly high at 56.61% and this indicates a high risk of ruin. This account has an average win and loss of 39.56 pips/$130.15 and -24.72 pips/-$68.82, respectively. The vendor has not presented the backtesting data in the proper format, hence we cannot analyze it.
Forex Flex EA packages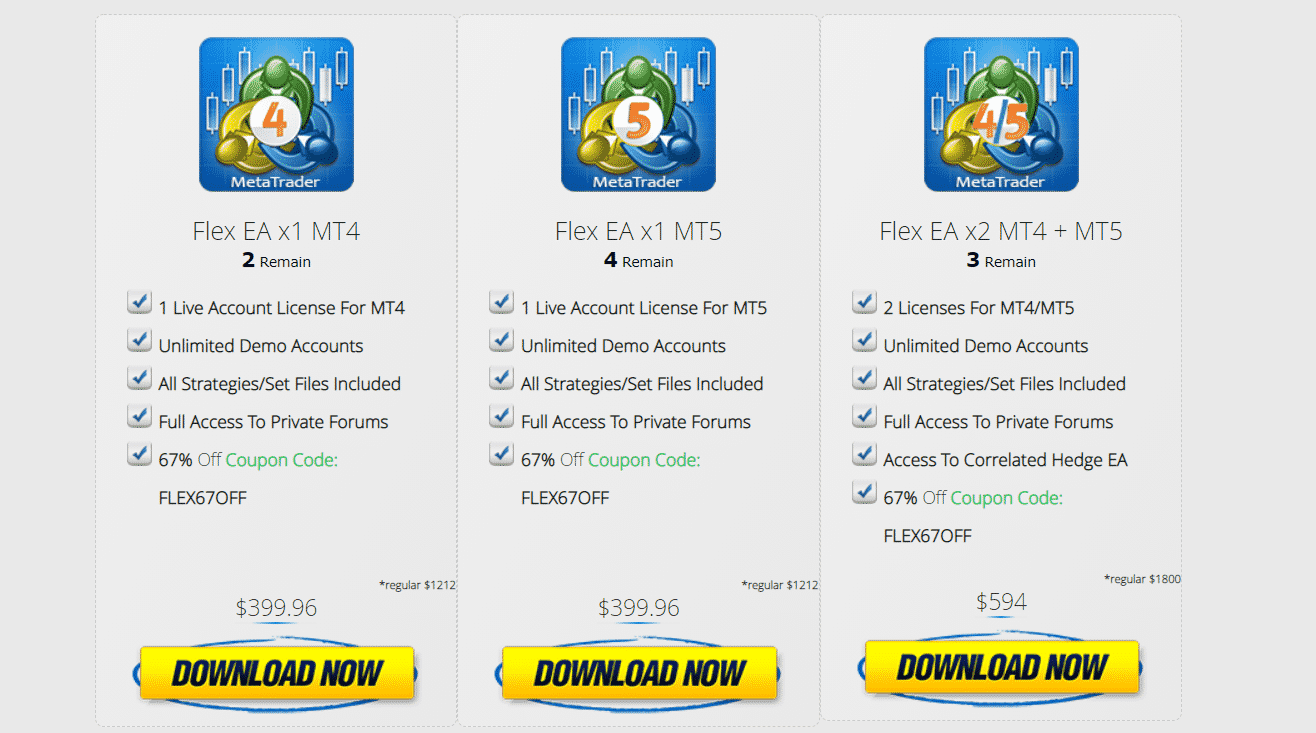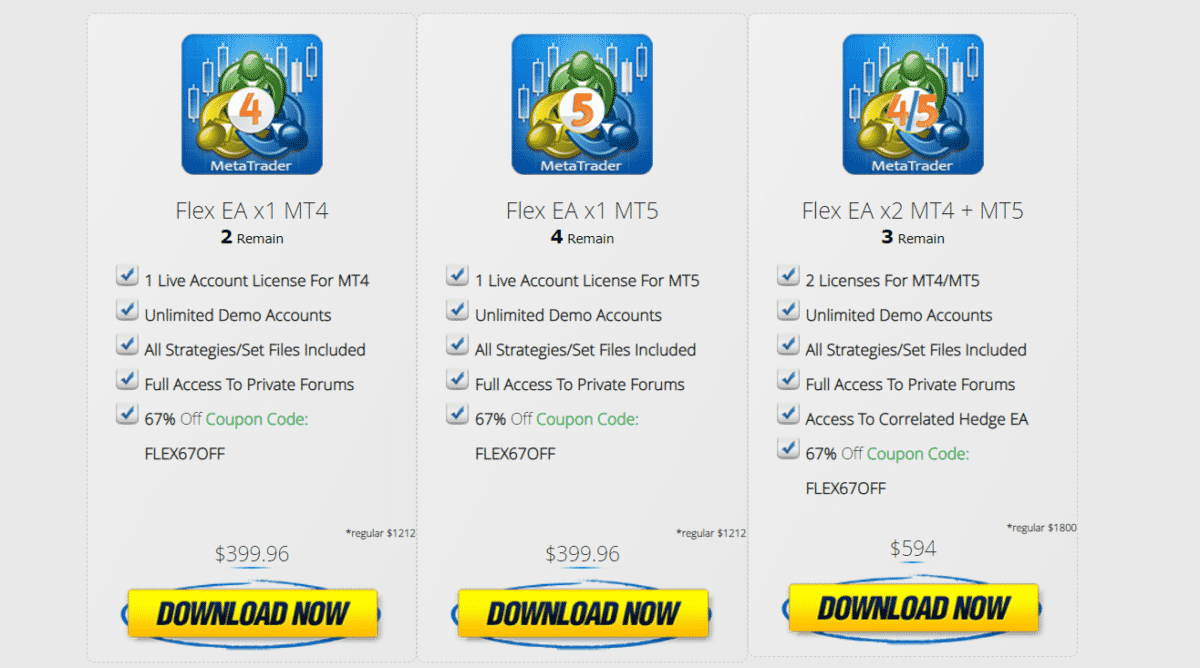 The single licenses for MT4 and MT5 each cost $399.96. If you wish to buy a plan with both licenses, you need to pay $594. The vendor offers a 30-day money-back guarantee, but the plans are quite expensive.
Assistance
The vendor offers 24/7 customer support. You can get in touch with the developer directly using the contact form provided on the website.

On the Forex Peace Army website we have found a review where the user claims that the developer does not respond to emails. He claims that it is 'a waste of money, and a scam.'
Other notes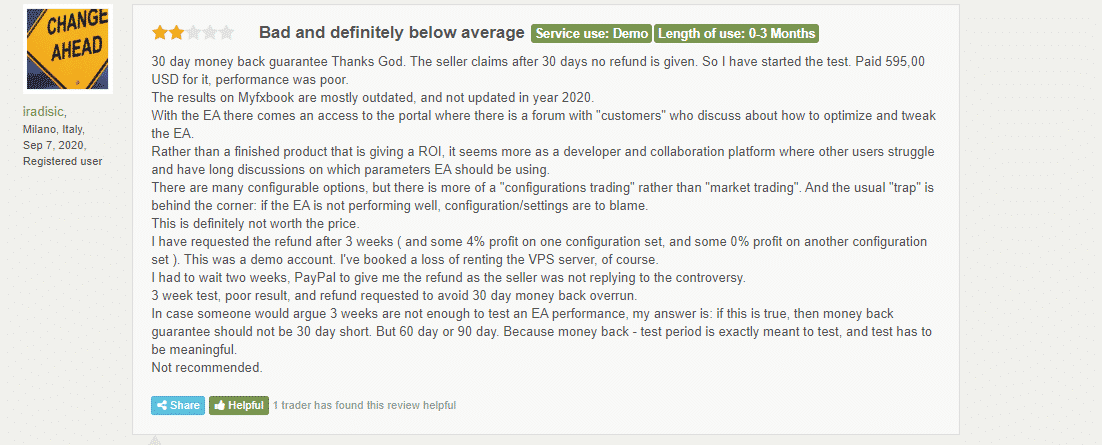 In one of the reviews on Forexpeacearmy, a user has claimed that the system performed quite poorly for them. They have also stated that the vendor always blames the poor performance on the settings and configuration.
Is Forex Flex EA a profitable bet in 2021?
We don't think so. This robot has too many drawbacks and some of them are presented below:
Lack of vendor transparency
High drawdown
Expensive pricing plans
Not only do you have to spend a lot of money on this robot, but there is also the risk of losing money due to the high drawdown.