EA Black Dragon is an expert advisor that runs on he Black Dragon indicator. The advisor has a short presentation that includes some basic explanations about system requirements. So, let's check what we have.
EA Black Dragon company profile

The developer of this EA is Ramil Minniakhmetov, located in Russia. His portfolio includes 11 products and 4 signals. Based on 354 reviews the products he offers to the public have a 5 star rate. According to MQL5, the vendor has over 8 years of trading experience.
The highlights of EA Black Dragon
Let's talk about features, settings, and useful details of the system.
The software can provide us with automatic trading on our terminal to make profits on Forex.
The system was activated 10 times only.
"The EA opens a deal by indicator color, then there is the opportunity to increase the network of orders or work with stop loss. Works on accounts that support hedging."
It sounds like a Grid of orders or something like this.
The dev provided "bonuses."
The advisor can execute orders on GBPUSD.
It works on the M15 time frame only.
The balance should be $1000 or more.
We are allowed to decide what direction we'd like to trade.
We can decide how deep SL and TP levels can be.
It has spread protection.
We can use time filter software to trade only proper hours.
There's a unique magic number applied.
"It is possible to use a modified stochastic to enter, using the color of the black dragon indicator as a filter."
Trading results with EA Black Dragon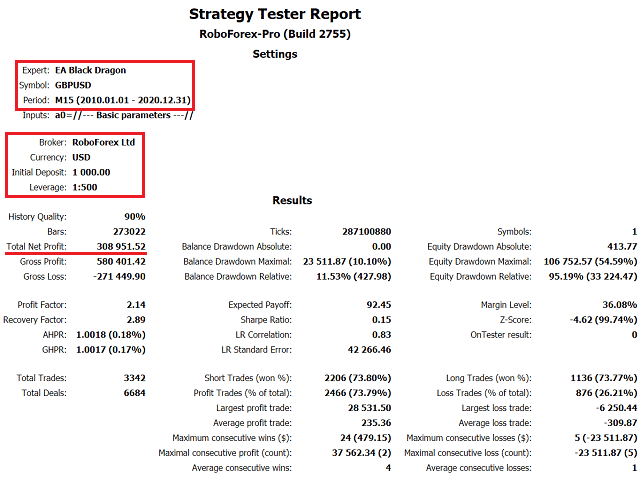 We have a single backtest of GBPUSD on M15 based on 10 years of tick data. The data provider was RoboForex. The leverage was 1:500. An initial deposit was $1,000. It has turned into $308,951 of the total net profit. The profit factor was 2.14 when the recovery factor was 2.89. The system executed 3342 orders with a 73% win rate.
EA Black Dragon packages

The price came back from $99 to $30. There are no subscription possibilities available. We can download a demo copy of the robot to check settings and other details on a terminal.


The presentation also includes a just-deployed real account on RoboForex that was deposited at $14,359. The advisor works with a 100% win rate. The absolute growth is still 0%.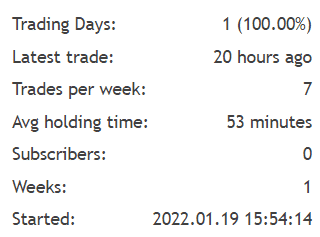 An average trading frequency is 7 deals weekly when an average trade length is 53 minutes.


The statistics show that there is 197.66% of the annual gain in January 2022.


EA Balck Dragon has executed 7 orders. The best trade was $1980. Other data isn't available because the system hasn't lost any order.


It started working with NZDUSD instead of Gold.
Assistance
The developer provides average support within several hours. It's a common frequency for MQL5.
Other notes


The last testimonials were positive, but they were provided by faceless people.
Is EA Black Dragon a reliable system?
To say that it is a reliable robot, the system has to prove that it is consistently profitable for a 3-6 months period or so.