DynaScalp is hyped as a very productive Forex robot. According to the vendor, the EA is capable of increasing an investment of less than $500 by 5-10 times within a short time. This statement is misleading. We have learned that this system works with a strategy that struggles to identify profitable trades.
DynaScalp company profile
DynaScalp is being marketed by Chris Bernell. He says he used to be an institutional trader and is currently an employee of LeapFX. The company was founded in 2018 and is quite popular in Forex, having produced a variety of automated tools for traders. Some of its other systems include AX Trader, Jet Trader Pro, and Arbitron, among others.
The highlights of DynaScalp
There are several features of the robot presented, and we have summarized them below:
Supports 15 different currency pairs
Grid and martingale strategies are not utilized
Trades close on the same day
A news filter is present
Works on the MT4 platform
Free updates are available
DynaScalp applies a scalping strategy known as asset weight management. This means that the system adds more weight to the most relevant pairs of the period while decreasing weight on the less relevant ones. The vendor explains that to optimize the results of this concept, they created a night scalping strategy with a high winning ratio.
Facts & figures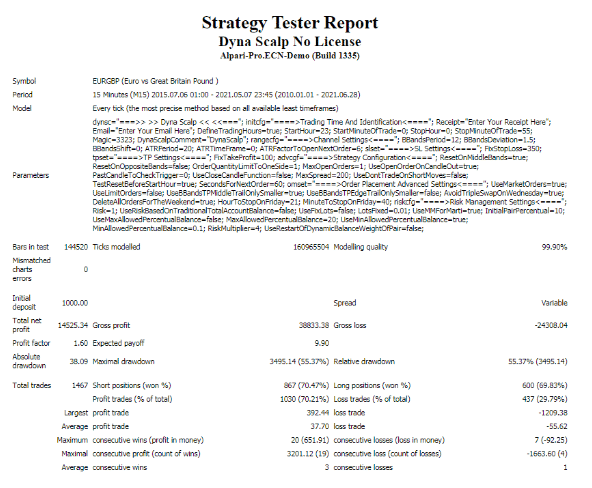 With only $1000, the system began trading in January 2010 on the 15-minute chart. The results were horrible. A huge drawdown of 55.37% and a profit factor of 1.60 were produced by the time the simulation period was coming to an end in June 2021. It meant that the EA made insane losses hence decreasing its profitability rate.
The total net profit was $14525. This value was attained after 70.47% of the short positions and 69.83% of the long ones were won. The average profit trade was $37.70, while the average loss trade was -$55.62.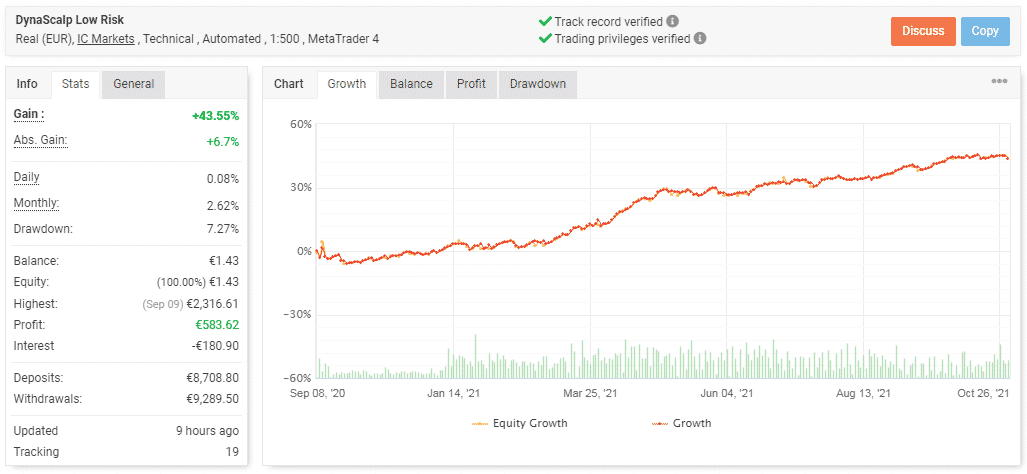 This account was opened on September 8, 2020, and deposited at €8708.80. It is disturbing that in more than a year of trading, the system has not yet recovered the amount invested. As you can see, the profit is very small — €583.62. The owner seems to have lost hope in the account, having withdrawn €9289.50 from it and leaving a balance of €1.43. The drawdown is 7.27%.

To date, a total of 2889 trades have been carried out, and a profit factor of 1.32 indicates that they don't bring in substantial profits. The success rates for long and short positions are 65% and 71%, respectively. These results are far from being excellent. The best trade so far has led to a gain of $15.90, while the worst one has cost the account -$33.90.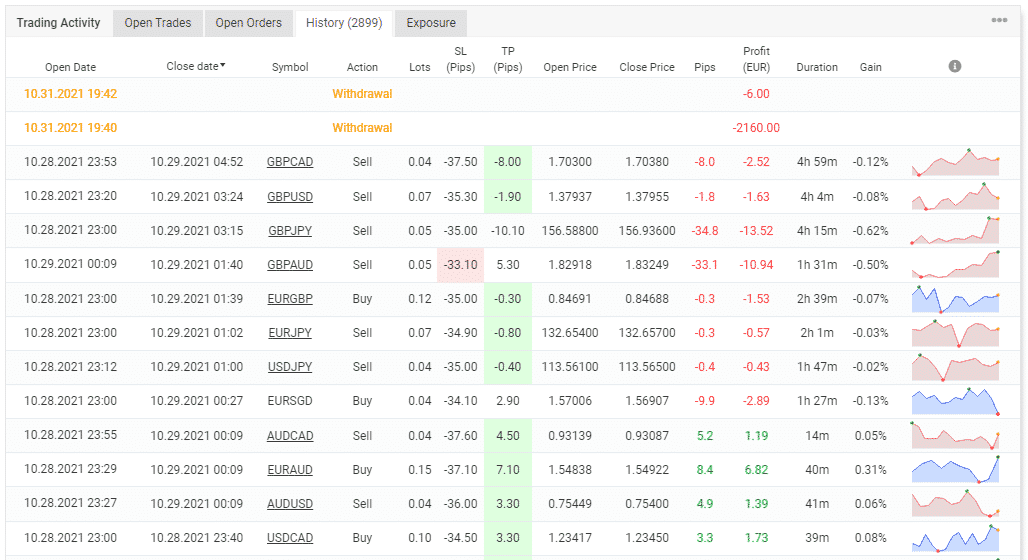 The system focused on the short timeframes, being a scalper. It made very small gains as a result. The approach led to many losses as well.
DynaScalp packages
Currently, DynaScalp has 2 different pricing options. The first pack is sold at $247, but you have to renew the license yearly. The other offer is a lifetime license that can be bought at $397. A 30-day money-back guarantee is present.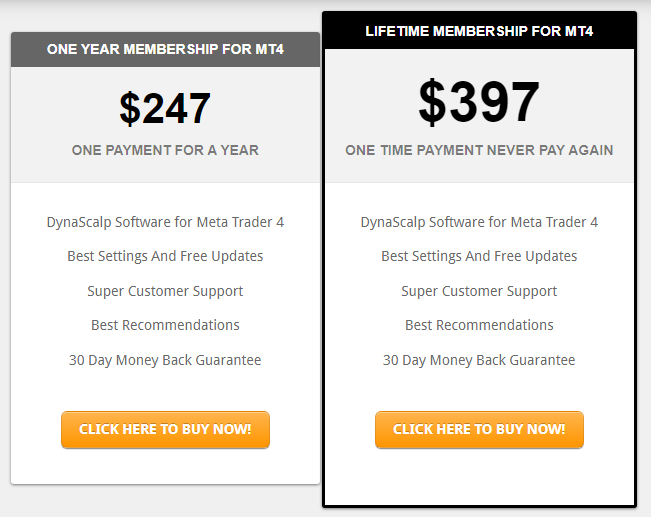 Assistance
Customer support is one of the features that the vendor claims to offer. So, in case you have any queries or want assistance using the product, you are asked to fill out the form provided. Alternatively, you can email the team directly.
Other notes
DynaScalp lacks customer reviews on its official site and other sites such as Myfxbook, Quora, and FPA. This comes as a huge disappointment because such reviews provide additional insight into the actual performance of the EA in the live market.
Is DynaScalp a profitable bet in 2021?
No, it is not. We have learned that the EA has several drawbacks that will greatly work against you. They are listed here:
Low return on investment
It can potentially generate large drawdowns (as depicted in the backtest data)
Poor win rates
So, DynaScalp is a dangerous investment option in that it will waste your investment by failing to generate enough profits, and at the same time, put it at risk of loss.