BuySellSeries EA is advertised as a very profitable Forex robot. The vendor says that trading with the system will allow you to make any percentage profit amount and easily control your trading risk. So, if interested, you can make a purchase through the official website or MQL5.
BuySellSeries EA company profile
The name of the company behind this EA is unknown. However, we are informed that the developer is known as Chukwudi Joshua Obiekwe, a professional trader with years of experience. He works with a team of other Forex traders and programmers whose goal is to help traders get the best out of trading the financial markets.
The highlights of BuySellSeries EA
The features of the EA as described by the vendor are highlighted below:
Easy to set up and use
Designed to give high monthly returns
Is fully automated
Comes with a simple guide
A minimum balance of $100 is needed to trade
The EA works with a strong trend analyzing strategy based on a candlestick pattern and a news filtering system. But further details about the approach are not divulged.
Facts & figures
We are not shown the backtest results of this EA. According to the devs, they have realized over the years that backtests are inaccurate and useless to some real trading systems. Anyway, the robot runs a live account on Myfxbook. Let's assess the results.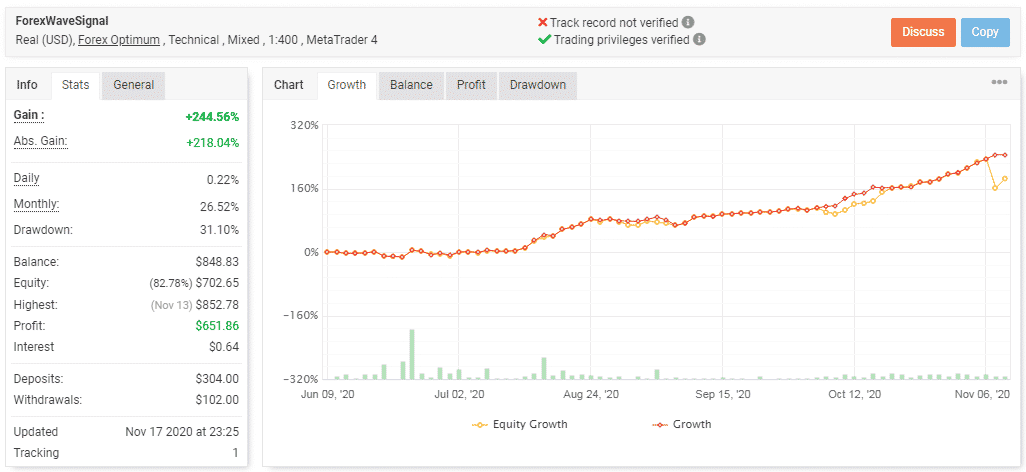 This account was active from June 2020 to November 2020. On average, the robot made a profit of 26.52% monthly. So, it managed to generate a profit of $651.86 for the account before it was closed. The drawdown was 31.10% and high. Clearly, risky trading was applied.

The EA executed 331 orders during the trading period. The performance of these trades was not good. Only 60% of the long positions and 65% of the short ones were won. There was a profit factor of 2.25 and 10.81 traded lots.

The system conducted trades for 5 days during the week. Wednesday was the busiest day, followed by Thursday and Friday.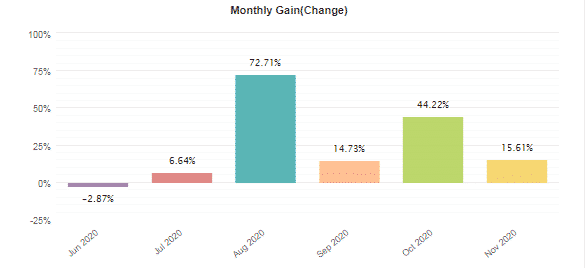 As the EA began its trading activities in June 2020, it made a loss of -2.87%. Fortunately, it was able to recover the loss in July. The system also managed to make a huge profit of 72.71% in August.
BuySellSeries EA packages
BuySellSeries EA has 2 distinct pricing options. You can either buy it at a one-off price of $800 or rent it at $250, but it's not clear how long the latter option lasts. Both packs come with 3 accounts, free demo accounts, 24/7 customer support, and free updates.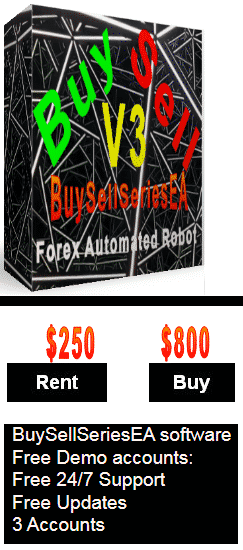 Assistance
The vendor offers 3 main customer support options. The team can be reached directly through Email, Telegram, or Telegram live chat.
Other notes
We found one customer review for this robot on FPA. According to the trader, BuySellSeries EA is an account blower. It worked with extreme risks, generating a very high drawdown of 90%, which eventually caused his account to be wiped out. So, he advises against purchasing this robot.

Is BuySellSeries EA a reliable system?
We have seen from the trading results that the EA generated a high drawdown within just 5 months of trading. This means that it engages in risky trading activities, which can lead to a margin call. In fact, one user confirms that the system can indeed run an account down.