Happy Neuron is the last system that was added to the Happy Forex family. The presentation looks short and not informative as usual. So, we are here to figure out what's going on.
Happy Neuron company profile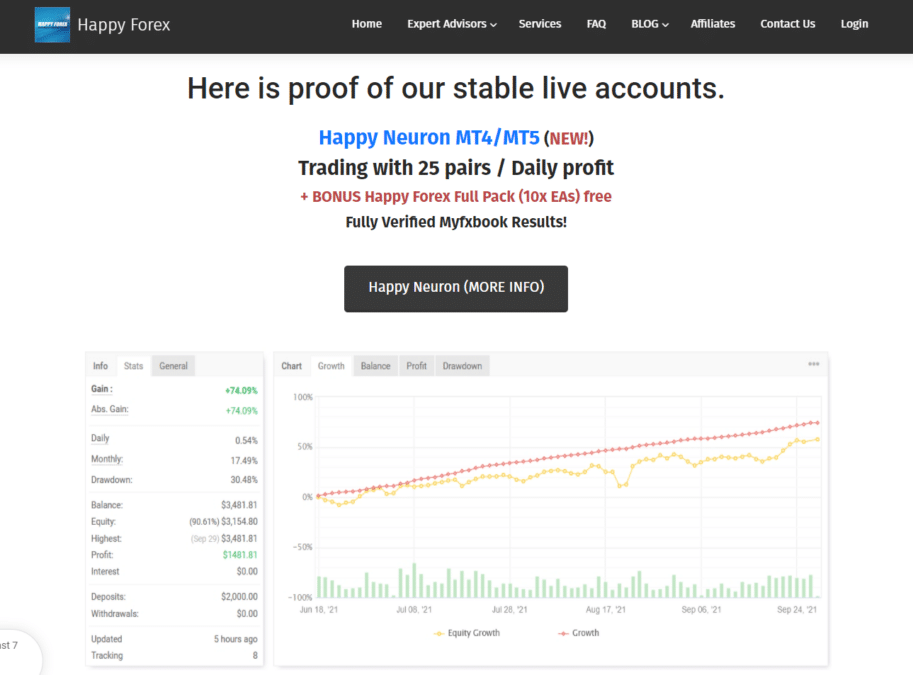 The system is placed at first place on the Happy Forex page. There's a screenshot of how the system worked on the account.
The highlights of Happy Neuron
The presentation could be written better, for sure. The developers don't like to write good sites and explain everything about their systems.
The system was designed to trade automatically on a terminal.
It works on MT4 only.
The strategy is based on "modules that work on recurrent neural networks to determine market sentiment analysis with news filters." It sounds like a joke.
There are all 25 pairs available for trading: AUD/CHF, AUD/JPY, AUD/NZD, AUD/USD, CAD/CHF, CAD/JPY, CHF/JPY, EUR/AUD, EUR/CAD, EUR/CHF, EUR/GBP, EUR/JPY, EUR/USD, NZD/USD, GBP/AUD, GBP/CAD, GBP/CHF, GBP/JPY, GBP/USD, NZD/CHF, NZD/JPY, AUD/CAD, USD/CAD, USD/CHF, and USD/JPY.
We can trade on the H4 time frame.
The account requires ECN for better execution speed.
We can work under NFA rules.
The advisor can be used on the 4 or 5 digits brokers.
It takes five minutes to get everything set.
The system doesn't require trading experience.
It should be working 24/7.
There's a list of allowed systems: Windows 7, 8, 10, Mac OS, and Linux systems.
The developers provide us with intel about risks and the account balance.

"Conservative risk starts from $5000 on balance ($500 for micro and $50 for cent accounts)."
"Normal risk starts from $3500 on balance ($350 for micro and $35 for cent accounts)."
"Aggressive risk starts from $2000 on balance ($200 for micro and $20 for cent accounts)."
Trading results with Happy Neuron
The system doesn't have any backtest reports provided. It's a huge con because we have no idea of how the robot worked with the past data, on what broker, and what results it could achieve.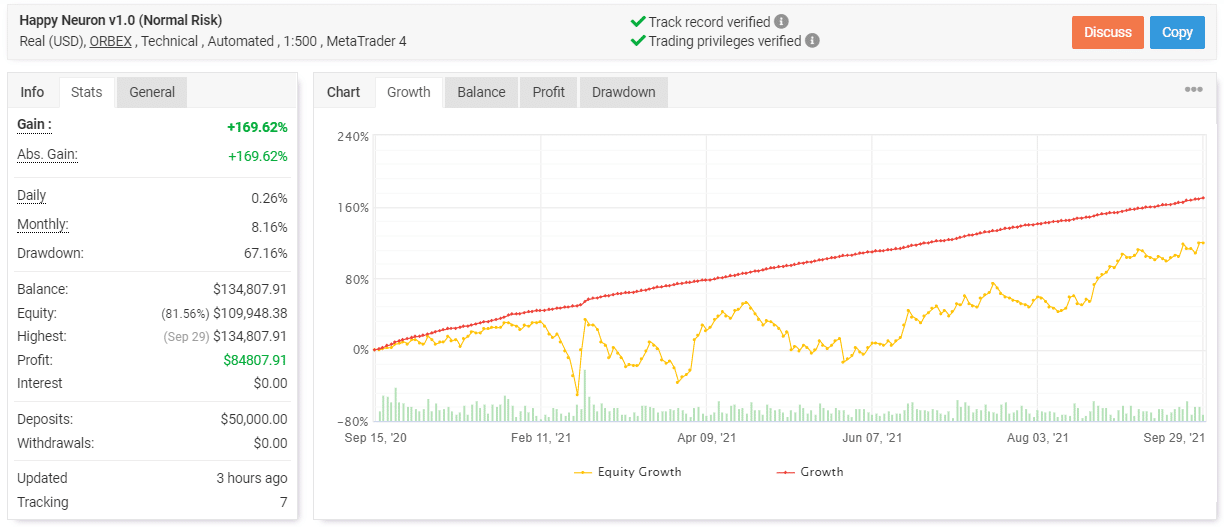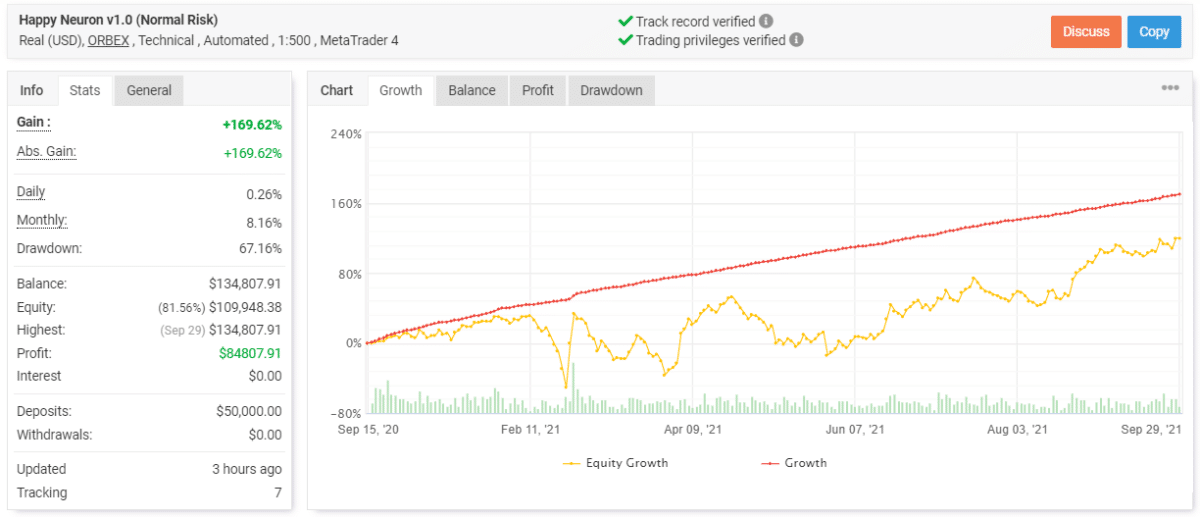 The robot trades on the real account on a never-seen broker called ORBEX. It's a weird choice. The system works automatically with 1:500 leverage on the MT4 platform. The account has a verified track record. It was created on September 15, 2020, and deposited at $50,000. Since then, the absolute gain has grown to 169.62%. An average monthly gain is 8.16%. The maximum drawdown is 67.16%. It is too risky for any trading account. A few traders would like to experience such high drawdowns.


The advisor traded 6732 trades with 44,876.4 pips. An average loss (-51.59) is x4 times higher than an average win (15.04 pips). Happy Neuron traded with a win rate of 88% for long and 86% for short trading positions. The average trade length is 2 days.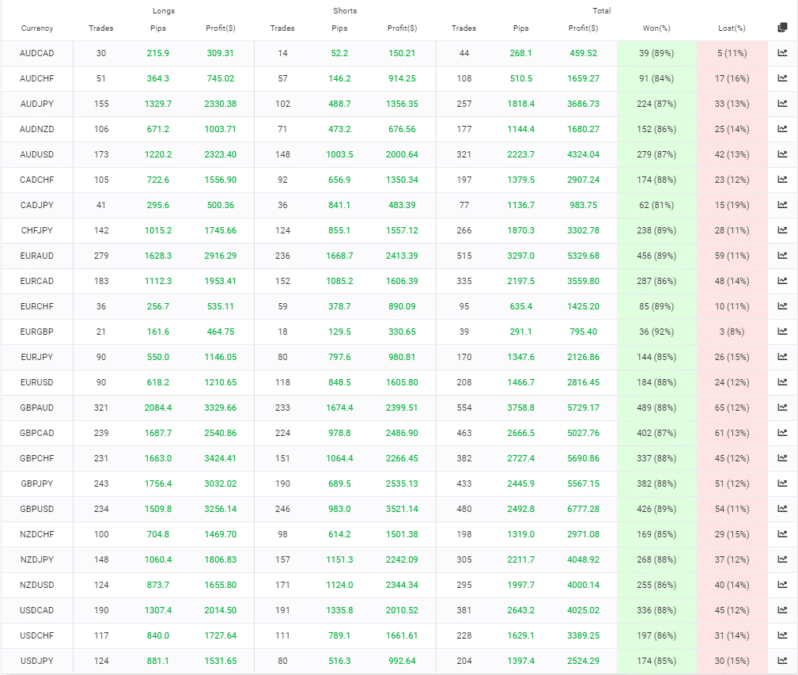 We may note that the advisor works well on all pairs and directions.


The system trades an hour after Asian market opening and the European trading hours.


It opens orders during all days equally.


The advisor works with low risks to the account balance.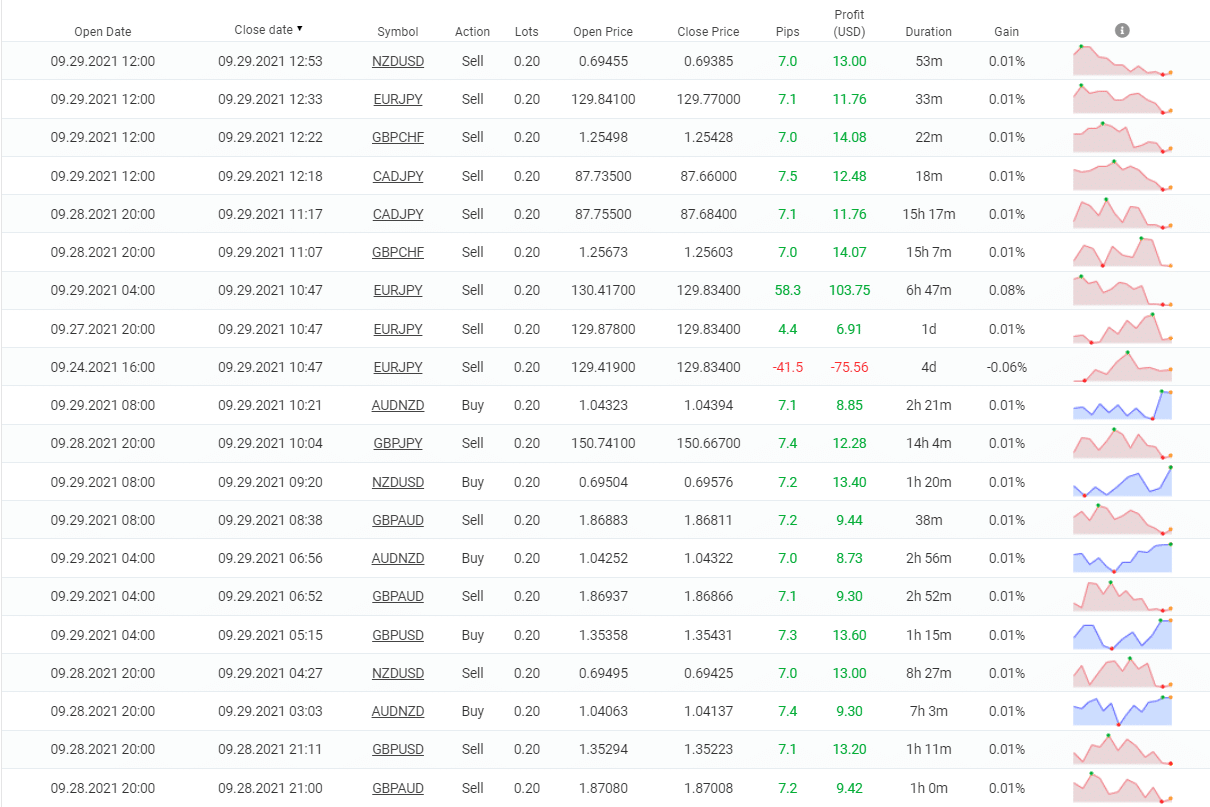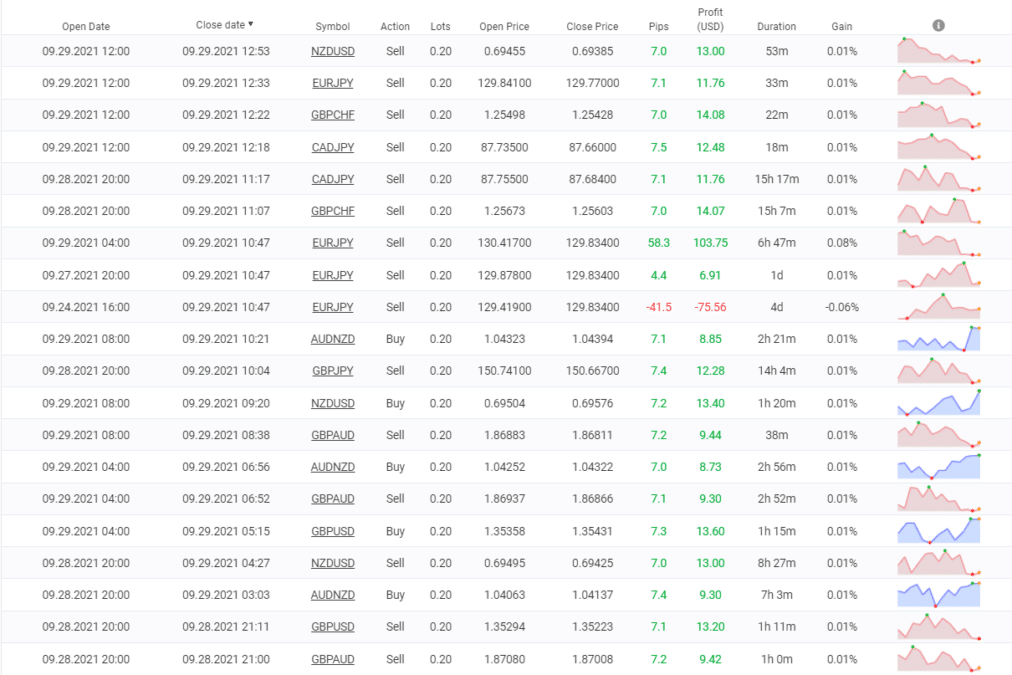 The robot focuses on making little profits from every trade.
Happy Neuron packages

The advisor can be bought for €349 for an unlimited number of real and demo accounts. It's manipulation because there's an unlimited number of account changes, not unlimited accounts working at once. The pack as usual includes 10 EAs that no one needs because most of them are scams. There's a standard 30 days refund policy provided.
Assistance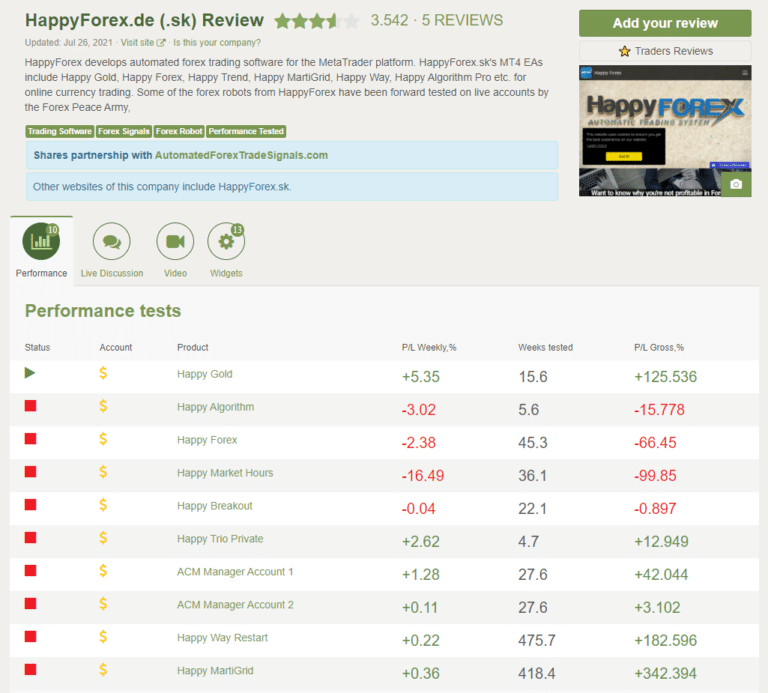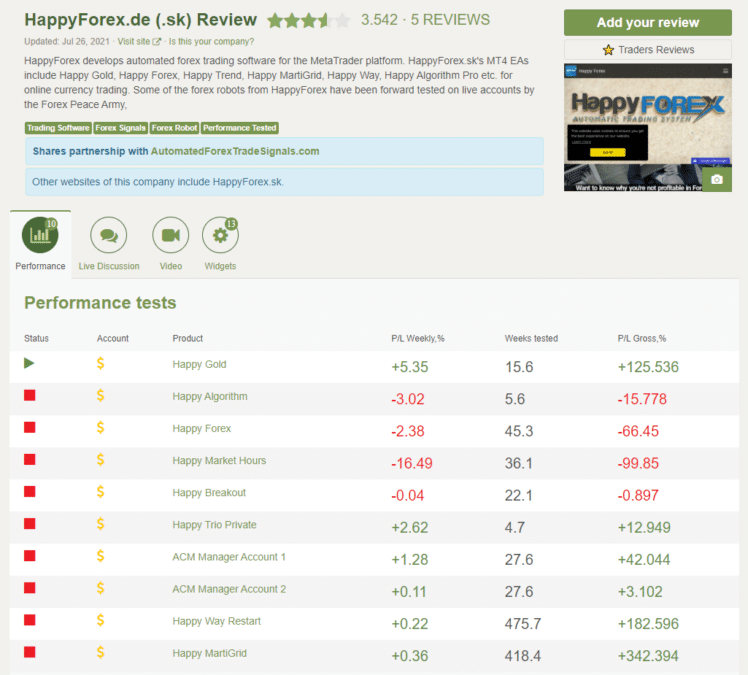 There's a page of Happy Forex on Forex Peace Army deployed. The devs connected many accounts in the past. Some of them were blown.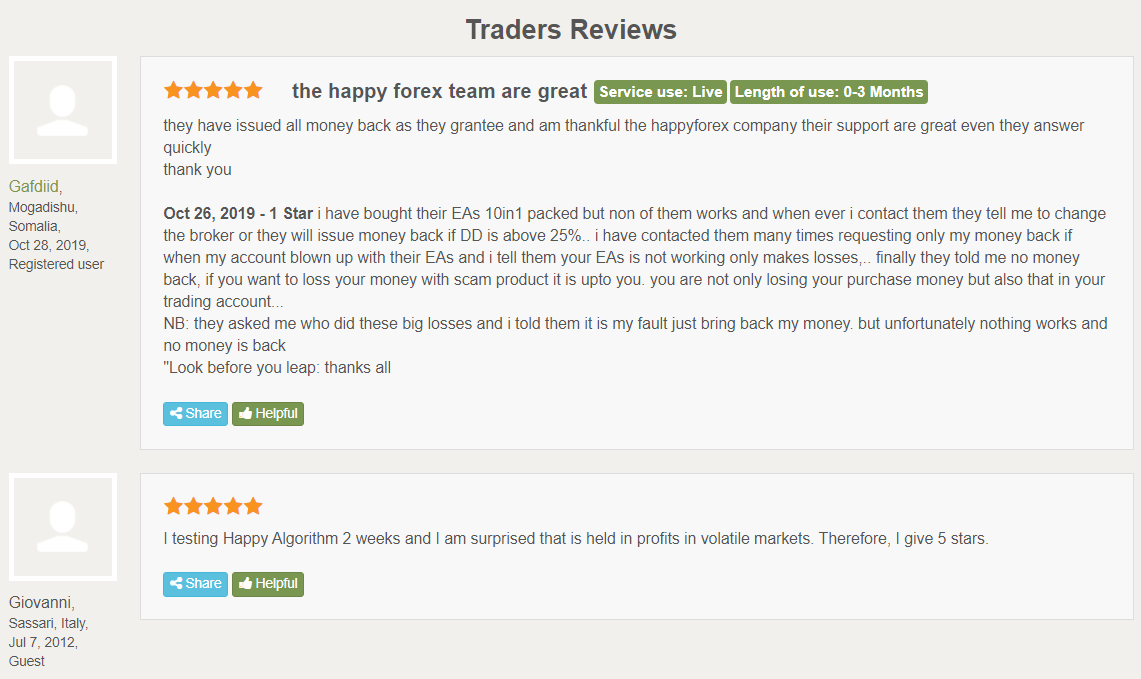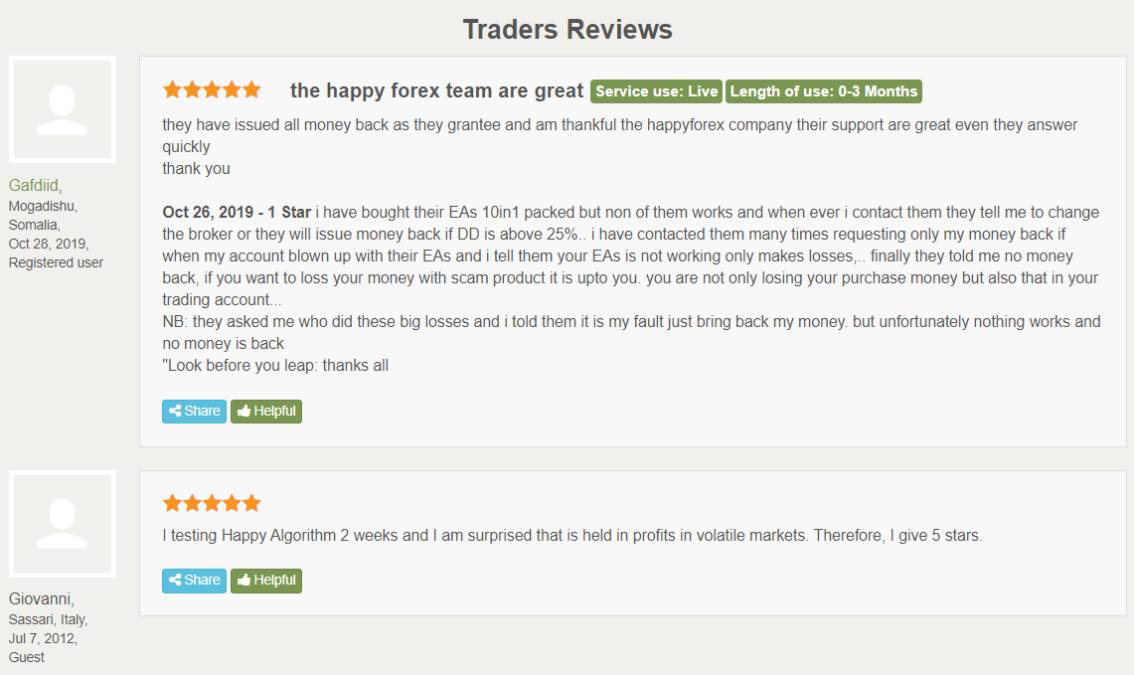 Alas, we have nothing written about this system.
Other notes
The advisor is such a young trading solution. We have no idea how it will work at the end of 2021 and in 2022.
Is Happy Neuron a profitable bet in 2021?
It makes profits but as we can see the profitability has been going down from month to month.