How many cryptocurrencies are out there in the market?
Which crypto assets have the most potential to grow in 2022?
Which cryptocurrencies have provided investors the most gain in one year?
Best cryptocurrencies to watch right now
At the time of writing, there are 9,540 cryptos listed in Coinmarketcap.com. With this number of options available, you might find it hard to select assets to invest in. While you can go with the elite coins that have gained the approval of many investors, most of them are available at high prices. Thus, you must put your investment funds on crypto assets with the most promise for growth. This section presents five of such assets for you to consider and keep an eye on.
1. Ethereum (ETH)
Ethereum is the second-biggest crypto following Bitcoin in terms of market cap. This blockchain powers a large number of crypto tokens in the market. Several economies rely on the Ethereum platform to support their operations, including enterprise blockchain services, non-fungible tokens, and decentralized finance apps.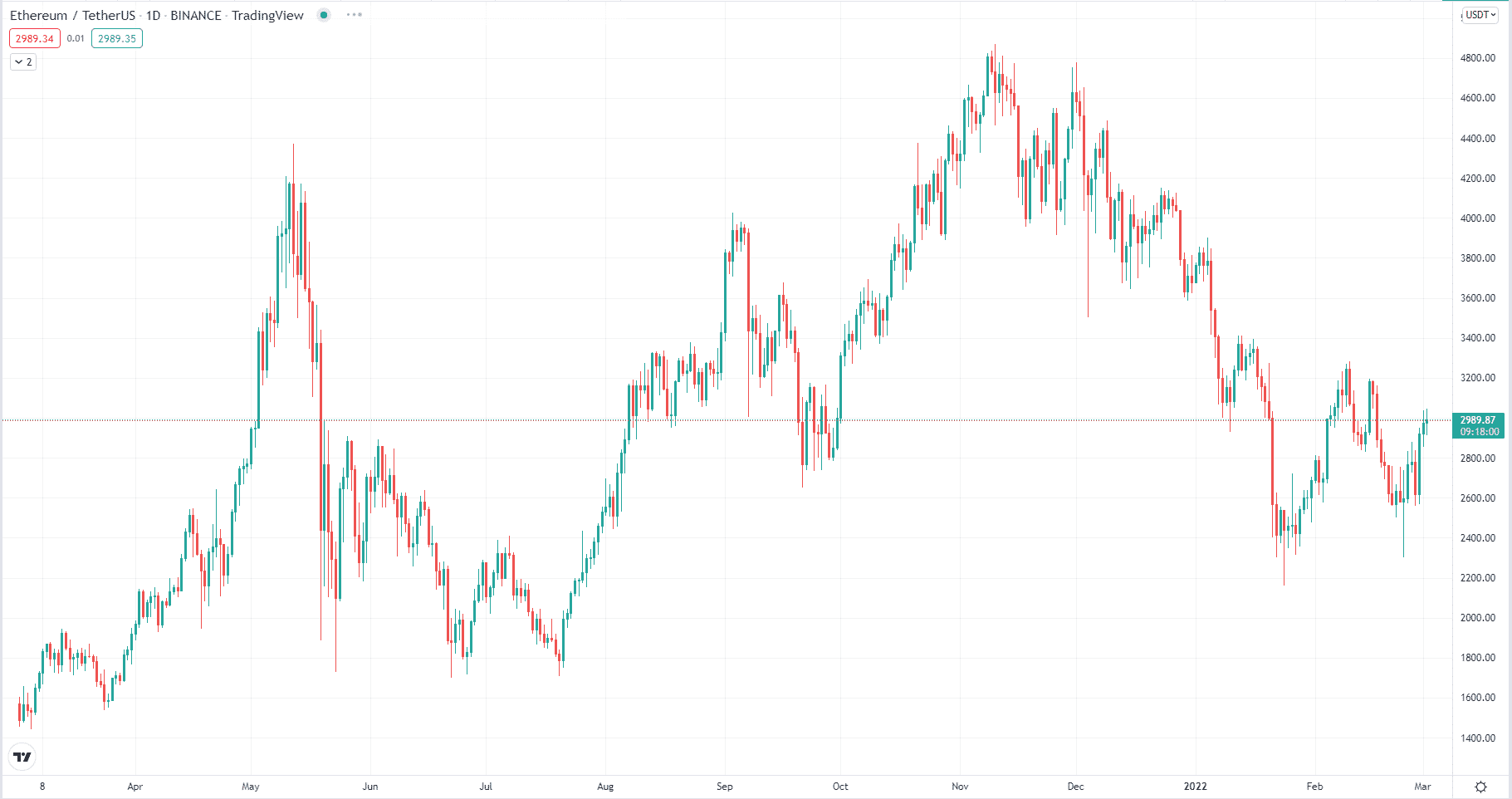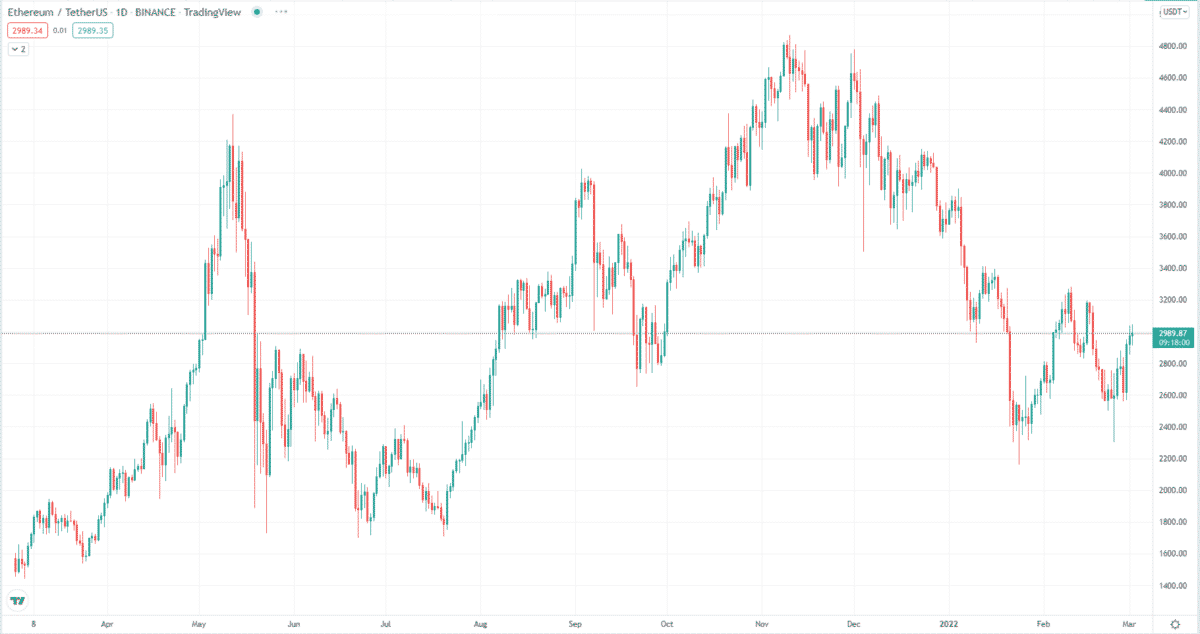 Why does it have the potential to grow?
Ethereum is looking to release the ETH 2.0 upgrade in June 2022 to boost the platform's infrastructure. This upgrade will be a game-changer for the Ethereum blockchain. It will make the network highly scalable, secure, and sustainable. This initiative is expected to drive market adoption and price growth.
How much would you earn if you invested in Ethereum 1 year ago?
The price of Ethereum on 1 March 2021 was only $1,569.86. One year later, its price jumped to $2,976.33. This price change is about 90% growth from the initial price. Investing $1,000 one year ago could have resulted in a profit of $900 today.
2. Binance coin (BNB)
BNB is the native token of the Binance exchange. Through this token, investors and traders can conduct trading operations on the platform. At first, this token ran as an ERC20 token on Ethereum until it became a governance token in Binance. In January 2022, the Binance exchange facilitated about 1.4 million crypto trading transactions per second.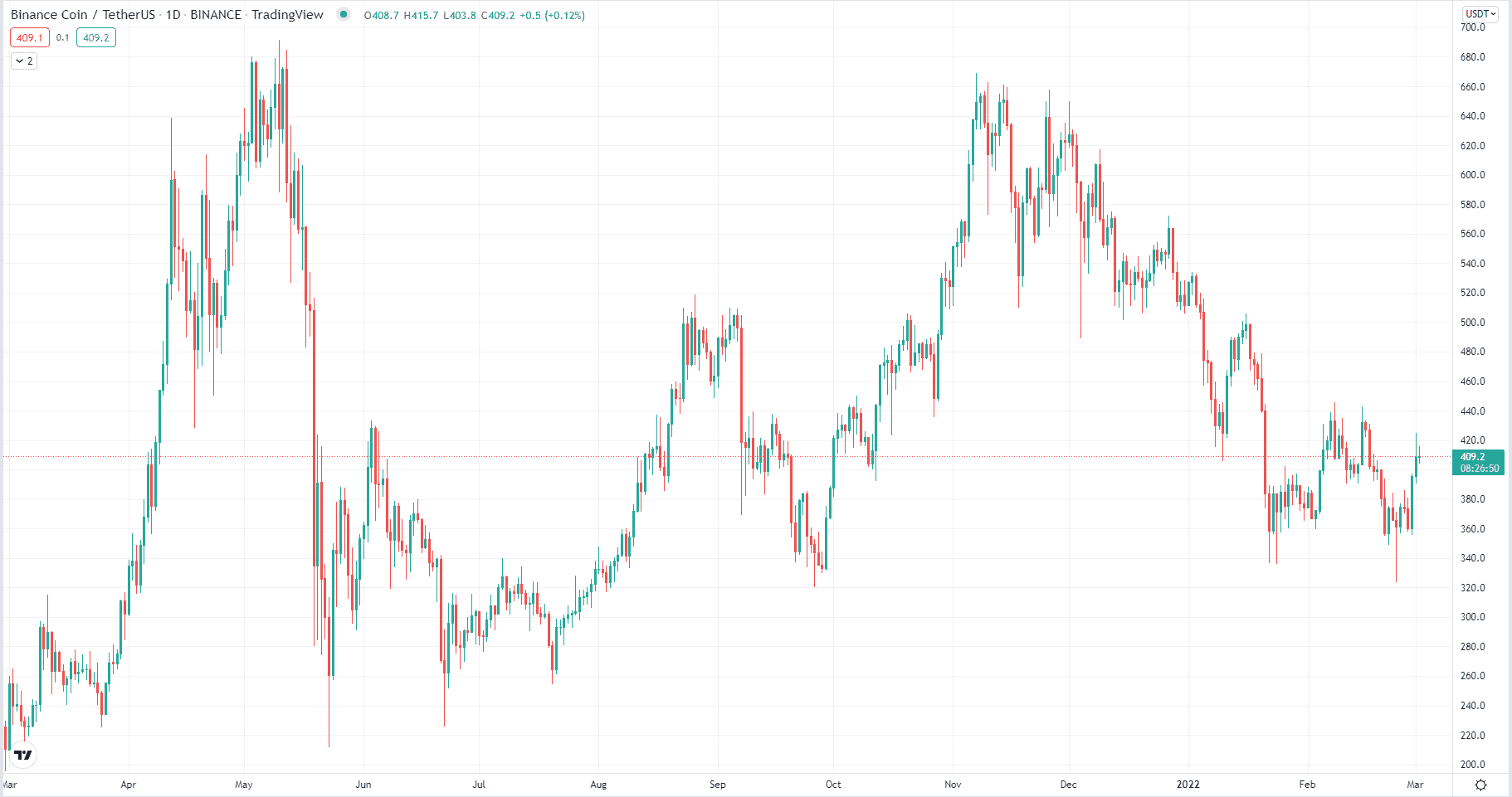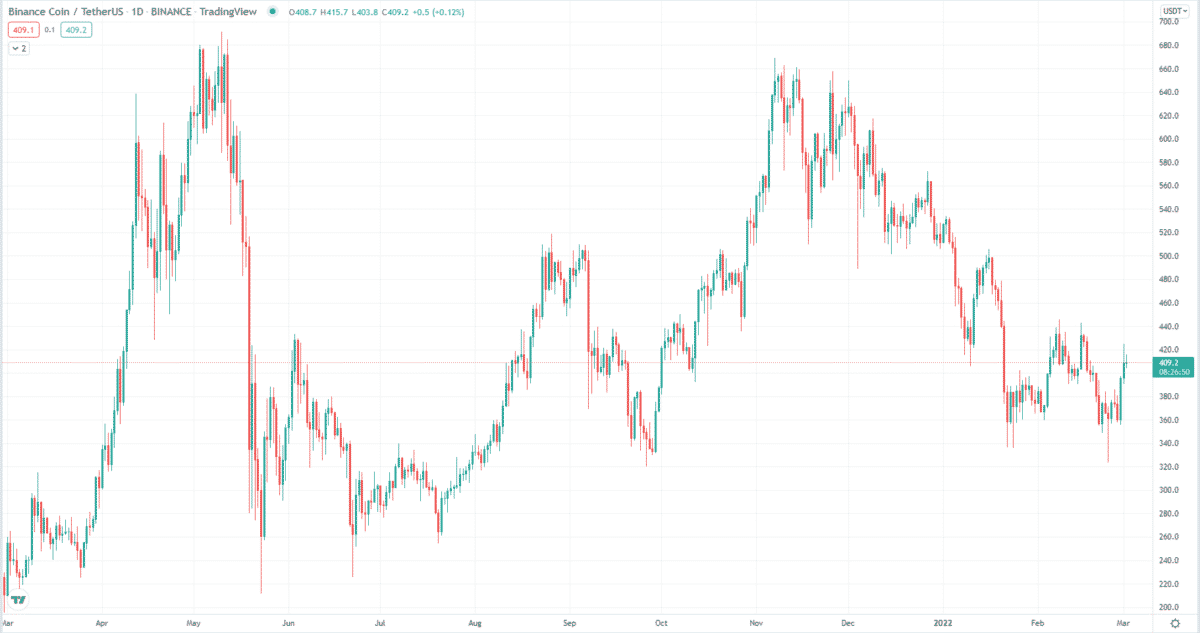 Why does it have the potential to grow?
Binance is by far the biggest crypto exchange the world over. Traders and investors love this platform for its wide array of crypto coins to buy and sell. Also, it offers a quick way to convert fiat money to crypto. Being the native token, BNB is likely to benefit from the popularity of the Binance platform.
How much would you earn if you invested in BNB 1 year ago?
BNB closed at a price of $255 on 1 March 2021. One year later, its price climbed to $408.7. This price change is equivalent to a growth of about 60%. Had you invested $1,000 last year, you could have earned $600 today.
3. Ripple (XRP)
Ripple is a payment system utilizing blockchain to facilitate money transfers around the globe. Offering quick transactions and low fees, the payment provider has been adopted by many partner financial institutions. Take note that Ripple is not a crypto asset per se, but it has XRP as the network's native token.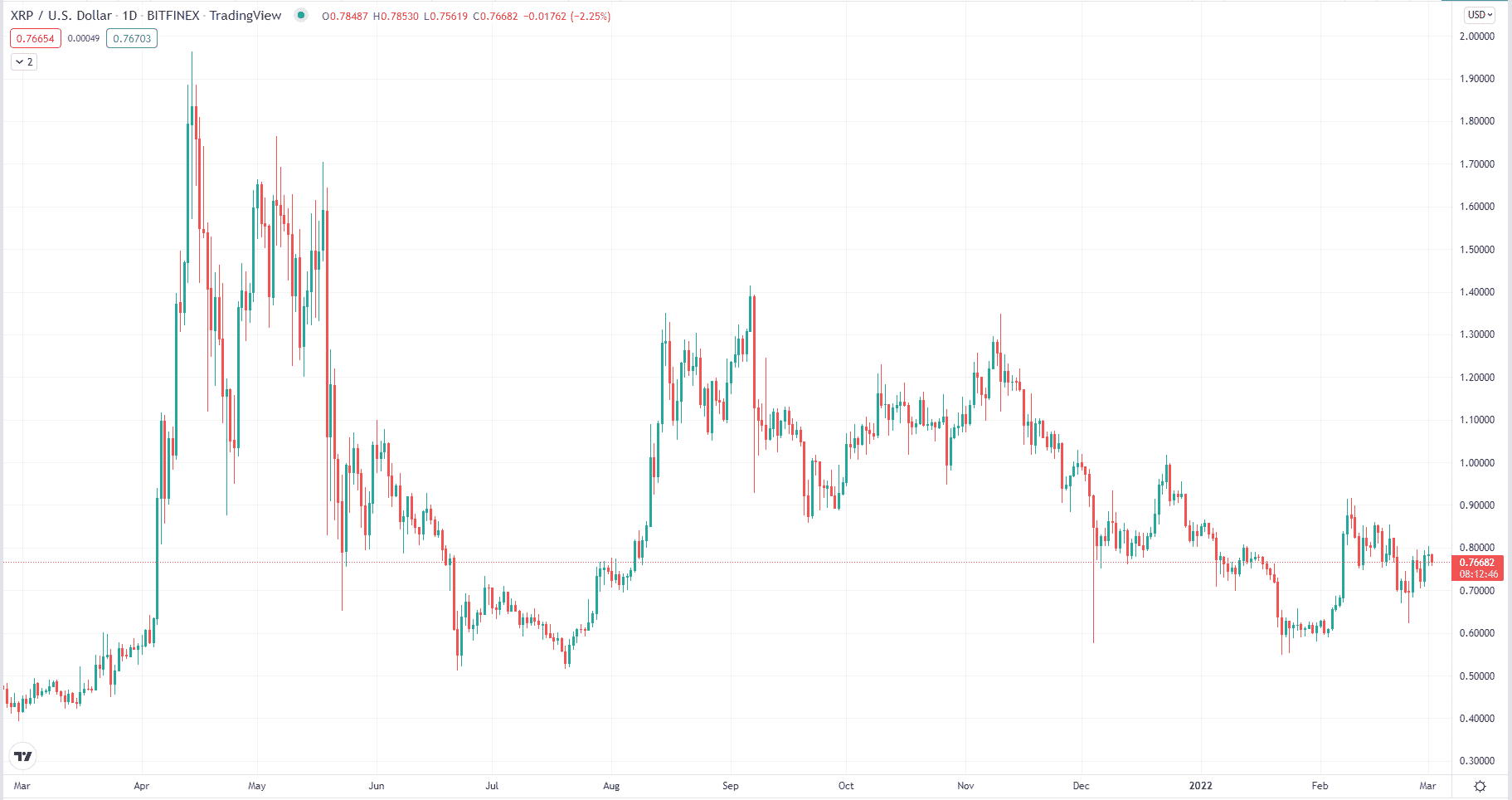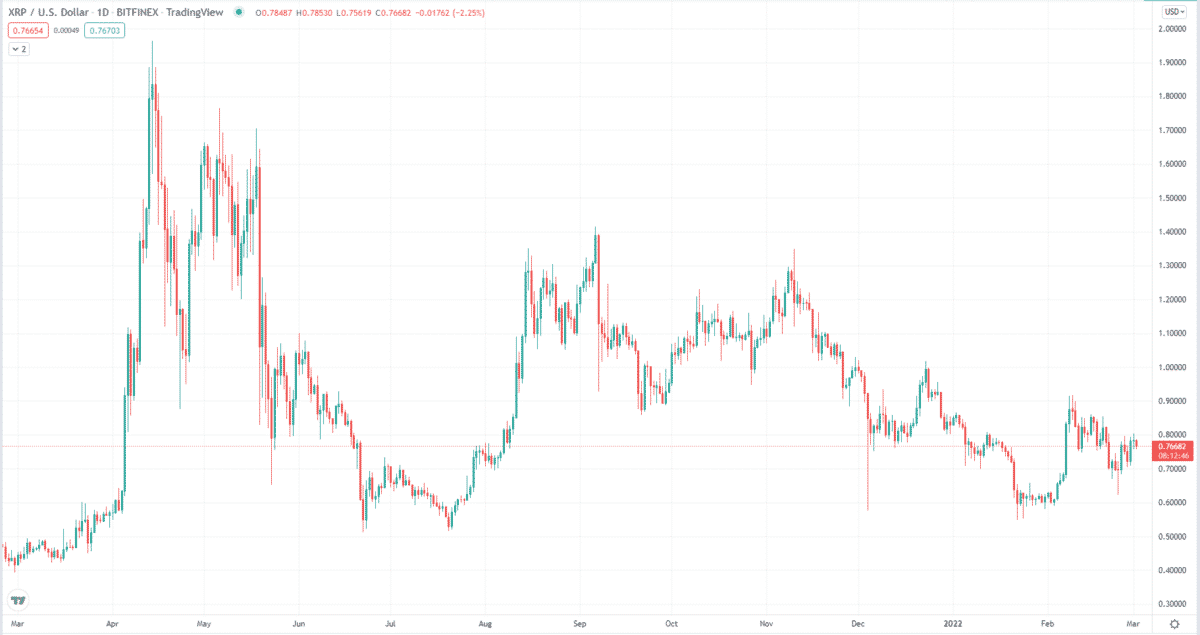 Why does it have the potential to grow?
Ripple has a lot of potential as a payment system. It is a much more efficient and affordable payment option than traditional payment providers, such as SWIFT. Although its market share is small, Ripple has already secured partnerships with large brick-and-mortar banks. If it wins the battle with SEC, its XRP coin could rally in price.
How much would you earn if you invested in Ripple 1 year ago?
The value of XRP on 1 March 2021 was $0.44546. One year later, each coin was trading at $0.78444. Such a price movement equals 76 percent of growth. If you happened to buy $1,000 worth of XRP tokens last year, you could have gained $760 in profit today.
4. Cardano (ADA)
Cardano combines the best features of Ethereum and Bitcoin. With the use of a proof of stake system, Cardano is more efficient, highly scalable, and significantly sustainable than both Bitcoin and Ethereum.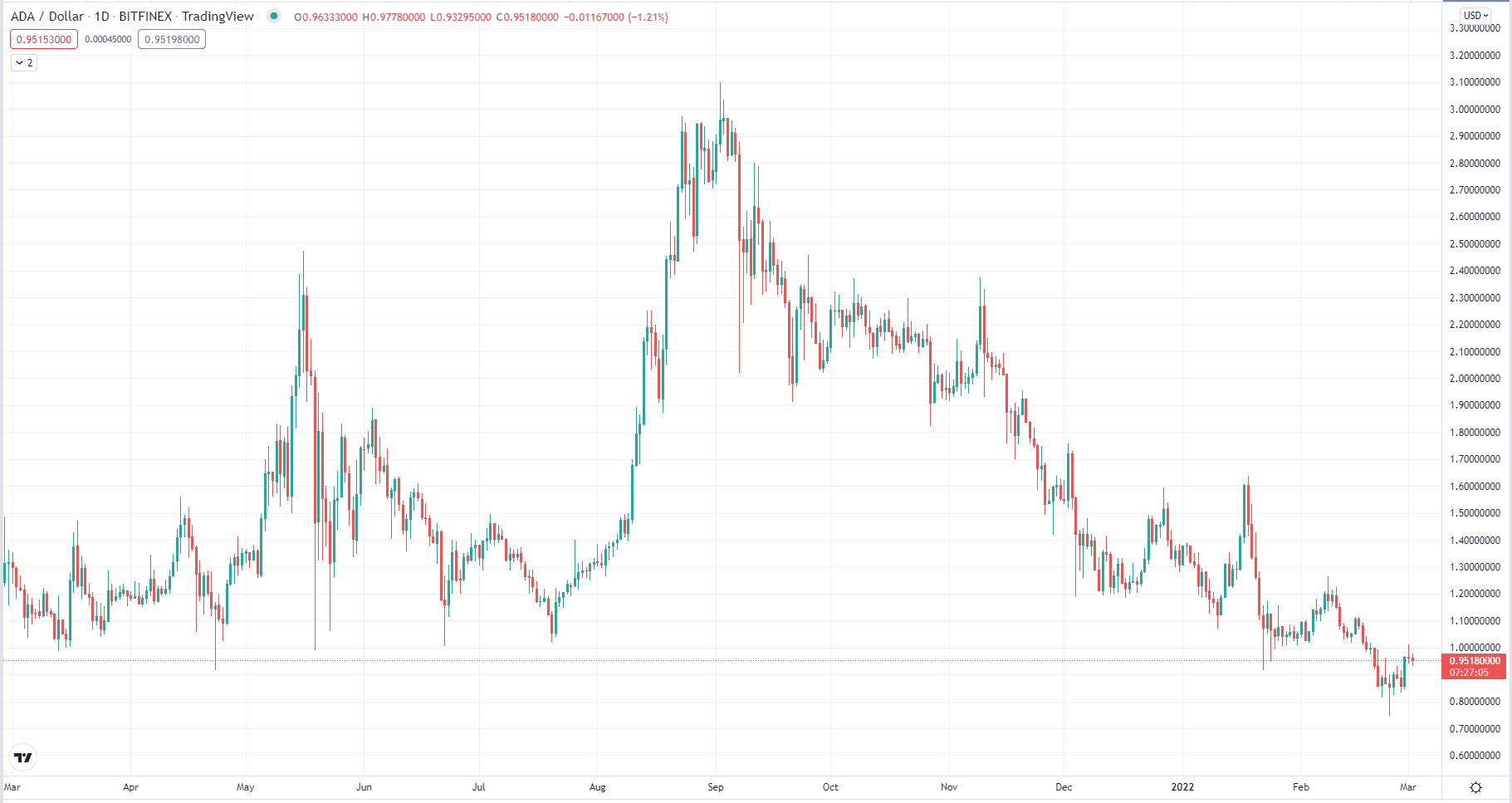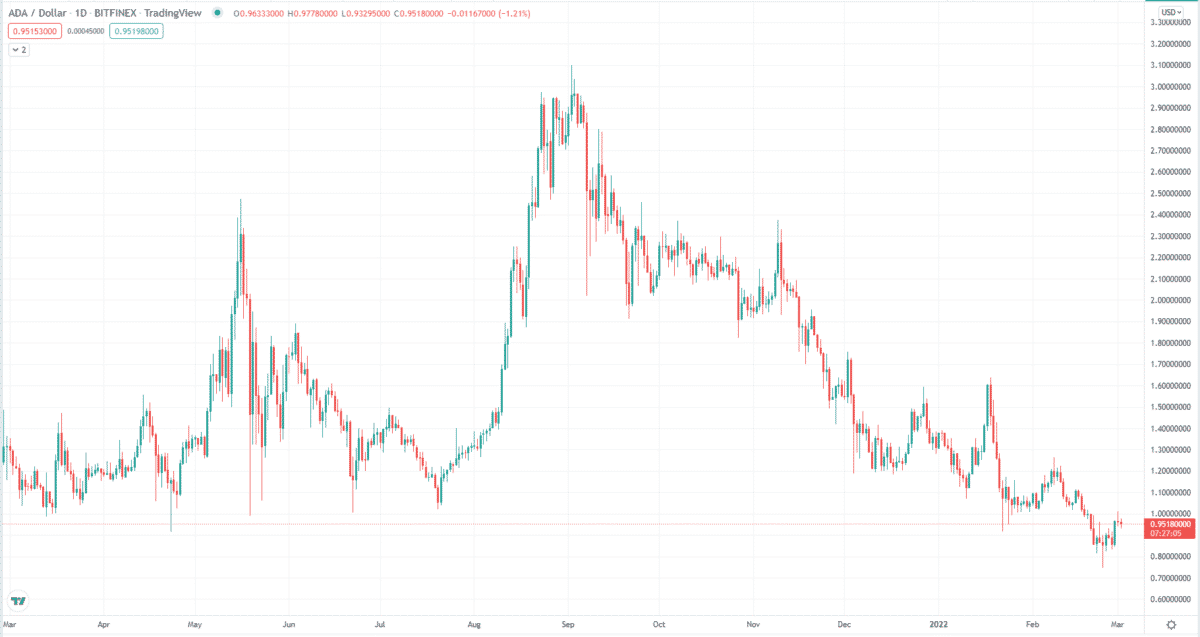 Why does it have the potential to grow?
Cardano is slowly gaining ground in the world of crypto thanks to its proof of stake mechanisms. At present, the ADA coin can process 250 transactions every second. If the current projects in the pipeline succeed, the token could facilitate one million transactions every second in the future.
How much would you earn if you invested in Cardano 1 year ago?
ADA was trading at $1.2971 per coin on 1 March 2021. However, one year later, it traded at a price of $0.96347. This price change represents a 25% drop in value. If you invested $1,000 last year, you could have lost $250 today.
5. Shiba Inu (SHIB)
Launched in August 2020, Shiba Inu had one specific goal on target: overtake or kill its predecessor meme coin Dogecoin. It appears this goal came to fruition on 27 October 2021 when SHIB surpassed the market cap of Dogecoin. Shortly after, though, Dogecoin was able to reclaim its throne.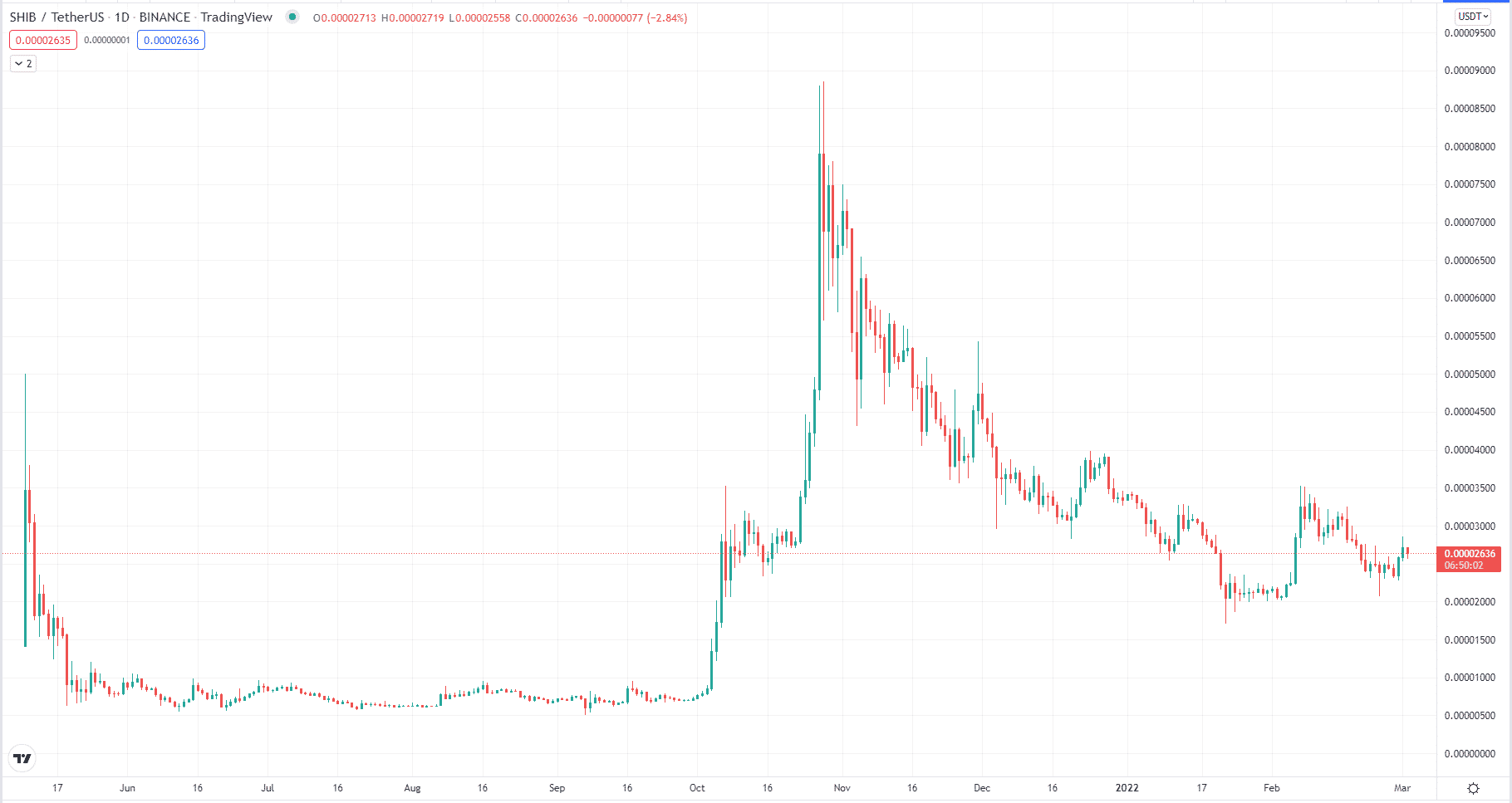 Why does it have the potential to grow?
There are many fundamental factors pushing the price of SHIB higher. One factor is its increasing market adoption. For instance, many establishments have started accepting SHIB as a form of payment for their products and services. Another factor is the growing number of crypto exchanges listing the coin. A major growth catalyst is the launching of ShibaSwap DEX. If the team is able to deploy the Shibarium blockchain project as planned, then SHIB could be a major player to reckon with in 2022.
How much would you earn if you invested in SHIB 1 year ago?
Launched on 10 May 2021, the SHIB token is less than one year. It opened for $0.00001412. On 1 March 2022, it recorded a price of $0.00002713. This price change is equal to about 92% of growth. If you invested $1,000 since its inception, you could have almost doubled your investment today.
Final thoughts
While the whole crypto market has been under fire lately due to massive sell-offs, it appears bitcoin and the altcoins have been slowly gaining ground. Most crypto coins are still in positive territory despite the recent rotation, considering the previous price one year ago. In this list of five crypto assets, four managed to return profits despite the temporary setbacks. Keep them on your radar in 2022 as you try to find worthy crypto investments.