Night Hawk is an expert advisor that belongs to the DaVinci FX Group portfolio. It has a simplified presentation that includes trading results but lacks features explanations.
Night Hawk company profile
DaVinci FX Group has designed various advisors like: Night Hawk EA, Zodiaq EA, Sakura EA, Trade Helper, and Breakeven Definer. According to the backtest end date, the company was created in 2019. The developers are Vitaly Nemykh and Roman Starostin. They have over ten years of trading experience.
The highlights of Night Hawk
The presentation includes various settings, features, and other details explained.
The advisor was designed to cover us with automatic orders execution.
We can work with the robot through the MT4 platform.
The core time frame to open orders is M15.
We are allowed to trade with Grid and Martingale strategies.
The robot works with various indicators like Bollinger Band, Commodity Channel Index, etc.
It checks the data from the Average True Range Indicator to find a precise entry point.
We can work on an ECN account to get the best market conditions.
The money-management system manages to calculate the best entry points to get into the market.
There are different filters to customize our trading experience.
We can decide what hours we'd like to trade, using a time filter.
We are allowed to avoid high-impact news periods.
The developer can provide us with average support 24/7.
Trading results with Night Hawk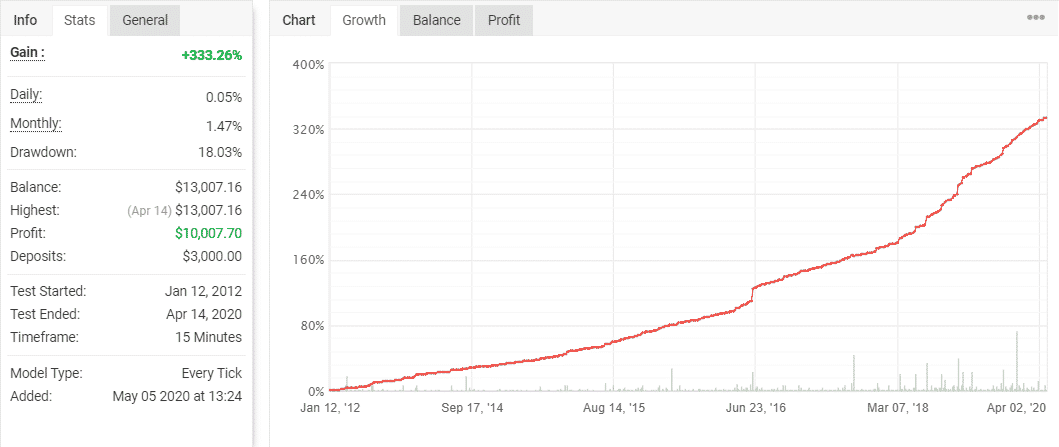 We have a report that was received after testing GBPCHF on the data from 2012 to 2020. The time frame was M15. An absolute gain amounted to 333.26%, while an average monthly gain was 1.47%. The maximum drawdown was 18.03%.

Night Hawk has closed 1042 orders with 9277.7 pips obtained. An average win was 20.93 pips when an average loss was 36.82 pips. The robot has managed to work with a win rate of 76-82%. The profit factor was 3.13.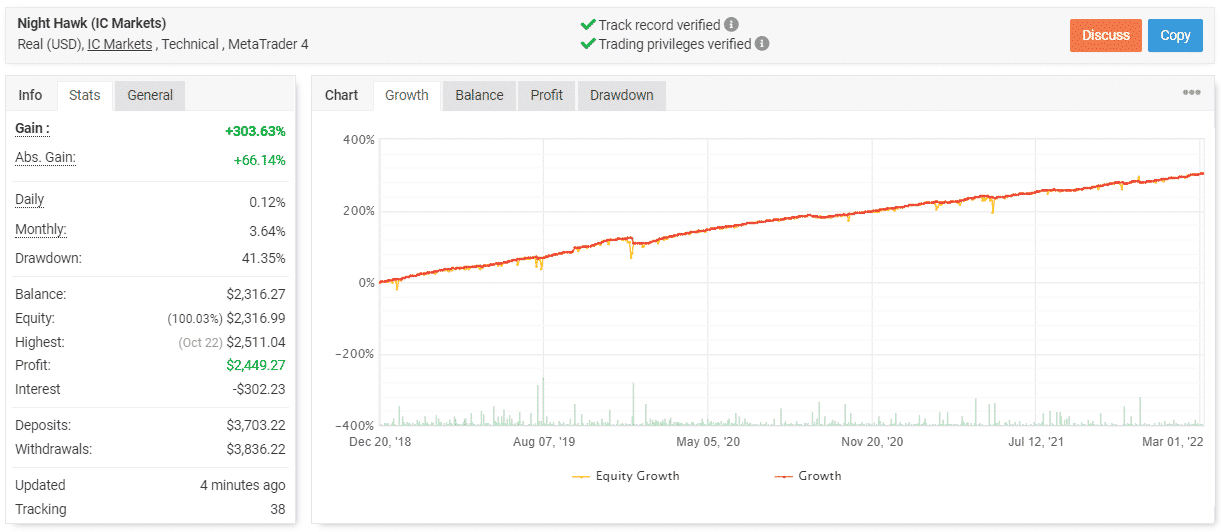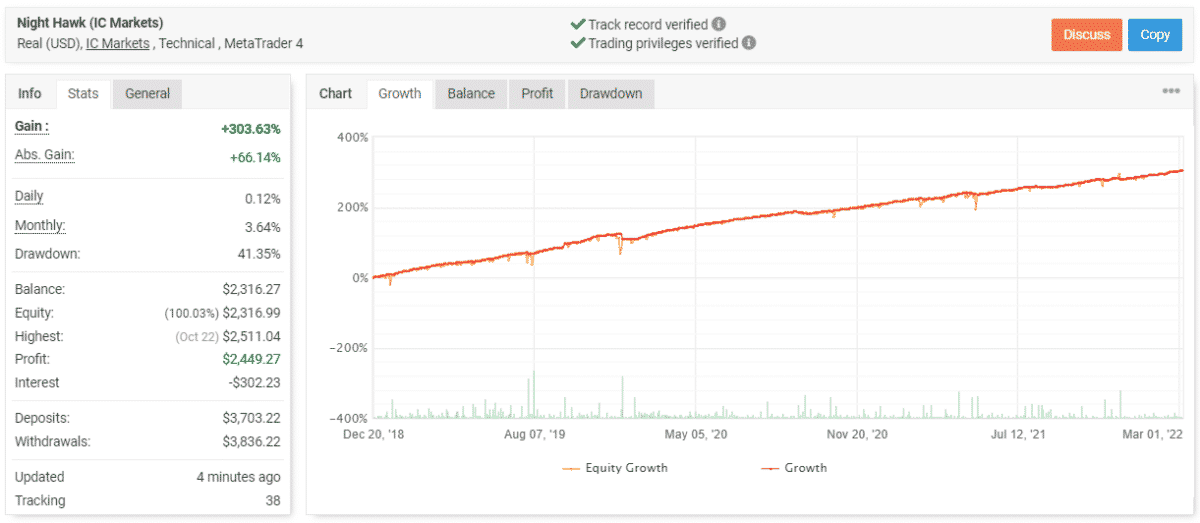 Night Hawk has been working on a real USD account on IC Markets automatically. This broker is well-known among Forex-related traders. The system trades on the MetaTrader 4 platform without mentioned leverage. The account was created on December 20, 2018, deposited at $3,703, and withdrawn at $3,836. The total gain has amounted to 303.63%. AThe maximum drawdown is high–41.35%. It tells us that the system uses a risky trading approach to generate profits.


The robot has closed 2188 deals and 8974.1 pips obtained. The system works with a win rate of 75% for longs and 74% for shorts and trades with an average trade frequency of two days. The EA's profit factor is 1.63.


GBPCAD (401) and AUDCAD (592) are the most actively traded currency pairs. We have two pairs that brought some losses: AUDNZD (-$18,15) and EURUSD (-$0,70).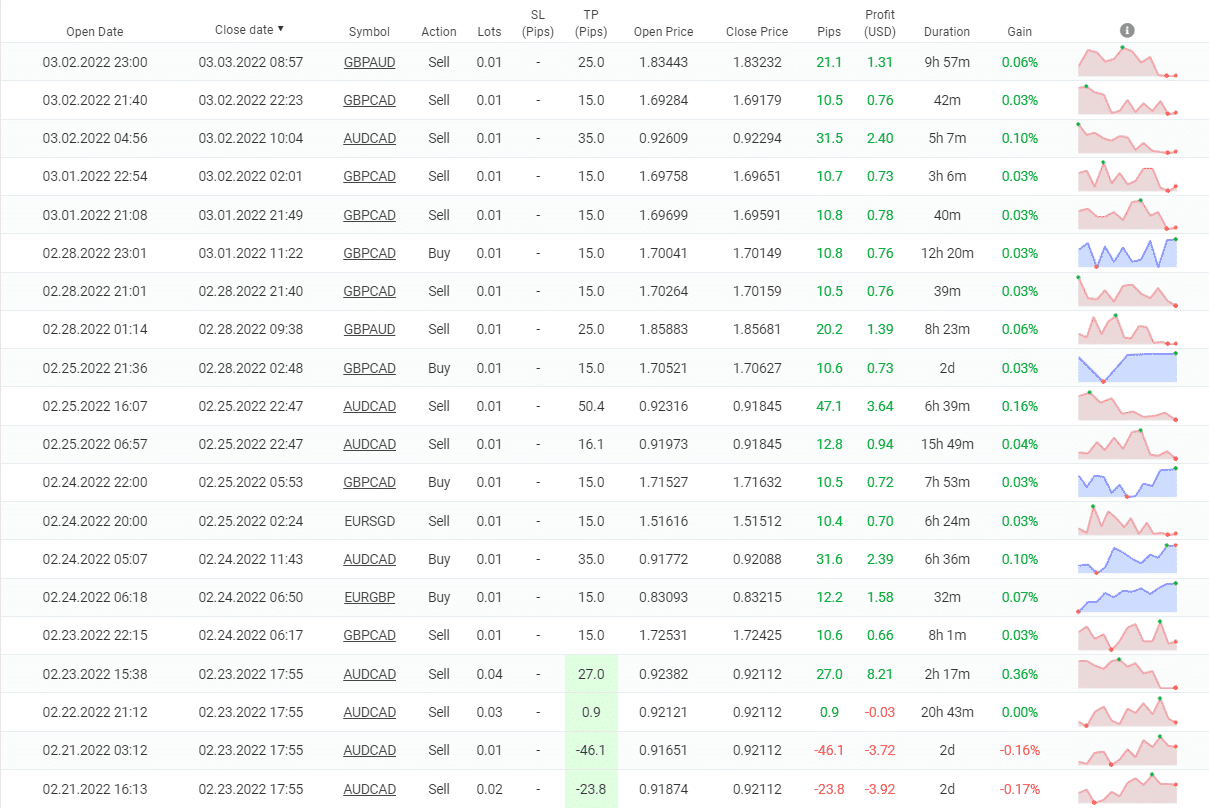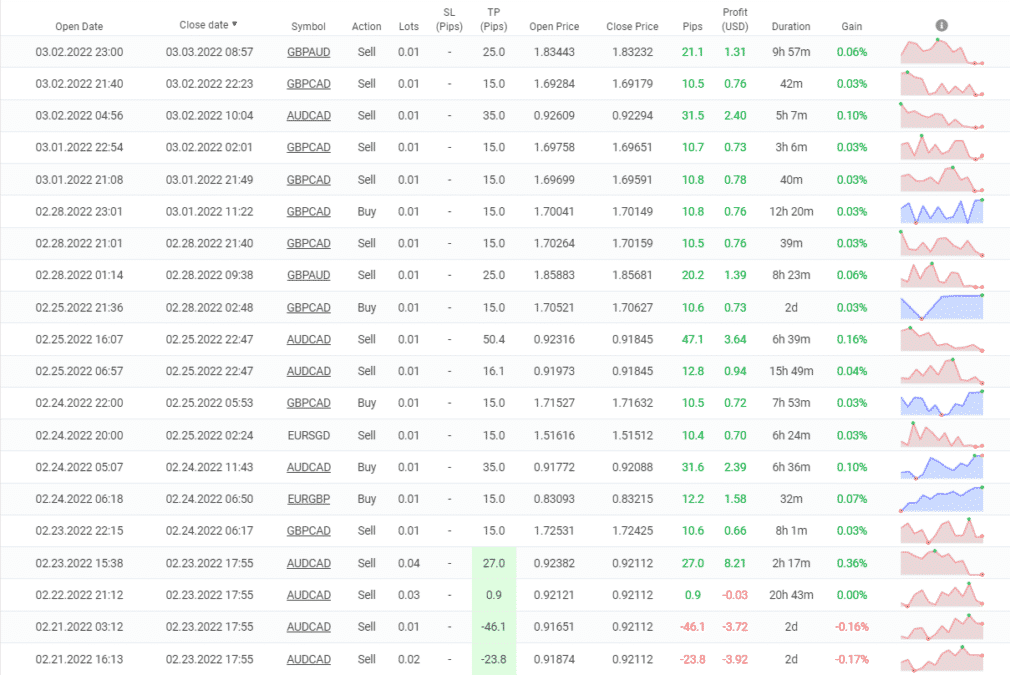 The advisor has closed the last 17 deals with profits. It works with four-order Grids and x3-x4 Martingale.
Night Hawk packages
The system is available for as low as $275. This price looks pretty honest compared with the similar trading solutions on the MQL5. We have no details about what features the package includes. Paying is allowed only by PayPal or WebMoney. We can get a 30% discount on a second purchase.
Assistance
The developers provide informative support on bad English. So, you can check this on your own.
Other notes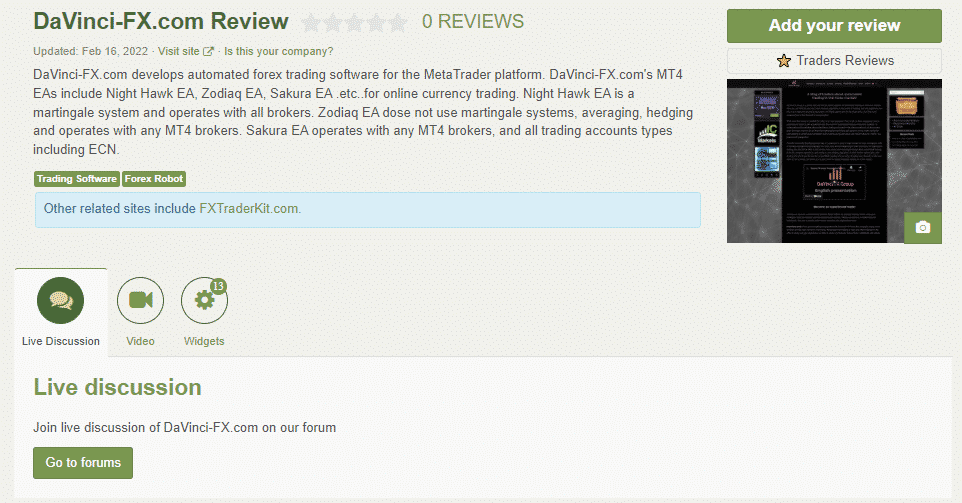 We have a page of DaVinci FX deployed on Forex Peace Army. It doesn't include any customer feedback or trading accounts connected. It's a con because we don't know if the robot is that useful for clients.
Is Night Hawk a reliable system?
It's hard to say for sure because there's a Grid with Martingale combo on the board. We don't have refunds to cover us if something goes wrong.