What is the best water ETF?
How many such funds are there?
Is water a good investment?
Water is an essential commodity that investors might have taken for granted. People need water to survive and support their daily activities. Meanwhile, industries use a large volume of water to manufacture various products. Virtually all types of human endeavor require water to operate. The demand for clean water is consistent, but there is a limited supply.
From an economic point of view, a commodity with limited supply but with high demand makes a good investment. For this reason, diverse organizations engage in the business that has something to do with water. This includes filtration, distribution, treatment, and more. Indeed, you have multiple water stocks to choose from if you partake in this sector.
Getting exposure to the whole water sector might involve buying so many stocks. Besides, water equipment and technology companies are generally pure-play, while water utilities have a limited geographic scope. You can invest in water ETFs to gain good exposure without buying too many water stocks.
This article will understand what a water ETF is and what options you have when selecting this investment security.
What are water ETFs?
They are investment funds that put money in companies that engage in the distribution and treatment of water. These securities are often used to balance the risks associated with exposure to other market sectors. Because water is vital and there is an increasing threat of water shortage, investing in water ETFs could pay off in the far future.
Selecting funds would not be an issue because the water ETF landscape is small. Take note that these funds do not invest in companies that supply water but those that manage the allocation of water resources. There are only five such funds in America. This excludes those funds managing assets less than $50 million, as well as the leveraged and inverse ETFs.
Best water ETFs in 2022
Below are three of the best water funds to consider investing in 2022.
No. 1. First Trust Water (FIW)
Price: $83.30
Expense ratio: 0.54%
Net assets: $1.61 billion
The fund mimics the performance of the ISE Clean Edge Water Index. This index consists of companies mainly operating in the wastewater and potable water industries. Such companies may provide infrastructure, water distribution, water treatment, and auxiliary services. Established in 2007, the fund is now handling $1.61 billion assets. In terms of assets under management, this ETF is the biggest in this list of three.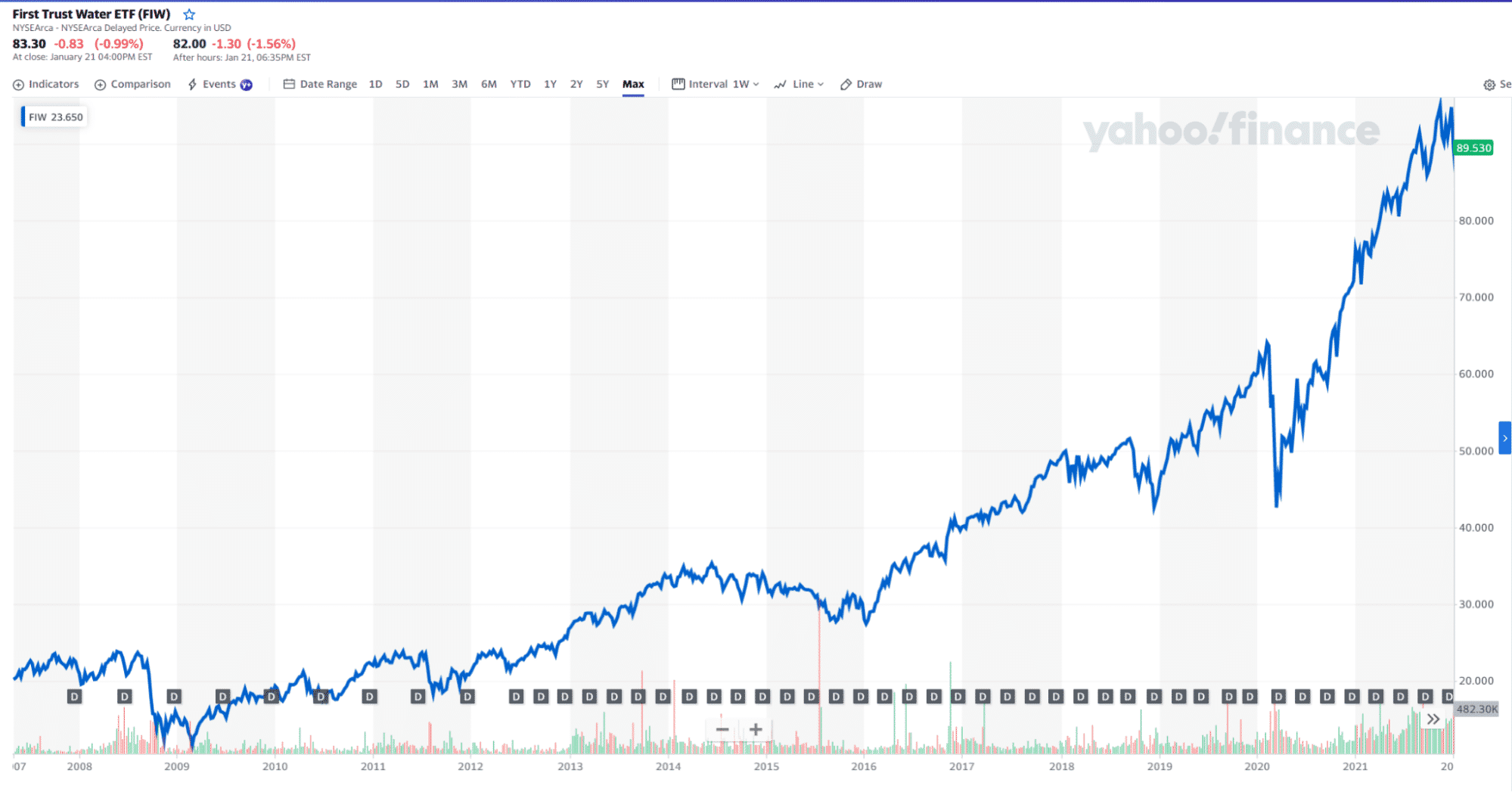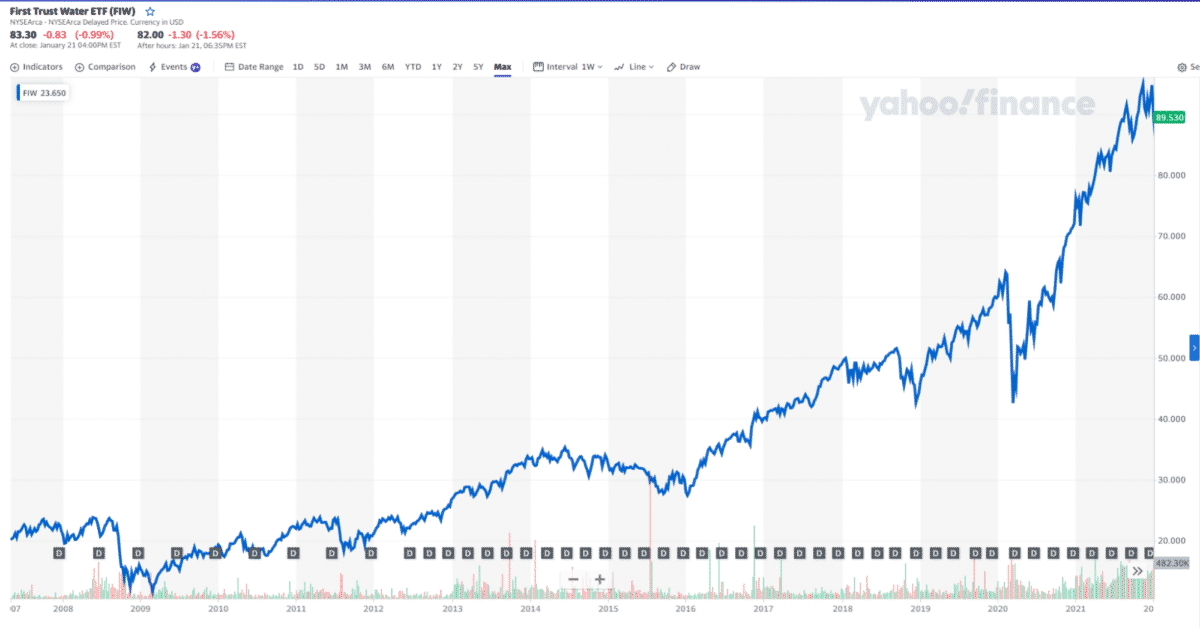 At the current $83.30, FIW ETF is the most expensive fund on this list. After experiencing heavy losses in March 2020, the ETF rebounded shortly after finding support at around $45. Since then, the fund continued its upward trajectory until November 2021. After that, the price formed a double top and broke the higher low made in September 2021. The completion of the double top and breaking of a structure are hints that the price is in for a correction in the future. Now, investing in this ETF is not ideal because of the downside risks mentioned.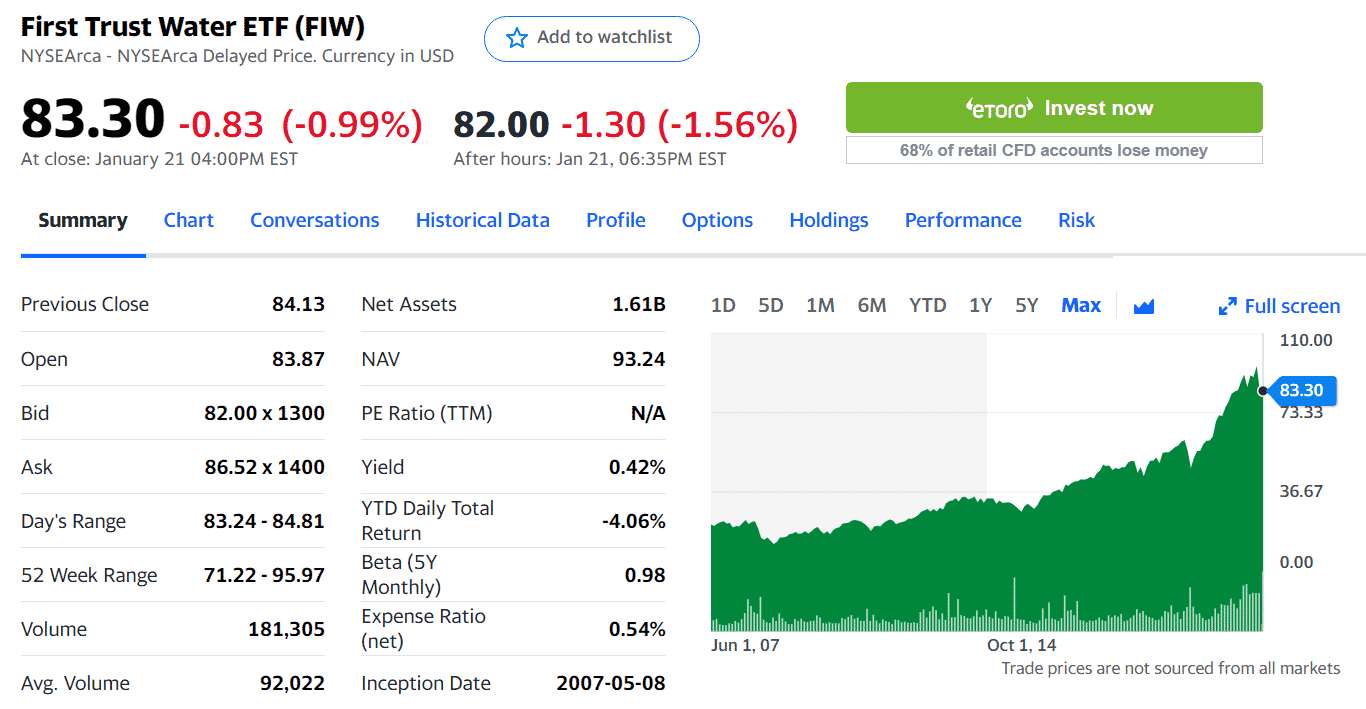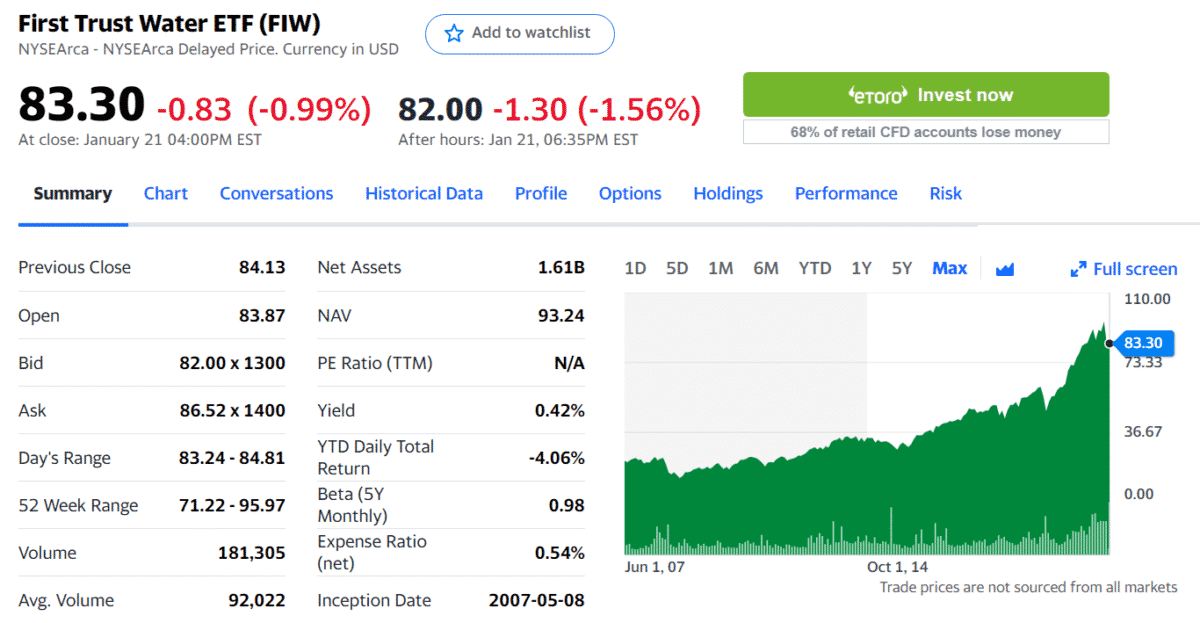 No. 2. Invesco Global Water ETF (PIO)
Price: $38.68
Expense ratio: 0.75%
Net assets: $362.87 million
Established in 2007, the PIO fund uses the NASDAQ Global Water Index as a performance benchmark. PIO has a longstanding policy to invest 90 percent of its assets or more in potential companies working in the water industry.
The portfolio of PIO contains 43 companies all over the world, with the majority of companies based in the United States and the United Kingdom. Both local and international companies manufacture products that purify and conserve water for use in industries, businesses, and homes.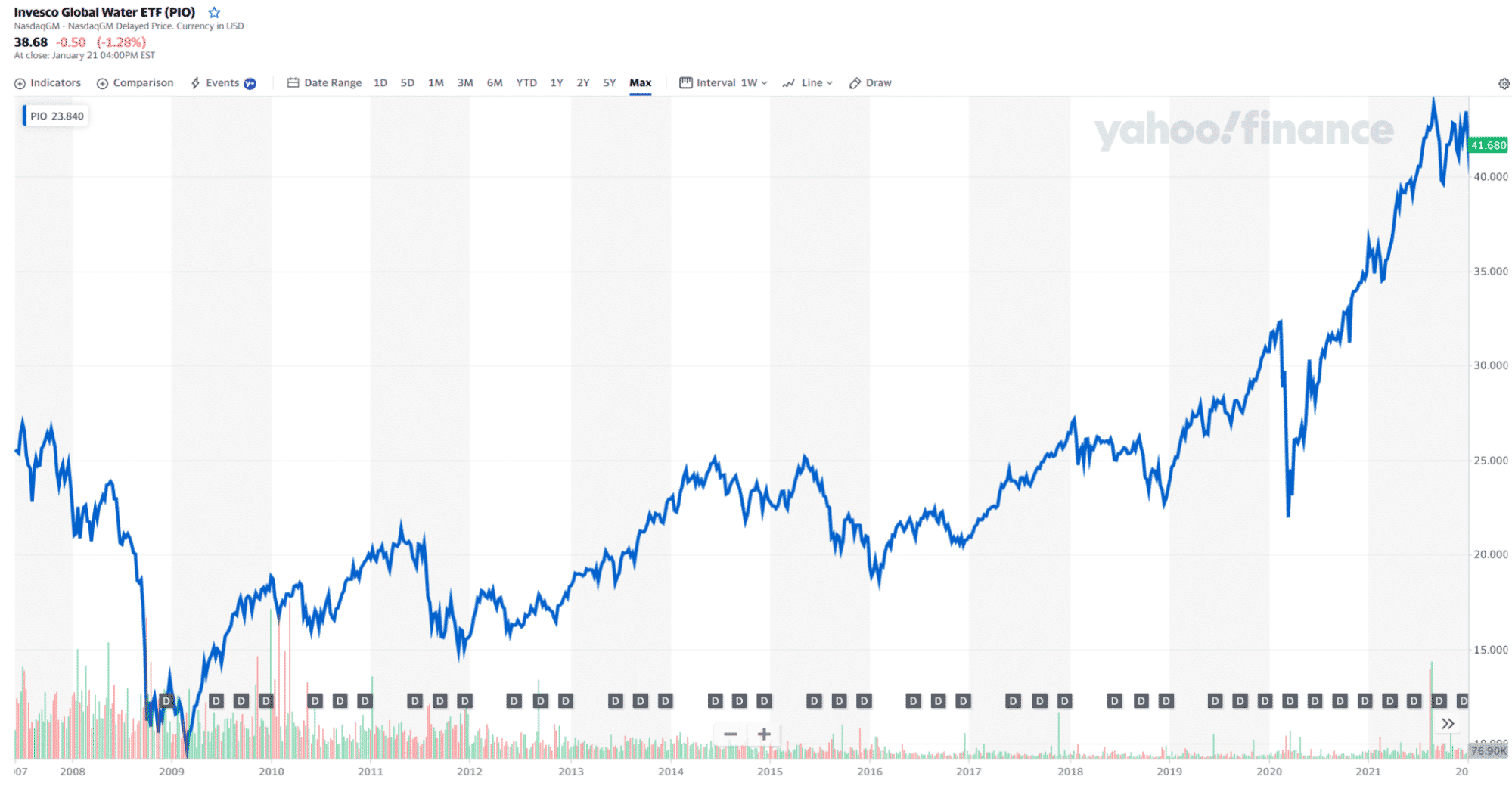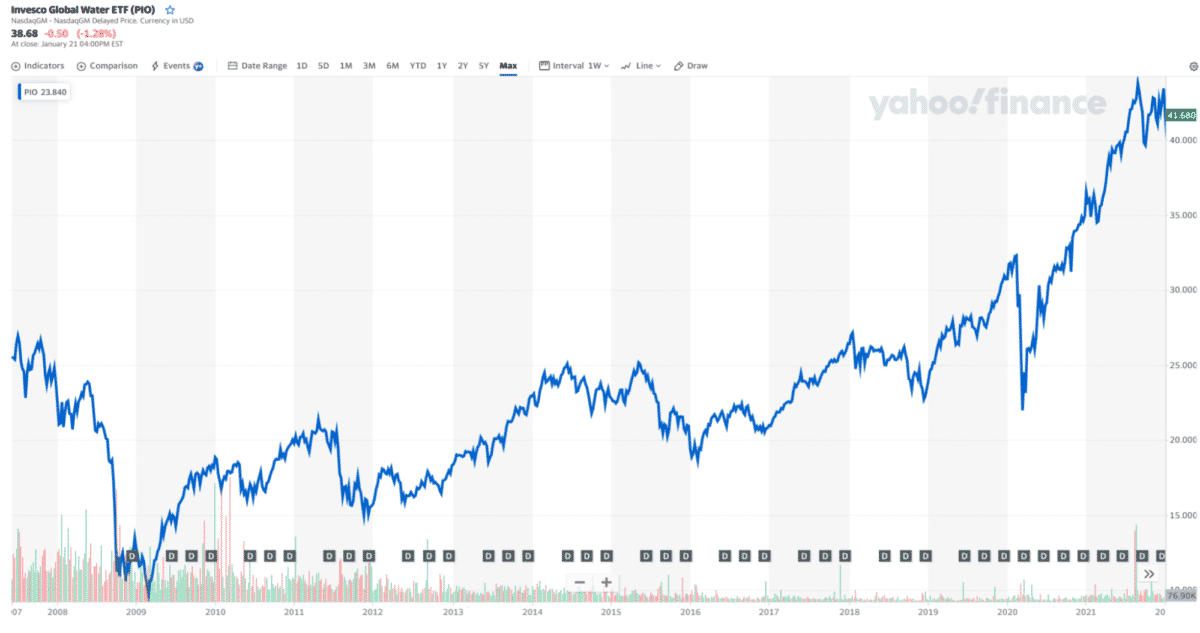 With a share price of $38.68, PIO ETF is the cheapest fund on this list. As you can see in the chart, this fund is moving similarly to the FIW ETF. The good thing is that it found support immediately, starting to recover losses in March 2020. It staged a vast rally afterward, managing to hit a peak of $43.99 in August 2021. However, buying the EFT now is risky because the current sell-off looks vicious. It is best to wait patiently on the sidelines until the price is poised to climb again.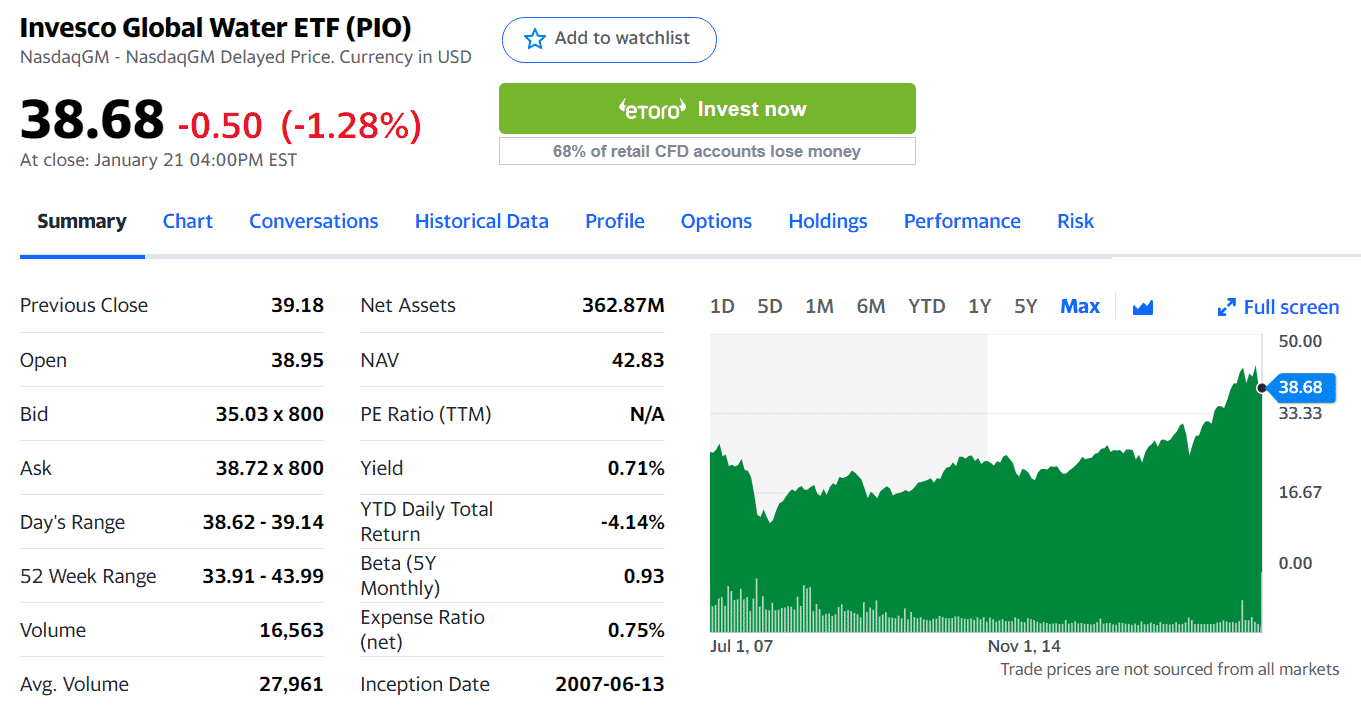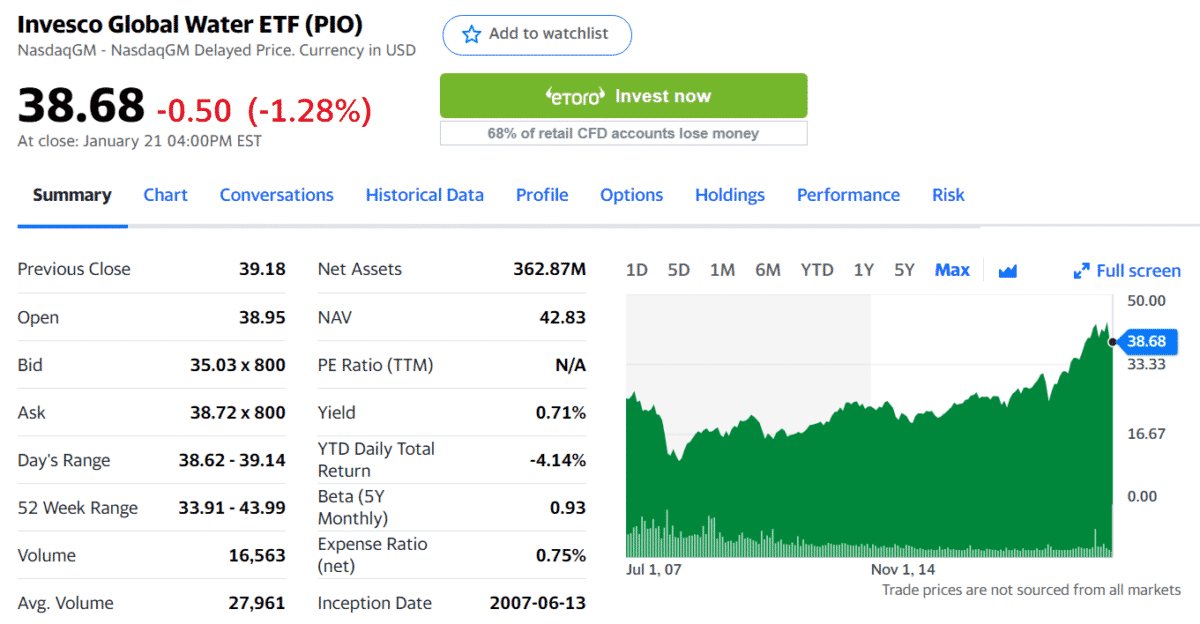 No. 3. Ecofin Global Water (EBLU)
Price: $45.65
Expense ratio: 0.40%
Net assets: $67.71 million
Established in 2017, the EBLU fund mimics the Ecofin Global Water ESG Index. This index is composed of companies involved in the management of water resources and the provision of infrastructure for water distribution.
The allocation in this index by geographic location is as follows:
57 percent in North America
37 percent in Europe
6 percent in the Asia Pacific
This ETF is said to cover those companies engaged in the quest for achieving water supply and demand balance.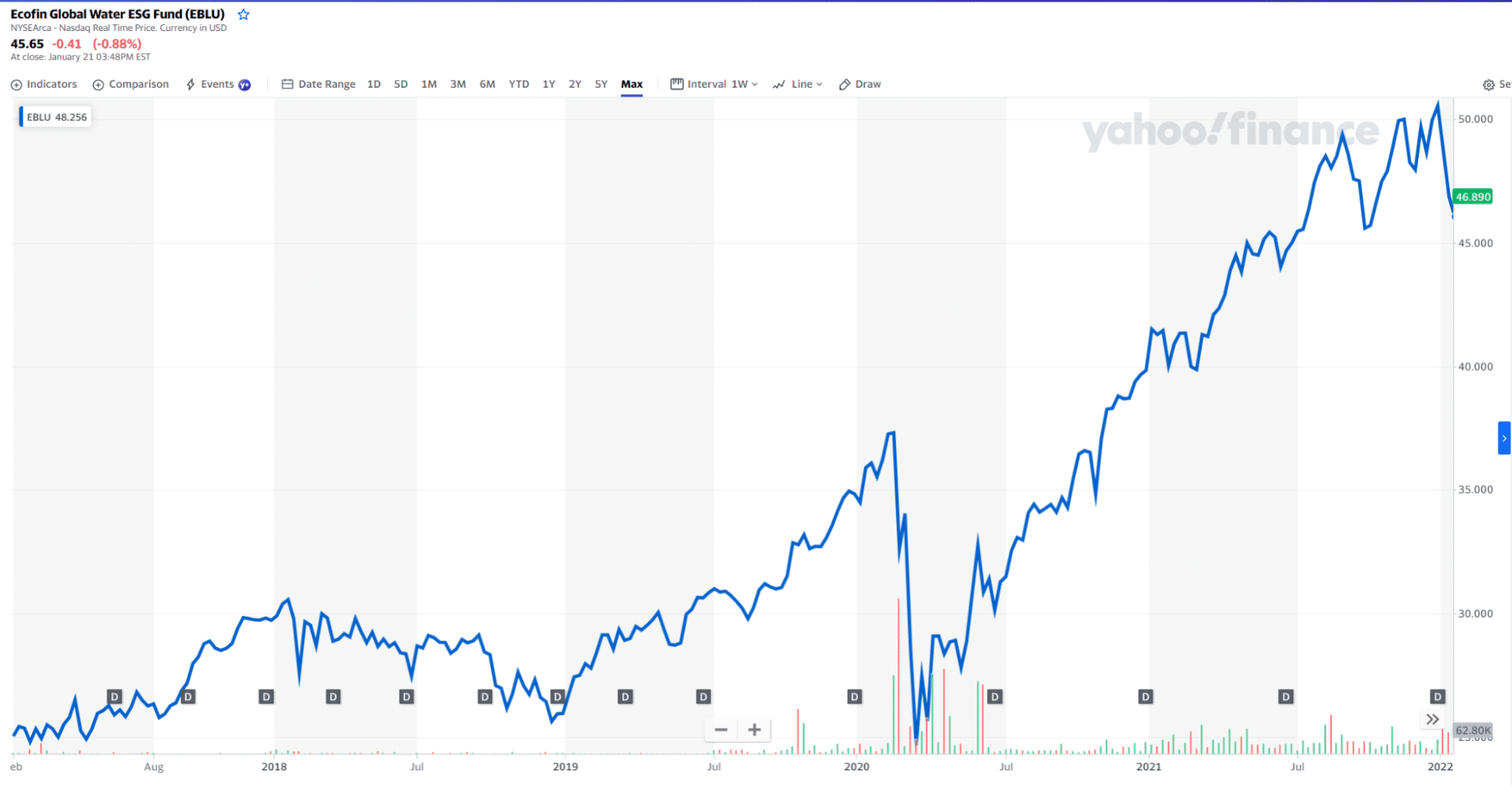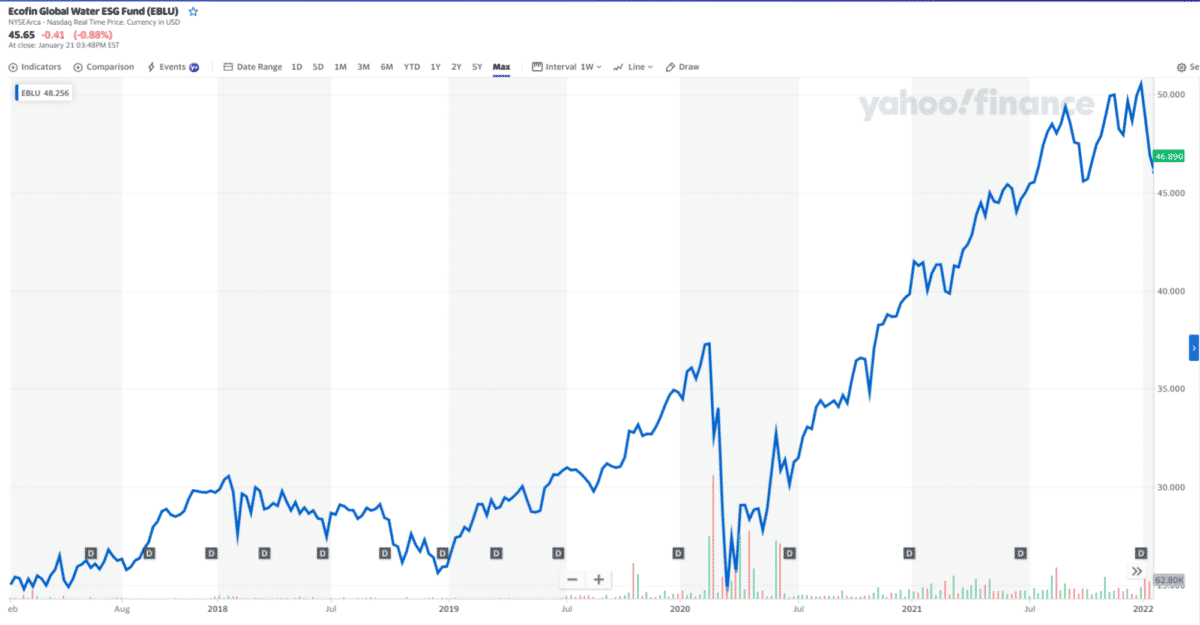 Much like the two ETFs discussed above, the EBLU ETF performed the same way, as you can see in the chart. It encountered the same sell-off and recovery in quarter one of 2020. The rally continued strongly until the last quarter of 2021. However, things did not look good at the start of 2022.
Since the beginning of 2022, the ETF has sold off in three consecutive weeks. The good thing is that price has not broken a previous swing low yet. It might be possible for the price to reverse at this swing point. If not, it will suffer the same fate as the other two ETFs already discussed.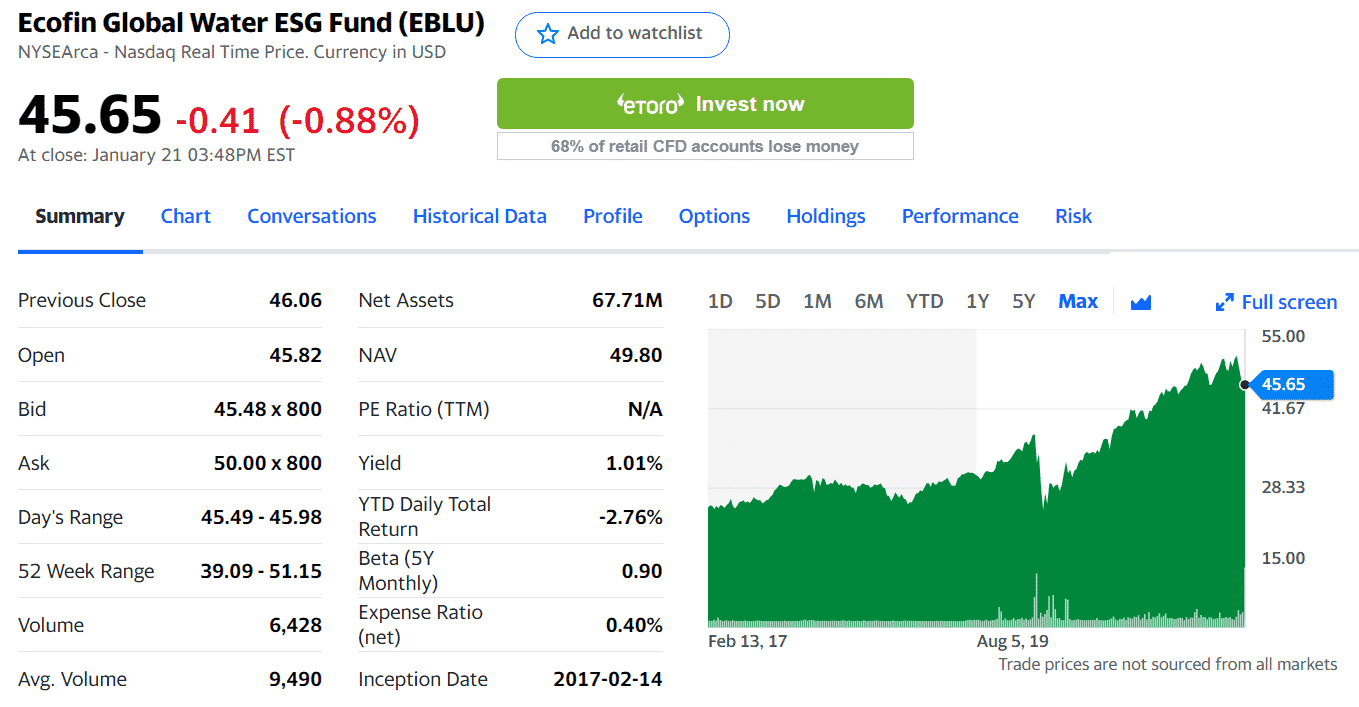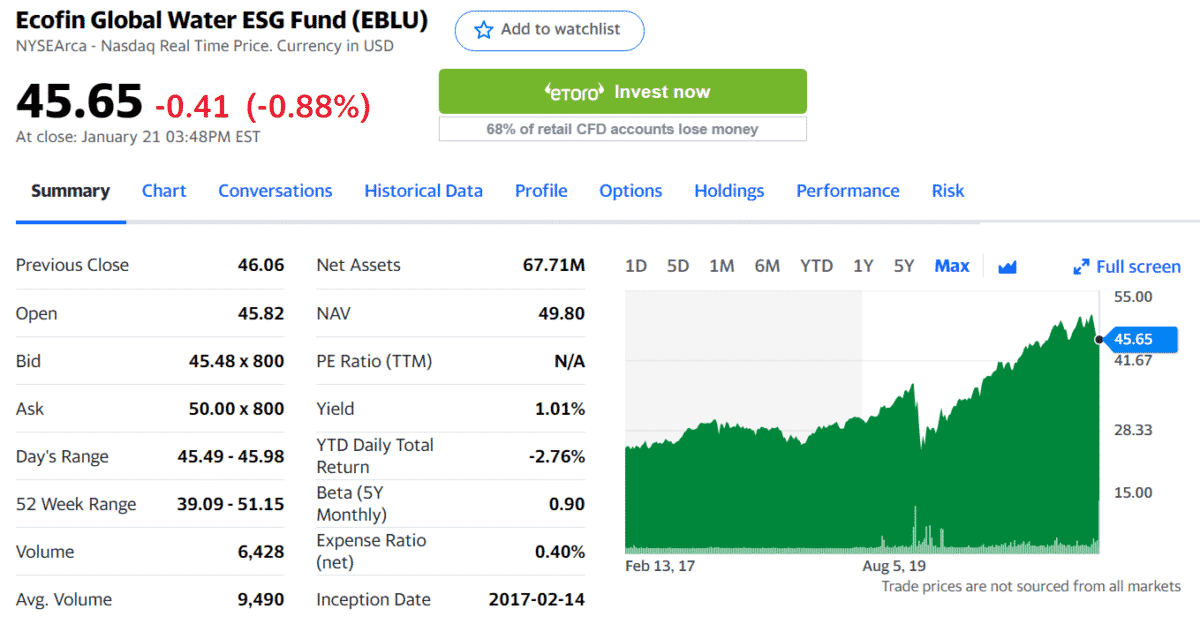 Final thoughts
Even if water is a commodity that is crucial to human existence, investors do not think investing in this industry is a lucrative one. In the past, countries waged war to get access to water. Today, we enjoy the water without thinking about how it is delivered to our homes. It may be time to change this thinking.
However, the threat of water shortage is already on the horizon. Governments and businesses might find themselves scrambling for ways to find water resources in the years to come. Therefore, investing in ETFs right now is not a bad idea to begin with.