WallStreet Forex Robot is being promoted as a reliable trading tool. The developers believe that this is the system you need to multiply your profits. In this review, we will seek to demystify the claims by assessing the product's features, transparency, historical data, current performance, and customer experiences, among other vital factors.
WallStreet Forex Robot company profile
FXAutomater is the company behind WallStreet. It has been creating automated trading systems for a decade and has released 30+ Forex robots. The team is composed of traders, investors, and programmers.
The highlights of WallStreet Forex Robot
The top features of this bot are:
Trades micro, mini, and standard accounts.
Advanced time management system is used.
Comes with a revolutionary broker spy module.
An advanced money management system is included.
A total of 5 intelligent built-in protection systems are available.
Compatible with MT4/5 and cTrader platforms.
The currency pairs used include EURUSD, GBPUSD, USDJPY, USDCHF, USDCAD, NZDUSD, and AUDUSD.
This robot applies the scalping trading style while following short and medium-term trends. A high spread protection system is also featured to protect the trader from unexpected losses arising from high market volatility.
Trading results with WallStreet Forex Robot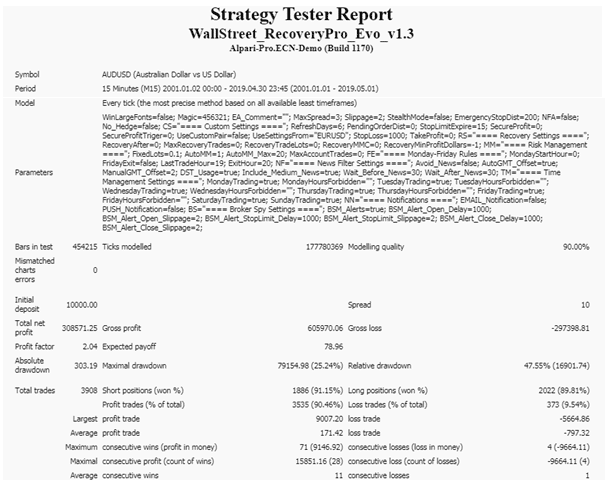 According to the data shown above, this robot was tested for 18 years. Using a deposit of $10000, the system completed 3908 trades during this period. As a consequence, a total net profit of $308571.25 was realized.
The accuracy rates of the long and short positions were 91.15% and 89.81% respectively. The relative drawdown, 47.55%, was massive and threatened to drain the capital. The average loss trade (-$797.32) was almost 5 times higher than the average profit trade ($171.42).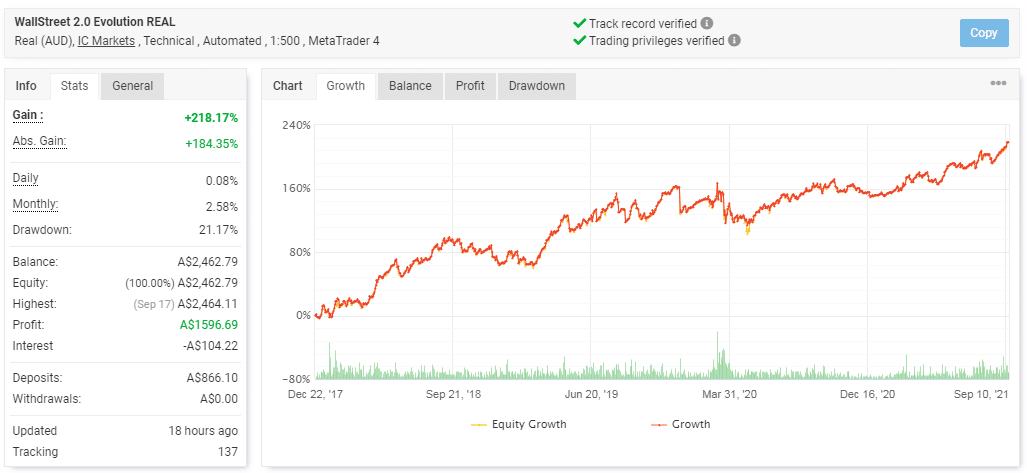 This real AUD account was opened on December 22, 2017, and in close to 4 years, the EA has made a gain of 218.17% through it. However, the profits made on a monthly basis are very small —2.58%. So, the deposit has only increased by A$1596.69. In contrast, as reported by the drawdown, the losses made are enormous —21.17%.

This system has engaged in 3277 trades to date. Even so, we have nothing good to say about their performance. All the metrics are indicative of a system that is having a rough time in the live market. From having an average profit factor of 1.15 to attaining win rates that are below 80% and reporting an average loss (-38.60 pips) that is way above the average win of 14.15 pips, these outcomes are not worth bragging about.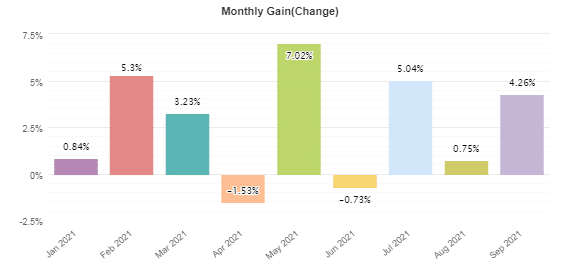 The system has been making small gains since the beginning of 2021. Unfortunately, it lost many  trades in April and June.

The EA's trading activities have jeopardized the potency of this account. A series of 81 bad trades can erode 50% of the account.
WallStreet Forex Robot packages
Wall Street is going for $237. At this cost, you will be able to access 1 real account, unlimited demo accounts, and a 60-day money-back guarantee. In addition, you will get some other EAs as bonuses.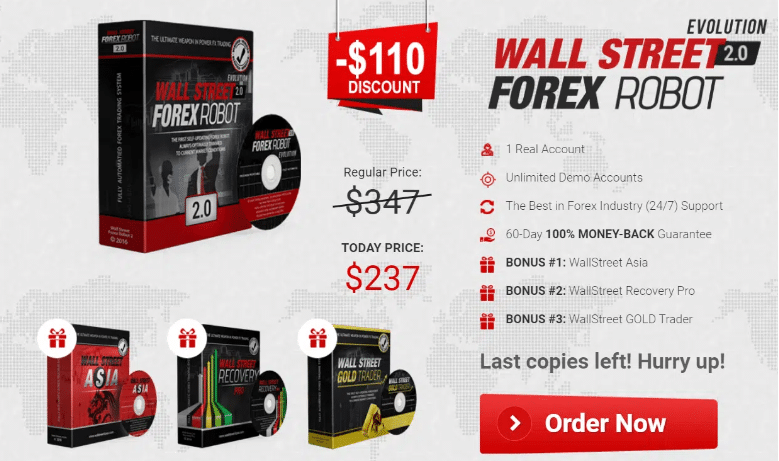 Assistance
Customer support is available. You are free to contact the team any time when you need their assistance. Therefore, you can leave them a message through email or follow team members on their social media platforms, i.e., Facebook, Twitter or Youtube.
Other notes
Many customers on FPA are not happy with this bot. They acknowledge that the system makes small infrequent wins, and when it makes losses, they are big enough to erase the profits.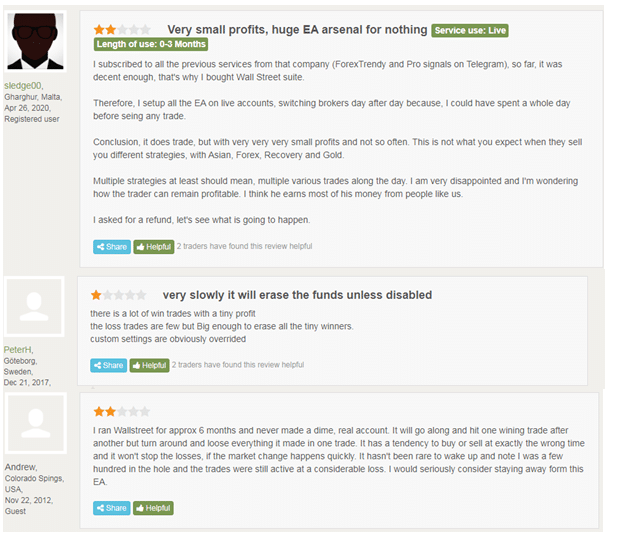 Is WallStreet Forex Robot a profitable bet in 2021?
No. It is not. From our analysis, we have learned that the bot has:
Low profitability rate.
High drawdown.
Disturbing losing streak.
Taking the above discoveries into account, you can now see why you will not be able to benefit from the system. Yes, you may make profits for a while, but since they are small, 1 or 2 big losses will dissolve them. Therefore, you can easily end up with a negative balance.