Vigorous EA is an expert advisor that is a part of the Responsible Forex Trading company. The presentation doesn't look trustworthy and informative. The devs claim: "The Vigorous EA is one of our best EA's! It has been successfully backtested on 21 years of data. It scalps the EURUSD pair up to 100 times a week and makes a profit EVERY day! If you're looking for an EA that makes a consistent profit every day, this is it!" Let's check it up!
Vigorous EA company profile
The company doesn't provide extended explanations about who they are and what we have to expect from their system. We don't know if they have proper experience designing Forex robots.
The highlights of Vigorous EA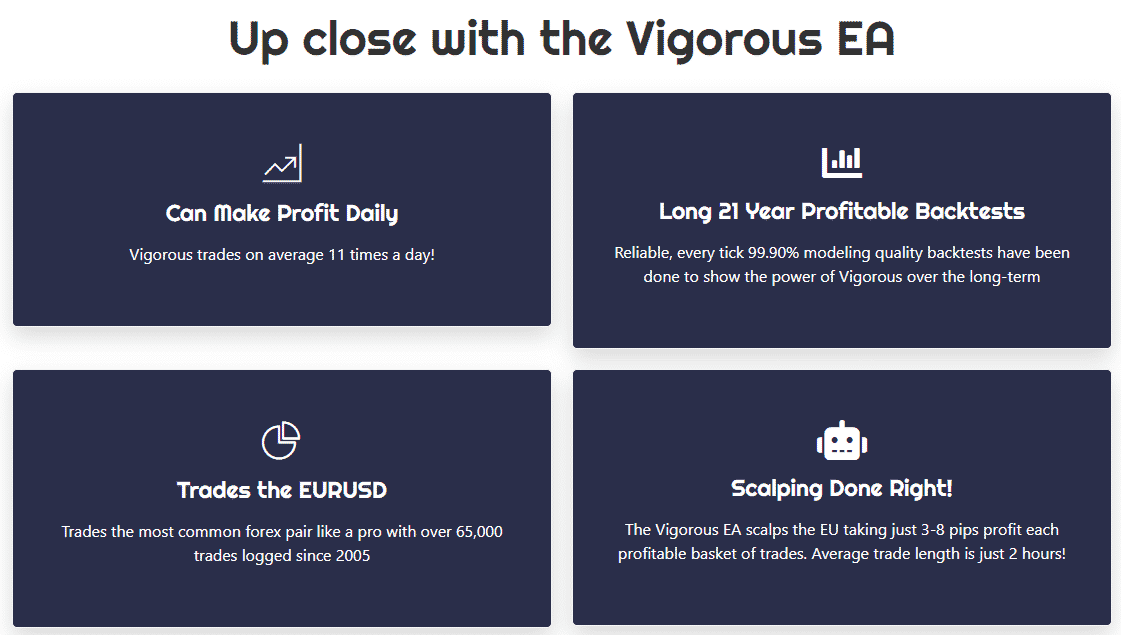 The system has a quite short presentation that doesn't look informative. We still have many unanswered questions.
It can help us with automatic trading on our terminal.
We may do whatever we want.
The devs claimed that trading frequency is eleven orders a day.
The system works on high time frames.
We have to test it on low time frames.
The advisor works with a Grid of orders strategy.
EURUSD is the main cross pair.
The backtest's quality was 99.99%.
The take profit can be from 2 to 8 pips.
It closes orders within several hours.

There's a five-month win streak.
They had 212 copies sold.
An average monthly profit can be 1.56% with default settings.
We have to run an account with a $5000 deposit.
To work well we have to run leverage with 1:200 or higher.
It can open from 50 to up to 200 deals weekly.
Trading results with Vigorous EA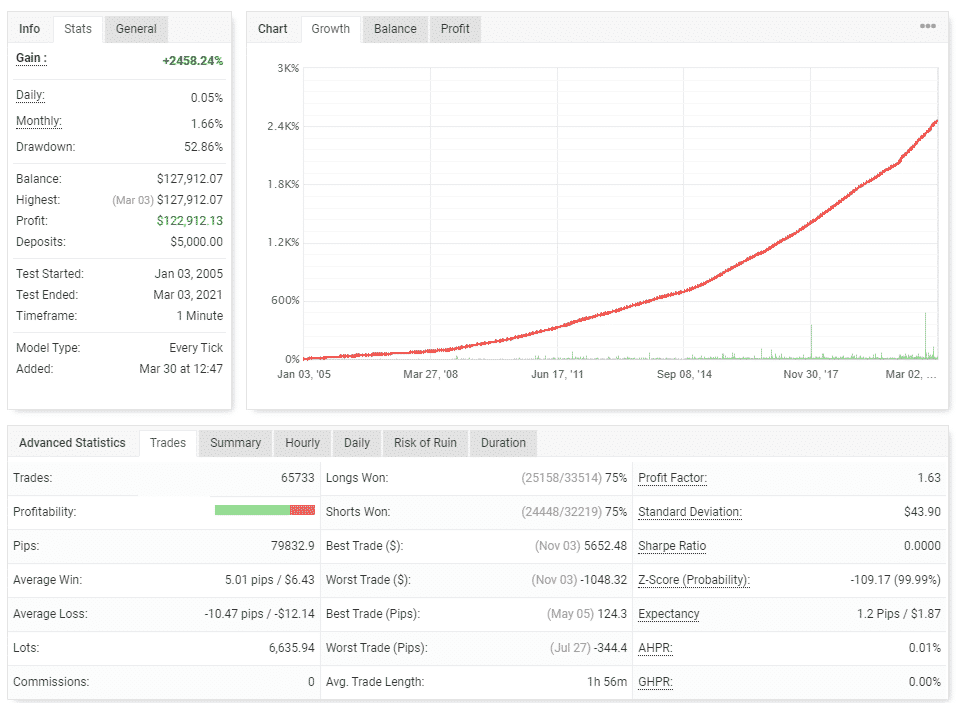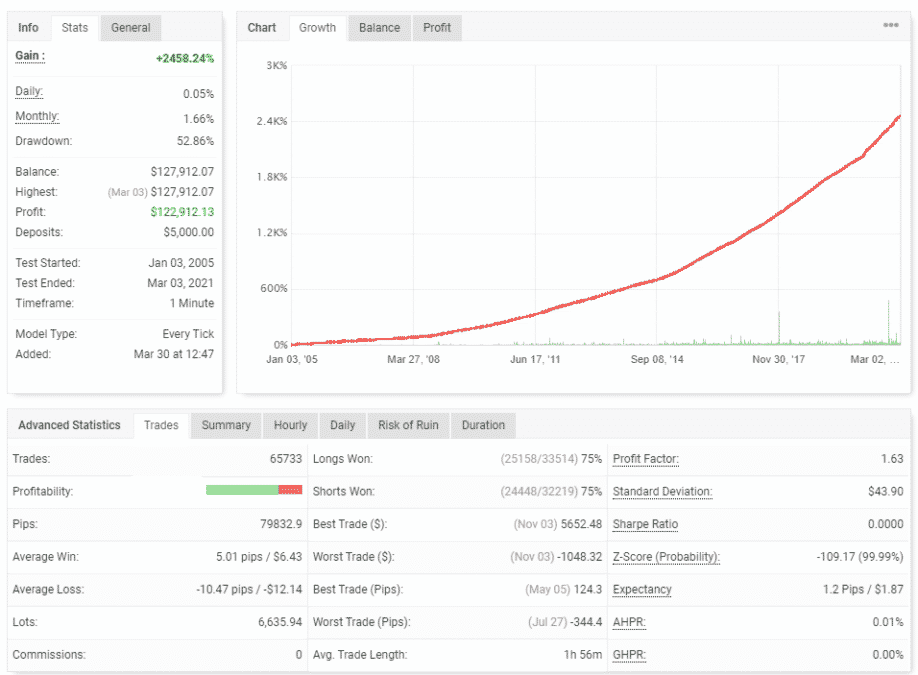 There's a report of EURUSD based on the 2003-2021 year data. The absolute gain has amounted to 2,458.24%. An average monthly gain has amounted to 1.66%. The maximum drawdown was 52.86%. It's an unhealthy number for a test. The system has traded 65,733 orders with 79,832 pips. An average win was 5.01 pips when an average loss was -10.47 pips. It traded with an average accuracy of 75% and a profit factor of 1.63. The average trade length was 1 hour and 56 minutes.

It was tested on a EURUSD cross pair. The advisor provided equal profits and had equal trading frequency in both directions.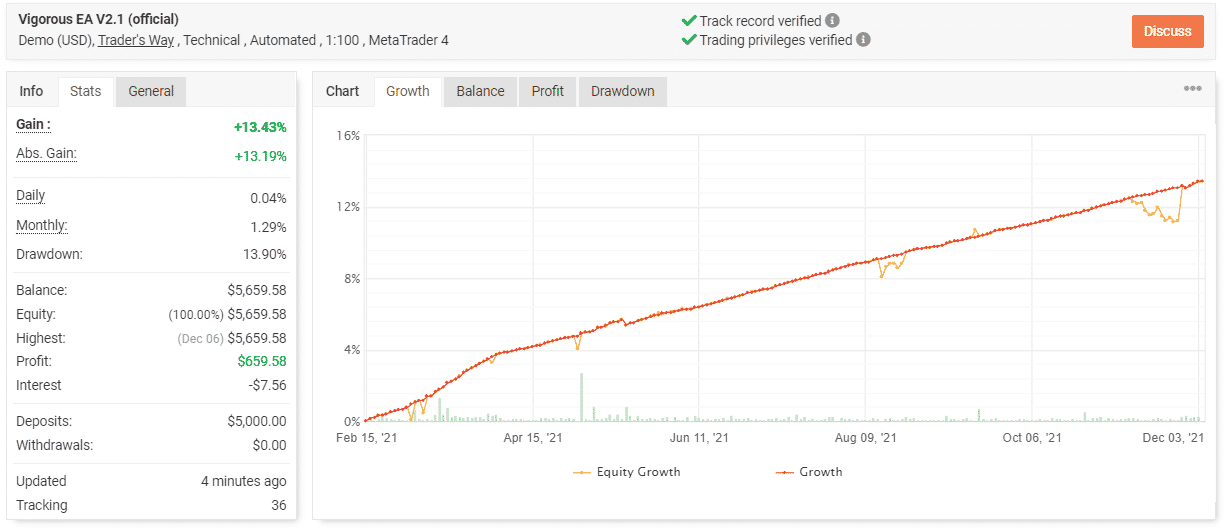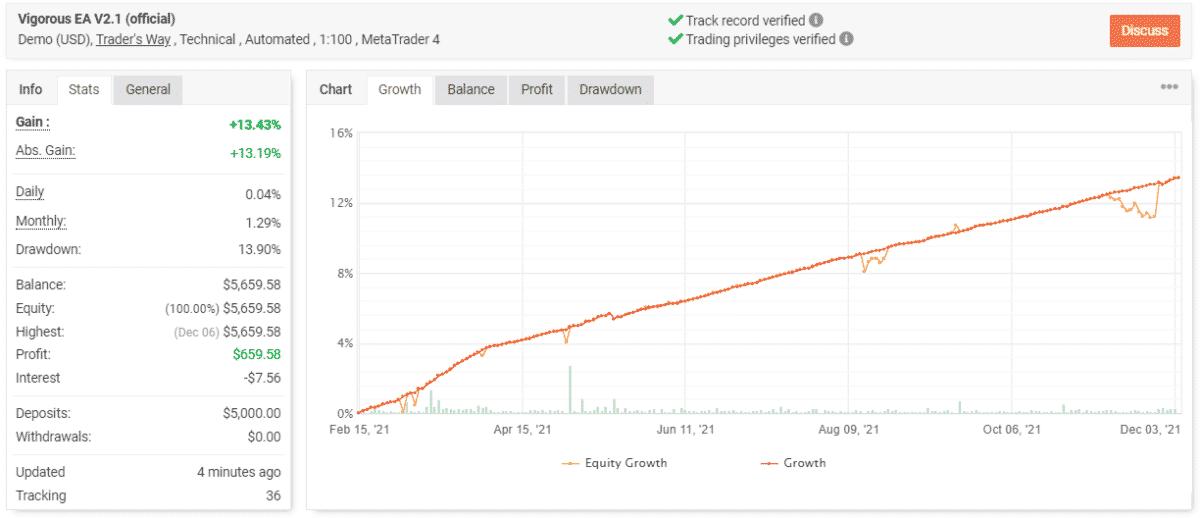 We have a widget with a demo account behind it. The robot executes orders on Trader's Way automatically with 1:100 leverage on MT4. The account has a verified track record. It was deployed on February 15, 2021, and funded at $5,000. The total gain has amounted to 13.43%. An average monthly gain is 1.29%. The maximum drawdown is 13.90%.


There were 2453 deals with 1758.9 pips executed. An average win is 4.71 pips when an average loss is -10.73 pips. The win rate is 71% for longs and 76% for shorts. An average trade length is 4 hours and 51 minutes. The profit factor is 1.64.


EURUSD is traded the most frequently – 2429 orders.

We may note that the system works more frequently during the European trading session.

Monday with 461 deals is the most traded day.


The system works with low risks to the balance. It has to lose 347 deals to lose 10% of the balance.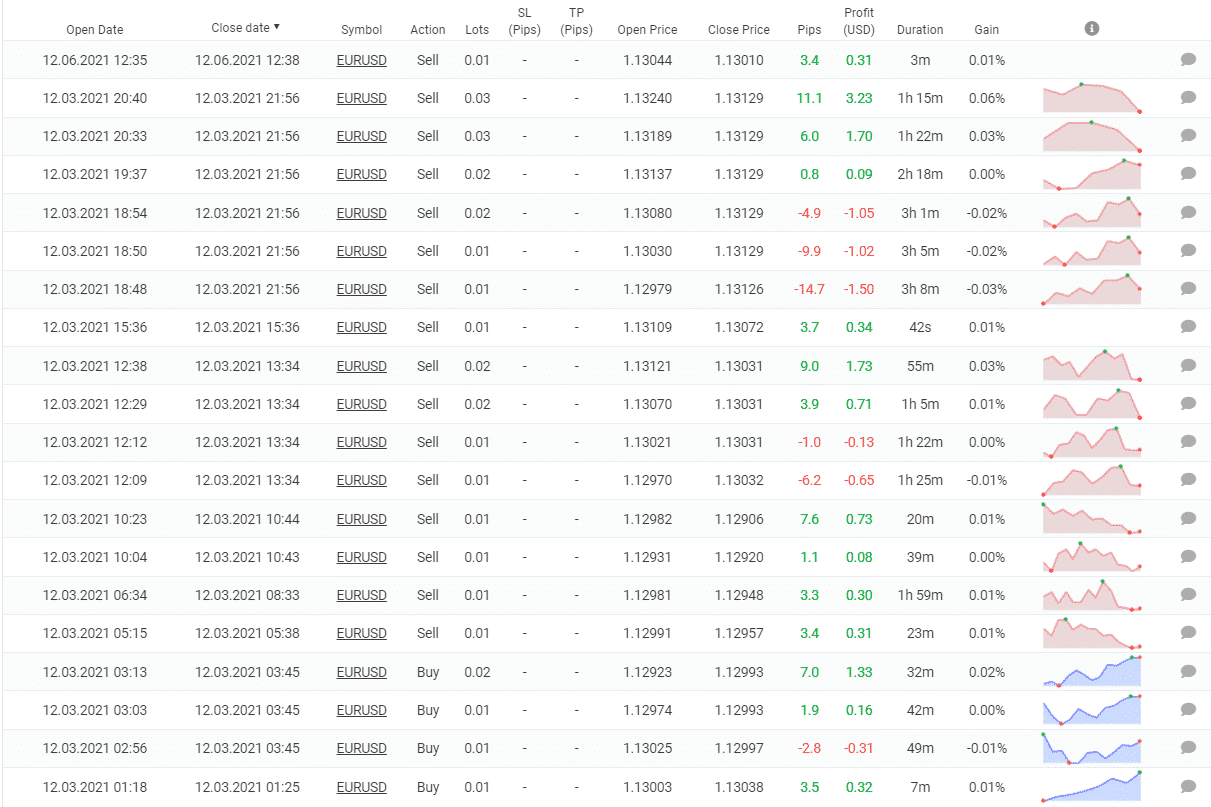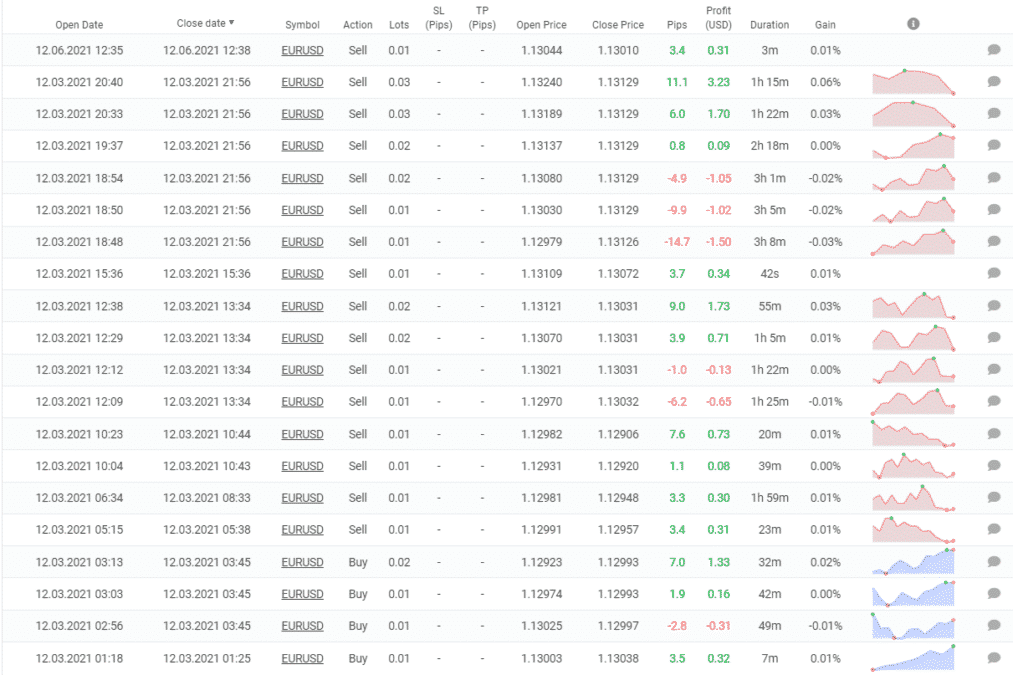 The advisor works with a Grid of orders and Martingale.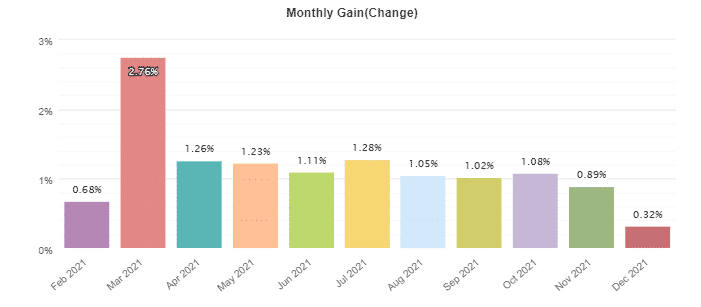 Vigorous EA closed all months this year in a profit. We don't know if it's possible to be repeated on a real account.
Vigorous EA packages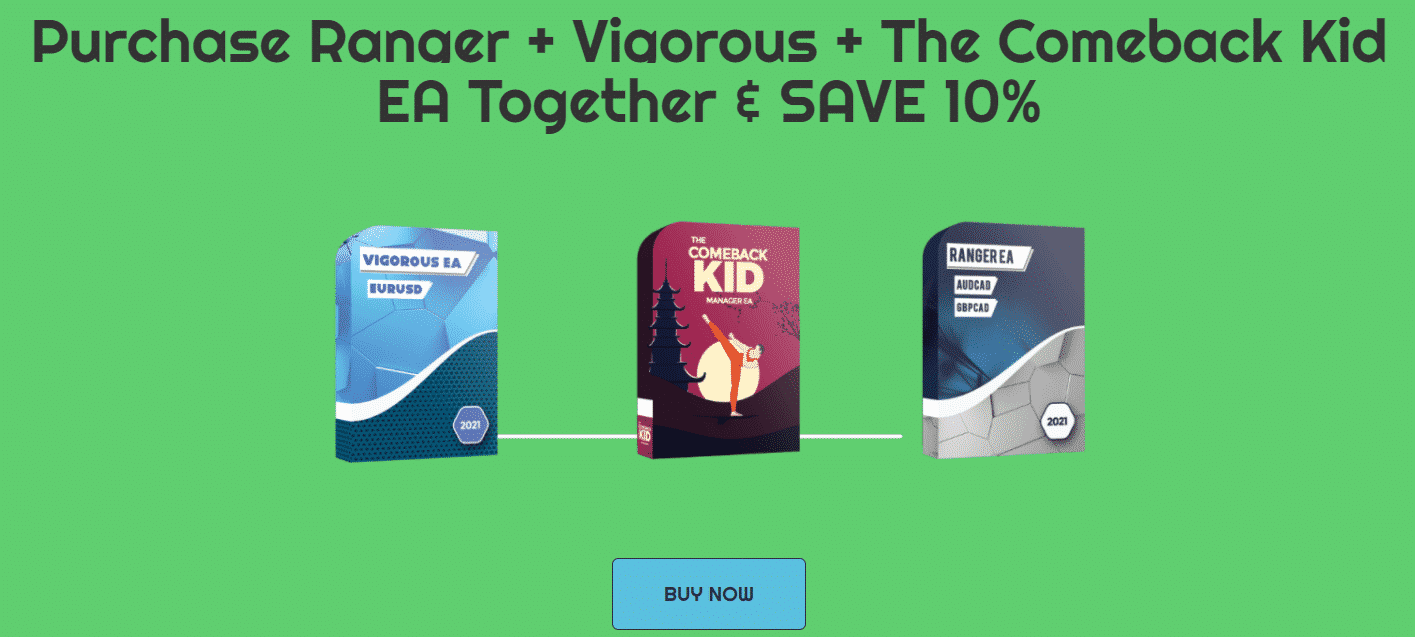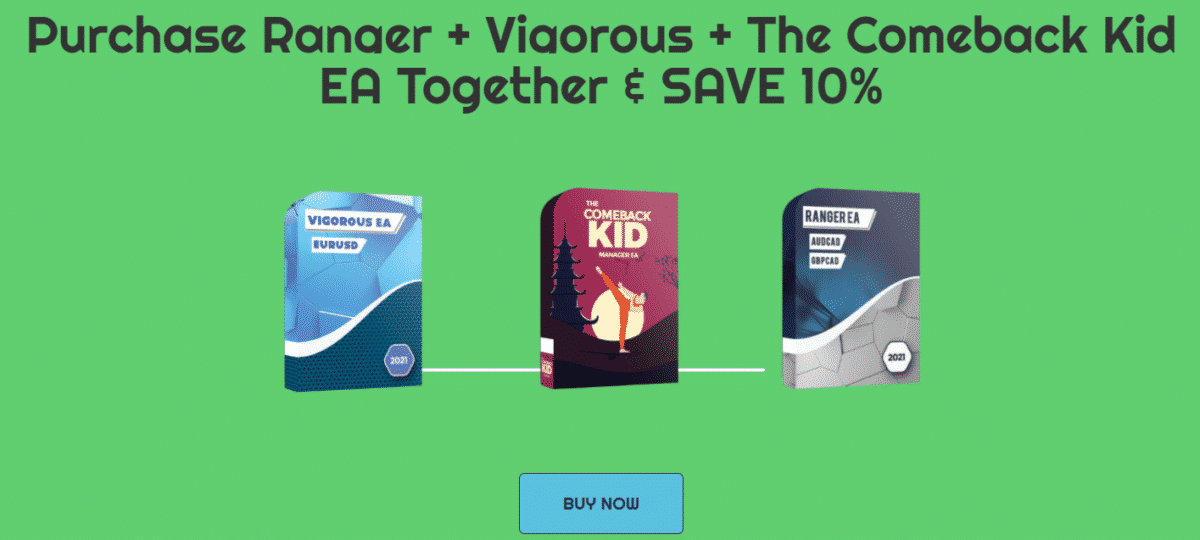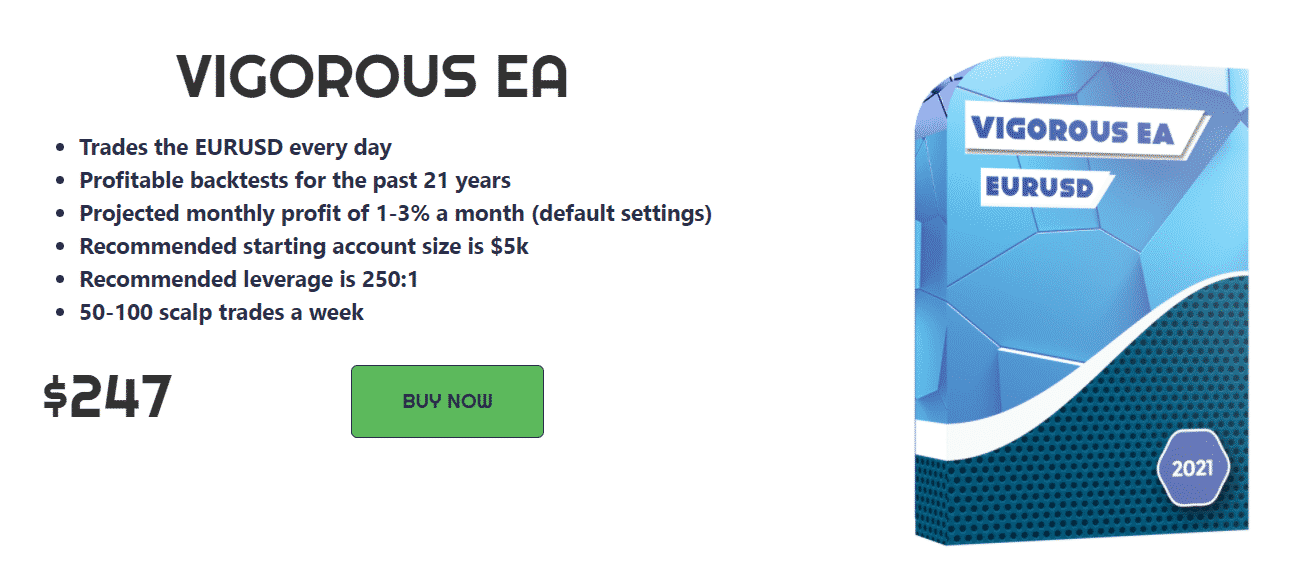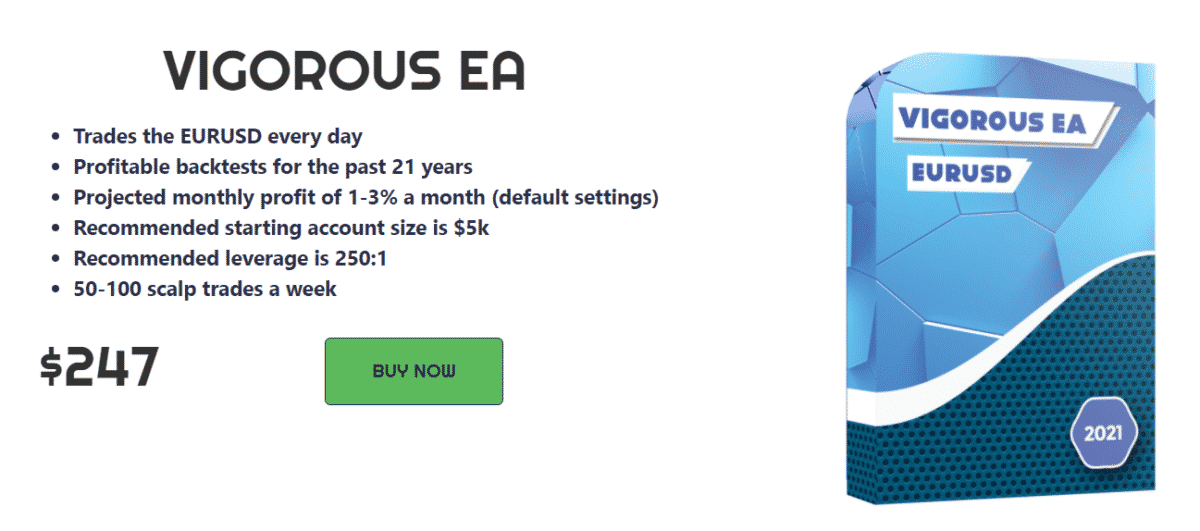 We can purchase a copy of the system for $247. The package includes a real and demo account, approximate monthly profit of 1-3%. We have no refund policy mentioned.
Assistance
The devs provide common support for everyone. We don't know how it's viable for robot users.
Other notes
The advisor has no experience in trading on a real account. We don't know if it's possible to keep our account profitable under real market conditions.
Is Vigorous EA a profitable bet in 2022?
We can't claim this. The reason is the same. Profitable means that the system makes something real. Alas, it makes only virtual numbers on a demo account.