V12 Trading claims to have a success rate of more than 80%. As per the vendor's claims, this system generates over 2000 pips every month. They have also claimed that the users of this platform belong to the top 5% of Forex traders who make consistent gains. In order to check the veracity of the vendor's claims, we are going to look into various factors like features, live trading results, packages, customer support, reviews, etc.
V12 Trading company profile
We have very little data on the creators of this platform. The team supposedly consists of individuals who have spent over 8 years trading in currencies. They have an Instagram account and a Telegram channel, but we don't know the identities of the team members. We don't know when the company was founded, and the vendor has not shared the physical address of the headquarters.
The highlights of V12 Trading
There are a team of experienced individuals who generate the trading signals and deliver them directly to your phone through the Telegram app. After you get the signals, you just need to copy and paste them on the MT4 trading platform.
You can receive 4-12 signals on a daily basis when you sign up on this platform. While placing your trade, you need to make sure you are close to the recommended entry price by a maximum of 10 pips. You also need to choose a suitable lot size based on your capital. Additionally, you will need to enter the stop loss and take profit in the respective fields. In case you receive a signal with three take profits, you should divide the lot size by 3 and open 3 positions. The lot size for every 100 Euros should be 0.01.
This system follows a pip locking strategy where it moves the stop loss as the trade progresses. Thus, when the first take profit is reached, it moves the stop loss to the entry price. Most of the trades go beyond the first take profit and you can also exit the trade if you wish.
You don't need a large capital to get started with this system. For average results, you should start with a minimum of 100 Euros. With a larger capital, you can win more profits.
Facts & figures
Unfortunately, the vendor has not shared the verified trading results for this signals system. Usually, most traders look for trading results verified by third-party websites like Myfxbook, FXBlue, and FXStat. From live statistics, we get to see some of the key performance metrics like win rate, drawdown, profit factor, etc. Without them, we have no way to tell whether the signals are profitable in real-time trading scenarios.
EA vendors often test their systems using historical data. Since this is a signals provider and not an expert advisor, there are no backtesting results to analyze.
V12 trading packages
There are three pricing plans for this system. The 1-month plan costs 49 Euros, and this gives you access to VIP Telegram for 30 days. With the 3-months plan, you get access to the VIP group for 90 days in exchange for 119 Euros. The 1-year plan gives you early VIP access for 349 Euros. Refund policy is not included.
Assistance
There is no contact address available for the support team. If you require assistance, you can join the free Telegram channel.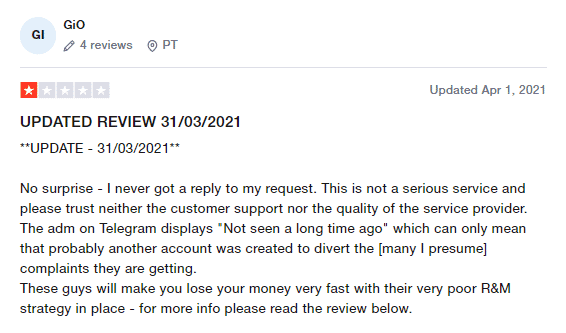 On Trustpilot, users have complained about the support team being non-responsive. One of the users has mentioned that the admin account on Telegram was last active a long time ago.
Customer reviews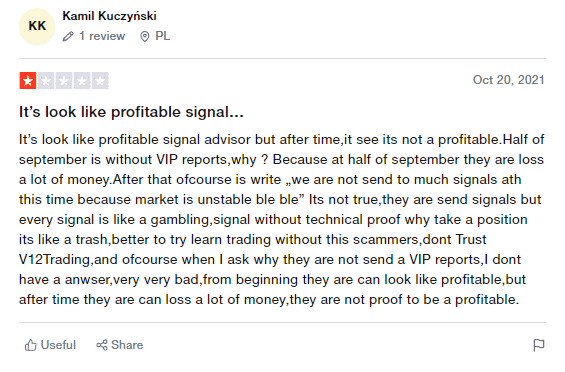 There are several reviews for this service on the Trustpilot website. Users have complained about the signals not being based on technical analysis.
Is V12 Trading a reliable system?
Since there are no verified trading statistics, we have no way to assess the real-time performance of this system. The pricing plans are not too expensive, but the vendor doesn't have a refund policy.