Bitsgap seeks to give you an edge in the crypto market by providing you with automated algorithms that make profits from each market move. So, the app will help you trade smarter on any crypto exchange and not charge you any trading fees.
Bitsgap quick summary
These are the few things you need to know about Bitsgap before investing:
It features several automated bots.
The system works with multiple exchanges.
It trades on 1800+ crypto coins.
Bitsgap provides 50+ smart drawing tools.
Bitsgap: what is it?
Bitsgap is an automated trading system that integrates a variety of strategies, smart algorithmic orders, indicators, drawing tools, and everything else you need to trade and manage crypto coins.
Who is behind Bitsgap?
The software was developed in 2018 by Bitsgap Holding OU, a company based in Tallin, Estonia. It works with professionals, comprising security experts, traders, and marketers. The team members include Maxim Kalmykov, who is the CEO; Dmitri Laush, the Chief Strategist; and Sergei Verbitski, the COO. Jevgeni Avdeev (CTO), Anatoli Girenko (CFO), and Ervin Kougija (Customer Support) are also employed by the company.
How does Bitsgap function?
Bitsgap takes care of your trading in the crypto market. It essentially uses the inbuilt strategies to watch market movements, read charts, and place buy/sell orders.
Technical indicators available
The vendor discloses that the software works with 100+ of the most popular indicators. Some of these indicators enable the platform's bots to identify the correct periods to enter and exit trades, identify the direction of trends, etc.
What should you know about Bitsgap performance?
The bot promises to leverage the fluctuating crypto market by identifying the best opportunities to make profits for you. It also integrates a trailing take profit (TTP), a dynamically changing order, to seize the rise and optimize profits as much as possible. TTP will increase your earnings by allowing a trade to stay open so long as the price is moving in the direction you desire.
Key features of Bitsgap
Find below a summary of the bot's key features:
Is fully automated and works 24/7.
The bot supports demo trading and backtesting.
It comes with ready-to-go strategies.
Bitsgap includes TradeView charts for users to assess the performance of their bots.
It integrates a portfolio to help users track and monitor their trades on a single interface.
How easy is Bitsgap to use for beginners?
Bitsgap is essentially beginner-friendly. If you are tech-savvy and have some basic trading skills, then you will not have a hard time using it. Just sign up, and follow the setup instructions for your preferred bot or strategy, and leave it to do the trading for you.
How to get started with Bitsgap
Here are the few quick steps you need to follow to start using Bitsgap:
Click the icon "Get started free" or "Sign up" on the official page
Provide your details; email and password
Log in to your email and confirm the registration by clicking on the link sent to your inbox
When the team verifies your email, you will easily access your Bitsgap account
Pricing, fees, deposit, withdrawal
There are three distinct pricing plans on offer. The least expensive pack (Basic) has an asking price of $29/month or $24/month if paid six months in advance. It affords you 2 active trading bots, grid bots, and unlimited smart orders. The Advanced plan is available at $69/month or $57/month if paid half-yearly. By subscribing to this pack, you will receive the basic features along with 3 extra active trading bots, Futures bots, and Trailing Up & Down for bots.
Lastly, we have the Pro offer that goes for $149/month or $ 123/month billed biannually. It comes with additional features that you wouldn't find in the other plans, like 20 active trading bots and Take profit for bots. Bitsgap also includes a free plan that lasts for 7 days.
The software doesn't take commissions or fees on your trades. It simply doesn't have a technical way of doing it. Bitsgap does not have an option allowing it to access your exchange wallet, so you won't be able to make any deposits or withdrawals on the bot.
What settings are available?
When you use the software, you will be required to configure a number of settings relating to API keys, trading strategies and rules, trading pairs, and types of orders, among others.
Which exchanges does Bitsgap support?
Bitsgap works with 10+ exchanges. We have listed them below:
Binance
Kraken
Gemini
Gate.io
Liquid
Bithumb
FTX
KuCoin
Okex
Bybit
Bittrex
Bitfinex
Coinbase Pro
HitBTC
Poloniex
Huobi
Bitsgap: supported assets
Bitsgap essentially supports all the assets available on the exchanges it connects with. Some include BTC, ETH, USDT, BNB, USDC, XRP, Dogecoin, Ripple, Litecoin, UST, LUNA, and so much more. By having a wide assortment of coins to choose from, users can expand their income base whenever they want.
Bitsgap: security and regulation
Bitsgap is generally safe as it cannot access your money. Also, it connects to your exchange using fully encrypted API keys, so no one else can touch your funds apart from you. All the info delivered to Bitsgap's servers is encrypted with 2048-bit standard protocols. The data is stored on a secure network, safeguarded by a firewall. The vendor strongly advises users to activate 2FA, an extra security layer that will verify your identity, making it harder for attackers to crack your account.
What do customers say?
Hundreds of customers have voiced their enthusiasm for this bot on Trustpilot. From a sample of the positive reviews, it is apparent that Bitsgap indeed offers a good platform for users to manage all their trades in a single place. The team is also praised for providing useful support.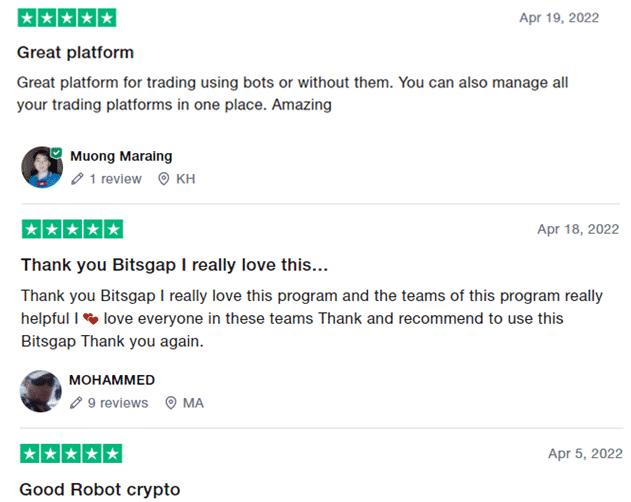 Public support
If you want to get in touch with the support agents, you have the option of sending them an email with your questions. You can also chat with them on Telegram or follow them on Twitter and Facebook to learn more about the product they are offering. Even then, visiting the FAQs and knowledge base pages is a good place to start before you talk to the team. The information available on these platforms is comprehensive, and you may just find what you are looking for.