Trality is a crypto bot that employs a powerful Python API to develop algorithms and allows you to backtest your bot for better results. It caters to new and experienced traders with coding skills and supports numerous exchanges, including Binance, Kraken, and FTX. The creators provide tutorials for newbies, and the robot is available in various subscription options. For traders to get a better idea of investment, this review will explain its features, team of experts, security, prices, etc., and let you determine if it is good to use in 2022.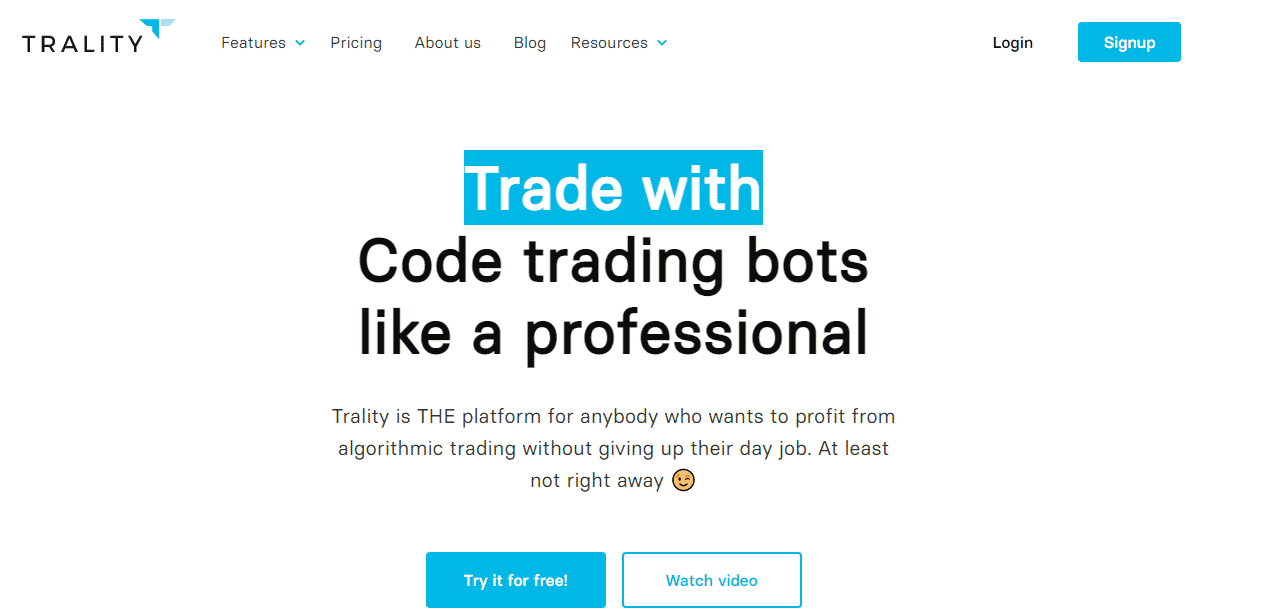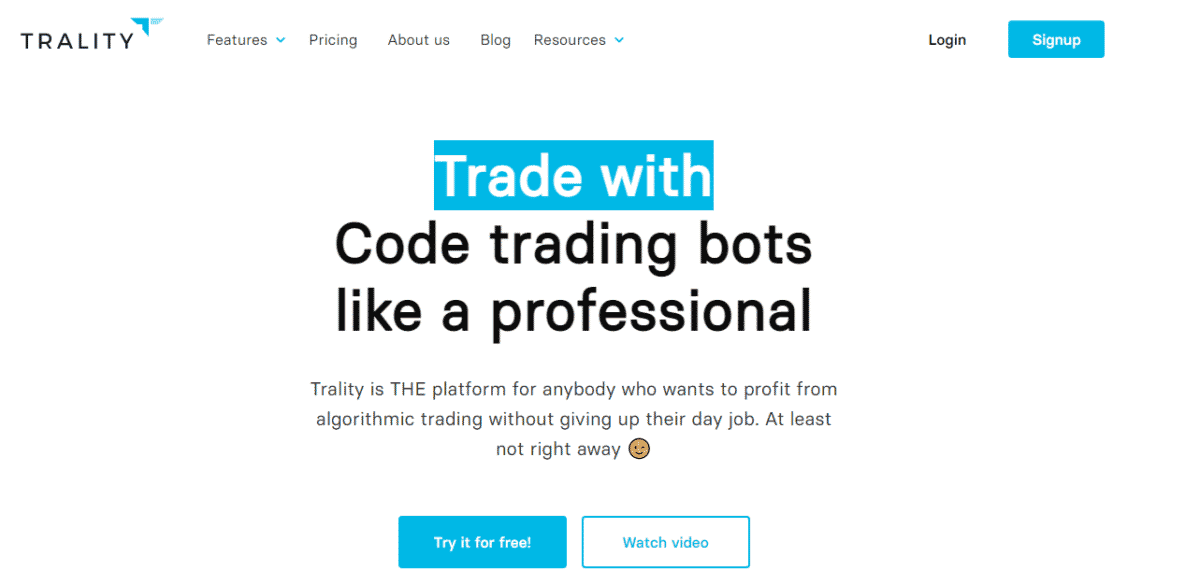 Trality quick summary
The critical points of Trality include:
You can create fully customized strategies by writing codes for your bot.
It offers a free demo account for testing your system.
A daily trading volume of 10M+.
The number of users on the platform is 80,000.
The marketplace provides bot creators and traders services like renting bots and copy trading.

Trality: what is it?
It is a cloud-based service that operates 24 hours a day, seven days a week, and provides fully automated crypto bots that can be configured using Python. You can use preset templates to develop algorithms and choose from over 100 technical indicators.
Who is behind Trality?
Trality was founded in 2019. The company's headquarters are located in Vienna, Austria. It is backed by tokentus and Blockrocket (European blockchain labs) and has been featured on coin telegraph, investing.com, and other websites.
Several members make up the team, including:
Moritz Putzhammer (CEO)
Christopher Helf (CTO)
Georgios Angelopolous (Sr. Backend Engineer)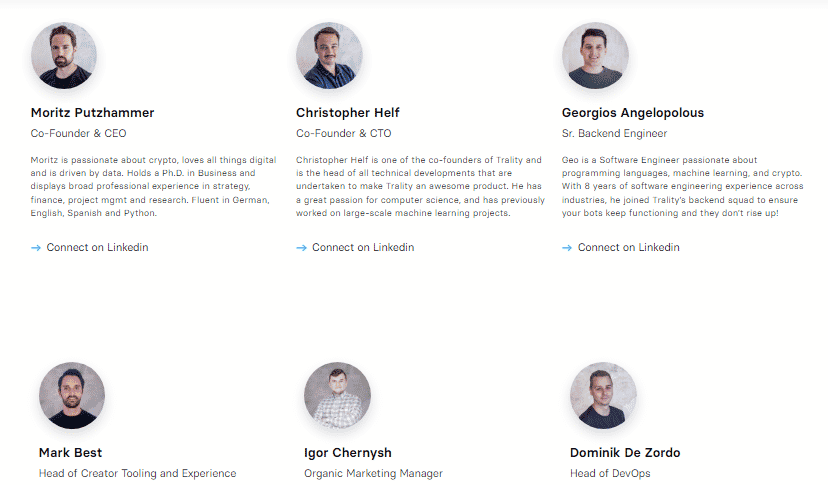 How does Trality function?
Trading bots at Trality interact with exchanges and automatically place orders. They make trading decisions based on market pricing and movements and your established rules. Two keys are used to inform the exchange that you have granted EA access to your account and permission to trade on your behalf.
Technical indicators available
Trality has over 100 technical indicators in the rule builder, some significant include:
Ultimate Oscillator (Ultosc)
Vector absolute value
Vector Arccosine
Accumulation/Distribution Line
Crossany
Chaikins Volatility
Decay
What should you know about Trality performance?
Trality has no backtesting or performance records on its official webpage that can help us analyze its performance in the live trading market. The vendor recommends investors demo trade initially and invest at their own risk. The lack of relevant results raises doubts about their systems' legitimacy.
Key features
Trality comes with some unique tools and characteristics like:
For those with Python skills, the code editor can help develop advanced strategies.
Predefined strategies with over 100 technical indicators for novices are included in the rule builder.
It is cloud-based live trading that operates 24/7 without missing a single trade.
They offer quick backtesting to help you improve your bot.
Bot developers can earn revenue by providing their algorithms on the marketplace.
How easy is Trality to use for beginners?
Trality provides explanatory videos for beginners as well as a free plan to help them get acquainted with the platform. The rule builder technique provides pre-programmed strategies and does not demand coding knowledge. You can also rent a bot with expert settings and begin trading.
How to get started on Trality?
The steps for creating a trading bot with Rule builder are as follows:
From the dashboard, select the option to create a new bot
Give it a name and select a bot type
From the drop-down menu, choose a crypto exchange and quote assets
Link the exchange and the bot via API keys
Set trading parameters and start the bot
Pricing, fees, deposit, withdrawal
Trality is available in four monthly subscription plans, each with unique tools and features like log retention, smallest tick interval, trading volume, bots, and backtests. You can save up to 20% with annual purchases, and it does not charge a fee on trades. The pricing of these packages is as follows:
Free: unlimited backtesting and €5,000 trading volume.
Starter: 9.99 Euros/month, €25,000 volume
Advanced: 39.99 Euros/month, €250,000 trading volume
Pro: 59.99 Euros/month, unlimited trading volume and log retention.
Note that you can not deposit or withdraw funds from your Trality account; your exchange only supports these functions.
What settings are available?
Trality enables traders to create trading bots in two ways:
It is for professional traders who can configure their strategies as they like with Python skills.
Use preset templates and strategies for traders with no coding skills. It includes over 100 technical indicators.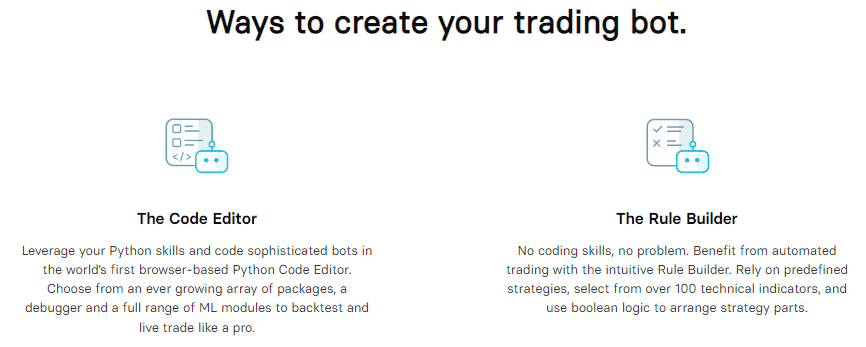 Which exchanges does Trality support?
Trality supports trading on the following crypto platforms:
Binance
Binance US
Bitpanda
FTX
Kraken
Coinbase pro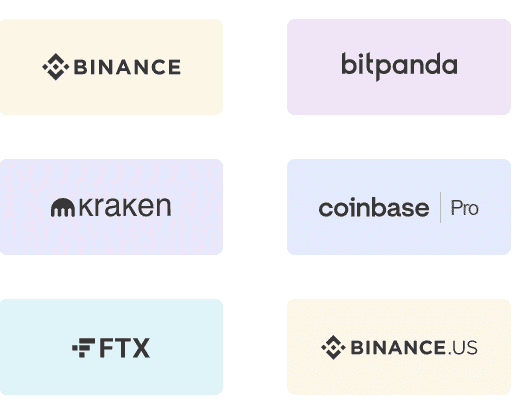 Trality: supported assets
Trality supports all the trading pairs that are supported by your exchange.
Trality: security and regulation
The platform has no access to your funds and withdrawals or deposits. It protects the user accounts and investments in the following ways:
Sand-boxed strategies (end-to-end encryptions)
Cloud-based infrastructure
Firewall protection

What do customers say?
Trality has 26 reviews with a 4.2/5 rating on a reputable source like TrustPilot. A user claims that the site is difficult to use for beginners and that he has lost a lot of money due to his lack of coding skills.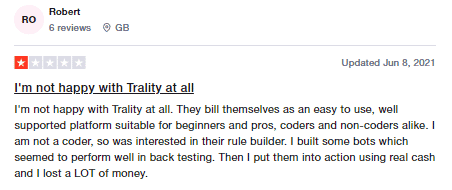 Public support
The customer support team at Trality assists users in the following ways:
Email C
Discord channel
Tutorials, blogs, and documentation
Helpdesk