CryptoHero offers different kinds of bots to help you trade crypto coins easily and faster. The systems include several settings like low, medium, medium-high, and high-risk. The setting you choose will be determined by your trading frequency and indicator chosen. Read our review to learn more about the product.
CryptoHero quick summary
These are the key points that define the bot:
It provides a paper exchange for users to test their strategies with zero risks
There's a trading terminal that makes it easier for users to switch between exchange accounts efficiently
The platform has a marketplace where traders can lease their bots to others and earn additional income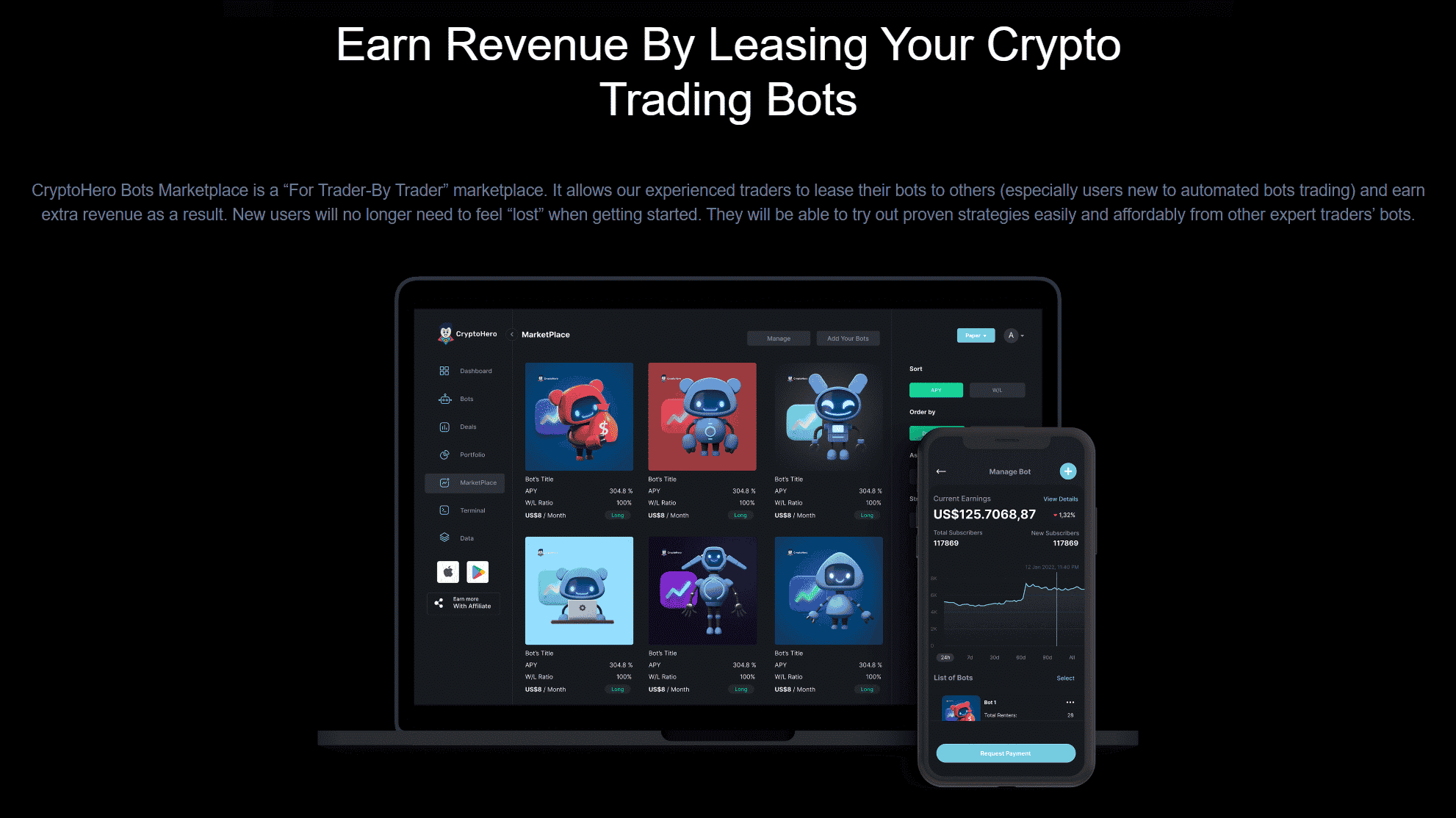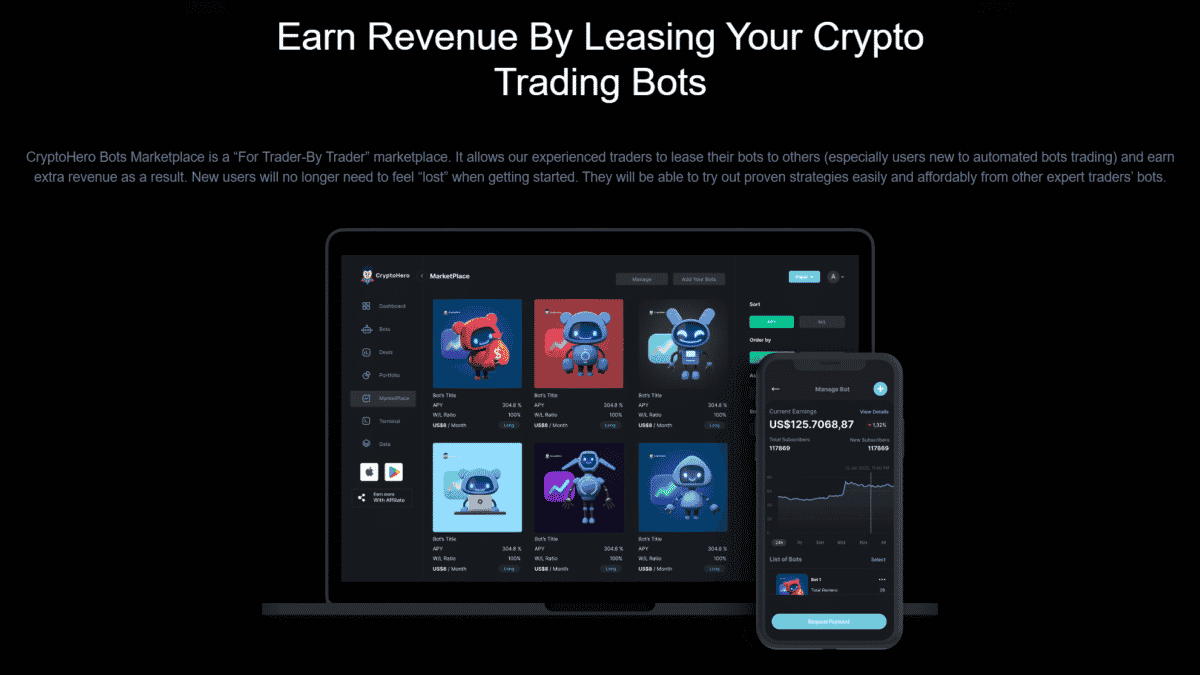 A mobile app version for iOS, Web, and Android clients is included
CryptoHero: what is it?
CryptoHero is a crypto trading bot based on the cloud service. It initiates sell and buy orders 24/7 throughout the year on crypto exchanges according to the chosen strategy.
Who is behind CryptoHero?
Mr. Christopher Low is the person behind this bot. He is a self-proclaimed successful serial entrepreneur with a history of forming a number of companies. CryptoHero is also backed by the Novum Group, a huge blockchain group of companies in the media, hedge fund, and technology space. With headquarters in Singapore, the group has a presence in the USA, Switzerland, and Vietnam. The official company address is 80 Raffles Place, #33-00, UOB Plaza, Singapore 048624.
How does CryptoHero function?
CryptoHero provides traders with a suite of intelligent bots that they can use to trade the bull, bear, and range-bound markets with long and short strategies.
Technical indicators available
The platform features technical indicators such as Bollinger Bands, RSI, MACD, and Stoch RSI.
What should you know about CryptoHero performance?
The system's marketplace, which features systems developed by experienced traders, contains vital performance metrics like W/L ratio and API (Annual Percentage Yield). The former parameter provides info on the number of profitable trades against losses. A higher ratio is preferred. API is determined over a one-year period.
Key features of CryptoHero
Here is a summary of the bot's features:
It supports multiple exchanges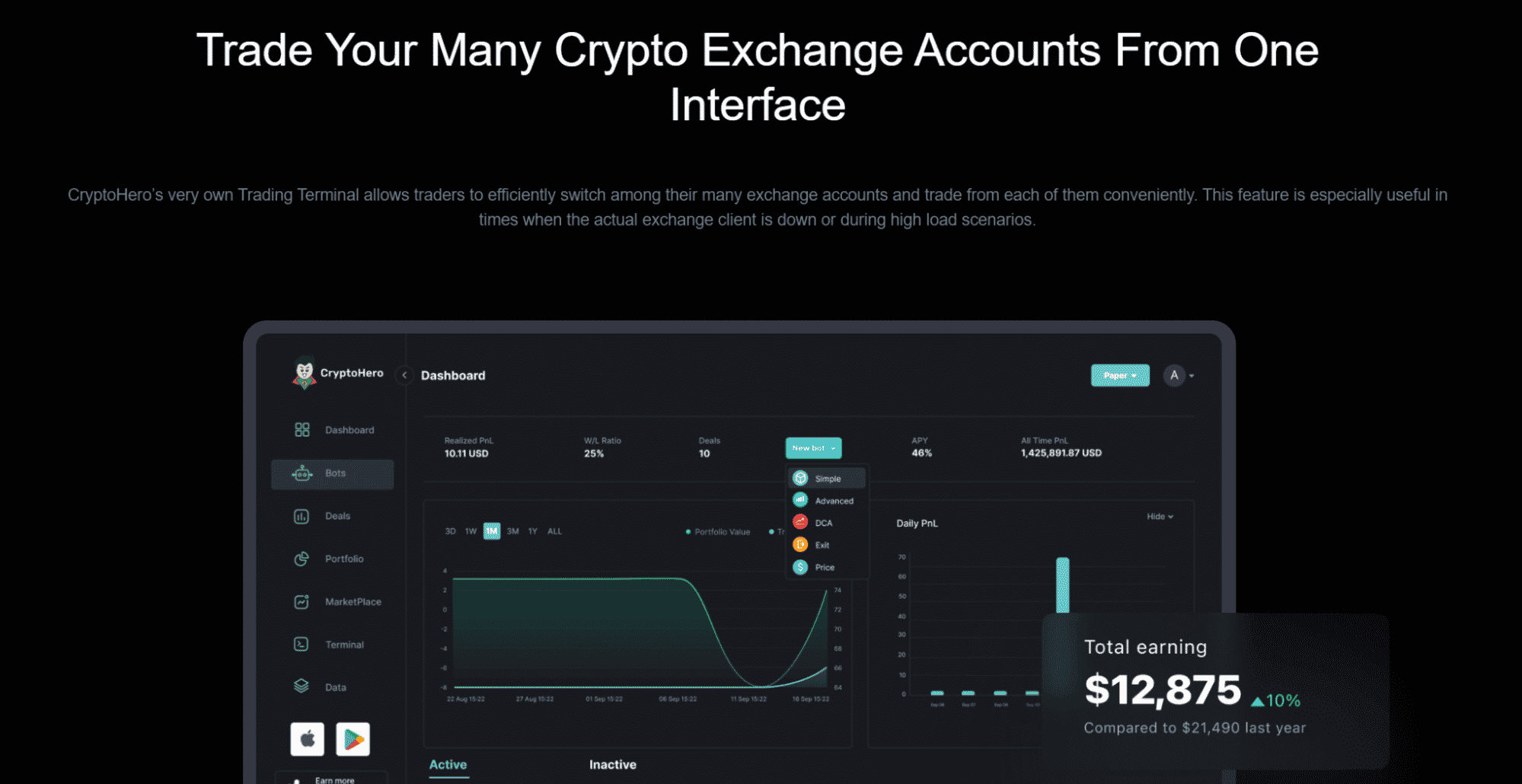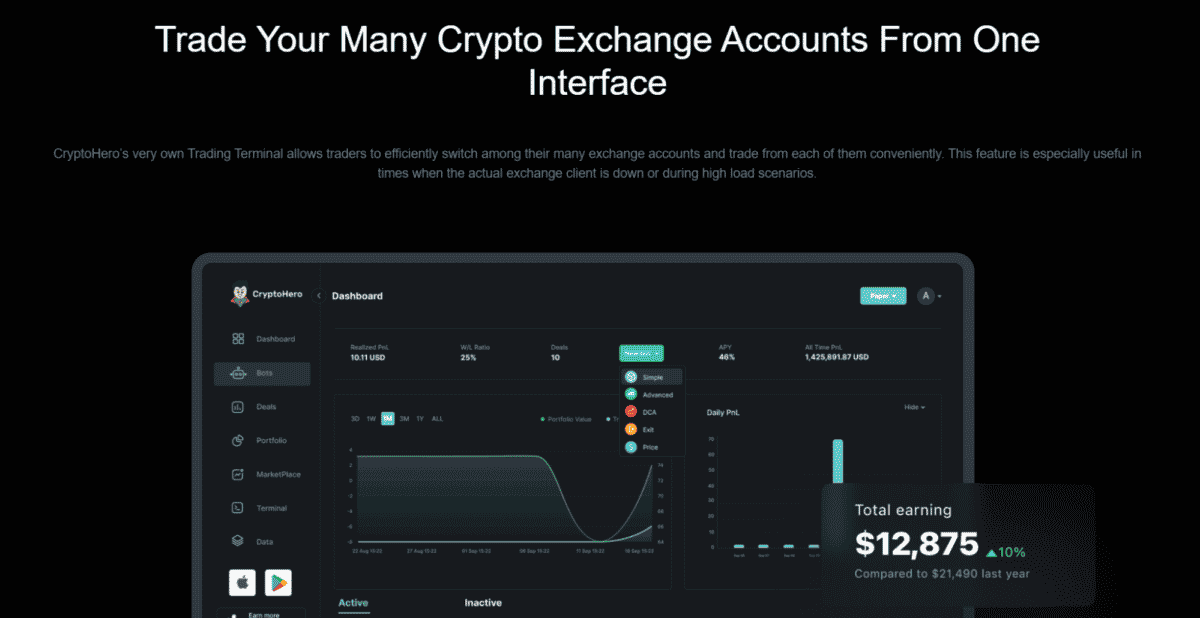 There's an aggregated portfolio to help traders track their trading performance personally or aggregate many exchanges on a single app
The platform provides popular technical indicators preset and ready to use
It includes a backtesting component
How easy is CryptoHero to use for beginners?
Individuals with basic trading skills can use CryptoHero effortlessly. The available bots come with preset strategies and technical indicators. So, users can enter and exit trades without writing a line of code.
How to get started on CryptoHero
There are a few steps that each individual is expected to follow to begin using the platform. Read the info below to learn more:
Visit the official website to create a new account. Once there, look for the "free sign up button" on the top right side of the page
Provide your name, email, and password details
Activate your CryptoHero account by confirming your email with the OTP code sent to your inbox
Configure the bot's settings according to your preferences
Pricing, fees, deposit, withdrawal
CryptoHero has a free plan that gives you access to basic functionalities. Premium and Professional packages are available for $13.99 monthly and $29.99 monthly, respectively. But if you prefer to pay for the service once per year, be ready to part with an extra $100 for either package.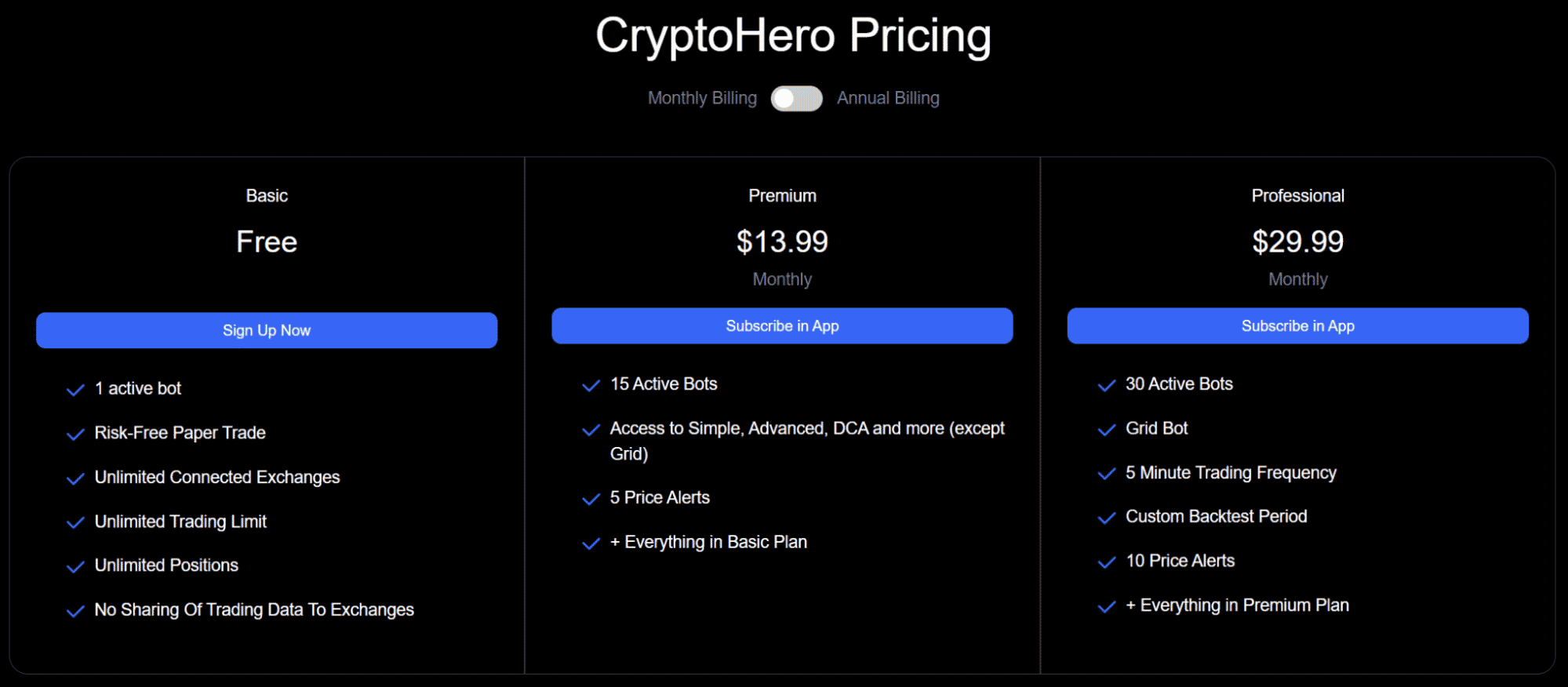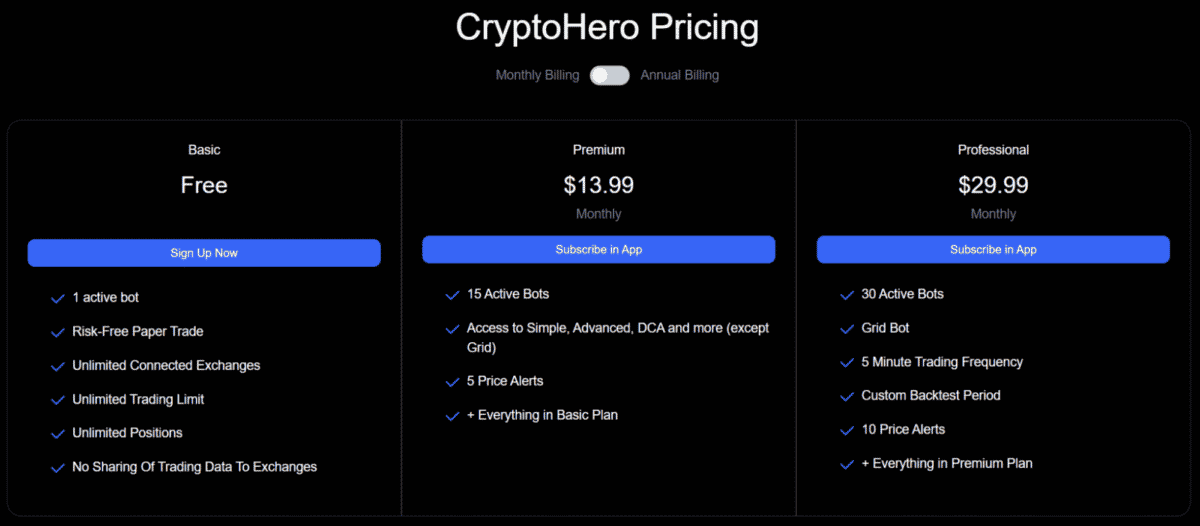 The minimum deposit amount to work with is dictated by your exchange. Even then, the vendor advises traders to use about 15-20 USDT tokens' worth for every trade. CryptoHero doesn't have withdrawal rights, so you cannot withdraw funds through it.
What settings are available?
There are a number of settings available in the bot. Some relate to entry/exit conditions, trading parameters (like funds allocation, base order limit, trading frequency, etc), strategy configurations, trailing stop loss, and more.
Which exchanges does CryptoHero support?
The following exchanges are integrated into the platform:
Mandala
Felix
Binance
Kraken
KuCoin
Bittrex
Coinbase
Tokocrypto
Indodax
Gate.io
TradeStation
Bitget
FTX
Huobi
Binance
Okex
CryptoHero: supported assets
With CryptoHero, you have a whole lot of assets to choose from, including BTC, USDC, BNB, BCH, CAKE, USDT, LUNA, MATIC, TRON, XRP, BUSD, and more.
CryptoHero: security and regulation
The software works with API keys, so it cannot access your funds. Also, disabling the withdrawal option prohibits the bot from withdrawing money without your approval.
What do customers say?
One customer on Trustpilot praises CryptoHero for having a stable and great UI. However, we could not find any other review that could at least provide insight into the bot's performance.

However, there is a single review posted for the platform. And the profile is unclaimed, which is a disadvantage.
Public support
Users can receive customer support via email, Telegram, WhatsApp, and web form. The team assures you it responds to your queries or issues within 24 hours max.